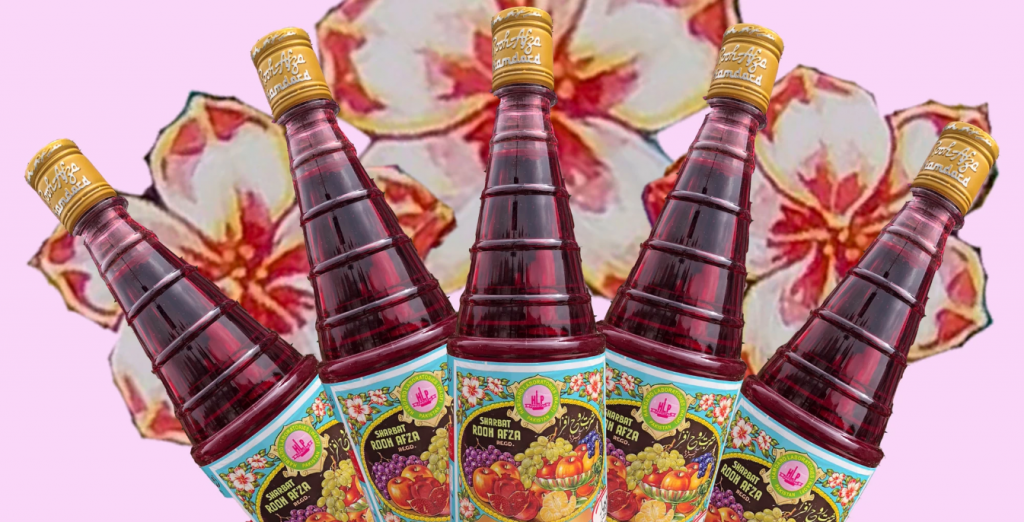 Rooh Afza is that one drink that completes Ramadan for majority of the Muslims around the world, and seriously, nothing can ever be more refreshing than a chilled glass of Rooh Afza at Iftar.
rooh afza after getting moved from the shelves at the back of the store to the front display during ramzan pic.twitter.com/rNyJGAUiwy

— rafay // رافع (@ZindagiAzabHai) May 5, 2019
Now this meme maybe true for most of us in Pakistan but our brethren in India cannot relate because the iconic drink has been off the shelves since the past four months. According to India's Hamdard Laboratories, a lack of raw material is the cause of the shortfall. However, according to some sources, a dispute among company owners is hampering supply. But whatever be the reason, the Indians were upset and the hashtag #RoohAfza was trending in no time.
#ramzan without #roohafza at iftaar is unimaginable. My 8 years old has been looking around for it for the past 3 days in all shops. Seems there is shortage of supply #hamdard 🏺@roohafzaindia

— Anisa Draboo (@Drabooanisa) May 7, 2019
No. Its not a crisis for Indian Muslims. Its a crisis for all #RoohAfza loving Indians. Serious trouble. https://t.co/I1KpdawifE

— Yashwant Deshmukh 🇮🇳 (@YRDeshmukh) May 8, 2019
Exactly!
#Roohafza is not just another juice https://t.co/ErIvfHfOsJ

— Shivam Vij (@DilliDurAst) May 7, 2019
Yaaas, preach!
This complete summer till now I had been looking for #RoohAfza in almost all markets near me. It's not available locally anywhere. Ramzan started now, but #RoohAfza is out since the start of this summer. So let's not make it #Muslim drink.. it's a drink of India in summer. https://t.co/bow1zVuL6O

— 🇮🇳मैं भी चौकिदार सा🙏 (@pagal_panthi) May 8, 2019
Some couldn't believe the fan following Rooh Afza has:
Roohafza has a fan following😱

— Ray Stings (@Purba_Ray) May 8, 2019
Many shared their love for the drink
Yup. You bet. I love it in milk and even home made Lassi. Just try it. Has been my favorite combination ever since I was a kid. #RoohAfza https://t.co/OqxfKhnmB8

— Yashwant Deshmukh 🇮🇳 (@YRDeshmukh) May 8, 2019
Some said it was the nostalgia that it bought
I don't think I like RoohAfza as much as I like the nostalgia attached to it.. it tastes of school summer vacations and those hot afternoons when there was no AC, and these simple respites were enough to keep us happy.

— تنیما (@Tanima____) May 8, 2019
Some were wondering why the drink hadn't been declared anti-national
Has anyone declared #RoohAfza anti national yet?

— Sangita Nambiar (@Sanginamby) May 8, 2019
This guy really sums up what Rooh Afza is to its fans
In Ramzan, #RoohAfza is to Muslims what Spinach is to Popeye.

Now you know, how we are going to spend our rozas without the energy drink. https://t.co/bFopwqhhAw

— Uzair Hasan Rizvi (@RizviUzair) May 7, 2019
And then here's our favourite tweet of them all
Dear Indians and Pakistanis – Let #RoohAfza be a magical summer drink rich in herbs and cooling qualities. Don't give it a religious colour. No saffron, no green. Rose is just fine!

— Madhavan Narayanan (@madversity) May 8, 2019
People quickly came forward to help those who were in search at the few shops they saw it available:
But @amazonIN site showing #RoohAfza in stock & promising delivery between 10-16 May in #Delhi. Maybe last few stocks. HURRY UP! @ShekharGupta pic.twitter.com/IMrDhZU2nK

— Rahul Dhar (@Dhar00Rahul) May 7, 2019
Hey @DilliDurAst I found Roohafza in Barkat nagar #jaipur this guy got 8 bottles after waiting for two months pic.twitter.com/ZQSswmutMH

— Avinash Kalla (@avinashkalla) May 8, 2019
After reports of the shortage circulated online, in a tweet, the head of Hamdard Laboratories Pakistan, Osama Qureshi, offered to supply it to India through the Wagah border.
Brother @DilliDurAst, we can supply #RoohAfza and #RoohAfzaGO to India during this Ramzan. We can easily send trucks through Wahga border if permitted by Indian Government.

— Usama Qureshi (@UsamaQureshy) May 7, 2019
Divided by borders but united by Rooh Afza!