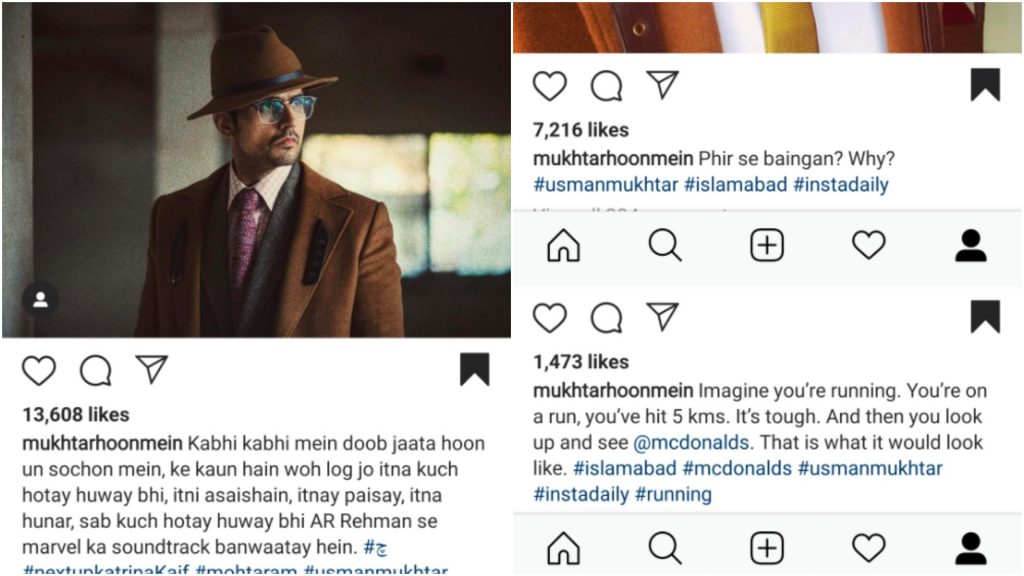 Apart from being an immensely talented actor, Usman Mukhtar is not just winning fans with his acting but also with his witty Instagram captions that we all can relate to. Which makes him the undisputed king of having the funniest insta captions and here's proof!
His sarcasm is always on point!
He is his number 1 critic:
He also speaks for the non-living but yet sensitive lamps…
He keeps no secrets:
Shadi ke khaanay pe tootnay ke tareeqay with Usman Mukhtar and 169 others:
Some days he has very important questions in his mind…
He's lovin' it!
We've all been this kid at some point in our lives!
He also gives away free advice, that might get us free chappeirein from mum later on:
The 'm' to his gym:
To all the ripped boys at the gym:
He also narrated his transformation as an as seen on TV ad 😂
He gives attention to little details, like this photo-bomber:
When chilling with his mum, he is undefeatable!
https://www.instagram.com/p/Bwj14Y0DB1s/?igshid=1y23omjlz7ttp
He also posts some very inspiring quotes for all the nibbas and nibbis out there:
Kahan sir maaray banda?
He has to fight the urges too, like some of us who are trying to control their sugar intake:
Well…
Lag gaya bhaee saalan neechay!
Mum, whyyyyy?
His character reveal for anaa had us in fits of laughter 😂 😂
He's here on a mission 👀
He makes sure he shares the lessons he learns with his fans:
He will find you and make you eat healthy:
He's very protective of his kids, jinka abhi dur dur tak koi naam-o-nishan nahi hai:
He's also mr.steal-ur-girl:
Isn't he the funniest? Because if this doesn't convince you then we don't know what will!