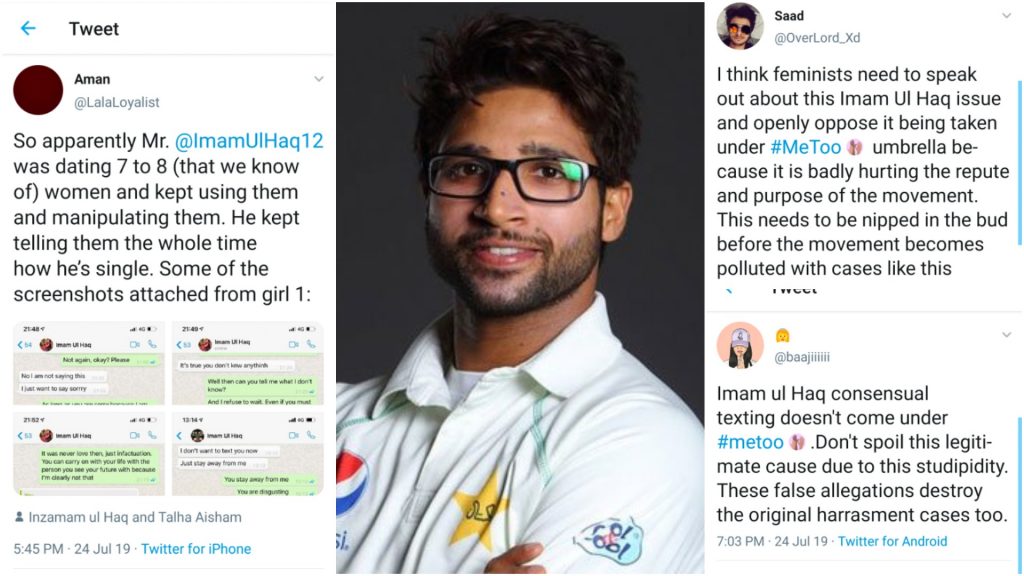 Twitter was probably the most happening place last night where screenshots from private conversations between Imam ul Haq and the girls he had been flirting with were leaked for the public to see. Within minutes of the screenshots being released, the hashtags #MeToo and #ImamulHaq were top trends in Pakistan: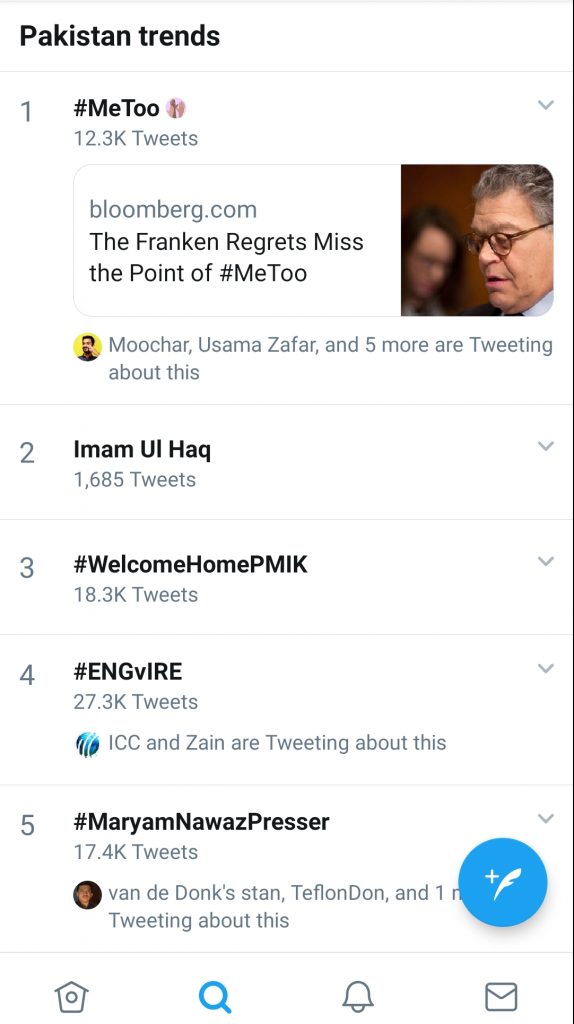 And the internet was furious!
So apparently Mr. @ImamUlHaq12 was dating 7 to 8 (that we know of) women and kept using them and manipulating them. He kept telling them the whole time how he's single. Some of the screenshots attached from girl 1: pic.twitter.com/UzIl98ryAw

— Aman (@LalaLoyalist) July 24, 2019
People were calling him out on being a womanizer:
All those screenshots involving Imam ul Haq aren't fake. What's fake is IMAM himself. He played with several women at the same time. This is an awareness message for all the girls, please don't believe someone so easily. It's a bad bad bad world!

— Komal Shahid (@ArmedWithWords) July 24, 2019
People were disgusted:
Every single day men give us one more reason to be absolutely disgusted and horrified by them. Imam Ul Haq, what the fuck?

— Zobia Akhtar (@Zobsinthehouse) July 24, 2019
Many called him a fuck boy:
Imam Ul Haq is a True definition of FUCK BOY 🖐🏻

— Maleeka (@imaleeeks) July 24, 2019
Points were made:
And NO, this is not in favour of Imam ul Haq, nor for the girls he'd been passing time with. But calling men 'trash' and blaming them isn't always the best trend. I know many men are wrong at certain points, but ap doodh ki dhuli hain kiya?

— M. (@MahaaAli9) July 24, 2019
Oh man…
So Imam Ul Haq is not just a parchi but also a fuckboy, cheater, liar nd womanizer.. too many achievements @ImamUlHaq12 pic.twitter.com/lePJCWnQ7k

— Desi Girl (@DesiGirl70) July 24, 2019
Some important questions were raised 😂
Among other things can we also call out Imam ul haq for calling himself an athlete? 😐 https://t.co/NED4irGaum

— Bhatti (@HamzaFrancesc) July 24, 2019
Some thought that the screenshots were shared for awareness:
The girls didn't expose Imam ul Haq to defame him or end his career. They wanted to warn other girls because he appears very innocent & he's a well known cricketer. They've been through a lot and they don't want more girls to suffer. Please understand this!

— Komal Shahid (@ArmedWithWords) July 24, 2019
There were memes, lots of them:
I love you but can't marry you
Ft: Imam ul Haq#Metoo

— Aadil (@iaadil081) July 24, 2019
Imam Ul Haq after knowing about all those SSs from girls.#MeToo pic.twitter.com/cGqRkWAq8D

— Saad 🇵🇰 (@iSaadAwais22) July 24, 2019
Imam Ul Haq in Hospital after being exposed 😂#Imamulhaq pic.twitter.com/ADaCM86zGC

— Danish Kaleem (@danesh_kaleem) July 24, 2019
Imad wasim to Imam ul Haq… pic.twitter.com/kqGncXNgvj

— Ayesha (@Ayeshanoor22) July 24, 2019
And while there was no doubt about the screenshots being real, some people were calling out the girls in poor taste:
Imagine the standard of the women who decided to date imam ul haq. Lmfao these women will date any mediocre guy with money and fame, tells alot 🤣

— Ali 🤙🏼 (@hallowedchaos) July 24, 2019
The problem isn't the fact that Imam-ul-Haq was dating 7-8 chicks at a time. The problem is how can so many women have such terrible taste in men 🤷🏻‍♂️

— Adil Dar 🇵🇰🇵🇰 (@adilmdar) July 24, 2019
Mujhay to hassi in girls par ati ha jinhon nay imam ul haq jesi personality Kay sath date mari
Lots of laugh namoonian.

— Huma Daniyal (@Engineer_Huma) July 24, 2019
Shots were fired:
Pehle khud mazay karo phr masoom mard pe ilzam laga do #JusticeForMen #MenRights #SupportMenRights https://t.co/acsO4yiw2C

— Farishtey🌈 (@Farishtey393) July 24, 2019
However, people were more concerned about the hashtag #MeToo being used in this case:
Does the Imam ul Haq controversy qualify under the #METoo umbrella?

— Shahjahan Khurram (@91shajji) July 24, 2019
And the answer from most was, no!
Imam ul Haq consensual texting doesn't come under #metoo.Don't spoil this legitimate cause due to this studipidity. These false allegations destroy the original harrasment cases too.

— 👸 (@baajiiiiii) July 24, 2019
People were pointing out the fine line between cheating and harassing:
From the screenshots shared, Imam Ul Haq isn't harassing anyone. He is a cheating asshole. Not respectful to make it part of MeToo, it trivialises the matter.

— Clive (@vanillawallah) July 24, 2019
This!
You know how you can't call a murderer a rapist just bec both crimes are equally bad?
Well, just like that.. you can't call a serial cheater a harasser and put the #MeToo tag on it. Imam ul Haq is a disgusting pos but that's where it stops.

— u need to calm down🌈 (@Zee_e_) July 24, 2019
Many wanted him out of the cricket team because of the #MeToo label, but were corrected:
These screenshots of imam ul haq's conversations signify that if youre thinking of dating him or marrying him, you should be cautious.

1. It has nothing to do with harrassment or abuse.

2. His conduct is NOT a ground for disqualification from cricket team.

— Usman Sami (@usmisami) July 24, 2019
People thought the movement was being used for personal vendetta:
I don't support that chutya parchi imam ul haq, he's a flirt, a manipulator and and womanizer too but those screenshots don't tell that he's was trying to harass that lady. Me too ka faida uthane ka alag tareeqa

— Sir Saith Abdullah (@SaithAbdullah99) July 24, 2019
Many thought this case was hurting the movement:
I think feminists need to speak out about this Imam Ul Haq issue and openly oppose it being taken under #MeToo umbrella because it is badly hurting the repute and purpose of the movement. This needs to be nipped in the bud before the movement becomes polluted with cases like this

— Saad (@OverLord_Xd) July 24, 2019
Many agreed that consent was involved:
Don't think this Imam ul Haq allegation falls under me too, these screenshots do suggest Imam's a liar, womanizer & flirt but none of the allegations are of abuse or physical violence, in-fact all these are consensual https://t.co/EXd6ZL4uFt

— Osama. (@ashaqeens) July 24, 2019
The screenshots shows consent. Lying & cheating isn't harassment.

Also, tum log consent k naam pe pre-marital sex tak pohanch jatay hou aur chahtay loyalty hou? Trial & error walay relationships shouldn't be part of #Metoo

— Bella Ciao (@hinasafi) July 24, 2019
People thought it was about betrayal rather than harassment:
Imam ul haq's case isn't of sexual harassment, it is of betrayal, I know many boys who got betrayed and cheated by girls, after 10 years of relationship they found a well settled guy and ditched their old BF. We all know such stories right?

— Tayyab Memon (@TayyabMemon) July 24, 2019
Agreed!
its never too late to go and google what the me too movement is please dont make a fool out of yourself by confusing cheating with sexual harassment and sexual assault

— * (@laalbattii) July 24, 2019
And even though people were defending wrong hashtag being used, people were not coming slow at Imam:
It's not harrasment if it's consensual. He's just a fucking asshole for leading so many girls on and being nothing more than a fuckboy. Expose him for what he is. But please do not use the Me Too and Times Up movement for highschool drama. Protect girls by exposing him.

— . (@Mahnxr) July 24, 2019
People were also against personal screenshots being leaked:
im failing to understand the reason behind posting these images? what are you trying to prove? you're in a relationship and it didn't end well (because he's a playboy so screw him for that) but that doesn't give you the right to post stuff which was once shared under consent lol https://t.co/wFz4Hw8eo2

— Bilal (@Sillly_Point) July 24, 2019
I don't know, something isn't right about this route. You indulge a man, then find out you aren't exclusive so you leak private photos. He may be a douchebag and a POS for cheating & deserves to be called out for it, but it doesn't make for a metoo moment. He can actually sue you

— Nadia (@nadiajqureshi) July 24, 2019
I hope a legal action will be taken against these girls who are leaking Imam ul Haq's private consensual chat and nudes. These girls need to be dragged in court. Not supporting Imam ul Haq but both parties are at fault.

— Sakhwa.🇵🇰 (@sakhwa) July 24, 2019
People were urging others to stop calling him a harasser:
Stop using the me too hashtag from this. He didn't harass or force himself on anyone. Everything is being done consensual. Call him what he is; a playboy. https://t.co/DA0WTrYCkj

— حسن علی (@MHasanAlii) July 24, 2019
He's a playboy, that doesn't make him a harasser. Stop leaking/posting consensual flirting/sexting of two persons @ trash side of twitter, just because he dumped them. hmph.

— M. (@YarMoeed) July 24, 2019
People also stressed on the importance of the #MeToo movement and how cases like these would kill it:
Imam ul haq's issue doesn't even fall under #MeToo, Cause it falls under cheating. Can you people just stop a calling a consensual chat harassment?
Its too much now, jab b twitter kholo random screenshots dal k kisi na kisi ko expose kia hota hai. Me too is real.
Grow up guys.

— Emma Khan 👩🏻‍⚕️🇵🇰 (@DrBTSfan) July 24, 2019
The Imam Ul Haq Screenshots dont fit under the #MeToo hashtag, as simple as that.
It was a consensual thing, pretty evidently.
Stop rediculing the movement. DO NOT BLACKMAIL PEOPLE WITH THIS MOVEMENT.
STOP ACTING LIKE A PIECE OF SHIT.

— 🙄 (@always_opposed) July 24, 2019
Stop jeopardizing the entire #MeToo movement just because you're mad at your partner for cheating. This is the reason why most of the people still don't take it seriously. Stop. It.

— wonderbano (@kalashankauf101) July 24, 2019
Do you think this case falls under the umbrella of the MeToo movement? Let us know in the comments below!