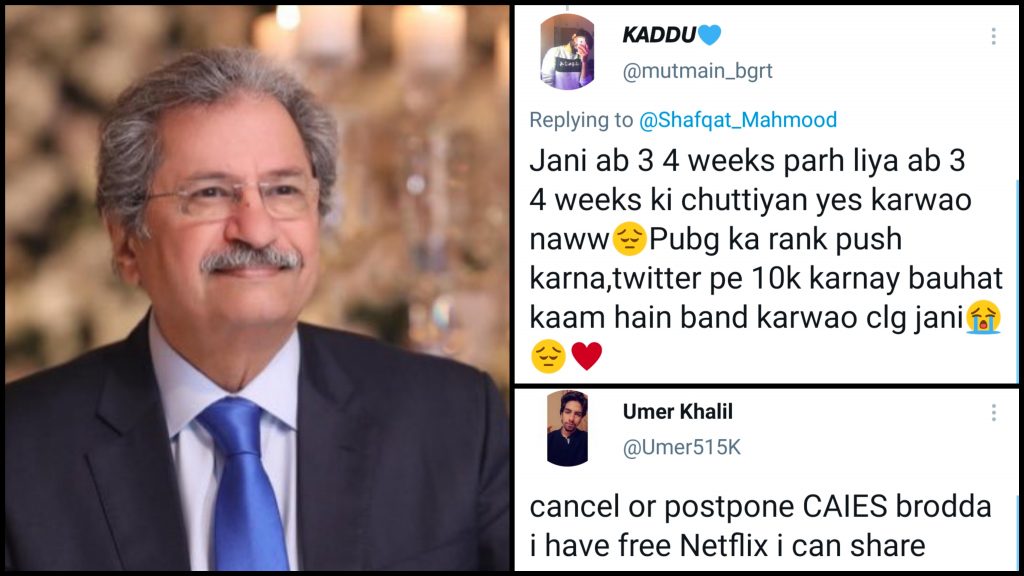 In the wake of the third wave of the novel coronavirus, students have been desperately waiting for another lockdown to prevent themselves from the virus.
And as the numbers keep getting higher and higher, education ministers have a very important decision to make: the future of education in the third wave.
The third coronavirus wave is serious; requires careful review. All education/health ministers will meet Wednesday March 24 at the NCOC to take a decision regarding opening or further closure of educational institutions. Health of students, teachers/staff primary consideration

— Shafqat Mahmood (@Shafqat_Mahmood) March 21, 2021
And students can't help but try and butter Shafqat Mehmood to close down educational institutes and cancel the board examinations:
Sir look we are too young to die. We learn English from twitter and urdu from WhatsApp family groups. Physics and chemistry from Hamza zuberi's pick up lines Aur islamiyat tou har koi sikhata hai twt pe https://t.co/sI2vK7Q4Gy

— Ali Ahsan (@Naqvi5731) March 21, 2021
🤦‍♀️
join the prayer circle:

🕯 🕯
🕯 🕯
school
🕯 band 🕯
hojayee 🤲
🕯 🕯
🕯 🕯 https://t.co/z9bAF6J84H

— sara (@chawalkadaana) March 21, 2021
People were calling him their only hope!
Don't disappoint us Sir!
You are only our hope. #scrapcies21 https://t.co/YKS45wkskA

— CancelCieExams2021 (@CancelCaie2021) March 21, 2021
Yeh kya ho raha hai 👀
cancel or postpone CAIES brodda i have free Netflix i can share https://t.co/rZkU4GjQiy

— Umer Khalil (@Umer515K) March 21, 2021
Some were just done:
Just wanna say that I'm tired of your fazool decisions. When we really needed vacations, you opened everything and now you want to close all institutions again. Ya toh band kardo aik baar ya khol do. Har mahinay akay depression mat dia karo…#طلبہ_کو_پڑھنے_دو @Shafqat_Mahmood https://t.co/X1AAuSJnSA

— عشـــــــــق ممنــوع 🖤 (@BindasLog_) March 22, 2021
Inko dekho:
Paper agey krdo hamary please https://t.co/jPtavkxf1P

— 🌹 (@chup_hojao_tum) March 21, 2021
Itna makhan?
Jani love u ho gya… 😚😚 https://t.co/gTojbmBLNH

— CC.DZN (@CCDDZN) March 21, 2021
Students were desperately waiting for the meeting!
all he does is give us teasers and keep us on our tippie toes 😡😡😡😡😡😡😡 https://t.co/Djd9CB2aQI

— mae ♡ (@umayma_exe) March 21, 2021
Jumma jumma 8 din huay hain jaatay huay and they want a vacation already!
Indeeed vacations needed https://t.co/5VJY0jLgc2

— EzzaNoor (@EzzaNoor4) March 21, 2021
Many were in favour of online exams:
Yes sir health is very important. Close all education institutes as soon as possible. Online exams should be taken 😍❤️ https://t.co/3nlXh5ycgD

— ch_⁷ (@logkehtyhn) March 21, 2021
Aur kuch?
Sir g ye hospital me vivas honay hay wo cancel krwa de. Plz. https://t.co/NQQ8LWIQOQ

— Hassan (@IlaichinBiryani) March 21, 2021
🤣🤣🤣
well hello bestie https://t.co/y9IUIQzn8I

— maria (@mrsmyouii) March 21, 2021
🤦‍♀️🤦‍♀️
Plz sr chutean de dy humy https://t.co/O0sdg3fXl8

— Rehlish PTI (@Nayapak39896591) March 21, 2021
Students were having the time of their life!
Students to Shfqat uncl: pic.twitter.com/PlvwT34l50

— Ahm_3d💫 (@AhmedHa94717933) March 21, 2021
They were ready for the announcement:
Waiting for more holidays 🙂 sir pic.twitter.com/kcSDFavcNp

— ♦Awais♦Ur♦Rehمan♦🥀 (@call_me_awais) March 21, 2021
Oh bhaeeeeee!
Jani ab 3 4 weeks parh liya ab 3 4 weeks ki chuttiyan yes karwao naww😔Pubg ka rank push karna,twitter pe 10k karnay bauhat kaam hain band karwao clg jani😭😔♥️

— 𝙆𝘼𝘿𝘿𝙐💙 (@mutmain_bgrt) March 21, 2021
CIES waalon ke alag ronay:
You have postponed board exams but what about us? The kids who are going for cies. We get less time and more difficult education

— Arish (@heckarish) March 21, 2021
Yar 🤣
chachu make your decision by tomorrow otherwise we will have to give papers that are going to start from 24 of march .. plz make it as soon as possible…

— Anchal (@Anchal66187623) March 21, 2021
Girl 👀
If you open colleges we will all d!e and no youth no future we will go down the drain pls sir

— maida (@problematicoomf) March 21, 2021
And while most people wanted the educational institutes to close, others were strictly against the decision to close them:
Makes sense!
In case closure of schools is extended beyond 28th March, there must be fee reduction minimum 40-50%. https://t.co/JJ2EvwJ975

— Umair (@Umair10458439) March 22, 2021
Yar 🥺
Uncle khol dein institutes, mama itna ziada kaam karwati hain, poora din kaam kartey raho, online classes ko mazak samjhtey hain sab, 4 ghnte class leny k baad sunne ko milta phone pey hi thi chalo ab bartan dho. Mujhy nahi pata uni kholein.😡😡

— quarantined (@keeriiiii) March 21, 2021
People were sharing genuine reasons:
please take the fact that A2 students are at a massive disadvantage compared to their fsc and international peers. getting into a good university is already harder this year, realize that school is expensive and repeating all of AS&A2 is not a viable option for many. #scrapcies21 https://t.co/r0Acork3h7

— asar (@asarrrh) March 21, 2021
Hahaha 🤣
Itni mushkil sy university Tak phnchi aur ab ye manhos corona 🙂 https://t.co/dbj1WnSbWi

— Sayyidah_Ume_Laila🇵🇰 (@being__Shia) March 21, 2021
Students weren't satisfied with online classes:
We don't need more online classes please 🙏
This online system is destroying our future 😞😒 https://t.co/JoUm8CBzGg

— Qazi Farzooq (@QFarzooq) March 22, 2021
People were worried about how it was affecting the literacy rate:
Corona has given unavoidable economic loss to our country and now the closure of education institutes are affecting the literacy rate and learning of our youth. Plz avoid this loss and open the institutes otherwise affects will be drastic for Pak.Please consider it in meeting 🙂 https://t.co/XHNqFqzSq1

— Saqib Saleem Maan (Engineer) (@SaqiibSaleem) March 21, 2021
We stan this king:
Sir medical college khol den ham mask pehn k aty hain saary ,prof hamney physical dydia ab classes bhe physical leny dain tuwanu Allah da wasta eyy medical kaaleg kholo. Ab notification ajana chahhye uhs sy. Okay cutie? Goodnight. https://t.co/ERZF0e4cks

— Assad Bajwa (@oyebajwey) March 21, 2021
Dhamki!
Tenu teri maa di qasm aye paper na cancel karayein, main tere daftar de samne surf khawan ga nai te

— D E P A R T E D (@waliiii_oyeeee) March 21, 2021
Yeh cheez!
IT'S NOT A SWITCH YOU CAN TURN ON AND OFF. Give us an extended plan for education that we can stick too and be comfortable with whether online or on-campus. ENOUGH with this closure and opening drama.

— Faizan Khattak (@faizan_ukk) March 21, 2021
What outcome are you expecting from the meeting? Let us know in the comments below!