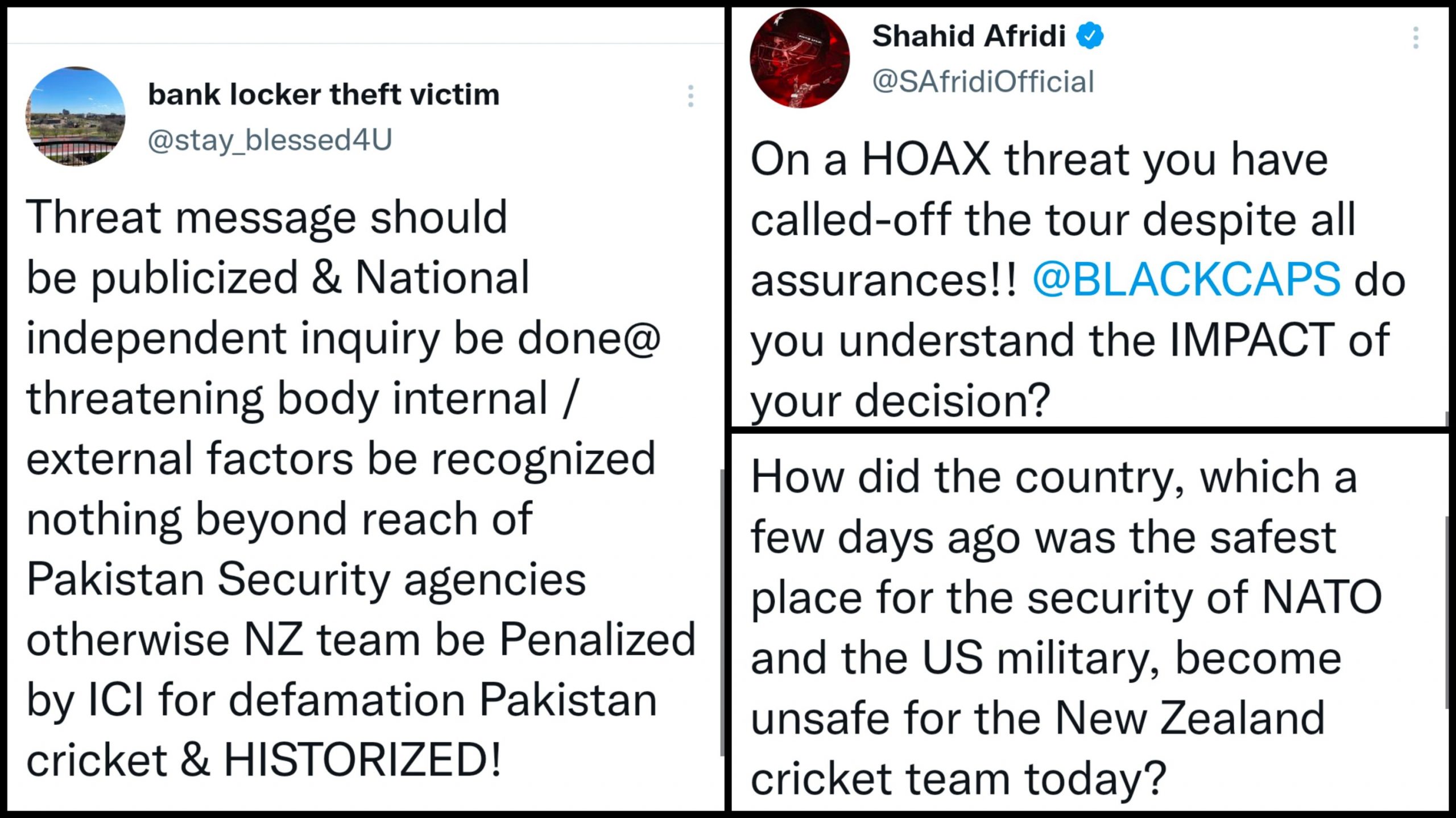 Despite all assurances from the Pakistani government and a positive security assessment, New Zealand Cricket has cancelled its Pakistan tour, citing "security threats" just before the start of the first ODI match.
And it's left the nation and it's cricket buffs angered:
On a HOAX threat you have called-off the tour despite all assurances!! @BLACKCAPS do you understand the IMPACT of your decision?

— Shahid Afridi (@SAfridiOfficial) September 17, 2021
PCB also took to Twitter to share how others were feeling:
What they are saying! #PAKvNZ pic.twitter.com/6fSiQF8MqZ

— Pakistan Cricket (@TheRealPCB) September 17, 2021
— Pakistan Cricket (@TheRealPCB) September 17, 2021
The hashtag #ShameOnBlackCaps has also been trending on Twitter:
How did the country, which a few days ago was the safest place for the security of NATO and the US military, become unsafe for the New Zealand cricket team today?
#PAKvNZ #BCCI #NZvPAK #PakistanZindabad #ShameOnBlackCaps #PakistanIsSafeforEveryone pic.twitter.com/fPMfZJH8hU

— Junaid Ali Cheema (@JunaidAliCheem1) September 17, 2021
International fans were feeling for Pakistan:
This isn't the one unfortunately! I've got a massive soft spot for Pakistan Cricket, always love the unpredictability of the teams, the quality of cricketers that Pakistan produces! They're just a joy to watch 🥰 and Pakistan fans on this app are some of the best going as well! https://t.co/ct6Qkn2QhU

— Michael Parker (@Parksy17) September 17, 2021
People were calling the abandonment irresponsible:
Irresponsible behaviour of NewZeland Team.@BLACKCAPS@BiniPTI pic.twitter.com/N2EUzNP2cE

— بینِـــــش (@BiniPTI) September 17, 2021
Exactly!
#ShameOnBlackCaps
After the attack on Bangladesh cricket in NZ and after the attack on a Mosque in New Zealand Christchurch, Pakistan was the first team to tour NZ. We showed the world that NZ was safe enough to play but this attitude of NZ is unacceptable.@SidrabilalSays

— Sidra bilal (@SidrabilalSays) September 17, 2021
Fans were heartbroken:
Heartbreaking💔 that the NZ cricket board & govt have cancelled this important tour despite knowing that all their security concerns were cleared n a call was made by our PM to ensure the security. #PAKvNZ #shameonblackcaps#PakistanIsSafeZone pic.twitter.com/RcBiVltkjl

— Rahmat Ullah (@Rahmatullah9900) September 17, 2021
People were calling it a planned conspiracy:
Pre-planned conspiracy to defame Pakistan.#PAKvNZ https://t.co/kCyM3iPOId

— Hasan Ahmed🇵🇸 (@HasanAh86420860) September 17, 2021
Citizens were assuring how Pakistan was safe for cricket:
Pakistan is more than safe https://t.co/42AClELggd

— Asim Khan Yousafzai (@AsimKhanYousaf6) September 17, 2021
People found the last-minute abandonment suspicious:
It is very strange: how such a huge decision came at the 11th hour? Very suspicious and very unprofessional! https://t.co/xT3Fi7yn2v

— Amna khan (@1128amnakhan) September 17, 2021
People were standing with PCB:
– I stand with the PCB, I stand with Pakistan!
🇵🇰 Zindabad https://t.co/vkUmvSLIfd

— Asif Khan (@mak_asif) September 17, 2021
People were calling for an inquiry on the threat message:
Threat message should be publicized & National independent inquiry be done@ threatening body internal / external factors be recognized nothing beyond reach of Pakistan Security agencies otherwise NZ team be Penalized by ICI for defamation Pakistan cricket & HISTORIZED! https://t.co/FDM88YRIeD

— bank locker theft victim (@stay_blessed4U) September 17, 2021
🤷‍♀️
Security of the New Zealand team, plus 2 helicopters were also monitored https://t.co/6ssaJ8CyMS pic.twitter.com/JMX6YDS1Lx

— MR/KGSB (@MrKgking) September 17, 2021
Fans were hurt:
Our hearts really got broken. Its sucha big blow to us Pakistani's😔. We are hurt more then one can expect!our heads got down to the hole world💔 https://t.co/YZXvIUNXeB

— Nadir Sohail (@NadirSohail5) September 17, 2021
People were calling it a murder:
#ShameOnBlackCaps
This is not only an abandoned series but its a brutal murder of Pakistan cricket and its cricket lovers.@BLACKCAPS @iramizraja @AssadKazmiPTI pic.twitter.com/TJ0sLjvz0Q

— Syed Assad kazmi (@AssadKazmiPTI) September 17, 2021
People were disappointed!
#ShameOnBlackCaps
Nz cricketers were provided head of state level security, they were state's guests here which means highest level of protection were given to them,our agencies successfully managedsecurity during various cricket events in last few years.This is so disappointing. pic.twitter.com/0GiIcYUDva

— Taalia Nomi (@_NomiTaalia) September 17, 2021
And while many empathised, others found it to be unprofessional:
I know emotions are running high at the moment, but you can't have a cricket board posting tweets of this sort. It's childish and unprofessional.
Such an aggressive stance – at least publicly on social media – doesn't help the situation at all.#PAKvNZ https://t.co/k4fILeulQh

— Shaan Waseem (@shaanwaseem2) September 17, 2021
People were sharing that the damage had been done:
Damage has been done. https://t.co/02vMrX0AmW

— Oh, Pakistan🇵🇰. Mask & Vaccine. (@OhPakistan) September 17, 2021
What do you think about the team abandoning the tour? Let us know in the comments below!