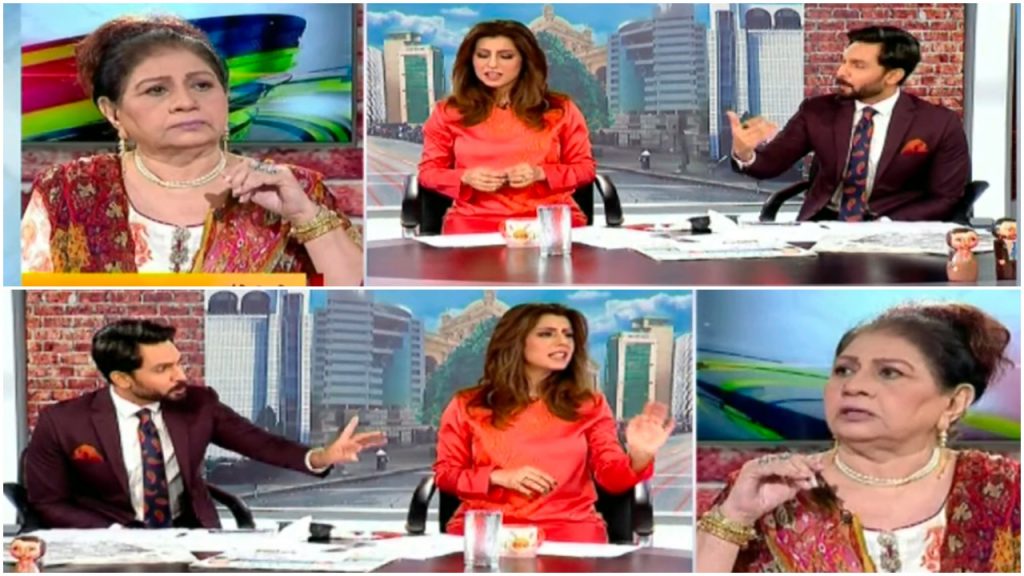 An interview of a famous matchmaker Mrs. Khan went viral and garnered tons of criticism and support at the same time. Some thought the message could have been conveyed in a much polite manner and some were rooting for her, it was a crazy mess! In a recent interview, Mrs. Khan was invited and questioned about the viral clip and here's what she has to say:
She starts off by sharing how she was bullied for the past couple of days at the hands of many women who did not even spare her at 3-4am in the morning. When asked to elaborate about the viral clip, Mrs. Khan, in a very sensitive and mature way handled the situation and shared that she might have come off as an advocate of patriarchy in the clip but it is not what she believes in.
She then added how she is all about women empowerment and acknowledges that times have changed widely. She also encouraged working women and said that there's nothing wrong in hiring house help and honestly, she's definitely redeemed herself for many!
She also added how it is equally important for men to take care of their wives and that she would never support a man who raises his hand on his wife or expects her to be a full time maid.
Whatever Mrs. Khan said in that viral video is applicable to men as well. In most relationships, both partners argue just for the sake of argument by trying to one up each other. Both men and women should control their lallos and try to make compromises. That's how it works.

— TJ Griller (@lone4t) August 26, 2019
And people were ready to forgive her:
#mrskhan Don't endorse her views.heard her2dayon Geo TV may be pardoned & MUSTBEIGNORED given her age & conditioning. waiting 2c reaction&rejection4 adverts.#ShaanNihari #fairlovely ETC.&Lavish Weddings & fashion showsmorningshowspromoting such nonsense disseminatingdepression

— Dr Rakhshinda (@dr_rakhshinda) August 26, 2019
People loved how the host tackled the issue:
I liked the way female anchor made #MrsKhan realise her mistake, she was compelled to say I regret what I said ! But it was funny when she said ہم آپکی نانی کی جگہ ہیں تو خاموش ہو جائیں نا اگر کوئی بات بری بھی لگی ہے !

— Munazza Gillani (@monagilani) August 26, 2019
Saw you and the other host interviewing Mrs khan and DAMN, mad respect for you guys. You guys let her have it in the most diplomatic manner you could conjure. Well done

— Hamna Tahir (@HamnaTahir15) August 26, 2019
Some thought of her as everyone's typical family with an access to public platform:
Mrs Khan is actually the true face of our society. She is like our mothers chachis khalaa phuphoss sisters,she just have access to a public platform. #mrskhan

— Borderline Pakoray (@PPakoray) August 26, 2019
And while her interview was loved by many, there were people who still weren't convinced:
mrs. Khan from sher to dher on GEo TV.. lol. saari akadh nikal gae

— Omaid Ibn Naimet (@Omaidk91) August 26, 2019
Many thought of her high blood pressure as an excuse:
MRS KHAN EXCUSES FOR HER BEHAVIOR AS HIGH BP OLD AGE WOMAN.

— غازی~ (@ghazia_waqar) August 26, 2019
Men were tweeting out how they help their wives:
To Mrs. Khan (aka Rishta Aunty): Made these for me and my son while my wife is at work and I'm staying at home taking care of the house & child. Real men don't need to be "taken care of" by their wives. We help take care of our household & stand by our wives as they chase dreams pic.twitter.com/E7JaKMOsiC

— Faizan Jamal (@fizzyjam) August 26, 2019
The sarcasm!
To me Mrs Khan is right. Men should be served food at their tables, their clothes be washed, should be spoon-fed, given a baby pacifier when they weep, & a diaper be wrapped around their asses 24/7. & oh yes, a smack on their butts every now & then would keep them in limits.

— Laraib (@ThandiLaash) August 25, 2019
People were blaming the channel for 'destroying the culture'
#MrsKhan is absolutely right. What is the problem ?? #Geo is playing important role to destroy #pakistani #culture and should must be held responsible for this.

— Khurram Munawar (@KhurramMunawar) August 26, 2019
With all that being said, do you think Mrs. Khan deserves all the bullying she's been facing? Do you agree with her thoughts in the latest interview? Let us know in the comments below!