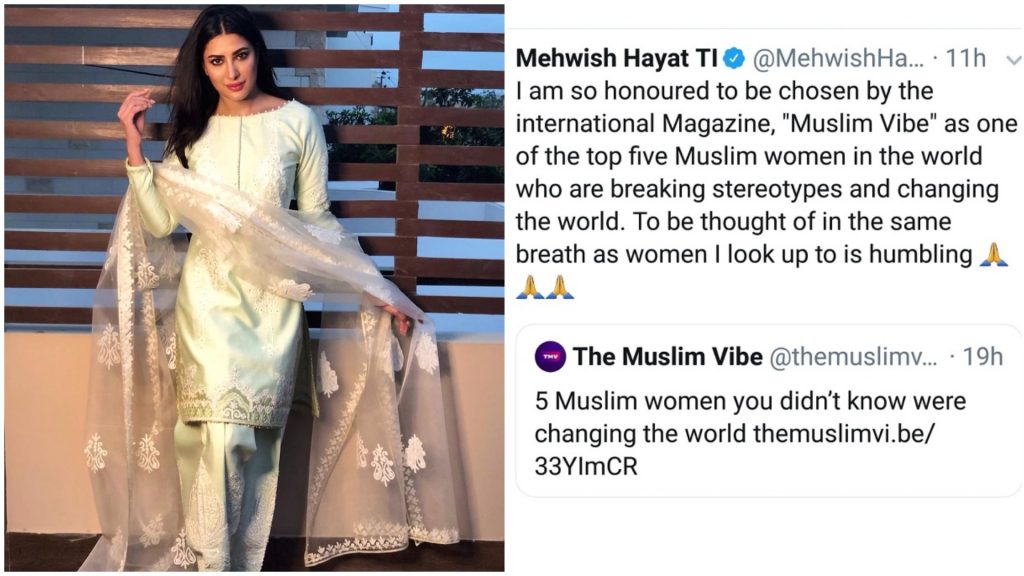 Everyday is a challenge for Mehwish Hayat who is on a mission to represent Pakistan and everyday she excels further, making us all very proud of her!
An international publication that represents Muslims all around the globe, Muslim Vibe, featured Mehwish Hayat as one of the 5 Muslim women who are breaking stereotypes and changing the world. Mehwish shared the article with her friends and fans on Twitter in a heart-felt post:
I am so honoured to be chosen by the international Magazine, "Muslim Vibe" as one of the top five Muslim women in the world who are breaking stereotypes and changing the world. To be thought of in the same breath as women I look up to is humbling 🙏🙏🙏 https://t.co/3NUkAkIyQe

— Mehwish Hayat TI (@MehwishHayat) August 26, 2019
Apart from Mehwish, the list also featured 4 ground breaking Muslim women:
Manal Rostom: Egyptian athlete, fitness influencer, clinical pharmacist and founder of online community Surviving Hijab.
2. Ilhan Omar: She is the first woman of colour and the first Somali American to be elected from Minnesota as a member of the US House of Representatives.
Linda Sarsour: Co-chair of the 2017 and 2019 Women's Marches who was included in Time magazine's '100 Most Influential People' in 2017.
Ibtihaj Muhammad: She became the first woman to compete for the US wearing a hijab, and the first female Muslim-American to earn a medal at the Olympics.
Mehwish was praised for her activism, advocating for a positive representations of Pakistan and divisive nationalism. The news had her fans ecstatic and they all shared how proud they are of her:
Keep up the good work 👍 it really matters 👌 pic.twitter.com/U0lP6v2lGZ

— Kamran Malik (@Maloksaab) August 26, 2019
People were praising her through and through:
Billion of congratulations … Keep shining like this … You truly are doing best work defined in context of mankind that is serving humanity…❤️

— DaNii (@DaniiSays) August 26, 2019
This indeed is just the beginning because sky is the limit for Mehwish!
Great job Mehwish, this is just a beginning, we are proud of you. Keep it up larki👍👍

— Imran Rizvi (@ImranRizvi404) August 26, 2019
Many wanted her to stay the same:
Please stay the same @MehwishHayat. Some times international recognition gets on people head and they forget what they even got recognition for in the first place. @priyankachopra @Malala

— Ali Haider (@AliHaid42980634) August 26, 2019
People were sending tons of love and prayers thanking her for her efforts:
Thank you! Thank you very much for leading us! May ALLAH TAHALA SHOWERS HIS BEST IN BEST BLESSING UPON YOU!

— Gul Zaمan (@zamangul_gul) August 26, 2019
Yaaaas, she's the diva we stan all day, every day!
More power to you!! Ill tell you everyday we stan youuu💓💓💖💫🙈

— Rimeesha 'FREE KASHMIR' (@amlosingmymind) August 26, 2019
Some reminded her how her responsibilities have changed now:
This is simply Brilliant!
Congratulations Mehwish…and now your responsibilities have increased many Folds.
You are a known personality internationally now, hence, please keep working hard and promote Pakistan's soft image to the world.@ImranKhanPTI @pid_gov @OfficialDGISPR

— SSH (@SSH21881399) August 27, 2019
Even those who criticized her for receiving Tamgha-e-Imtiaz now stand proud of her:
I have criticized @pid_gov for giving you the honor but then the role that you played here for raising the #Kashmir cause with your influence; I must say I am glad that Allah SW has given you the toufeeq to do so unlike many of your colleagues who are still lip shut. Kudos 👏👏

— ëngGinëëRëD~ŁiFë (@Engineeredlife) August 27, 2019
People also shared how their perception of her changed:
Proud of you. My perception about you is changed to 180 degrees. You are a very mature and sensible person. You deserved that National award "Tamgha-e-Imtiaz". #Respect.

— Zubair Ishtiaq 🇵🇰 (@zubairishtiaque) August 26, 2019
Even people who had their differences put them aside to support her:
Despite some differences of opinion i am convinced to recognize ur work by heart, so keep it up. You got voice n world is listening you. Try to make the world believe Pakistan as peaceful and honored nation…
Love…

— Tayyab Miana (@tayyab_miana) August 27, 2019
We love a diva who uses her voice for the right reasons, at the right platforms. You make us proud, Mehwish, go conquer the world! What are your thoughts on Mehwish's efforts? Let us know in the comments below!