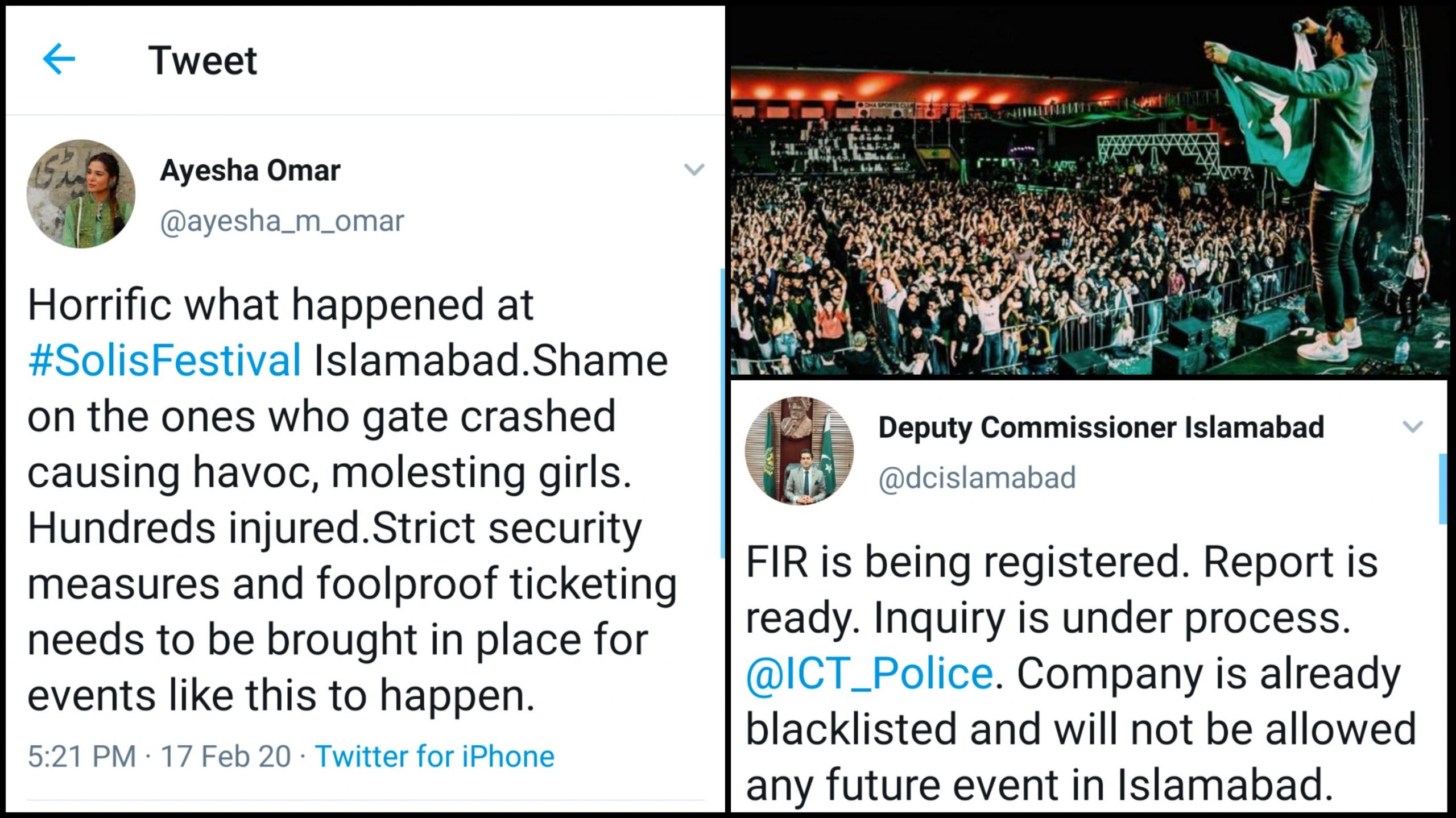 In a country that's already deprived of entertainment facilities and festival culture, Solis Islamabad proved to be a big disaster after people forcibly tried to get in and overcrowded the venue which resulted in one of the stages to collapse, with many injured and harassed it was nothing short of a nightmare.
Extremely disappointed with this event and its performance, if you cant house so many people why sell so many tickets? A waste of time and money
#solis pic.twitter.com/gj13n4ccvr

— Uzair Bangash (@UzairBangash9) February 15, 2020
This was the fourth edition of the EDM festival taking place at PNCA and all was going well until people with fake tickets started showing up and when they were refused entry, they tried entering in as a mob, attacking anyone and anything that came in their way.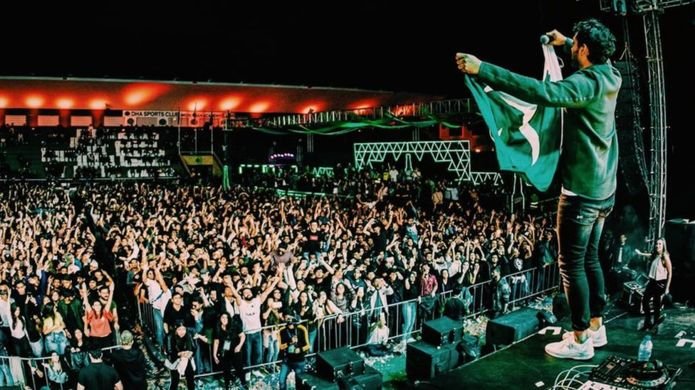 There were numerous accounts of harassment that the girls faced at the festival, even the boys weren't spared. And after the stage collapsed people tried stealing from the victims who were hurt or stuck, with many ending up at hospitals.
FIR is being registered. Report is ready. Inquiry is under process. @ICT_Police. Company is already blacklisted and will not be allowed any future event in Islamabad. https://t.co/wFJs3ffYj9

— Deputy Commissioner Islamabad (@dcislamabad) February 16, 2020

An FIR has been registered against the management said DC Islamabad, Muhammad Hamza Shafqaat, in an update on social media regarding the debacle at the Solis Music and Arts Festival in Islamabad.
Horrific accounts from the attendees came forward:
The children and families who came to attend Solis Music Festival will only remember the fear and trauma of stag men gawking, pushing, mouths hung open with lust and grime. These men were ticket holders- buying a ticket does not mean you get to punch me and push me asshole – sigh

— Nayha Jehangir Khan (@nayhajayart) February 16, 2020
A woman attending #SolisFestival last night shares her horrifying ordeal.

She + friends were harassed and sexually assaulted by male concert goers, gatecrashers. They were injured by a falling platform.

Event organisers failed on every level.

Who's going to answer for this? pic.twitter.com/hF5j0Q4I2v

— Hamna Zubair (@hamnazubair) February 16, 2020
Just read wt a girl went through on #SolisFestival & I'm so disgusted, a boy laying on an unconscious girl, other slapping, trying to take off her shirt, Astaghfirullah can't even imagine, it's really scary that such beasts are living around us FREELY doing all this with AUDACITY

— Ayeshay (@champagne_lassi) February 17, 2020
As the reports of the mismanagement came through, people were in furious and in disbelief:
Except for #solis managements utter failure n their lame excuses of fake tickets in this day and age of QR code. Pakistanis really need to question themselves why they would grope a woman whose leg is trapped under a fallen stage or call her a "gashti" if she's wearing a top 1/2

— Ali Gul Pir (@Aligulpir) February 17, 2020
Or gang up and molest a girl in a concert if she's seen alone or with just one guy (I have personally seen this as a teenager at least thrice). These people are Pakistanis, they are not aliens or foreigners. Sad to see this side of our country. Truly harrowing

— Ali Gul Pir (@Aligulpir) February 17, 2020
Many thought the city just wasn't capable of managing an event:
From groping incidents to stage collapse leading to a guy's death, everything that happened at #solis isb goes to show that the ppl of this country are not capable of organising or attending big events. Whether it is the money-minting management that selects a tiny venue, sells

— Zoya Nazir (@ZoyaNazir6) February 15, 2020
People were disappointed:
Utterly disappointed how things were handled at #SolisFestival as much as you invest into promotion consider providing equal amount of security to every single human being. Clothing or behaviour does not justify groping or any misbehaviour and the mismanagement https://t.co/RfOlAZxUcj

— IG: marciatayyab (@MarshaTayyab) February 17, 2020
People were in disbelief:
I'm still trying to come to terms with what happened at the #SolisFestival.

But I cannot.

As a human being, I cannot fathom how another can treat one of their own like an inanimate object, like trash.

Reports of sexual harassment/assault are not new, we're aware of what's

— Munnazzah Raza (@MunnazzahR) February 17, 2020
Many were blaming men for the inappropriate behaviour:
I went to three concerts (Atif, EP and Noori) in Kinnaird College as a teenager and had the best time because only girls were allowed. Boys ruin everything. #SolisFestival

— Rimmel Mohydin (@Rimmel_Mohydin) February 17, 2020
Many thought the society needed a lot of schooling:
From mismanagement to over populated event from breaking VIP lounges to destruction of stage, one can easily navigate that we are intolerant society as a whole that needs schooling badly I REPEAT BADLY #Solis #solisfestival #Islamabad pic.twitter.com/MxAqNiBhlM

— SUMAIRA RAJPUT (@sumaira_rajput) February 16, 2020
People were recalling how Islamabad has a history of hooliganism:
#Islamabad has a history of hooliganism in concerts going as far back as December 1984 youth festival featuring #NaziaHasan and #ZoebHasan Then #Music89 and #PTVAwards they all have been badly managed What happened at #SolisFestival is sad but the history continues repeat itself!

— Asad Qureshi (@QureshiAsadAli) February 17, 2020
Many thought that Pakistan had a long way to go:
Ppl in Pakistan are not ready for electronic music festivals there is 0 regulation here on drugs and behaviour that follows as a result of which large scale harrasment takes place at these venues #SolisFestival

— FK (@faisalkapadia) February 17, 2020
It was disturbing for many:
The stories from horse mouths of harassment, groping, mismanagement, uncouth behaviour, stamped etc at #solisfestival last night in Isloo extremely disgusted and perturbed me to the core; the whole mismanaged event once again exposed how much morally shallow & corrupt we're. 🤦‍♂️

— OSD….. (@MagoaTalks) February 16, 2020
People were calling it the death of international artists coming to Pakistan:
This could be the death of international artists coming to Pakistan. #solis #solisfestival #solisislamabad https://t.co/MntnoFkjxv

— Nayab Zahra Kazmi (@WhatTheFatwa) February 16, 2020
Many were simply slut shaming women for the clothes they chose to wear:
Apparently dressing up for a music festival gives "men" the right to harass women. #solis #SolisIslamabad I can't fucking believe this piece of shit of a man. pic.twitter.com/ABKbjDvrW7

— Samia Afzal (@___sammmmm) February 16, 2020
And while people were standing with the victims, celebrities joined in after they learnt what went down at the festival:
Horrific what happened at #SolisFestival Islamabad.Shame on the ones who gate crashed causing havoc, molesting girls. Hundreds injured.Strict security measures and foolproof ticketing needs to be brought in place for events like this to happen.

— Ayesha Omar (@ayesha_m_omar) February 17, 2020
Ahsan Khan had some suggestions:
My advice to music festival goers….always have backup stay safe know whose around you and the minute it gets rowdy get out…#SolisIslamabad has turned out to be a case study in what could go wrong

— Ahsan Khan (@Ahsankhanuk) February 17, 2020
Frieha Altaf was utterly disappointed:
#solis #SolisFestival pic.twitter.com/q4Y2GGQwD3

— Frieha Altaf (@FriehaAltaf) February 17, 2020
The official Solis page on Instagram issued a statement the very next day, saying they were sorry and they tried their best:
https://www.instagram.com/p/B8oJ-voh1FD/?igshid=1652heo9dm4xs
There were rumours of someone dying at the festival, but they were shunned down by the attendees, many were injured but there were no casualties. RIP festival culture in Pakistan.
What do you think about what happened at the Solis Festival in Islamabad? Let us know in the comments below!