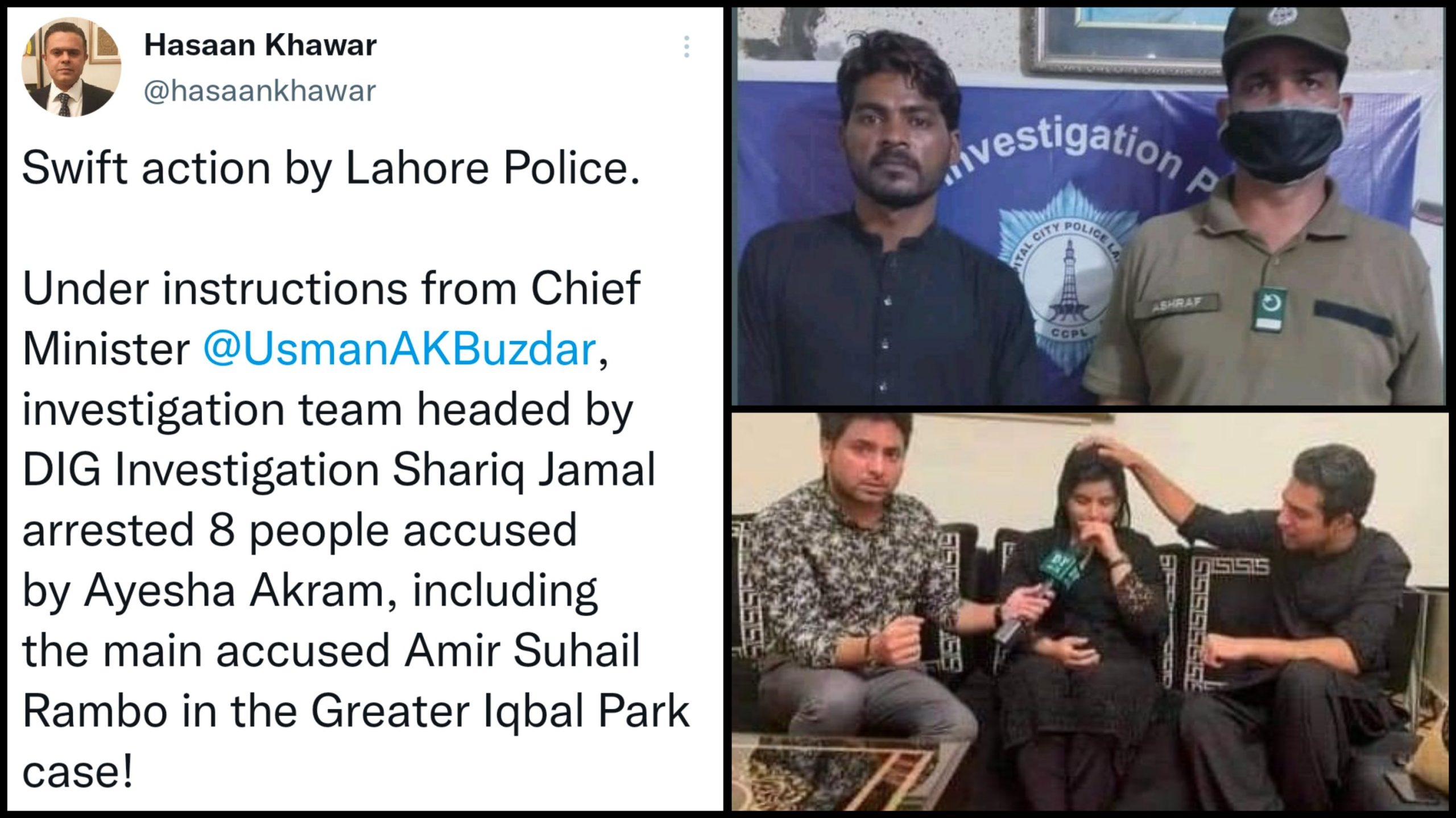 The Minar-e-Pakistan incident left the nation in shock as they witnessed mob-barbarity on independence day. An FIR was filed against 400 men who manhandled the tiktoker Ayesha Akram.
However, things have taken a turn as the tiktoker has submitted a written statement to the investigating DIG blaming her partner Rambo for it. She claims that him who blackmailed her with compromising data, and was a part of a 13 member gang that planned to harass her by forcibly taking her to Minar-e-Pakistan which later led to the tragic incident. All the information released so far has come from various sources and no official statement has been issued except the news of Rambo and 8 other men of the gang in question.
Swift action by Lahore Police.

Under instructions from Chief Minister @UsmanAKBuzdar, investigation team headed by DIG Investigation Shariq Jamal arrested 8 people accused by Ayesha Akram, including the main accused Amir Suhail Rambo in the Greater Iqbal Park case!

Well done! pic.twitter.com/Iv0OHW1HWm

— Hasaan Khawar (@hasaankhawar) October 8, 2021
As the details of the case surfaced the internet, people took to Twitter to express their fury:


The hashtag #AyeshaAkram is currently the top trend on Twitter and people have a lot to say!
She is finally exposed. She should be punished for defaming Pakistan. It is necessary that no one should even courage to defame Pakistan.
Respect of Pakistan matters a lot.#AyeshaAkram pic.twitter.com/Ugwy4iB6iE

— Fazal Abbas (@_AbbasFazal) October 8, 2021
People had lost trust:
The reason you can't trust this world 🌚 #AyeshaAkram pic.twitter.com/ui3t01mjcF

— Syeda Trimzi (@TrimiziiiSyeda) October 8, 2021
People also wanted Yasir Shami and Iqrar ul Hassan to be held accountable:
What about this anchor who scripted & break the whole story 🤔🤥#AyeshaAkram pic.twitter.com/wd0ArWEI2n

— TeaserSixer (@teasersixer) October 9, 2021
People were throwing shade at Tiktok:
Guy with a Million Tiktok followers you can comprehend the level of Tiktok itself i guess !! #AyeshaAkram pic.twitter.com/KEWvjZAwkt

— Bismil Hameed 🇵🇰 (@bismilhameed) October 8, 2021
People were angry!
She should be severely punished along with her so called fiancè. You certainly can't sell a lie to whole nation and then get away with it. 😑#AyeshaAkram pic.twitter.com/OwyrEEDqOX

— WaddiDaactarnii🇵🇰 (@Billiii_TheCat) October 9, 2021
People were disappointed:
Not surprised but disappointed !!!
We live in a country where so many women suffer daily.We should try to make their lives easier by raising their issues but instead we get to see such clowns with their fake propaganda who end up destroying their entire narrative. #AyeshaAkram

— DJ Daim (@BaazaoDaim) October 8, 2021
People were calling it a publicity stunt:
Another Publicity Stunt by #AyeshaAkram ,
Publicity Stunts are easiest way to get Cheapest Fame.
Should Stop this Drama Now🤐#BreakingNews #PublicityStunt pic.twitter.com/PJRFvjo4is

— Dr M Faraz Ul Islam⚪ (@mfaraz_ulislam) October 8, 2021
🤷‍♀️
I don't understand how people manipulate their statements and tell a lie so easily. #AyeshaAkram

— aleeynashk (@aleeynashk) October 8, 2021
Waqar Zaka too jumped in for clout:
To all who said Waqar zaka is wrong in saying that #AyeshaAkram is the culprit, hahah next time never challenge my research , so all celebs who were talking in her favour & saying 400 men lol, watch this video where men were protecting her, now apologise for over reacting pic.twitter.com/0XisqWrsyK

— Waqar Zaka (@ZakaWaqar) October 8, 2021
And fellow tweeple had fitting replies:
who were these men protecting her from? more men lol.
and how tf is #AyeshaAkram the "culprit" if her assistant planned this? @ZakaWaqar should really just stfu. u're no different from these 400 men. ur "research" is as shitty as you are. https://t.co/7infA7wOum

— bakhtawar/ save palestine 🇵🇸 (@paglaait) October 9, 2021
Zulam to hua h…larki k kapry to khenchy gaye hein. Iss ki kia explanation hoskti h. Pakistanis shoulf stop shameful act of victim shaming #AyeshaAkramhttps://t.co/ogpxXPyhtg

— Taimoor Khan (@callmeTaimoor) October 8, 2021
What do you think about this current development? Let us know in the comments below!