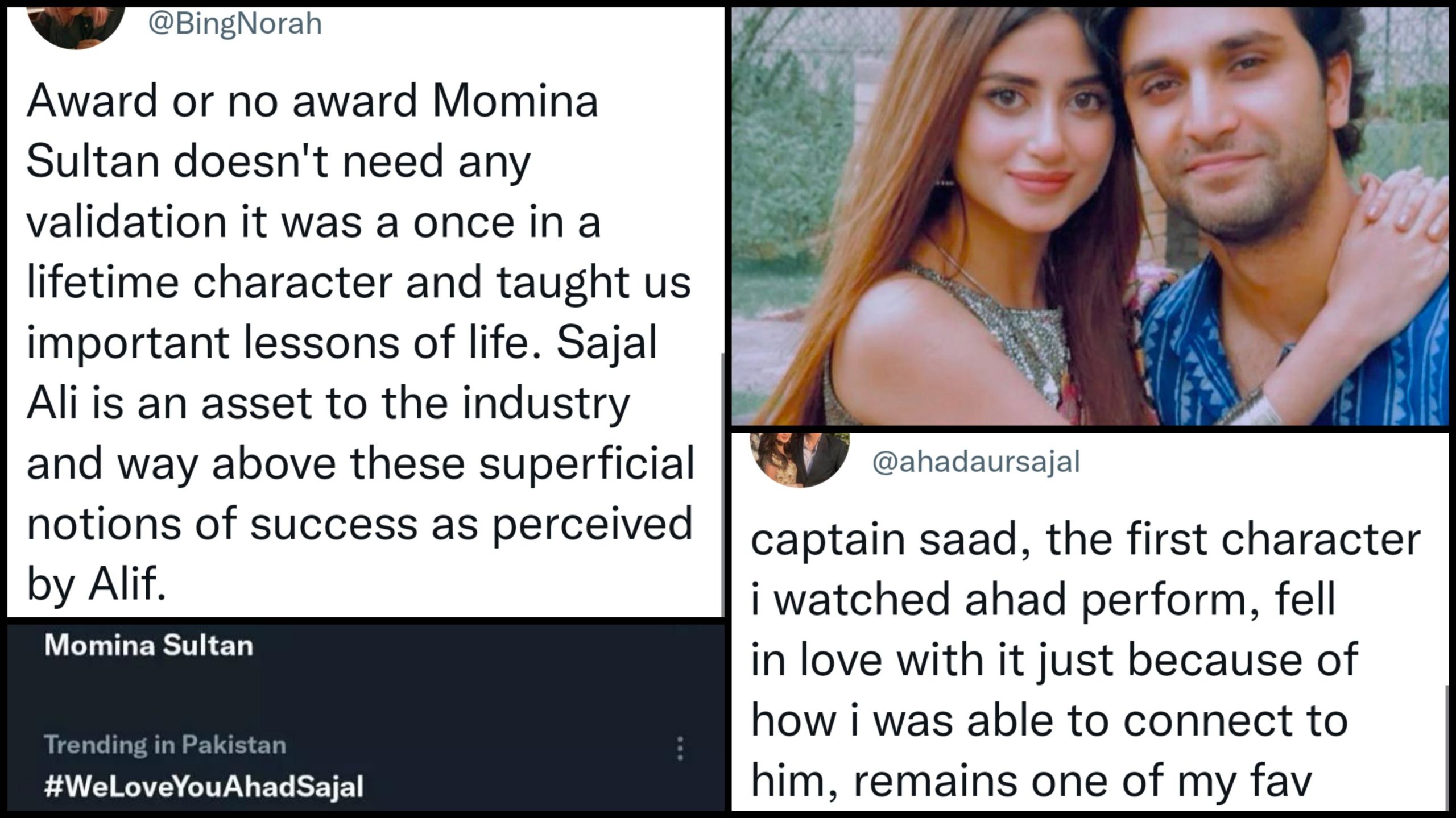 One of the most coveted award shows of all time, Lux Style Awards, finally took place on Saturday! And drama buffs were excitedly waiting to see who wins the best actor and actress for both critics and viewers choice award.
With dramas like Ehd-e-Wafa, Alif, Pyar Ke Sadqay and Deewangi nominated among others, fans were hoping Ahad and Sajal would come home with one of the two awards. Disappointed with the results, fans tried cheering the two up by reminding the two how much they loved them as they trended #WeLoveYouAhadSajal and poured their heart out: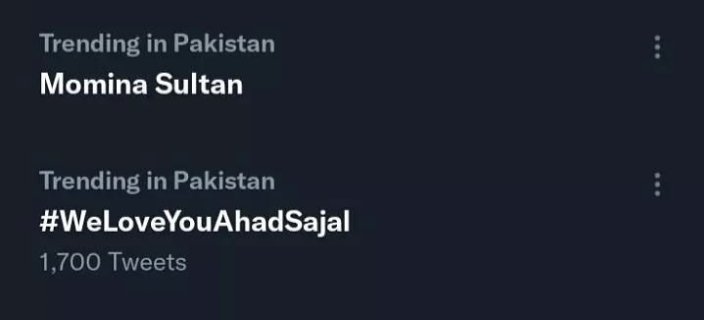 Here's what the fans had to say:
they don't only have beautiful faces but they are beautiful inside out. so much in love with them🤍🥺#weloveyouahadsajal pic.twitter.com/VuY1K6TL36

— ayza. (@iIysajal) October 10, 2021
She will forever be our favourite!
I'll never be able to put in words what this character means to me Momina Sultan always remain special#WeLoveYouAhadSajal pic.twitter.com/qwHcZTTUv0

— Rabiya. (@rabiyaisamess) October 10, 2021
🔥
LET ME BRING BACK SMAAH'S FAV EDIT#WeLoveYouAhadSajalpic.twitter.com/sBnUdgQ70I

— Rabiya. (@rabiyaisamess) October 10, 2021
Shots were fired!
They are winning internationally, who cares about lux lmao#weloveyouahadsajal pic.twitter.com/Z7MfnC6Wyk

— zainab. (@ZubiasSteth) October 10, 2021
Definitely!
Award or no award Momina Sultan doesn't need any validation it was a once in a lifetime character and taught us important lessons of life. Sajal Ali is an asset to the industry and way above these superficial notions of success as perceived by Alif.pic.twitter.com/Bem4wgOG3Q

— naveah 💥 (@BingNorah) October 9, 2021
Fans were sharing how big of an impact Momina Sultan had on them:
No hate towards anyone, but I think Sajal deserved an award for momina sultan. Her character changed me in so many ways. This was sajal's one of the finest performances. SHE LITERALLY DESERVED. 🥺 #Lsa2021

— 🌼 (@jaleb1babyy) October 9, 2021
Fans shared how it was the industry's loss and not theirs:
btw i just wana remind you guys that both Sajal and Ahad have upcoming international projects so like it's not like they aren't Thriving it's our loss that we don't recognise our good performances and actors not their.

— Rabiya. (@rabiyaisamess) October 9, 2021
Fans weren't surprised:
Disappointed? Yes. Surprised? Hell no! Saw it coming, it happens every year.

But Sajal keeps hitting it out the park with her performances! The most versatile and talented actor for a reason ❤. #SajalAly

— 🤓😊…💙 (@shamsia_a10) October 9, 2021
❤❤❤
I've learned some things from Sajal today. My heart still hurts but to see Sajal like this definitely fills my heart with pride with respect and with gratitude for the gem of a human she is. Only prayers and best wishes for her my sweetheart❤#WeLoveYouAhadSajal pic.twitter.com/QIXkCHqoLN

— laiba💫 (@ItzMissL_) October 10, 2021
Can't argue with that!
ahad has to be the most humble and down to earth celebrity ever, look at him standing up for adnan and clapping for him so enthusiastically, truly the best man ever 💞 pic.twitter.com/q26M7uJpf5

— abeera⁷ (@abeerayy_19) October 9, 2021
Head high!
Ahad, you were amazing and remarkable as both Saad and Amaan so don't let these stupid awards tell you otherwise💕#weloveyouahadsajal pic.twitter.com/3cGkevGAs8

— zainab. (@ZubiasSteth) October 10, 2021
We agree!
sajal and ahad are the best actors of Pakistan
I said what I said#weloveyouahadsajal

— ayza. (@iIysajal) October 10, 2021
People were also sharing how Ahad played all 50 shades of Amaan so effortlessly :
ahad as amaan. nothing comes close. portraying such a complex character so perfectly is not something everyones cup of tea. expressions, dialogue delivery, body language. everything was so flawless. hes just very close to my heart 😭 #WeLoveYouAhadSajal pic.twitter.com/kFTQBNY0jm

— nidhi (@4sajaI) October 10, 2021
That's Momina Sultan for you!
Talk about Power and popularity now, even her character name is trending.@Iamsajalali #SajalAly#WeLoveYouAhadSajal pic.twitter.com/ejZVCJsACP

— zoha. (@anything4sajal) October 10, 2021
Fans were sharing how Saad will always hold a special place in their heart:
captain saad, the first character i watched ahad perform, fell in love with it just because of how i was able to connect to him, remains one of my fav characters to this day
——#WeLoveYouAhadSajal • @ahadrazamir

— safi stan समाह (@ahadaursajal) October 10, 2021
What are your thoughts? Let us know in the comments below!