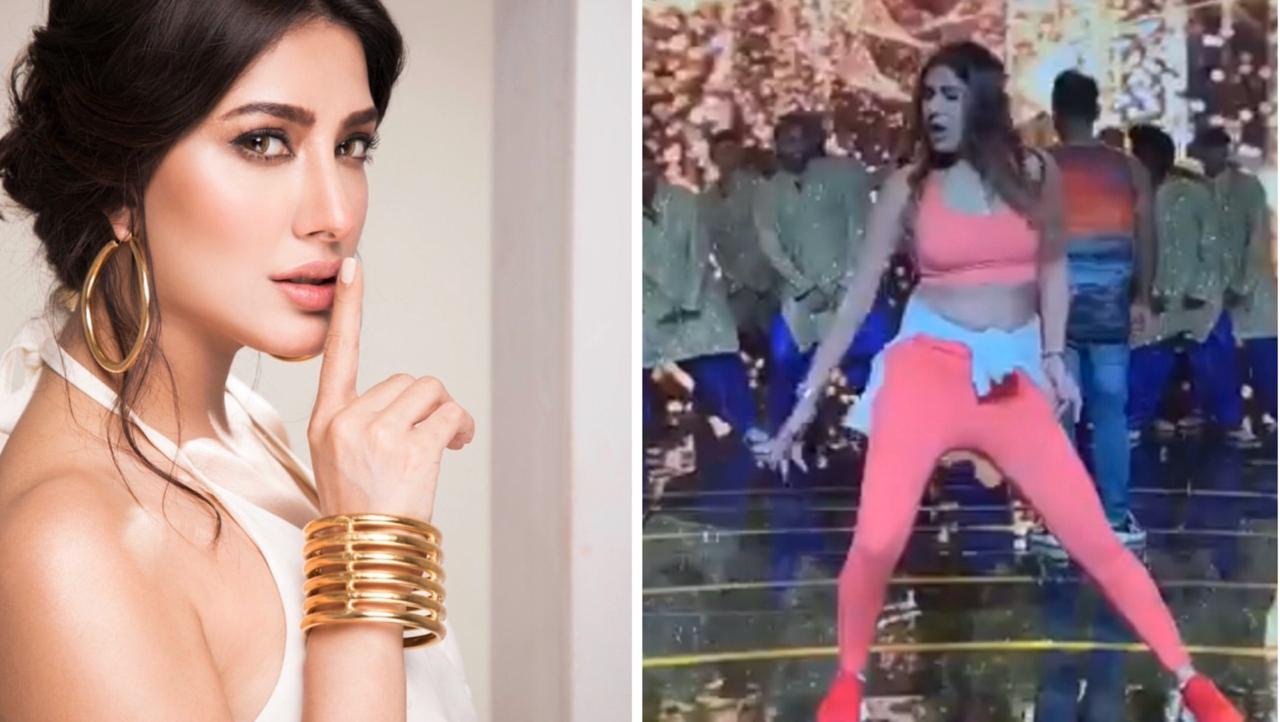 As the Hum Awards came to an end, Mehwish Hayat shared a video from her dance rehearsals featuring Ahsan Khan on her social media:
Setting the stage alight with the fabulous @Ahsankhanuk at the 7th Hum awards rehearsals. Together after 5 years! If you think this is hot… just wait till you see the final performance. 🔥🔥🔥 pic.twitter.com/UhaRj0z6Aa

— Mehwish Hayat TI (@MehwishHayat) October 7, 2019
And while Mehwish was really excited to share the rehearsals, the internet wasn't really ready for it:
Wow great portrayal of Islamic republic of Pakistan ! 👏🏼 well done.. you deserve another award for promoting how modern and inspired you are from Bollywood actresses!

— !M@$ (@iamsamiiiiii) October 7, 2019
Vulgarity at its peak!!!

— Komal Wajih (@KomalWajih) October 7, 2019
Ummm, trying to find the logic here:
Wo jo paida hoty hi qatal krde jati thi..
Aaj wohi aurat deen Islam se azadi chahti hai !!#ShameOnYou #MehwishHayat https://t.co/bP0lHVslIJ

— @realUAK (@UmarArifKhan4) October 8, 2019
Of course there was the mention of the riasat-e-Madina:
ریاست مدینہ ، آپکا لباس اور تمغہ امتیاز…
تالیاں تو بنتی ہیں!

— Dr Ayesha (@Dr_AyeshaNavid) October 7, 2019
Wait, what?
Men and women dancing together is absolutely haram in all cases, except when a wife dances in front of her husband. The reason behind this prohibition is that with mixed dancing bodily contact is close and improper sexual desires are aroused.#MehwishHayat

— AB (@AB_Mayrastra) October 8, 2019
Not sure if sarcasm or tharak?
کوی دس بار غور سے باریکی سے تفصیل سے یہ کلپ دیکھنے کیبعد اس نتیجے میں پہنچا ھوں یہ فحاشی ھے 😠

میں اسکی مذمت کرتا ھوں😊

— Nab The Dentist (@NabTheDentist) October 8, 2019
Chanda jokes were made:
i was thinking ke sab chanda jama kar ke is ghareeb ke lia full dress bana le is bichari ke pas pese nai he. kia khayal he

— Mubeen Zafar (@themubeenzafar) October 7, 2019
Some more jokes about Sitara-e-Imtiaz were made:
You deserve one more Sitara-e-Imtiaz 😂

— Junaid Ali (@alijunaid87) October 7, 2019
Inki suno zara:
Nishane Haider ly k rahy gen ye 😜😜@nousheen_irfan

— Usama Minhas (@usamaafi) October 7, 2019
Some figured out she was a ghadaar because of the clothes she was wearing:
غدار وطن @MehwishHayat

— Babar Mughal (@BabarMu17622267) October 7, 2019
You tell us behen?
Where has your dressing sense gone😁

— Taskeen Zahra (@Taskeenkirmani) October 7, 2019
And then there were body shamers:
Ap moti hogai hain😱

— Nimra (@NimraAsif15) October 7, 2019
Aray, kehna kya chahtay ho bhai?
One more national award for you , just hand them out , yesterday my friend farted , it was the stinkiest I have smelled , hand him one too

— peace football (@Worldf0rPeace) October 7, 2019
Okay, Nimra:
One award in besharmi and cheapness is for u

— Nimra Afzaal (@Nimraafzaal2) October 7, 2019
Some legit didn't like the choreography:
A total lack of choreography. For how long are we going to do exercise in the name of dance?

— A B D O L 💬 (@anxiouxoul) October 8, 2019
You might not like it but the choreography is over complicated. Why can't you Pakistani artists keep it simple and concentrate on the flow instead 🤷🏻‍♂️

— YASSER HASAN (@_yasserhasan_) October 7, 2019
And while many were busy arguing on clothes, weight and awards, there were some who genuinely loved her performance:
Looks amazing in rehearsal so the finale will be just wow 🤩

— Mushtaque Ali (@ali_bhellar) October 7, 2019
Many came forward to defend her:
جو ناچ رہا ہے وہ بھی پاکستانی ہے,
اسکو کچھ نہیں کہیں گے کیا
یا عزت صرف لڑکی ہی خراب کرتی ہے

— Hasnain Zafar Cheema (@cheema_hasnain) October 8, 2019
Some found the performance to be energetic, which it was:
Wow.. you are so Energetic 👌👌

— ☀️S☀️U☀️R☀️I☀️Y☀️A☀️ (@suriyaisthebest) October 7, 2019
Shots were fired!
Overly religious people getting triggered in 1..2..3..

— Hakuna Matata (@dur_e_dardan) October 7, 2019
Loving the sarcasm here:
But iss performance mein kashmir ka to kahin zikar hi ni… 😏😏

— Sa'di (@sadi_cheema) October 7, 2019
Yeh cheez!
That was absolutely stunning, keep working hard and making us proud. May God Keeps you in his blessings.😘😘
Or jo log keh rahy o behaya whatever, rather than saying that have you ever thaught, why are you watching this video. Ku k tum log dekhtay ho esi chezein hawas k pujario.

— Muhammad Shamy (@MahdiShaami) October 7, 2019
This!
I watched video,I saw comments. I could only understand that we are all stuck between modernism and fundamentalism. one more thing that we are best judges for others and don't even know what really we are! Kuch criticism krny Waly sath mein abuses b use kr rahy,I mean ye jaiz??

— Wizz Jon Snow (@Wizz_Rajput) October 8, 2019
SAVAGE!
Keep it up @MehwishHayat sunny Leone ki movies ko 46 baar daikny wali qoom sharm o haya pa lecture day rahi.

— Tahir Mahfooz (@tahirmahfooz) October 7, 2019
But regardless of what people said, Mehwish's performance was one of the most loved performance at the Hum Awards:
What are your thoughts on Mehwish's performance? Let us know in the comments below!