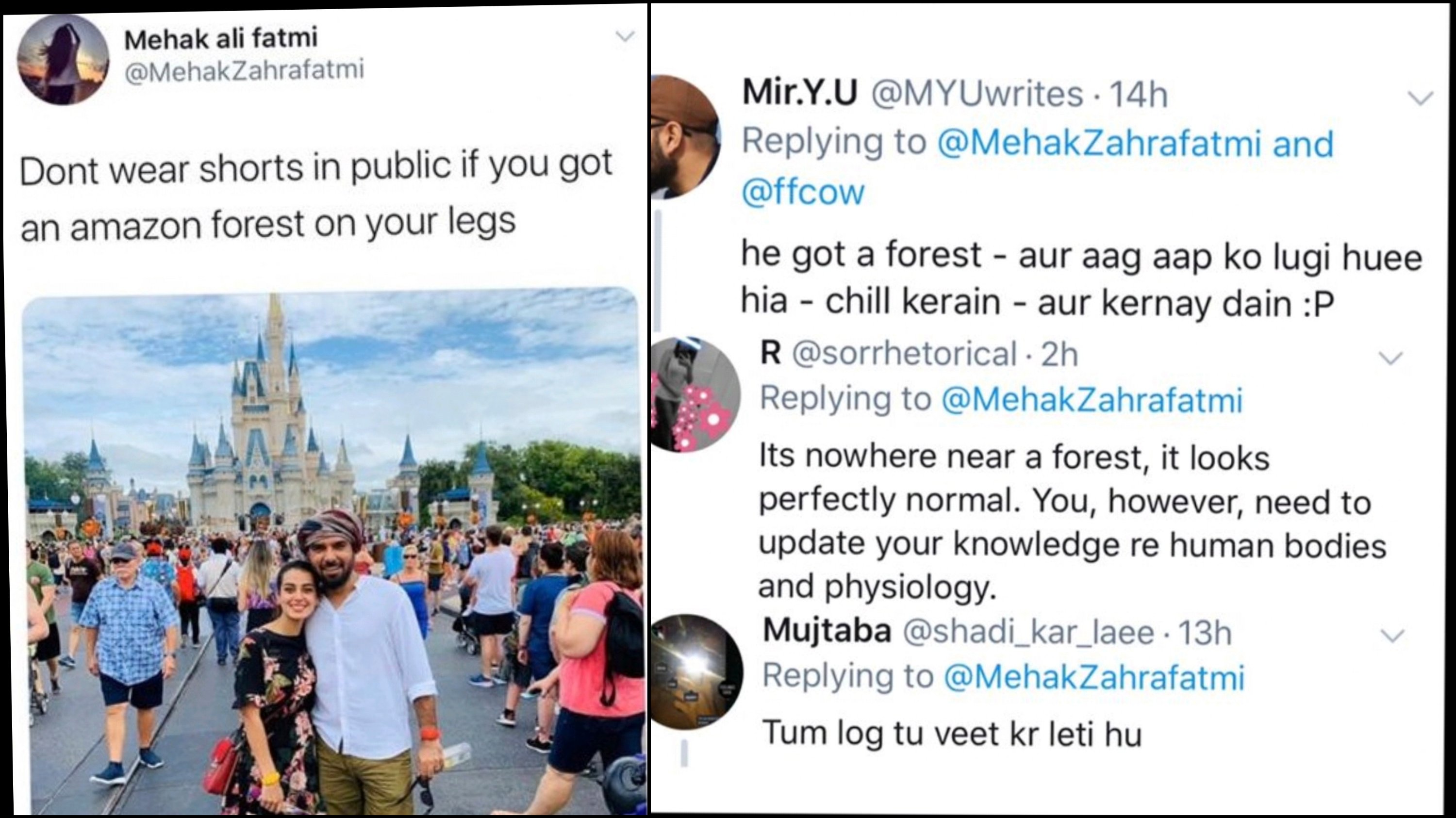 Another day, another desi trying to bodyshame a celebrity, because that's our birth right, haina? A girl who apparently goes by the name Mehak, has a problem with men, Yasir Hussain to be specific, wearing shorts on their hairy legs, which is ummm, kinda weird but hey, its the internet and anything can happen really:
Dont wear shorts in public if you got an amazon forest on your legs pic.twitter.com/P3OwUT2nUj

— Mehak ali fatmi (@MehakZahrafatmi) October 8, 2019
Mehak posted a picture of Iqra and Yasir Hussain to Twitter, sharing how men with an apparent amazon forest should not wear shorts. But the internet made sure she learns her lesson:
Are you referring to his hair? Or her hair? Either way, I feel since it's natural so it's fine. They look happy Mashallah and that's wonderful to see.

— Zed 🇵🇰 (@_IreneAdler__) October 8, 2019
he got a forest – aur aag aap ko lugi huee hia – chill kerain – aur kernay dain 😛

— Mir.Y.U (@MYUwrites) October 8, 2019
People told her how it was only natural to have body hair:
Its nowhere near a forest, it looks perfectly normal. You, however, need to update your knowledge re human bodies and physiology.

— R (@sorrhetorical) October 8, 2019
This must have hit hard:
Assumed future: psychologist to be
Present reality: A psycho projecting her own insecurity with body hair

— Judas Iscariot (@JudasIschariot1) October 8, 2019
The questions we need to be asking:
1. why do you care
2. you want men to wax
3. you dating him?
4. again. why do you care?

— S. (@habibtystan) October 8, 2019
Savage!!!
If the girl along with him is okay then it shouldn't bother you.

— Muhammad Bilal Khan (@mbilalkhan32) October 8, 2019
Jo baat hai!
Uski tangain uski marzi …

— Atika Mirza (@atika_mirza) October 8, 2019
Its not that hard, really.
Actually men are hairy let them 🤦🏽‍♀️.

— Aisha Mumtaz (@ashirm90) October 8, 2019
Apparently some men also hopped in to suggest using veet before wearing shorts:
If you want to wear shorts in public then please use Veet 😂😂😂😂

— Ali zain (@Behlol__Ali) October 8, 2019
Yeh bhi sahi hai…
Pehnay do usko. Tumhara thori lay kr pehna hai.

— ᴍʀ ʙᴀɴᴋs™ (@ratuscay) October 8, 2019
Some tried telling her its natural:
Pure natural nothing wrong wirh it

— Hasni Shah (@Gem_Syed) October 8, 2019
And then we had some people who genuinely overlooked the stupidity in the tweet and commented on how happy the two looked together:
They look so beautiful and happy together!

— S. (@the_anonymous15) October 8, 2019
People reminded her how this was body shaming:
#bodyshaming ? He must be proud of what he has.

— Kamran Amin (@Kamraniat) October 8, 2019
Body shaming hann??🤔

— Ayan Dar (@Ayan_Dar1) October 8, 2019
But isn't this her birth right?
Stop controlling their lives.

— Ayeshé (@thisaintyagal) October 8, 2019
Many were looking at the bright side:
Nothing is useless this forest has its own benefits😊

— TheLoneAabid (@AabidManeer) October 8, 2019
Many were pissed!
Ab kya mard bhi wax krwayen ajeeb chootiya auraten hain yeh

— H a ن ! (@ZeyadaFreeNaHo) October 8, 2019
Many shared how if the same was said against Iqra, the reaction would have been stronger:
ابھی اگر کوئی اقرا کے کچھا پہننے پہ بات کرے گا تو سارے ڈنڈے سوٹے اٹھا کے آ جائیں گے https://t.co/fPa0XSNAWk

— پرنس آف ڈھمپ (@The_X2_) October 8, 2019
And while many spoke out against the body shaming, there were many who agreed with her:
Hair on men is considered attractive and masculine but Yasir Hussain is a fucking gorilla and needs to wax before exposing those monstrous legs lol https://t.co/auSLMaF6rE

— Zara (@EmptyAllocution) October 8, 2019
But she wasn't alone, there were people who came forward to shame Iqra as well:
Usk choro larki k godday kinay buray nee.. i mean such a Weird shape of her knees even yasir's looking fine than her…

— H. (@homiesay) October 8, 2019
Hahaha u bestiefied her 😭. Have you zoomed n c the dark spots and dents on her knees

— #C_J (@YourNewLifeBoy) October 8, 2019
And then came in the moral brigade:
Is it their honeymoon or pre-honeymoon? 🤔

— Creative Khadija (@kkCreativeMind) October 8, 2019
If anything, we're proud of people standing up against body shaming regardless of the gender! What do you guys think about the tweet and public's stance on it? Let us know in the comments below!