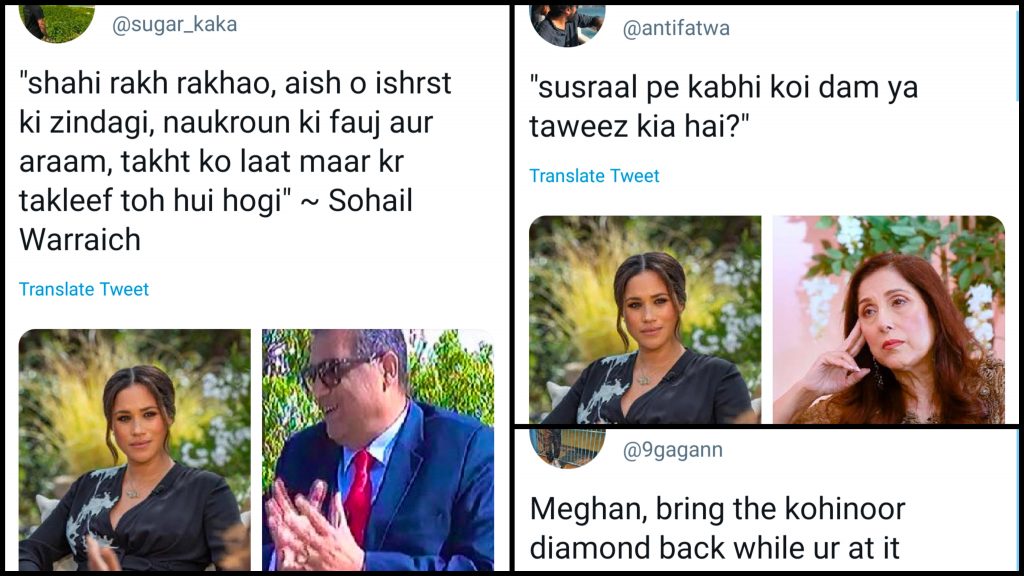 All hell broke loose on Sunday after Meghan Markle and Prince Harry met Oprah for an explosive interview where Meghan opened up about her mental health, racist tones to inquiring about her son Archie's skin colour before he was born, while Prince Harry shared that his father hasn't been taking or returning any calls among other things.
And while the claims made by Meghan were a serious matter, desis found the saas-bahu tiff a little too relatable, and they've been making memes ever since the interview aired!
"shahi rakh rakhao, aish o ishrst ki zindagi, naukroun ki fauj aur araam, takht ko laat maar kr takleef toh hui hogi" ~ Sohail Warraich pic.twitter.com/A2gLsYnfE2

— sugar kaka (@sugar_kaka) March 9, 2021
Iss pe toh naraazgi banti hai:
cant believe she has the nerve to do that pic.twitter.com/ctAczLAlZM

— zain (@dedlad) March 9, 2021
Omg!
Meghan's desi marriage:
☑Obsessed with her 'femly beground'
☑Mad big wedding
☑Friction with in-laws
☑Haw vo divorced hai
☑Haw us ki umer ziyada hai
☑Hamara beta prince hai
☑No more acting, acha nahin lagta
☑Baby ka rang kya hoga
☑Bitchy Piers Phuppo#Oprah #Meghan #Harry pic.twitter.com/mGAbZcOX7c

— 𝓛𝓪𝓪𝓵𝓮𝓮𝓷 لعلین 🌍 (@laaleen) March 8, 2021
Why is this so accurate 😂
If the Meghan & Harry interview was an Indian drama. 😂 pic.twitter.com/cN2ict8KoB

— Naser (@NaserMestarihi) March 8, 2021
Even Queen has to worry about "loug kya kaheinge:"
— Wass and 100 others (@wass665) March 8, 2021
Set ka mazaak nahi:
— Rants (@RantsPakistani) March 9, 2021
People were also comparing Oprah to Samina Peerzada and her show:
kia kabhi bachpan mien ami ko tang karti thi https://t.co/CoG3VYokdB

— S (@valarmorghulois) March 9, 2021
ammi zada pasand hein ya abbu? https://t.co/mjRTnuvNYX

— Essa | BISE hate Account. (@essa_nk) March 9, 2021
"Kabhi dil toota hai?" https://t.co/OxjEcljvuP

— Adeen Ahmed Khan (@adeenyekya) March 9, 2021
"Shaadi se pehle kabhi muhabbat hui?" pic.twitter.com/TrscnTDiNc

— pain (@KhaNuBya) March 9, 2021
"susraal pe kabhi koi dam ya taweez kia hai?" pic.twitter.com/y2TbtypWgL

— Draft Punkh (@antifatwa) March 9, 2021
All saases!
🤣🤣🤣 pic.twitter.com/CvkqvadQCC

— Ovais Mangalwala (@ovaismangalwala) March 9, 2021
Yeh humara throne hai, yeh hum hain…
Pawri Queen pic.twitter.com/FTrf6aufuY

— Fly Boy (@wtfkhann) March 9, 2021
All desi aunties when they hear of a love marriage:
Dadi Queen mujh pe ilzaam lagati thi k maine Harry pe Jaadu tona kar k usay phasaya hai pic.twitter.com/24v6EEPdiW

— 𝓜𝓮𝓱𝔀𝓲𝓼𝓱 𝓜𝓲𝓻𝔃𝓪✨ (@EngineerLarki) March 9, 2021
Pakistanis rocked, Oprah shocked!
Surprising! pic.twitter.com/tDYHygB7zo

— Mazher Arshad (@MazherArshad) March 9, 2021
Gora complex:
— Cristiano Rona-Daldo (@Guilty4Fries) March 9, 2021
A small intimate nikkah like half the Twitter wants?
damn oprah went in pic.twitter.com/h5jjISk24O

— ..abzzz🩸 (@__abzzzzz) March 8, 2021
For all the K3G fans out there!
My favourite part of the #MeghanAndHarry interview pic.twitter.com/hYY8po5PaL

— Raz (@raztweets) March 8, 2021
— Muttaqi متق (@Omnimojo) March 8, 2021
🤦‍♀️
i cant believe she did that pic.twitter.com/M4Ns7EnGbW

— spidey (@imaliabilitty) March 9, 2021
What do you guys think about these memes? Let us know in the comments below!