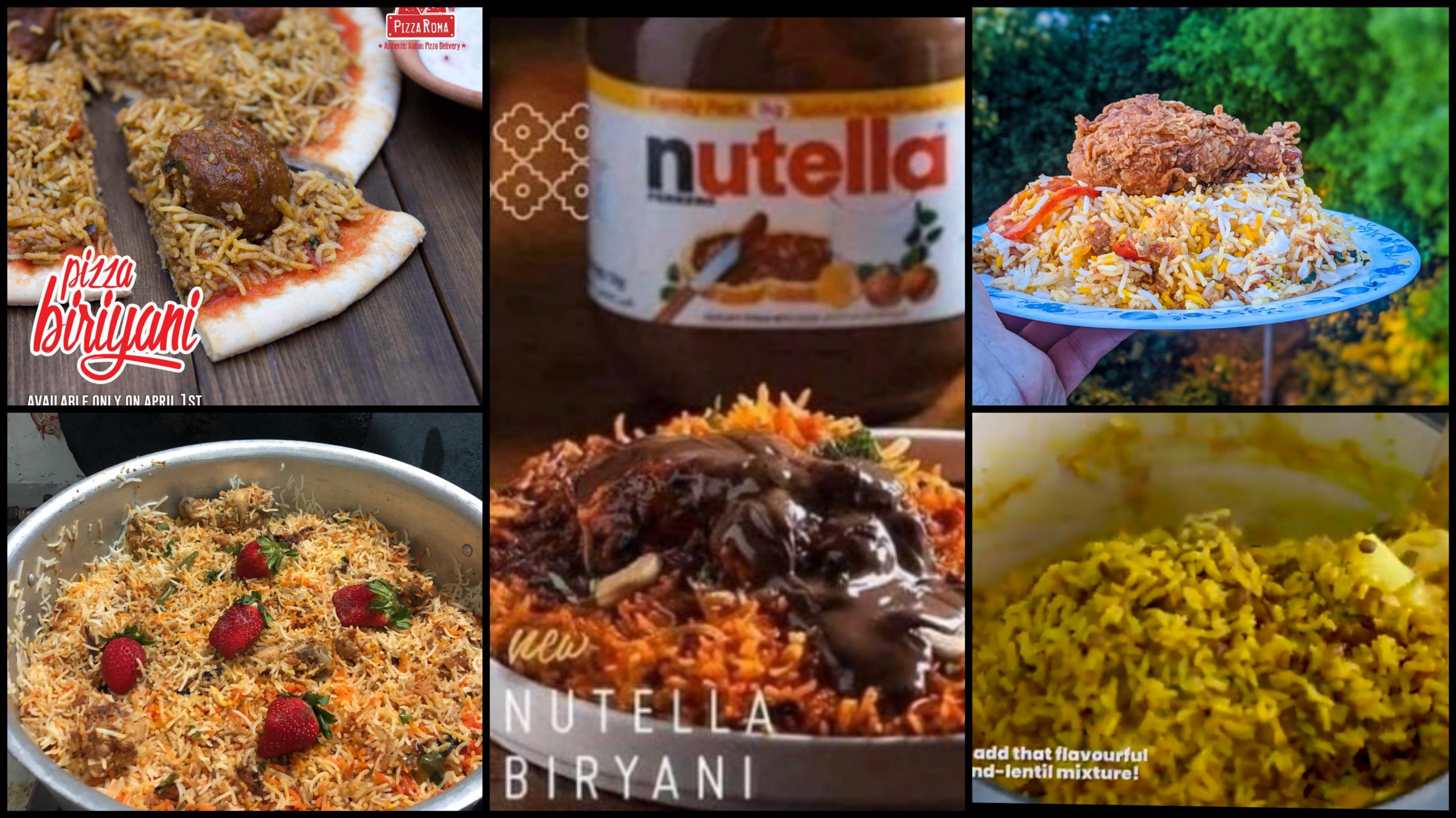 Desi tweeple and their love for biryani will forever be a touchy matter! Be it the city wars on which city serves the best biryani or #TeamAalu vs #TeamNoAalu there's never a dull moment on the internet where biryani is involved!
And today we're taking you back to the 7 times the internet tried ruining biryani for us!
1. Nutella Biryani
Please stay away from me if you eat Nutella Biryani!🙏🏾🙏🏾🙏🏾😅 pic.twitter.com/ykJvJ3Teez

— Mohammed Futurewala (@MFuturewala) September 19, 2020

Say what you want, but we take our biryani VERY seriously, which is why when someone tried introducing Nutella biryani, the internet was ready to fight them! While we did have some very adventurous ones who wanted to give the dish a try, the rest just weren't having it and the dish sparked quite the uproar on Twitter and Facebook, good thing the idea was dropped!
2. Zinger Biryani
Let me introduce Zinger Biryani 😍🔥
Islamabadi version. pic.twitter.com/grVEyuJ2iy

— Ahsan (@daguywhocooks) May 18, 2020

Remember when Biryani Center put zinger biryani on their menu? And people were actually travelling long distances to try it, yeah, that happened. And while it seemed fun to spice up the boring biryani, it wasn't long before the restaurant discontinued it and the netizens were thankful!
3. Pizza Biryani
That sounds fucking horrible pic.twitter.com/l3wUEluEbj

— Naseebo Lal Stan Account (@djungelskong) January 25, 2017

I mean, the last 2 fusions were somewhat imaginable but biryani on a pizza? Yeah, this was definitely trying to be a thing a few years back and at this point all the desis wanted was to enjoy the simple pleasures in life: a good plate of biryani!
4. Angrezon Ki Biryani
WATCH!

In celebration of Heritage month we've whipped up an easy-to-make, scrumptious biryani that'll have you coming back for seconds >> https://t.co/5oIFxD8P7H pic.twitter.com/bFA95EhXYE

— food24.com (@food24) September 30, 2020

In an attempt to jump onto the biryani bandwagon, some white chef on the internet decided to *SPILL* the authentic biryani recipe and it was everything but authentic. The recipe which featured lentils among other things gathered massive, and we mean MASSIVE backlash for it, so much so that the food network had to apologize for the monstrosity!
5. Strawberry Biryani
We made "Strawbiryani" at home today and I am curious to know what desi Twitter has to say about it. pic.twitter.com/PCZ0Ug38gc

— Saad 🍓 (@SaadGH) February 19, 2021

While most of us stepped into 2021 with a calm mind, one Pakistani in particular chose violence as he added strawberries to his biryani and the saviours of biryani were ready to fight him!
What do you think of these fusion biryani recipes? Let us know in the comments below!