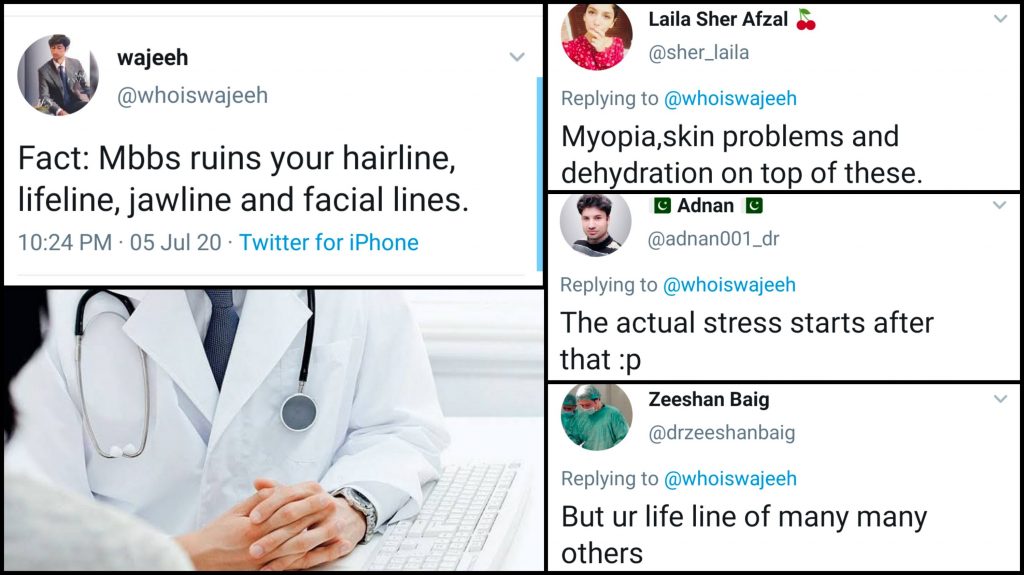 Health care professionals are some of the most hard working people you'll come across, from learning everything in their think books to 72 hour long shifts at the hospitals, doctors are a blessing!
And today people are sharing what it took them to complete their MBBS and the list just doesn't seem to end!
Fact: Mbbs ruins your hairline, lifeline, jawline and facial lines.

— wajeeh (@whoiswajeeh) July 5, 2020
Not cool!
Myopia,skin problems and dehydration on top of these.

— Laila Sher Afzal 🍒 (@sher_laila) July 5, 2020
Some shared how the real stress actually starts once you're done!
The actual stress starts after that :p

— 🇵🇰 Adnan 🇵🇰 (@adnan001_dr) July 6, 2020
But it's worth it, no?
Ye tweet pehle karte tou, maybe you would have saved me. Magar……

— Hafsa Rehman (@TheHafsaRehman) July 6, 2020
Loveline? :p
Aur koi line reh gai haii??

— Yours_only (@Aristocraticcc) July 6, 2020
Absolutely!
But ur life line of many many others

— Zeeshan Baig (@drzeeshanbaig) July 6, 2020
Jo baat hai!
And you're on borderline of losing everything else in life:)

— MahnoorKshah (@Onlylonelychild) July 6, 2020
People were agreeing:
I so wish i could disagree 😭 https://t.co/QLvrm2PZxI

— intellectual property infringement (@baezaariat) July 6, 2020
Yar 😭
Fact: Others have hairline.
Doctors have circumference. https://t.co/8rQlgL0tez

— Umar Mehmood (@_um_10) July 6, 2020
So basically, everything!
Skin , mental health 🙂 https://t.co/QxQAJvG4KK

— Zainab Jamil 🦋 (@ZainabJ1234) July 6, 2020
Good genes ma'am and qismat 😂
Ah but that handsome doc who was in my friend list has thik hair line , bearded jawline killing facial lines and is someone's life line ….🤔 https://t.co/dl6P2ViSMF

— Tajila khan (@humijeny2) July 7, 2020
And while many healthcare professionals added to the list, people from other professions had a say too!
What about Mphil or PhD scholars ..? Research and final demo are enough to get these lines along with depression🤕 https://t.co/nta9RiDfjW

— Self Warrior (@Wanderi27719692) July 6, 2020
Architects too shared the toll their studies took on them!
Architecture does much more, There's a stage when you're thinking to k*ll yourself because of the pressure of teachers https://t.co/SqabLIXHWz

— H (@Hasnaat_) July 6, 2020
was going to say 'u typed architecture wrong' but then i realised no it gives u constant backache, headache, and arthritis and it's not even an exaggeration https://t.co/S1v4GIED6j

— – (@chipnkali) July 6, 2020
Oh…
Mate…….I dnt even wanna start what Cheffing destroys lol https://t.co/B3qyUhkVZy

— Ameer Z. (@1RovingNomad) July 7, 2020
CA students too shared their fair share of ghams:
Why isn't anyone talking about CA? That shit ruins your life https://t.co/dUoShvxNIp

— UswaZaidi (@UswaZaidi) July 6, 2020
And then there were some jinka bagheir MBBS kiye hi sub barbaad tha 😂
Yaha bagair Mbbs ky ya sab ruin ho chuka ha. https://t.co/UVnzePU0Xk

— Irtiza. 🇵🇰 (@Khaaperai) July 6, 2020
Do you agree with what these people have to say? Let us know in the comments below!