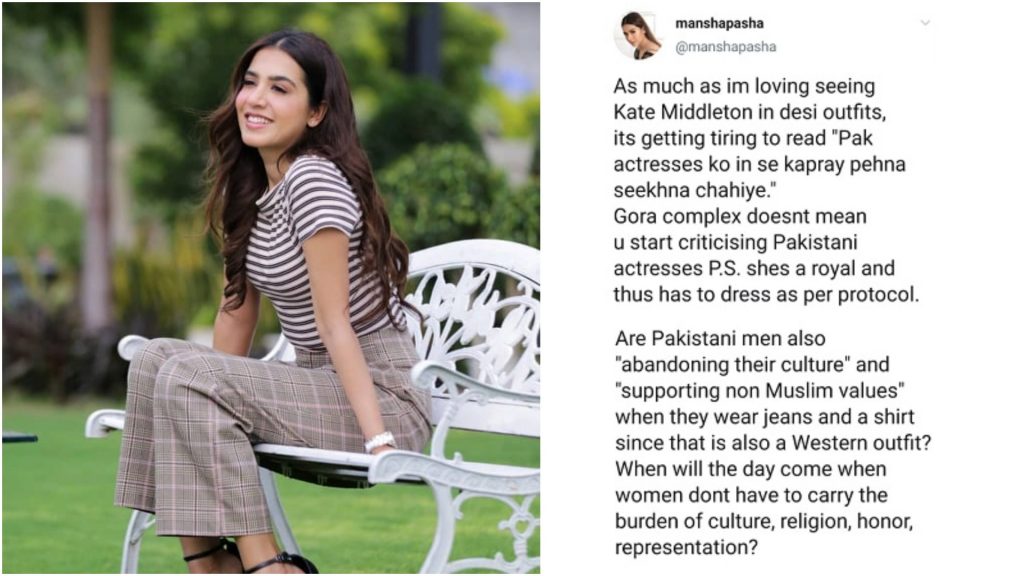 The royal couple has been on a visit to Pakistan, Kate has been winning hearts all over the internet with her graceful style!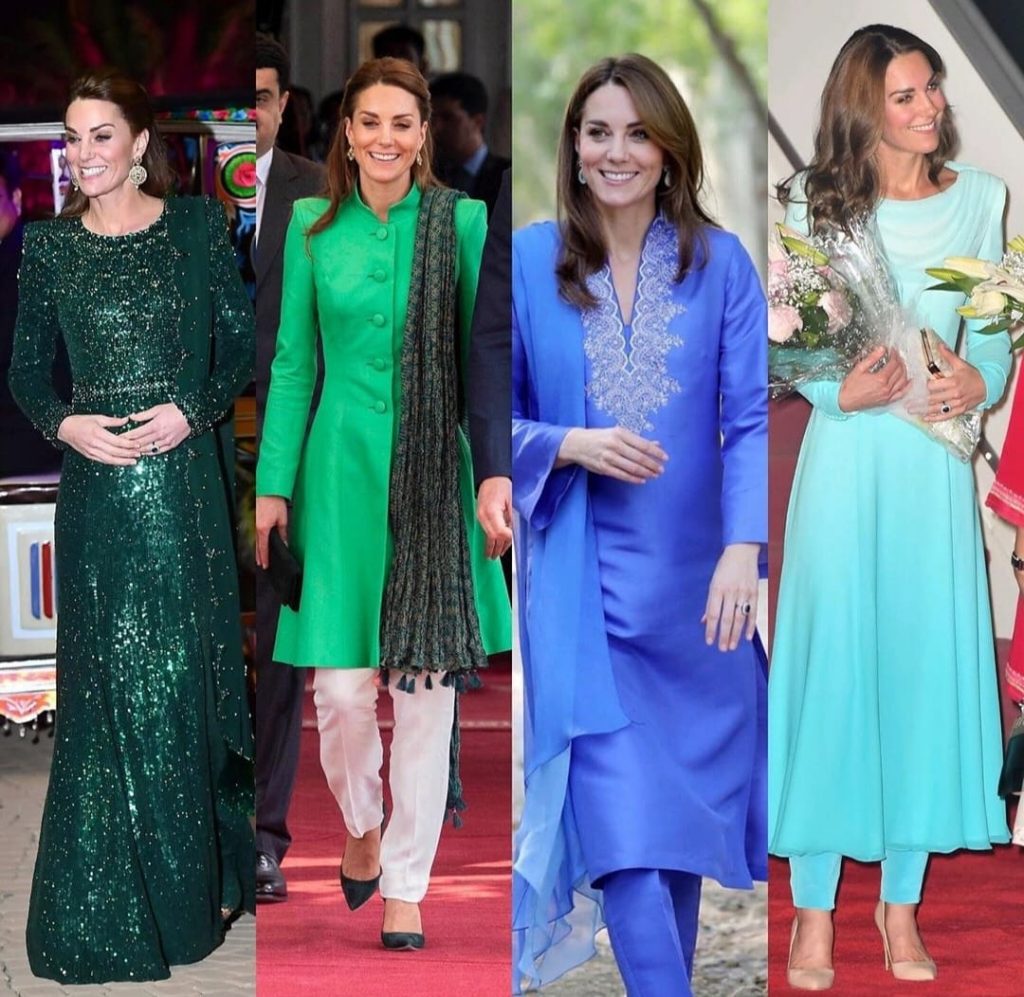 And the internet has been busy bashing the local celebrities for their choice of clothes:
I'm sorry but these pictures are actually a big slap on our so called liberal society and specifically actresses. Look how she's respecting our cultural values by wearing these dresses. This shows our perception in her mind. Thank You Her Highness. #RoyaltourPakistan pic.twitter.com/NQLAE49bo0

— R I D A ..🍂 (@__SyedaRida) October 15, 2019
Paidaishi Nave nave
Ameer 😍 Ameer😂#RoyaltourPakistan pic.twitter.com/Wgf4mr6kH8

— ریحان🔥 (@xyedrehan) October 15, 2019
Foreigners in Pakistan
Vs
Pakistanis in Foreign#RoyaltourPakistan pic.twitter.com/Y7EQmVoJLg

— 🇵🇰Falak_Sher🇵🇰 (@Swift_Retort) October 15, 2019
From males to females, everyone thought they were relevant enough to bash other celebrities. And having had enough of the comparisons, Mansha Pasha decided to give everyone a piece of her mind:
As much as im loving seeing Kate Middleton in desi outfits, its getting tiring to read "Pak actresses ko in se kapray pehna seekhna chahiye."
Gora complex doesnt mean u start criticising Pakistani actresses P.S. shes a royal and thus has to dress as per protocol.

— manshapasha (@manshapasha) October 15, 2019
But people were still policing her:
Muslims have a dress code given, in fact, instructed by Allah. Not following it is a sin & actresses are not an exception as well. If you or anyone else don't want to follow it then it is their choice. It is between them & Allah and they'll face the repercussions of their choice.

— ✨𝒜𝓎ℯ𝓈𝒽𝒶💫 (@mystifying_me) October 15, 2019
Some thought relying on intense glamour wasn't working:
Royalty adopts simplicity and modesty and that's classy. It's time Pakistanis too do so. Reliance on Intense glamour is not fashionable anymore

— Khan Ayesha (@Ashyjkhan1) October 15, 2019
Some resorted to body shaming, because hey, that's our birth right:
You including tons of other actresses don't even have a body to carry western attire but still wear it just to fit in. It is immensely painful to see you in clothes that you cant carry nor suit you.

— Ayesha Waheed (@ayeshawaheedk) October 16, 2019
Saaray Islam ki zimedaari actresses ki hai sirf:
And pak actresses are muslim agar yad ho ro

— mahrukh ahsan (@dr_mahrukh23) October 16, 2019
And isn't it ur protocol as a Muslim and and a pakistani that u portray urself as a muslim girl and a girl who is working for art without an attire that can possibly be not called decent??

— Aliza Naveed (@AlizaNaveed4) October 16, 2019
Mam ap log muslims hein or ap pr jism dhanpna frz hai or farz pura na krny ki saza tou ap janti hungi or gora complex tou paki actresses ko hota baqi aam awam ki zindagi tou normal guzr rahi hoti ap log agr islam ko follow ni kr skti tou muslim ka tag utar den

— pyal saaz (@pyalsaaaz) October 16, 2019
Some thought it's the actresses should only promote their culture:
That's not about kapray pehna seekhna chahye. It's about why you don't promote your culture? Why you prefer following west? All people around the world should proudly wear their own culture & traditions – that's the need to learn! #RoyaltourPakistan #KateMiddleton https://t.co/qlpC2sGNCS

— Mehreen🇵🇰💚 (@MehreenCh19) October 15, 2019
But was aptly replied by Mansha:
Somehow people in UK dont feel that kate middleton is abandoning her culture when she wears a kurta but everyone here is abandoning their culture when they wear anything else https://t.co/yy0N1Otxya

— manshapasha (@manshapasha) October 15, 2019
And while many were busy bashing her, there were a few who agreed:
This. Although I agree our actors/actresses need to go a long way after seeing Ushna saga, these chutzpah comments should really stop.

— Aegon Bash🤘 (@Aegon_Bash) October 15, 2019
Many agreed how the comparison was pointless:
Exactly, the comparison is pointless !!

— Taha Kaif (@tahakaif) October 15, 2019
Mansha further elaborated her point:
Are Pakistani men also "abandoning their culture" and "supporting non Muslim values" when they wear jeans and a shirt since that is also a Western outfit?
When will the day come when women dont have to carry the burden of culture, religion, honor, representation?

— manshapasha (@manshapasha) October 15, 2019
And some still failed to understand the point she was trying to make:
Ye lo ye lo ye lo oraat nama har jaga start krna zarori nhe pic.twitter.com/ipgtx4tWJx

— Ali Awan (@AliAwan2017) October 15, 2019
Ummm???
Women are held to a higher standard as they are symbol of grace and strength. Women do have the ability to shape a nation, culture , future as she has a great impact on raising and instilling great values in her kids . Women are far more modest and pious

— ayesha minhas (@MinhasAyesha) October 16, 2019
Many thought she was turning a blind eye to the reality:
When will women realize that it's better to be covered rather flaunting themselves al over the world
I can understand your pain, yes men should also Lower their gaze but same goes for the women as well
What is written, he total truth and you can't turn a blind eye from reality.

— Human Indeed (@Awesome69603301) October 15, 2019
Some agreed how everyone has the right to dress as they wished:
I completely agree with you. Everyone should be given the freedom to live their life…

— Muhammad Saadullah (@Muhamma76790154) October 16, 2019
Spot on!
What people wear shouldnt be anyone,s business that I agree on however just being antsy because someone appreciate Kate for respecting our culture is bs
Live and let live
The opposition here has gone complete bonkers

— zibagopdf (@zibagopdf) October 15, 2019
Some were upset how such trivial issues were disturbing the masses rather than the real issues:
Yes kind of sad that such trivial issues get importance over education, health system and managing thr country's financials.

— Ahmed Farooq Butt (@afbutt) October 16, 2019
Some were fuming!
The most annoying thing on social media these days is these "men" random uncles commentating how if Kate Middleton can "take" a dupatta why can't our Pakistani women do it?like do they think they r better than her UGHHHHHHH! FUMING since yesterday

— BK (@BK_Tweets_) October 16, 2019
Us when we read the replies:
The comments under this tweet are making no sense at all!

— Mr. A Kundi (@adnzafar) October 15, 2019
Many thought stripping down for the main problem:
Its not about wearing jeans or shirt. Its about stripping down in the name of showbiz

— Behram Ali (@BehramAli0) October 15, 2019
But Mansha had a point:
Ha!
A dime for everytime an actor has posted a shirtless selfie.
Please take note of the hypocrisy in your statement. https://t.co/rUPsX5Ad9c

— manshapasha (@manshapasha) October 15, 2019
Some thought they had it all figured out:
Aghar Kate Middleton UK mai shalwaar Kameez pehnay To log UK mai feel karay gy k Wo unka culture follow nhi kar rahi….Same jesay yahan log feel karty hain Jb Ap log Western clothes pehnaty hain!

— ♡ (@Yakeen_Ka_Safar) October 15, 2019
But Mansha made sure she made herself clear:
In offices and businesses in Pak, the dress code is suits. Which is a western outfit. Dont see anyone losing their mind and protesting it.
Its about women wearing a western outfit. Because ppl like to tell women what to wear using culture & religion to do so. Not men. https://t.co/I4mGyT4sJZ

— manshapasha (@manshapasha) October 15, 2019
Some took it the wrong way:
Covering yourself is a burden? Like really?

— #FreeKashmir 🇵🇰🇹🇷 (@binte_hawwa94) October 15, 2019
But stood corrected by Mansha:
The fact that women are constantly judged by their outfits and not their achievements is a burden.
And a bloody unfair one. https://t.co/tFGqOtFZg7

— manshapasha (@manshapasha) October 15, 2019
But not many could grasp the point. What do you think about people comparing local celebrities to the royals on tour? Is the bashing justified? Let us know in the comments below!