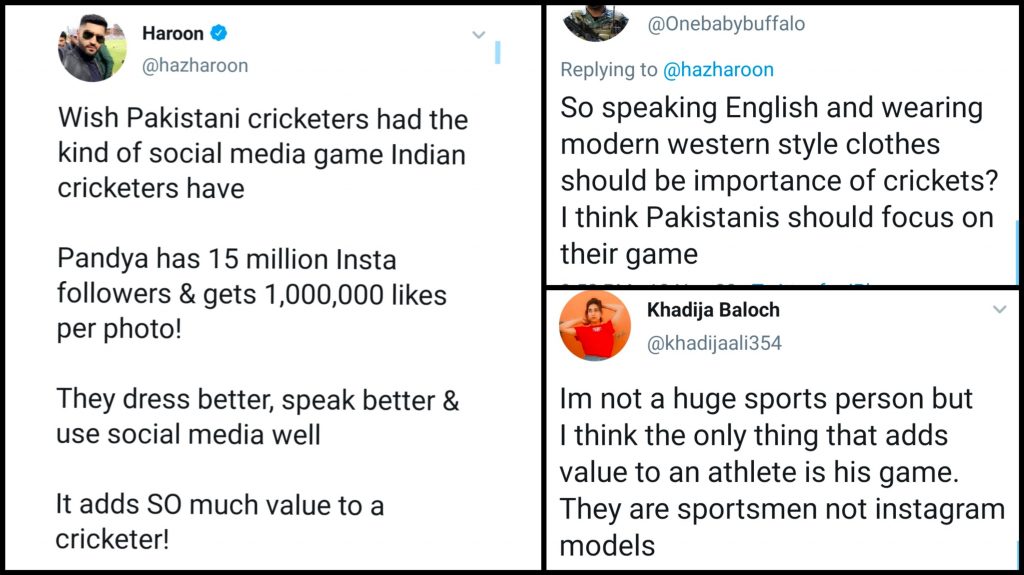 When it comes to cricket between the iconic rivals Pakistan and India, cricketers often find themselves being compared to one another, some for their performance and some for their opinions. But today they're being compared for the social media game:
Wish Pakistani cricketers had the kind of social media game Indian cricketers have

Pandya has 15 million Insta followers & gets 1,000,000 likes per photo!

They dress better, speak better & use social media well

It adds SO much value to a cricketer! pic.twitter.com/RrV3Qo651w

— Haroon (@hazharoon) November 10, 2020
Taking to twitter, a man shared how Pakistani cricketers should up their social media game, dress well, speak better English because it adds value to them, but people disagree!
So speaking English and wearing modern western style clothes should be importance of crickets? I think Pakistanis should focus on their game

— Z Z (@Onebabybuffalo) November 10, 2020
Jo baat hai!
I drool over Babar. Doesn't speak English. Doesn't have 15 million followers. Proper Lahori accent. But people love that guy, I love him. No need to mould players into something. He doesn't know how to use social media but he loves to drive the ball. That matters? Hell yeah! https://t.co/mTvx46S70x

— MZ (@grumpycrickfan) November 10, 2020
People didn't find the need for cricketers to be influencers:
Why!? They're cricketers. It's nice when they use their influence for good…but they don't need to be influencers????

— yike on a bike (@Eustacebaaaang) November 11, 2020
People found his take weird:
This is a really weird take honestly. This isn't even good dressing, they look like class 10 students in these outfits but REGARDLESS who cares how they're dressed??? Why do we need them to speak great English?? Or needs them to show off a rich af lifestyle?? https://t.co/X5OSlj4aNE

— yike on a bike (@Eustacebaaaang) November 11, 2020
Some found that there was no room for comparison:
can't be compared – 1.3 billion vs a mere 250 million.

— Mehsaan (@Me7saan) November 10, 2020
True…
Our cricketers are a reflection of the country as a whole..lower literacy rate , lower salaries.. difficult to match India..

— Dr Samara Afzal (@SamaraAfzal) November 10, 2020
Yeh cheez!
Exposure will get them better eventually but as long as they're contributing to the team, who cares if it is jaunsa or inshaAllah boys played well https://t.co/cuYz36Jrks

— کاظمی (@HaayeShabbir) November 10, 2020
Many shared how Pandya was hardly the example cricketers should follow:
Umm.

Pandya is hardly the example you wanna give to sportsmen about how to conduct themselves on the media. He's one of the most controversial sports personalities, even within Indian folds.

Also, likes/followers are often bought. And literally anyone can do that these days. https://t.co/biYkG1YLSa

— Mahwash Ajaz 🇵🇰 (@mahwashajaz_) November 11, 2020
Quoting hardik pandya as a example ffs https://t.co/ebis3Aiqpf

— Hasnain (@its_Hassuu) November 11, 2020
i understand your point as a manager but as a fan it's quite a buzzkill to see ads masquerading as genuine opinions on over-curated bollywood type feeds. also, khuda ke waastay give our players a better role model to emulate than pandya! https://t.co/sYpokx2VPc

— Sana Kazmi (@sanakazmi) November 10, 2020
Of all the cricketers in the world, he choose Pandya for comparison. The one who almost lost his place in team because of an interview.

"speak better" LOL https://t.co/3jgqsyQUwg

— Beyzaar (@znb91) November 10, 2020
Yaaaas!
Now compare Imran and Wasim with Kapil Dev and Javedagal Srinath. Just that there was no instagram in the 80s and 90s. https://t.co/6mvoFttWAR

— Isfandiar Khan (@AsfandKhan6) November 10, 2020
People were sharing cricketers who were getting the job done without SM presence:
Disagree here! Getting engagements on social media has no tangible impact on the performance of a cricketer on field, which last I checked, was a cricketer's primary job to be honest – The rest all is tertiary.

Our best player Babar has minimum SM footprint yet gets the job done https://t.co/PpdIJlePQt

— Waqas Ahmed (@ahmedwaqas992) November 11, 2020
People were sharing how social media has nothing to do with the game:
There is no correlation between performance in the social media game and performance in the game of cricket.

Yes, it's good for the potential of ads and all, but if you are a big enough name you will get ads regardless, how do you become a big name? By being good on the field. https://t.co/tS6xxFkXtm

— Clive (@_vanillawallah) November 11, 2020
"They dress better, speak better & use social media well

It adds SO much value to a cricketer!"

No, it doesn't at all. Alastair Cook never used social media during his playing career nor does so now. Did it lower his value in any way? No. https://t.co/Ef1GRAJqGR

— Saba S. Sheikh (@sabassheikh) November 11, 2020
🤷‍♀️
Rather be humble and good at the game than have social media clout and take photos like they're still in high school lekin hum tou har match haartay hain https://t.co/FOXhntOUkz

— ق (@brownbasic) November 11, 2020
We can't either!
If having shit loads of insta followers makes you a better Cricketer, then I can't wait to see one of the Kardashian people open the batting on Boxing Day https://t.co/XItPWPhRxJ

— Longbob Jimshanks (@Cricketjim84) November 10, 2020
Exactly!
Im not a huge sports person but I think the only thing that adds value to an athlete is his game. They are sportsmen not instagram models https://t.co/qa5LUnu4Du

— Khadija Baloch (@khadijaali354) November 10, 2020
It's just as simple as this!
dc as long as they play good cricket and justify their selection, players evolving and becoming world-class adds to their brand, not other way around https://t.co/7rI7rBwJ1E

— a. (@saraikismo) November 10, 2020
Shots were fired:
In case you didn't notice, India's SM presence is more than 6 times of ours. Furthermore the guy on the left who 'speaks better' was suspended for his words on a tv show

PCB is doing a fair job in grooming our players & their SM. Its their performance everyone truly cares about https://t.co/2LNlRnc0Ju

— عمار (@Ammar_AliKhan) November 10, 2020
People did agree on some things:
Worst kind of logic is this. How can someone say Pandya dresses good? What kind of impact does Social Media game can have on a player? ZERO.

Nahi matlab 1 millions likes nae honge to player acha perform nae kre ga? Only thing logical here is English speaking skills. https://t.co/evNxhCK2uW

— Saad 🇵🇰 (@iSaadAwais22_) November 10, 2020
Agreed:
Because Pakistani cricketers come from lower social classes while the game in India is an upper, upper middle class phenomenon. Iss liye. Koi rocket science nai. https://t.co/5LKBiuG0Gc

— معاذ کھوسہ (@masatmithizaat) November 11, 2020
What are your thoughts on this? Let us know in the comments below!