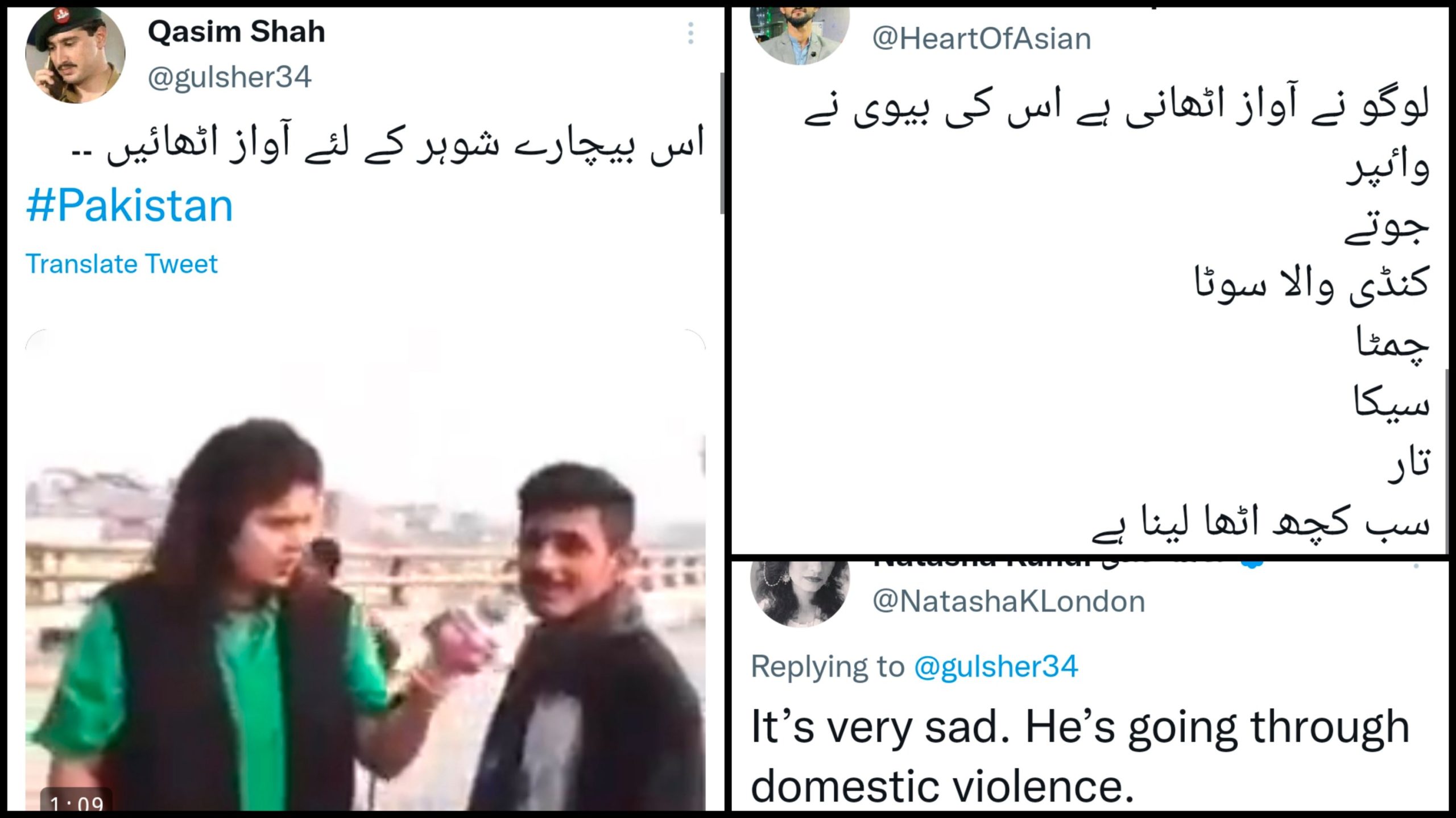 Domestic violence, regardless of the gender, is never okay. Circulating on twitter, is a video of a man casually telling how his wife beats him almost everyday.
اس بیچارے شوہر کے لئے آواز اٹھائیں ۔۔#Pakistan pic.twitter.com/APvKPk4cqA

— Qasim Shah (@gulsher34) November 22, 2021
The video, which seems to have come from a local channel features the host asking a man about his wife and him revealing details of how he gets abused on the daily. When told about the program being telecasted on TV, the man was in tears.
The video which was shared in light humour has managed to trigger a lot of people, for the right reasons:
He is in a toxic relationship….this is what toxic relationship is like…they will beat you abuse you and then say sorry like nothing happened..somehow the victim is too vulnerable and cannot get out of it without help….he genuinely needs help

— Attiya Akram (@akram_attiya) November 22, 2021
People found it sad:
It's very sad. He's going through domestic violence.

— Natasha Kundi نتاشا کُندی (@NatashaKLondon) November 22, 2021
People wanted to know what would have happened if the roles were reversed:
Imagine a man doing this with a woman. Sary feminists ne yahan ikhaty hojana tha. Yahan admi k sth ho rha hai esa toh sb hns rahe hain. Aur pls koi is moti bhens ko utha kar bhr phenky konsi journalism kr rai hai yeh?? https://t.co/fcAPJ5kcRO

— murtaza | Free 🇵🇸 (@LivinDeadLife) November 22, 2021
Wait if a woman had said that. Would ypu guys have laughed at this then? Domestic violence is no joke. When they say "Patriarchy oppresses men too" this is what it means. Men can't even speak about this in public. They have to maintain their "Mard" character in society. https://t.co/lwGU4xy8XR

— Abu Bakar Jabbar (@IamABjabbar) November 22, 2021
It looks funny coz a woman beating a man, think if it's opposite https://t.co/xEsoCfCv12

— Hanzla (@hanzla_ammad) November 22, 2021
People were questioning the ethics of the host:
ye jo khatoon tha te maar ke hans rahi hai agar khuda na khuasta ye bayan kisi mazloom khatoon ka hota aur koi murd anchor bechara aesai hansta phir……

— Shah ki Tweetiyan (@Shahkitweetiyan) November 22, 2021
And while others realised the seriousness of the video, some poked fun at it:
کہاں ہیں @ShireenMazari1 پلیز اس بیچارے کا کچھ کریں🤣

— Haššan🇵🇰 (@hassanabbasi786) November 22, 2021
🤷‍♀️
امی کو نہیں بتاتا مگر ساری دنیا کو بتا دیا

🤣🤣😂😂

— Junaid Aazar (@Junaidaazar) November 22, 2021
Umm?
لوگو نے آواز اٹھانی ہے اس کی بیوی نے
واٸپر
جوتے
کنڈی والا سوٹا
چمٹا
سیکا
تار
سب کچھ اٹھا لینا ہے
😂😂😂 https://t.co/Z25mnINs2U

— Rana Rehan Ul Haq (@HeartOfAsian) November 22, 2021
People found a way bring the mera jism meri marzi slogan into it:
خاتون بھی کہتی ہوگی "میرا خاوند میری مرضی" 😜😂🤣 https://t.co/153mkW6pIp

— Fayyaz Durrani 🇵🇰 (@iamdurrani47) November 22, 2021
Some were comparing his misery to that of overseas Pakistanis:
Future of prominent overseas Pakistani @ChNaveedPTI 🤣😂 https://t.co/lfrIubKWnH

— یسار باکی (@yassar_baki) November 22, 2021
Others were calling him a bechara:
Haye main sadky bechara https://t.co/bFFwnxQMFw

— Hasnain Shah (@shahhasnain77) November 22, 2021
What do you think about the video and the way people reacted to it? Let is know in the comments below!