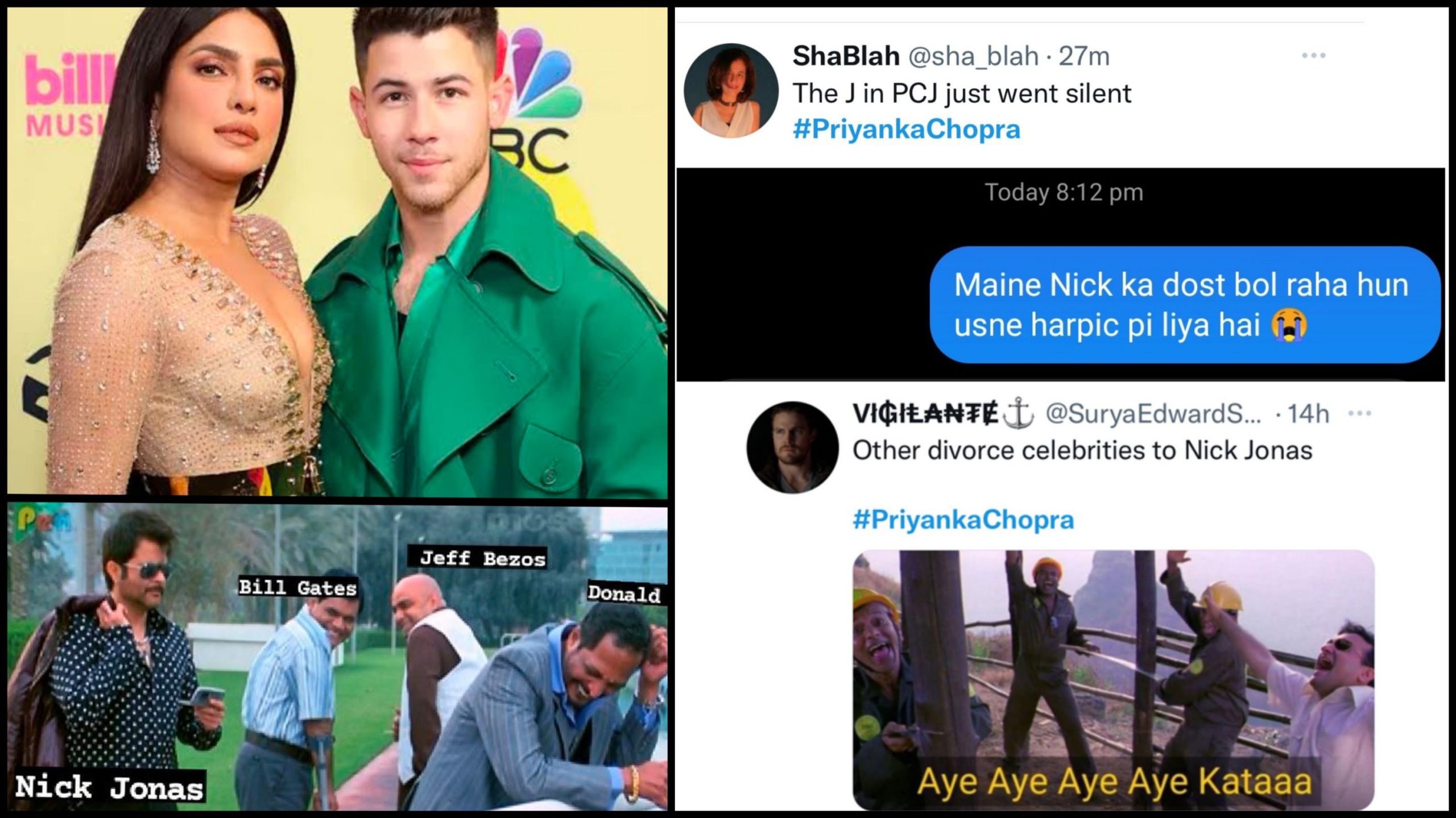 Speculations of Nick Jonas and Priyanka Chopra separating have been making news since yesterday after Priyanka Chopra dropped Jonas from her name on Instagram:
And it has sparked a meme fest on Twitter:
Priyanka Chopra drops "Jonas" from her instagram handle..

Public to Nick Jonas : pic.twitter.com/5kvfRo5J7g

— UmderTamker (@jhampakjhum) November 22, 2021
😂
*Priyanka Chopra removes Nick's name from IG profile*

Le Nick Jones : #PriyankaChopra pic.twitter.com/GfiTv7ciVc

— A.J. (@beingabhi2712) November 23, 2021
Fans were heartbroken:
if priyanka and nick split up i will pack it up and leave. pic.twitter.com/lNtSfkFRBW

— D I Y A 🧣 (@diyeeaaah) November 23, 2021
🤦‍♀️🤦‍♀️🤦‍♀️
Priyanka to Nick Jonas right now#nickjonas#PriyankaChopra pic.twitter.com/95DKXWC0gi

— Words Of Wisdom😇 (@Ashutosh_jha4) November 22, 2021
Uh oh!
After Nick & Priyanka's divorce, Nick will come to delhi, Because Divorce leads children to the 'Worst places'

— Lala (@FabulasGuy) November 22, 2021
Hahaha!
my friend after Priyanka and nick joans divorce rumors "zainab achii vibes ni aa rhi hn but u know (him) personally na, wo tu aesa ni hn,han na?"🤧🤡 pic.twitter.com/9u8cYlcmIp

— dr zainab amir (@z_orphic) November 23, 2021
Welcome to the club:
Nick jonas and priyanka chopra divorce rumours supermacy : pic.twitter.com/9OHE07HJbf

— Hutton 🐦 (@Hutton_watson_) November 23, 2021
👀
Me: I don't like gossip
When Priyanka drops Nick's surname on IG:#PriyankaChopra pic.twitter.com/gA6eQyYD0q

— Ishika (@amyigdala) November 22, 2021
Pakistani parents too!
If priyanka chopra and Nick Jonas broke up indian parents will say this is why we say no to love marriage pic.twitter.com/sSxdCGiCMU

— The Tragic Hero (@TheTragicHero1) November 22, 2021
Itni tension toh Nick ko bhi nai hui hogi 🤷‍♀️
When I heard #PriyankaChopra drops #NickJonas surname from IG. pic.twitter.com/ReDPW29GN2

— Ashutosh Srivastava (@ashutosh_sri8) November 23, 2021
Dead 😂
jonas brothers after sending priyanka back to india pic.twitter.com/vqKWhJsnnw

— vipin (@djfrankkie) November 22, 2021
Netizens were unstoppable!
#PriyankaChopra please reply do 😭 pic.twitter.com/tb1GqRgtac

— anuj manocha and 143 others (@anujmanocha_) November 22, 2021
Power!
That awkward moment when Priyanka Chopra dropping her husband's name is a bigger news than the Political leaders dropping their Election manifesto.#PriyankaChopra

— The Jaipur Dialogues (@JaipurDialogues) November 22, 2021
Ab maza ayega na bidu!
BREAKING NEWS: #PriyankaChopra removed #NickJonas name from Instagram bio profile. Heading for divorce… pic.twitter.com/3wq827DvVa

— superman ki bakwaas  (@irrrfy) November 22, 2021
You tell us!
She removed Chopra also 🤷🏼‍♀️

What's the point now? 😒#PriyankaChopra #nickjonas pic.twitter.com/XMzPjc232t

— CORONO POI THOLAIYEN SANIYANE 😒 (@idctbhsostfu) November 22, 2021
What do you think about the memes? Let us know in the comments below!