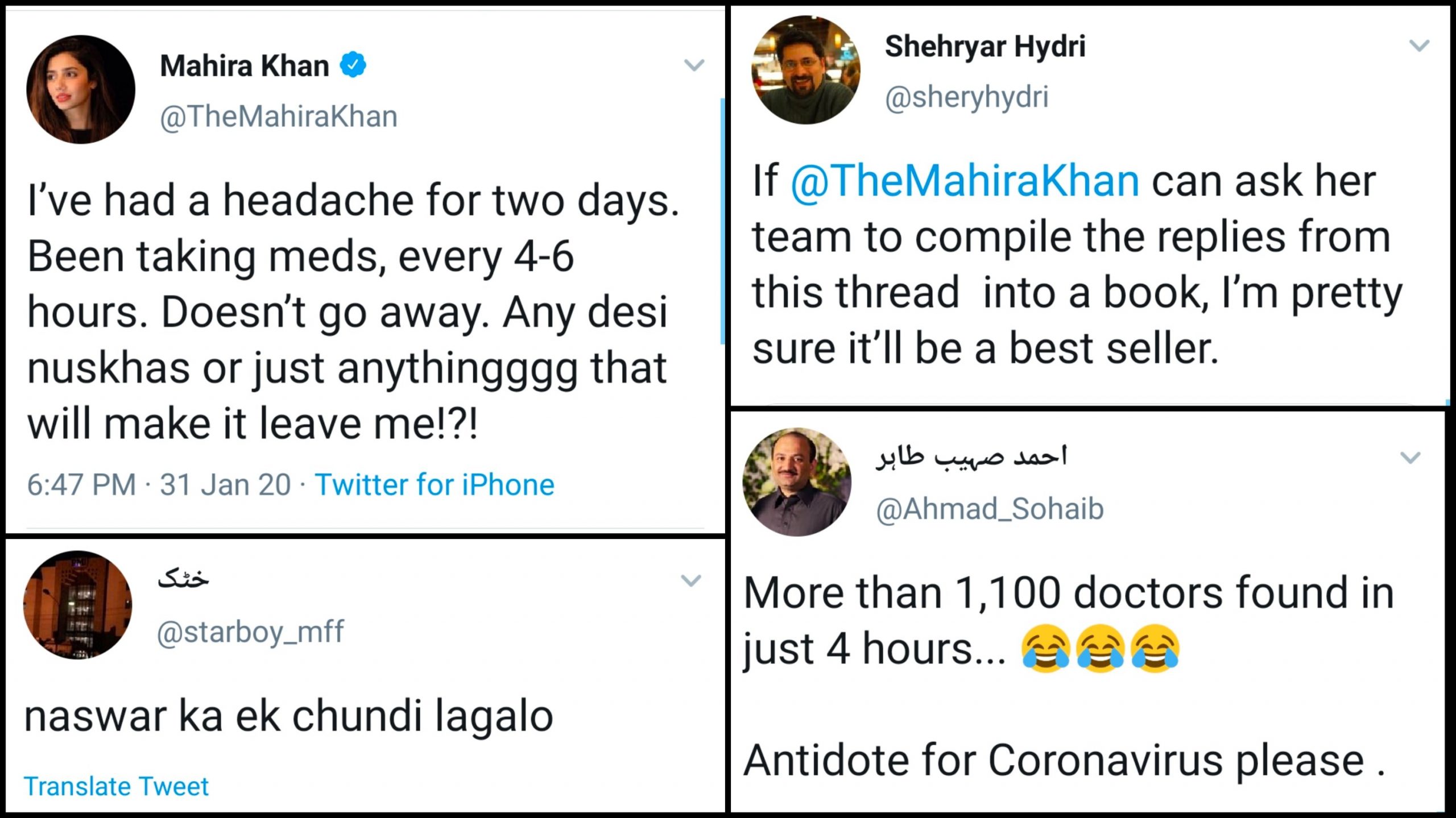 The country's sweet heart, Mahira Khan, turned to twitter hoping to get a few tried and tested desi nuskhas for an ongoing headache:
I've had a headache for two days. Been taking meds, every 4-6 hours. Doesn't go away. Any desi nuskhas or just anythingggg that will make it leave me!?!

— Mahira Khan (@TheMahiraKhan) January 31, 2020
And while a few gave her legit nuskhas, majority of her fans had the wildest nuskhas to offer:
naswar ka ek chundi lagalo https://t.co/jAlhsrclBz

— خٹک (@starboy_mff) January 31, 2020
Sub hi hakeem hain yahan:
More than 1,100 doctors found in just 4 hours… 😂😂😂

Antidote for Coronavirus please . https://t.co/RCJIY1FKuZ

— احمد صہیب طاہر (@Ahmad_Sohaib) January 31, 2020
Some thought it could be nazar 🧿
Take medicine
Take tea
Ask mamma to recite durood sharif having her hand on your head
Sleep!!!
P.s: Most important nazar utarwalen instant relief😊

— Melodiousbird (@Rubsmani) January 31, 2020
True that:
Two days and meds every 4-6 hours. She needs an MRI more than a Desi nuskha.

— Humeira Ajaz Kazmi (@humeirakazmi) February 1, 2020
Ooof!
Say 'i love you' to your headache, probably it'll leave too like others https://t.co/WKMqJA9tYf

— Ayeshay (@champagne_lassi) January 31, 2020
Our moms and their kahvas:
Same thing happened with me from the past few days I'm in too much stressed !

But My Amma made ginger tea for headache relief & for migraine drink it with honey ! It's really good for headache

And please take 6-8 hours sleep ! Take good care of urself! Love you 😘

— ✨§✨ (@sidk24) January 31, 2020
Now this nuskha is #DivaApproved:
Garam chai

— Bilal Azeem (@BilalAz38717025) January 31, 2020
Tea! Is the remedy to all headaches

— Awais Rana (@Awaais) January 31, 2020
From one workaholic to another:
Sleep @TheMahiraKhan https://t.co/47dJ2NJzpl

— Fahad Mustafa (@fahadmustafa26) January 31, 2020
As vivid as it sounds, this works!
try putting a bit of tiger balm on your temples, its pretty strong so be careful with it, works wonders for me

— Aleena Farooq Shayk (@FarooqAleena) January 31, 2020
Ah, the totka to everything is steam:
Steam lein agar nahi li ub tak

— Hassan Choudary (@hassanchoudary) January 31, 2020
Barhana nai hai bhai:
Watch Raees. Will get a bigger headache. Two negatives = positive. https://t.co/rXqMkBZMAj

— Hipster (@Hipsterrrific) January 31, 2020
Bhai confidence ho toh aisa:
Tenu charya bukhar mere pyaar da https://t.co/QekIT7zzN6

— Shaheryar (@Alamaiqball) February 1, 2020
Umm…
Smoke bhari hui cigarette.

— Ubaid Ullah Khan (@Madridized) January 31, 2020
Haha, something we all can relate to:
Hamary haan to Bss Panadol khaty hain aur dopatty sy Sar bandh kr so jaty hain…😂

— مُـــــــــــــــرشِــــــــــــد ♠ (@Sajid_faridi_) January 31, 2020
Facts:
Consulting a doctor can surely make it leave you faster than asking on Twitter and trying out inauthentic desi nuskhas👍
Headache can be a symptom of more than one diseases so don't ignore…🙂https://t.co/vBmlrmuFr7

— Mishti🌿🌸 (@HeavenlyHelly7) January 31, 2020
🙊🙉🙈
Bass Zara sa kash🚬 https://t.co/bLHAH4lwf9

— Sad af☹️ (@Sadafistic_Acid) January 31, 2020
It works:
Share memes https://t.co/Tzoweracd0

— Usama Khan (@usssoo) January 31, 2020
Absolutely, go for it Mahira!
If @TheMahiraKhan can ask her team to compile the replies from this thread into a book, I'm pretty sure it'll be a best seller. https://t.co/9xS8u7KnHz

— Shehryar Hydri (@sheryhydri) January 31, 2020
Okay…
Goldleaf 10/10 would recommend https://t.co/M90ezQlsHZ

— Rey (@Reyaanshoukat) January 31, 2020
Something we're keen to try:
Eat Icecream 🍦 like a kid 🧒

— Nazia Jabeen (@Nazia_Jabeen9) January 31, 2020
The only nuskha Mahira needs:
Mazaaq apni jagah baaji, consult a certified Medical specialist. Ye totkay totkoun se door rahein.
Koi aitbaar wala bnda btae to theek. Acha bachay internet se nuskhay nahein uthaate. https://t.co/52UB4bcCNv

— Aly Moron (@BawaDuzDuzz) January 31, 2020
What do you think about the crazy replies? Let us know in the comments below!