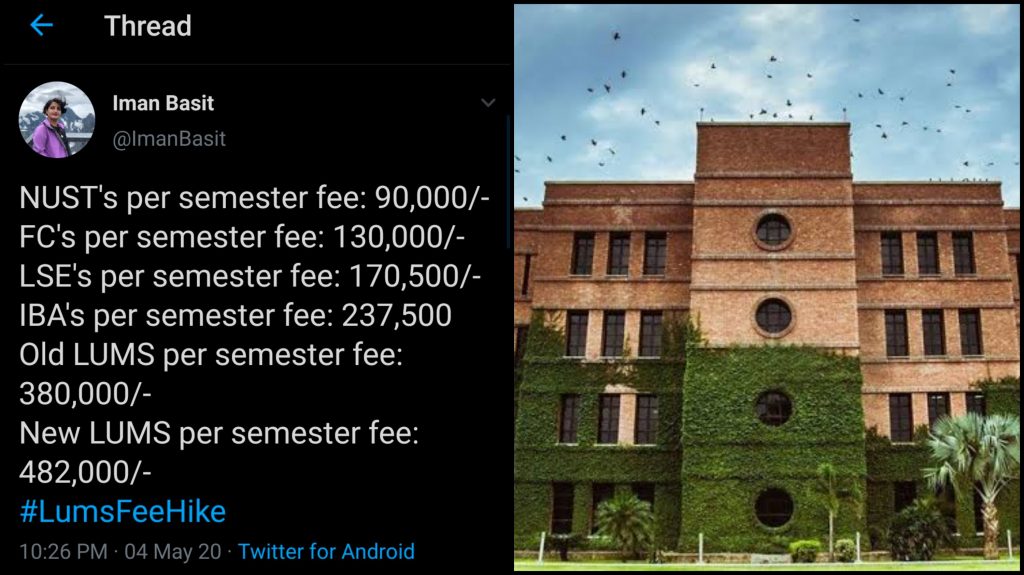 In trying times like these where people are struggling to make ends meet, LUMS has added to their worries by increasing the fee up to 41% which adds up around RS.140,000 to the existing fee, making it RS.482,000 per semester:
THREAD: Right in the middle of a pandemic and an economic recession, @LifeAtLUMS increased the tuition fee by over 40%. #LUMS #LUMSFeeHike

— w (@Witcheeha) May 4, 2020
Appalled at the unfair percentage of hike, people have come together to protest against it with the hashtag #LUMSFeeHike:
Outrageous that LUMS & FCU, two private universities in Lahore, increased their fee during the lock down. Its an attack on parents & students who are already struggling.

Our youth will continue to suffer unless we save education system from private mafias. #LUMSFeeHike

— Ammar Ali Jan (@ammaralijan) May 4, 2020
Many shared how their parents reacted:
the look on my parents faces when i told them about the #LUMSFeeHike now they have to compromise on 1 daughters education while barely being able 2 finance the others. it's alr difficult to make ends meet as it is, i have seen them sacrifice + struggle so much it breaks my heart

— unnecessary bachodi (@ughrooj) May 4, 2020
People were comparing the fee structures of some of the best universities in Pakistan:
NUST's per semester fee: 90,000/-
FC's per semester fee: 130,000/-
LSE's per semester fee: 170,500/-
IBA's per semester fee: 237,5000/-
Old LUMS per semester fee: 380,000/-
New LUMS per semester fee: 482,000/- #LumsFeeHike

— Iman Basit (@ImanBasit) May 4, 2020
People actually calculated the cost down to per minute at LUMS:
One credit hour now costs 24,100.
This means one 4 credit hour course:96,400.
There are 28 lectures in a semester. This means 3,442 per lecture.
Assume the class is of 2 hours. LUMS costs Rs.28.7/minute.

Jazz costs Rs.1.2 /minute.
Kyun kay Jazz Apna Hai. #LUMSfeehike

— Mustafa (@moodstafa) May 4, 2020
There were fitting memes:
#lumsfeehike Pandemic happens..
LUMS: pic.twitter.com/8Oj7aint7Z

— roobiboobie (@roobiboobie) May 4, 2020
The fee hike has parents under great stress:
my parents found out n im trying to convince them that our protest WILL make a different but obv they're stressed n worried. we're in a literal pandemic+recession!!! and 4 lac every semester per child was difficult enough!!!! this isnt "ignorable" it's IMPOSSIBLE #LUMSFeeHike

— eman (@exharrie) May 4, 2020
Students just didn't have the courage to reveal the new fee to their parents:
Desperately hoping something works out and all of this gets fixed because I really, really cannot look my parents in the eyes and tell them they need to pay an extra 1.5lac for this already overpriced university.#LUMSFeeHike

— amna (@amnanaana) May 4, 2020
People were finally seeing LUMS for what it has been all these years:
This fee hike points to a much larger issue that LUMS has. It LOVES to brand itself as need blind and constantly advertises the NOP program+financial aid but also continues to cut back aid for students based on whims#LUMSFeeHike

— madlibs (@lookitshnb) May 4, 2020
Some were sharing how the hike is no big deal for the elites and how this is an attempt to drive middle class out:
Its not about money, its about the brand. LUMS knows its target market, and our 1% rich af elite will not mind paying a little extra to (a) make the University more elitist and (b) drive out middle class students so more seats are made available to rich burger kids. #LUMSFeeHike

— Shahid Raza (@schaheid) May 4, 2020
We wish it didn't have to be this way:
please only consider applying to LUMS if you have an unlimited source of money because any time during your degree, it can demand 40% more and there will be nothing you can do :))) #ResistFeeScam #LUMSFeeHike

— ?! (@anooshawarma) May 4, 2020
People were furious!
parents are breaking their backs trying to put their kids through uni, taking loans, using up their savings, students who have to finance themselves. Aur bc lums where the fuck are ur ethics? where the fuck is our money going? where is the accountability? #Lums #LumsFeeHike

— unnecessary bachodi (@ughrooj) May 4, 2020
People think it's about time the institution is held accountable:
I was denied aid for this year, even when I got it last year, despite my financial condition worsening. I have zero faith in this administration. High fucking time it is held responsible for it's blatant disregard for student well being. #LUMSFeeHike

— baby-goatsong (@amnawintour) May 4, 2020
IGNORABLE?
It's bad enough that they're changing the fee structure during a goddamn pandemic, but to also mislead students into thinking it'll only make an 'ignoreable' difference? Yes – 42%, very ignoreable! Shame on @LifeAtLUMS #LUMSFeeHike #NotForProfit

— Omi (@omagawwddd) May 4, 2020
People were sharing how this had put them under mental distress:
A friend just messaged me regarding #LUMSFeeHike and she is so stressed because her family cannot afford to bear this increased burden. She is receiving loan & some aid.
Things have become really tough. Thank you LUMS for fucking mental health of students at such point in time

— وردہ نور (@Wardahwrites) May 4, 2020
Being scammed in the name of a bright future at LUMS:
Soon smart and hardworking kids to whom LUMS owes its fame and name will realise they are being scammed in the name of a bright future. #LUMSFeeHike

— Iman Basit (@ImanBasit) May 4, 2020
Some had suggestions:
The fact that a university can even consider a fee increase (of any magnitude) during these extremely uncertain times is absolutely ludicrous. LUMS mgmt needs to cut costs at the top of its hierarchy to meet whatever needs it has rather than fleecing students.

— Umair Javed (@umairjav) May 4, 2020
As the news met with severe backlash, LUMS shared how the fee was decided upon before the pandemic:
— LUMS (@LifeAtLUMS) May 5, 2020
But that too backfired as people found it to be callous and insensitive:
WOW! Do you have any idea how much the public is suffering due to the outbreak? The least you could do is not release such insensitive and callous statements but you couldn't even do that.

— Ali Ahsan 🦉 (@aliahsan07) May 5, 2020
Some found the response to be absurd!
Absurd Statement. Don't try to fool the masses by saying you're helping the students. The uproar is for a reason. The fee has gone up and as the students were not informed of this when they came to LUMS it isn't affordable for a lot of them.

— ѕнαz (@NotAYesSirr) May 5, 2020
People found the response to be in bad taste:
This is a bad response:

A) You're not subsidizing people who took few CH's as per the old regime, and will now have to pay extra to compensate.

B) You don't care about workload, kids often are forced to take absurd CH's to finish minors, repeat courses etc.

— T (@lahoriweaboo) May 5, 2020
C) This was all done without students consent. Good universities across the world lay out their future fee structure for students at the time of enrollment. The students and their parents did NOT consent to this.

— T (@lahoriweaboo) May 5, 2020
People were also outraged at their comment on discouraging students from taking course overloads:
This is pathetic and completely against the spirit of exploratory learning and growth that LUMS has been championing. This is just awful. https://t.co/iD3eEbWtjK

— carbie barbie (@wannabeludgate) May 5, 2020
TAKING MORE COURSES DOES NOT NEGATIVELY IMPACT LEARNING. IT ENCOURAGES US TO BREAK MONOTONY OF OUR MAJORS AND TRY DIFFERENT FIELDS!

— Mariyam (@Mariyam65145309) May 5, 2020
How dare students learn too much? Want that 5th course with the instructor you love? You will pay dearly for this mistake.

— a. (@anasir__) May 5, 2020
I shouldn't take non core courses i like because 'it burdens my learning' . Wow

— Abdur Rafay (@NotAbdurRehman) May 5, 2020
Some had genuine questions:
How does currency devaluations affect an educational institute? Genuine question. https://t.co/YTzxURVdvy

— AS (@AScf90) May 5, 2020
Needless to say, the statement did not make the impression it was trying to:
Don't take courses you're interested in studying. Don't do a minor. Don't repeat a course if you've failed it. Take 8 credit hours every semester and graduate when you're 40.

You can shove that 13% up yours#LUMSFeeHike https://t.co/PsVlFgJRU0

— Emad Ahmed Mir (@emumir8) May 5, 2020
What do you think about the sudden fee hike? Let us know in the comments below!