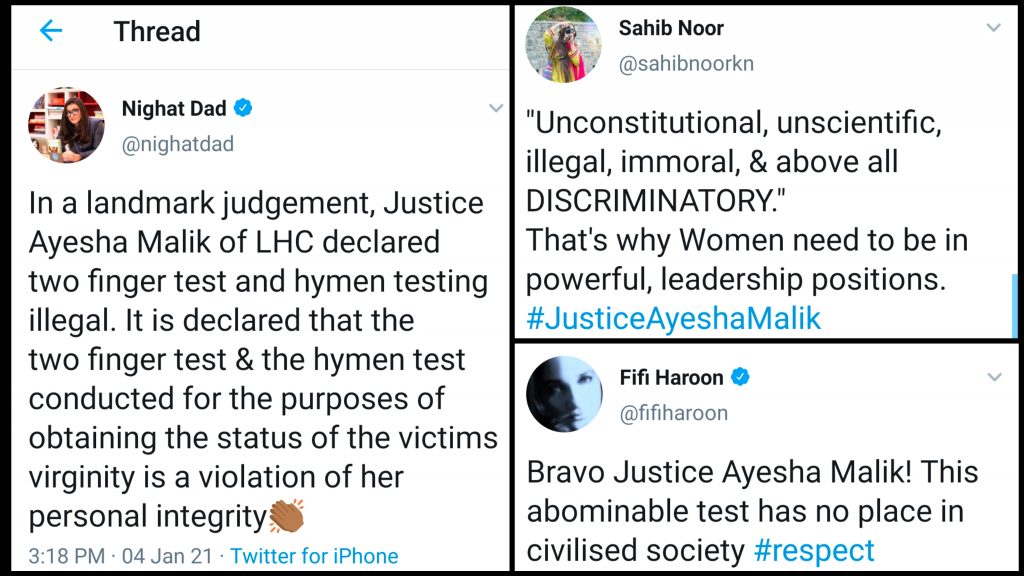 The Lahore High Court (LHC) ruled on Monday that the virginity tests of rape survivors were "illegal and unconstitutional".
The verdict was announced by Justice Ayesha A Malik in a petition, challenging the use and conduct of virginity tests.
In a landmark judgement, Justice Ayesha Malik of LHC declared two finger test and hymen testing illegal. It is declared that the two finger test & the hymen test conducted for the purposes of obtaining the status of the victims virginity is a violation of her personal integrity👏🏾

— Nighat Dad (@nighatdad) January 4, 2021

And people think it's the best news of 2021 so far!
Justice Ayesha Malik holding two finger test and hymen testing unlawful is already the best thing about today!

— Alizeh (@alizehmeer) January 4, 2021
Indeed it's best news of today, it was really really against the dignity of female and was multiplying the irony after being harrassment.thanks justice ayesha for your remarkable decisions, you will be ever remembered

— Mazhar Iqbal (@mazharroyal) January 4, 2021
People were thanking justice Ayesha Malik:
Absolutely proud moment for the women of this country.
Thank you justice #AyeshaMalik https://t.co/9bkADX7hy6

— Artosophy (@Ammkhan88) January 5, 2021

Canada's high comissioner to Pakistan also lauded the efforts:
The idea such a test was at one point "legal" is horrific: its elimination was long overdue. Well done to the petitioners, and to @mohrpakistan and @MolawPK for confirming such an act violates the constitutional rights of women victims of rape or sexual abuse. https://t.co/PSm71SWmAL

— Wendy Gilmour (@gilmour_wendy) January 4, 2021

Meesha Shafi congratulated everyone involved:
A very good morning! ☀️

Congratulations to ALL involved!
Congratulations to ALL women!
More power to all rape survivors 🙏🏼 https://t.co/NFYnuRcEfn

— MEESHA SHAFI (@itsmeeshashafi) January 4, 2021

Fifi Haroon too shared how the test has no place in a civilised society:
Bravo Justice Ayesha Malik! This abominable test has no place in civilised society #respect https://t.co/7jNN8mCTFJ

— Fifi Haroon (@fifiharoon) January 4, 2021

Chaudhry Fawad Hussain too praised it:
Indeed a Landmark all praise, just to add in new Rape ordinance enforced by Federal Government also declares two fingers test ultra vires https://t.co/sJwLbiEGPE

— Ch Fawad Hussain (@fawadchaudhry) January 5, 2021

Exactly!
About freaking time !!! 🙏 https://t.co/zXbhFh32Nd

— GunnerGalactico #14 (@MajGooner_14) January 5, 2021

It sure is!
2021's already looking up! 👍🏻 https://t.co/kaxrBOawO9

— Zahra Hidayatullah (@ZHidayatullah) January 5, 2021
Did some research on this for a paper just 7-8 months ago & didn't think we'd see this day anytime soon. What a start to the new year 🙏🏽♥️ https://t.co/MKvR2QgseP

— Maria (@hameshaawazaar) January 4, 2021
Finally, some good news from 2021. https://t.co/ls9ndIUw4j

— Annie (@aaminsann) January 4, 2021

👏 👏 👏
These changes don't come about overnight. It takes initiating discourse, resistance and persistence of those in movements for women's rights in Pakistan. Here's to Justice Ayesha Malik, Pakistani feminists and their allies. A win. https://t.co/3Y1zPpRC8V

— Mahnoor Ali Syed (@MahnoorAliSyed3) January 4, 2021
A landmark judgement that would not have been possible without the tireless work of women lawyers and activists who have relentlessly advocated for change. 👏👏👏 https://t.co/496wfE8u05

— auratcollective (@auratcollective) January 4, 2021

Jo baat hai!
Another reason, why we need more and more women participation in decision and policy making. Congratulations! 🎉🎉 https://t.co/qCPDu7Yt1J

— ndotyot (@ndotyot) January 4, 2021
"Unconstitutional, unscientific, illegal, immoral, & above all DISCRIMINATORY."
That's why Women need to be in powerful, leadership positions.#JusticeAyeshaMalik #womeninlaw #virginitytest https://t.co/RPQoToTwtG

— Sahib Noor (@sahibnoorkn) January 4, 2021

This!
Remember today's historic judgement the next time someone asks you what have feminists or women's rights defenders done for women https://t.co/QewZf6ThN0

— Nayab Gohar Jan (@NayabGJan) January 4, 2021

Yeh cheez!
خواتین آپ چھا گئ ہیں۔
Landmark achievement for our women who fought& struggled to seek justice for rape victims. https://t.co/CBActBqaNN

— Owais Tohid (@OwaisTohid) January 4, 2021

It's here and we're loving it!
Honestly never thought this day would come. Congratulations to everyone who fought against this repugnant directive for decades. https://t.co/kxDd9kYleY

— Huma Imtiaz (@HumaImtiaz) January 4, 2021

What do you think about this ruling? Let us know in the comments below!