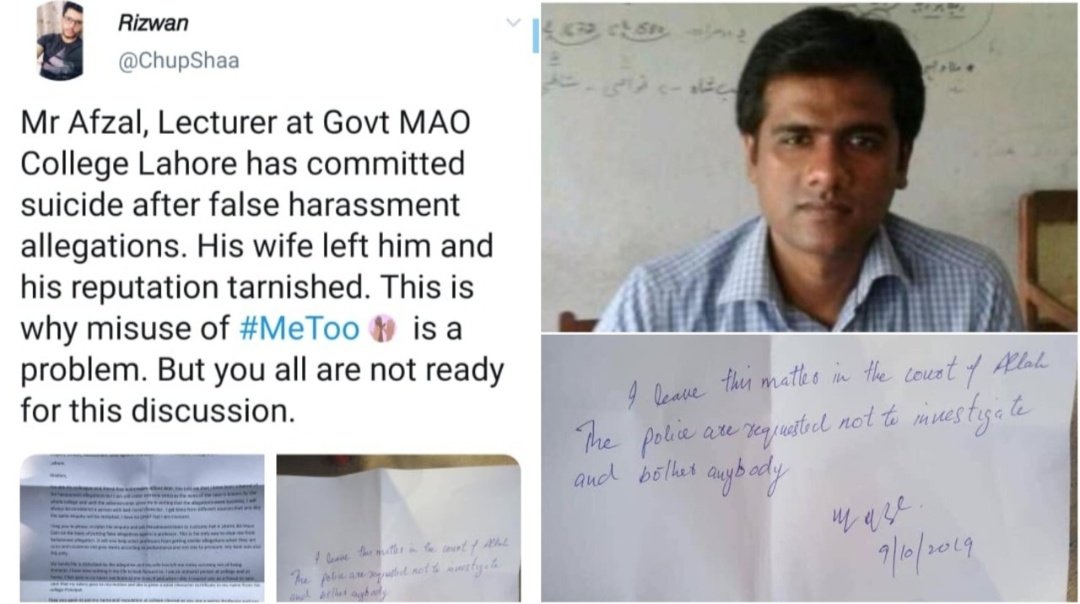 Movements like #MeToo have always been a very controversial topic in Pakistan with people on two very extreme ends of the spectrum. A teacher from MAO College Lahore committed suicide after he was 'falsely accused' of harassing a student at the college according to sources.
Mr Afzal, Lecturer at Govt MAO College Lahore has committed suicide after false harassment allegations. His wife left him and his reputation tarnished. This is why misuse of #MeToo is a problem. But you all are not ready for this discussion. pic.twitter.com/B1XXqS2F1r

— 𝘙𝘪𝘻𝘸𝘢𝘯 (@ChupShaa) October 18, 2019
Ever since the news of his suicide broke, the hashtag #MeToo has been trending on number one at Twitter: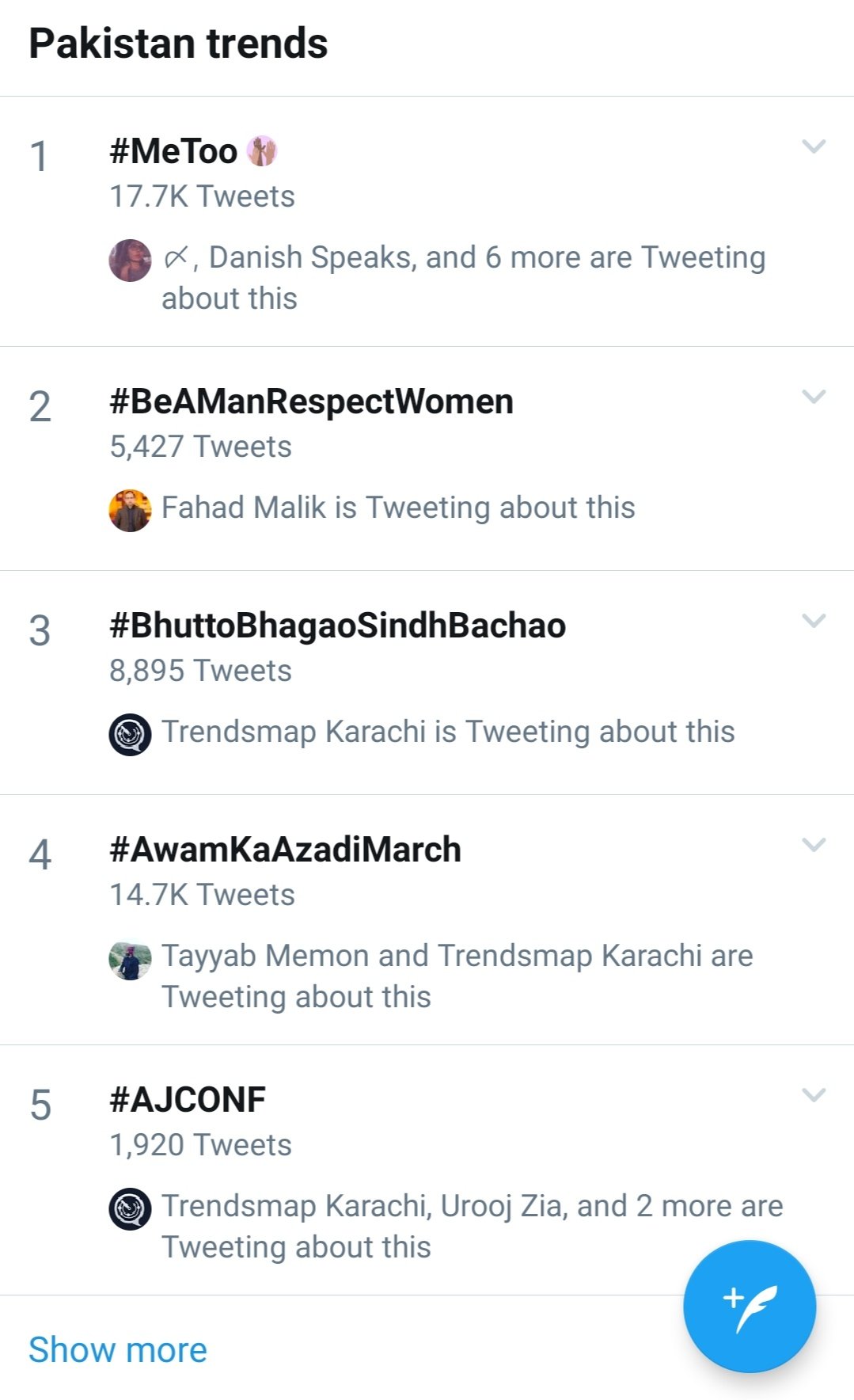 Teacher Muhammad Afzal wrote an application to the college asking for a second inquiry on him to clear his name off of the case and to restore his reputation that had been tarnished due to the claims. He also wrote how his wife had left him as she believed the claims were true.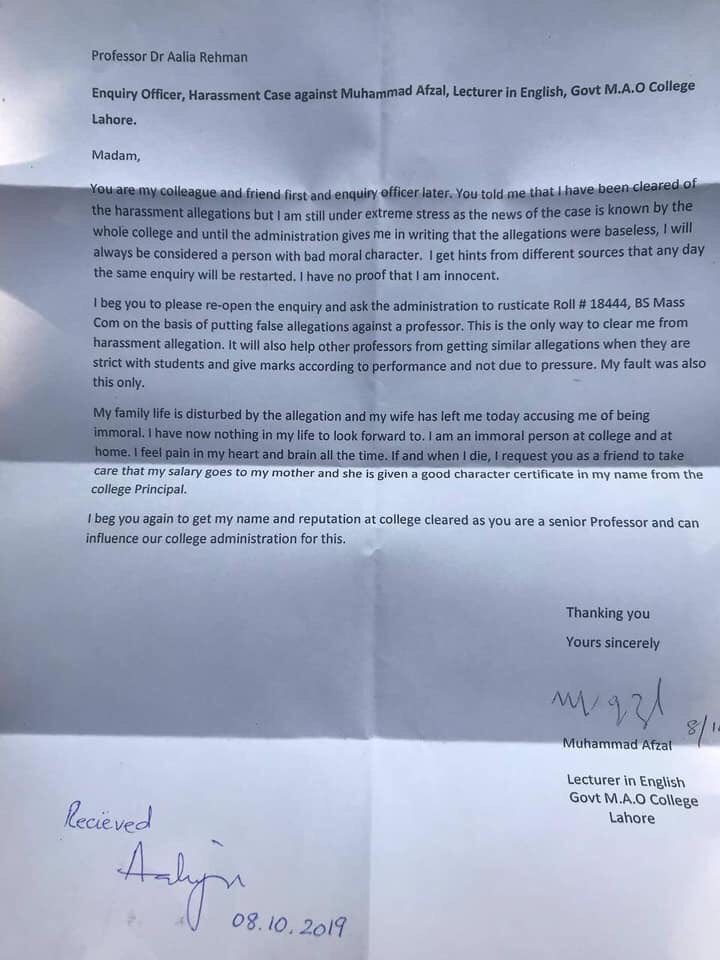 He also demanded that there be a notice of him proven innocent in writing and to suspend the girl who had falsely accused him. He ended the note saying that his colleagues make sure his salary reaches his mother in future and on the back of the paper he requested that the police does not bother anyone in regards to his suicde.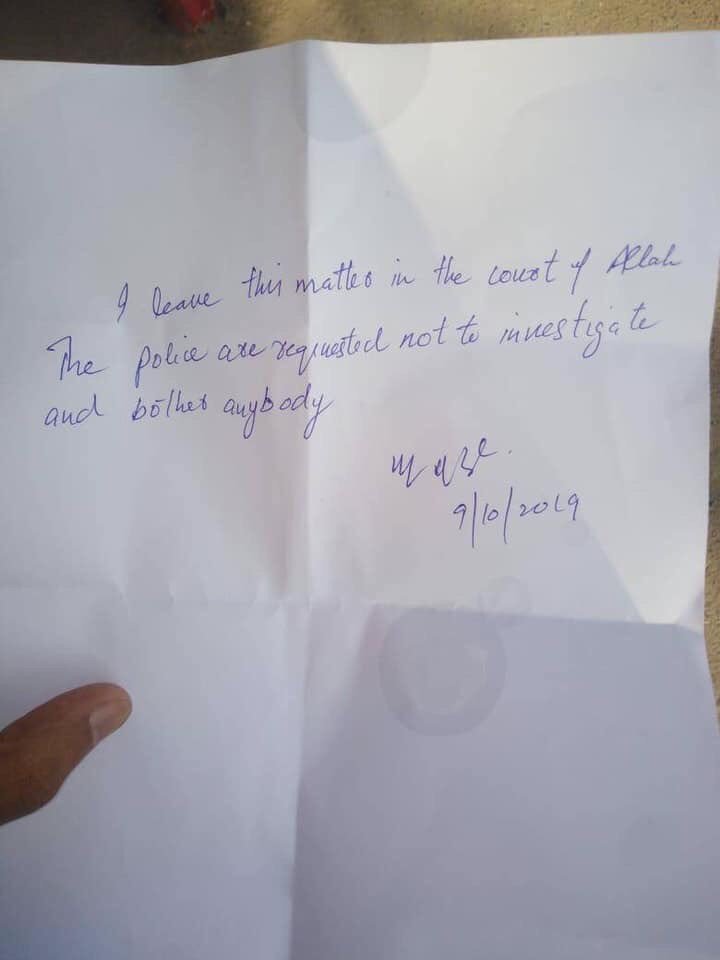 The suicide has sparked an outrage on all social media where people are speaking on the misuse of the #MeToo movement in Pakistan:
Ali Zafar naratted the whole incident and questioned the credibility of the movement:
Mr Afzal, Lecturer at Govt MAO College Lahore commits suicide after false harassment allegations. Leaves a suicide note as his wife leaves him & his reputation tarnished. How many will speak up for him now? How many will speak up against the misuse of #Metoo. Who is responsible? pic.twitter.com/WnWSyZyBOQ

— Ali Zafar (@AliZafarsays) October 19, 2019
Iqrar ul Hasan tweeted how people should refrain from calling someone guilty on mere accusations:
بغیر ثبوت کسی کے بھی الزام کو سچ تصور نہیں کرلینا چاہئیے۔۔ پاکستان میں سُنی سنائی باتوں کو سچ مان لینے اور کسی بھی شخص کو مجرم سمجھ لینے کی روش کو تبدیل کرنا ہو گا۔ جہاں کچھ معاملات میں مرد غلط ہوتے ہیں وہیں کچھ جگہوں پر عورت بھی غلط ہو سکتی ہے۔ https://t.co/z6ZKAKNkNv

— Iqrar ul Hassan Syed (@iqrarulhassan) October 19, 2019
Some pointed out how the real issue here was the management dismissing the suicide warning:
The issue here isn't misuse of #MeToo only. Mayhaps instead of using this to target something on the basis of your personal displeasure talk about the obvious thing here, that the entire admin chose to dismiss an explicit suicide warning. https://t.co/uMy8bxRb6v

— R (@sorrhetorical) October 19, 2019
People came forward saying how the movement was for both men and women:
#Metoo don't just represent women. This movement is same for males as well. I am really disappointed that few females are using it as a women card for rights and sympathies even though the actual victims of harrasment are not getting justice.

— Saba (@ItsSabaZainab) October 19, 2019
And while many were busy bashing the movement itself, there were a few who spoke sense:
yes the girl should be punished for misusing #metoo and falsely accusing the lecturer , who commited suicide later to prove his innocence.

But lets not use this case to guilt trip women who are raising their legit voices against rampant harassment.

— anastipu (@teepusahab) October 19, 2019
People who whole heartedly support the movement too think the movement should not be misused:
Sad! While we wholeheartedly support the #Metoo, we demand that those who misuse the movement shall be punished so that the innocent lives might not be lost. https://t.co/R3AlmW1ffO

— Uzr khan (@Socialmediac_) October 19, 2019
People agreed who misuse of the movement was equally abhorring:
A false accusation is equally abhorring as the real act.False accusations Hurts the prospects of abused women speaking up & hampers prosecution against culprits.

No #MeToo survivor will support hijacking of the painful journey they undertook to expose predators by opportunists. https://t.co/3UIaADxx7l

— Salman Sufi (@SalmanSufi7) October 18, 2019
People were worried about the misuse of the movement:
I have a huge respect for women, cos my mother raised me very well but Its so sad how this #MeToo has become a tool for some to propagate their agendas. Someone had to commit suicide to prove his innocence. Only if we use this for rightful purposes and not for propagating… pic.twitter.com/9uRUXfXlSp

— S. Ali Shah (@zaidiali9) October 19, 2019
As much as I'm in favour of #MeToo but it is a serious cause, please don't misuse it because it's results could be very lethal as it can ruin somebody's life. Be very careful! MAO Professor just lost his life for the sake of his reputation. It's sad 😕

— Asma Barjees (@asmabarjees) October 19, 2019
Many were angry at the misuse of the movement because it was causing damage to the actual victims:
Misuse of #MeToo
Because of such women, the real victims are not taken seriously and women continue to suffer! Utter bull crap it is.

— Humaira Shoaib (@HumairaShoaib) October 19, 2019
Some revealed how there are 23 cases of harassment pending in the college:
According to sources, 23 cases of harassment are pending in M.A.O college…

— Aadii (@Mustntb3nam3d) October 19, 2019
Falsely accusing anyone should be a crime:
Those Women Who False Accuse someone For Harrasment should be ashamed of themselves !
You are not only runinng the life of that person but you are also ruining those girls cases who need justice!! Because of people wouldn't beleive them now!#metoo

— Maheen♥s (@mangloooo) October 19, 2019
#MeToo was never just about women though:
There exists men who respect women. But have you ever thought that they deserve respect too? MeToo shouldn't only be for females, it should be for both. #MeToo pic.twitter.com/WZOfZllcEB

— Aamna (@AamnaMalik20) October 19, 2019
Some thought the movement had lost credibility in Pakistan:
#Metoo has lost all its credibility the moment it started in Pakistan
A woman with strong character doesn't need any campaign # https://t.co/hGVWNhwvh1

— Madiha Masood(MM) (@madiha_masood) October 19, 2019
People were upset how the judicial system had failed many:
It is very sad to hear about the death of Lecturer in Govt College MAO Lahore due to false allegation of harassment, he committed suicide to prove his innocence. I ask that where our society is heading ? that today people sacrifice their lives because of no justice ?#MeToo

— Talha Ibrahim 🇵🇰 (@TalhaIbrahim07) October 18, 2019
Some were straight go cursing the girl:
To Roll # 18444, you actions lead him to do this, I hope you remember that everyday.

To his wife, remember when he said "I can't live without you"? He actually meant that and you should have been his strength.

To everyone who used #MeToo falsely, it comes with consequences. pic.twitter.com/6QAyec3VXd

— ققنس ✪ (@AonSayyed) October 19, 2019
People suggested that false accusations have should serious consequences:
You can absolutely butcher an entire person's life achievements, persona and character just by a false accusation and ruin one's life.
False accusations need to have proper consequences otherwise this will keep happening. #MeToo

— The Ordinary Pakistani || YouTuber (@TheOrdinaryPak1) October 19, 2019
Many were happy to see others standing up for the professor:
Came here on twitter to write something for that MAO college lecturer who committed suicide after false accusations of sexual harrassment but good to see that many Pakistanis are already addressing this issue in right way.Women do lie and false acc should be penalized #MeToo

— Mubiyoko Wamura (@WamuraMubiyoko) October 19, 2019
Many demanded that the girl be punished for her actions:
I am in extreme pain. How can one stoop so low? Character assassination to satisfy personal grudge can lead you nowhere but to the eternal fires of hell. The criminal must be punished for her deeds. No one deserves to die of mental stress & baseless allegations. #MeToo pic.twitter.com/9MwATxkMPv

— Abeer Asif 🇵🇰 #FreeKashmir (@AbeeerAsif) October 19, 2019
People were heart broken:
Unfortunately, female easily blames male and, there is now law for female if she is proved wrong.Nothing can restore the lost previous respectable life after such allegation in our society.

These letters have broken my heart with tears. #MeToo pic.twitter.com/FsRRCy5qR1

— kaleem Shigri (@KaleemShigri) October 19, 2019
Some were disappointed in their fellow women:
That really saddened me. I curse thz women who has NOTHING else to do but playing woman card & bashing men 24/7. 5 fingers are not equal & if U want to be respected by men at least show some character, sharam, haya&ghairat and give respect too them aswell
And to hell this #MeToo https://t.co/2HUgdq45lL

— آبی کوثر (@Aabekosar) October 19, 2019
People were calling the girl selfish:
Perception is everything. By starting false accusations, you smear the truth and use the outrage to ruin a professors life. And humare log don't worry about the actual FACTS but rather they feed off the outrage.

How selfish can one person be to do something like this. #MeToo

— The Ordinary Pakistani || YouTuber (@TheOrdinaryPak1) October 19, 2019
People demanded that a serious set of rules be implemented in cases like these:
Really sad to know about Lecturer Muhammad Afzal. Proper rules should be made for implementing wrong and baseless allegation on someone. If this keep on going this will disastrous to our society#MeToo pic.twitter.com/zfeKbE6PMY

— Talha Tahir (@i__am_talha) October 19, 2019
Some called the movement anti-patriarchial and pro-feminist:
So sad & traumatic incident! Another victim of #MeToo  movement with false allegations from opportunistic & criminal mindsets. #Metoo  is based on injustice & prejudice under falseflag slogans of antiman, anti-patriarchy & profeminist. It's not for providing justice to its victim pic.twitter.com/hzclKJTpqX

— Ehsan Achakzai (@e_achakzai) October 19, 2019
Many also thought how men were using this particular case to discredit the entire movement:
A professor has committed suicide after falsely being accused of harassment and Pakistani men have found something to discredit the entire movement that has given voices to millions of victims. #metoo

— Nazrana Yousufzai (@NazranaYusufzai) October 19, 2019
For some the campaign was a reflection:
#MeToo took a life today in #Lahore
2 things this should help us understand are:1) Women 'using' this campaign to get victims benefits are in league with men who abuse women 2)Women are not the victims when a consensual relationship goes south.

We are a reflection of each other!

— V (@vakspeaks) October 19, 2019
Many criticized the suicide:
if the teacher was right and he did nothing why did he commit suicide? as per his letter he is leaving it on 'ALLAH'S COURT' but he is choosing a haram death and even if he is innocent he is going to hell what a hypocricy. #Metoo https://t.co/rmqiaIKqma

— Sherdill Malik (@SherdillMalik) October 19, 2019
Point:
It should be innocent until proven guilty but thanks to the simps and femitards in our society, specially media, that for men it is guilty until proven innocent and no one cares about the punishing false accusers#MeToo

— MUB (@MUB29791528) October 19, 2019
And there were some who were of the opinion that strict laws be implemented and the MeToo movement should not be discredited based off of one case: https://twitter.com/ahmadhasan186/status/1185541373249937417?s=19
What do you think about this case? Let us know in the comments below.