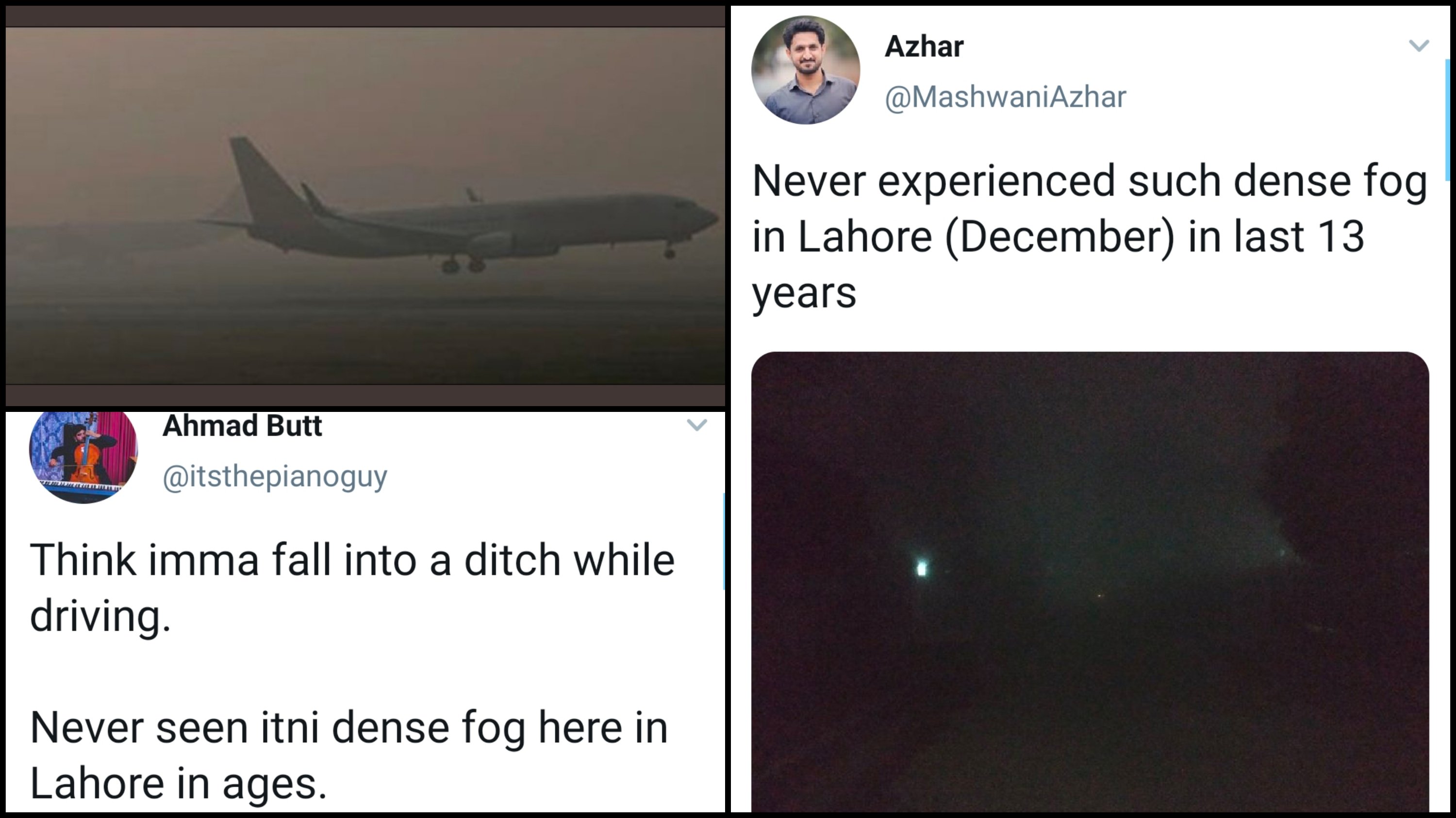 First it was smog and now it's dense fog in Lahore, according to some the most dense they've seen in a decade. People were sharing footage of the fog engulfed Lahore and honestly it gave us chills!
Fog right now #Lahore pic.twitter.com/86dWXgS6oE

— Nadeem Sarfraz (@nadeemsb) December 17, 2019
People were sharing how they hadn't seen fog this thick in December:
Never experienced such dense fog in Lahore (December) in last 13 years pic.twitter.com/cDss34awmu

— Azhar (@MashwaniAzhar) December 17, 2019
True that:
fog or smog? in Lahore you never know pic.twitter.com/yt9PJWHWKP

— Minahil (@minahilariously) December 17, 2019
Straight out of a horror movie:
🥶🥶 #Lahore #fog pic.twitter.com/26KT9xTRTc

— Shuجa🏴Haiدer🇵🇰 (@shuja5haider12) December 17, 2019
It's almost like driving blind:
Blind Visibility #lahoreFog pic.twitter.com/eFSEnLKQBR

— Adeel Taiq (@adeeltariqchoud) December 17, 2019
#LahoreFog pic.twitter.com/1ZhtVBIFPD

— Out somewhere in Space (@AbdulChuhdray) December 17, 2019
It was like really dense!
Think imma fall into a ditch while driving.

Never seen itni dense fog here in Lahore in ages. pic.twitter.com/kXpV0sXiec

— Ahmad Butt (@itsthepianoguy) December 17, 2019
You can literally see fog pouring down outside like crazy in Lahore.

— Saleh (@salehriazq) December 15, 2019
Kuch loug pareeshan the snaps se:
Lahore mein fog kya hogai adha sc drivers sy Bhar gya hy

— meem (@sochrhi_hun) December 17, 2019
The man had me scared at first glance!
😊😊😊#Lahore #fog #Home pic.twitter.com/sbTD8pClvU

— Wajih Ahmad Sheikh (@wajihsheikh) December 17, 2019
People were not happy:
This is legit the first time the fog got to me psychologically.
Wtf Lahore! pic.twitter.com/wn48Uzhw45

— TeflonDon (@Traganos_A) December 17, 2019
Drive safe everyone!
Lahore just went dark on near Zero Visibility Fog. How the heck am I driving home now? 🤦‍♂️ #Pakistan pic.twitter.com/wvBmsNxw1P

— ABW (@abwpak) December 16, 2019
Flights were cancelled and the motorway closed for traffic as per reports:
Motorway M3 closed due to severe fog in Lahore, Multan and Gujarat#Motoway #Fog #Multan #Gujrat #Punjab #Pakistanhttps://t.co/UBd2khZFm2

— News Box (@newsbox247) December 16, 2019
Fog affects PIA flight operations at Lahore airport https://t.co/ixrPPslmtr pic.twitter.com/jP8Wwjd4dd

— Faryal Shakeel (@faryaalshakeel) December 17, 2019
Absolutely crazy!
Crazyyyyyyyy fog in Lahore rn!

— Halaku Khan (@HalakuKhan_) December 16, 2019
Lougon ke gham…
Lahore mein itni fog hai saamny say aati Hui larki nazar nhi arahi mujhy

— .🇵🇰 (@DudeTabahi_) December 15, 2019
Is your city affected by fog? Let us know in the comments below!