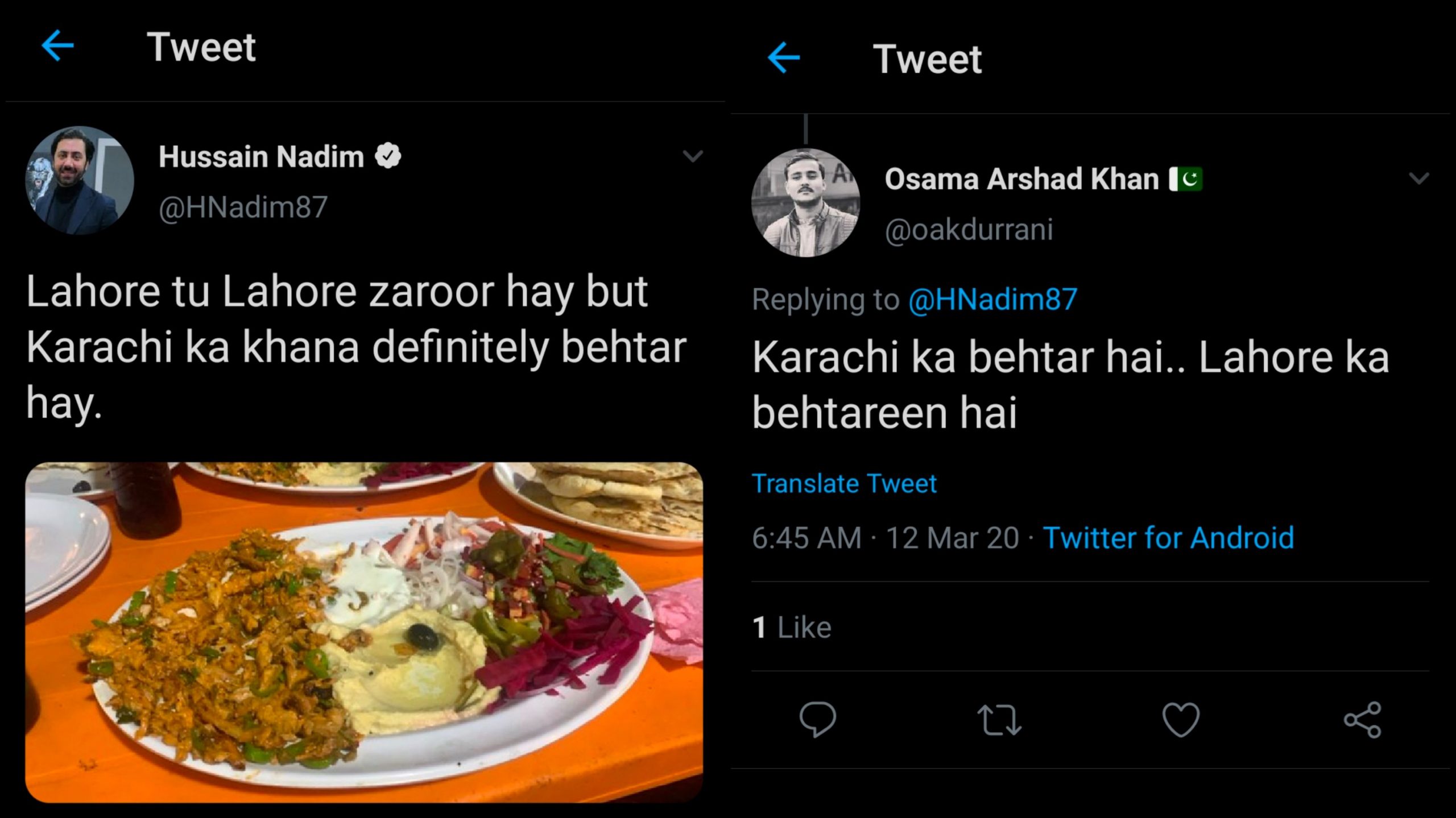 There's no stopping when it comes to Karachi vs Lahore debate. Karachi stands unparalleled when it comes to food and the praise comes from people all over the country! And it was no different this time when people started showing their love for Karachi's food after this tweet got quoted countless times!
Lahore tu Lahore zaroor hay but Karachi ka khana definitely behtar hay. pic.twitter.com/3ApipkA7Jv

— Hussain Nadim (@HNadim87) March 11, 2020
The tweet which features the famous Shawarma Platter from Qasr-ul-Nakheel had everyone recall their favourite food from Karachi!
I took my Islamabadi friend & his cousin to Burger Shack in Karachi. They told me it was the best beef burger they've ever had. Burger Shack is not even in the top 3 burger joints of Karachi 😂 you non Karachites are really missing out https://t.co/95FSktdHzp

— k (@Markhxr) March 11, 2020
People instantly recognized the restaurant:
Qasar ul Nakeel it is! My favourite favourite Shawarma spot! https://t.co/aovuNhCanG

— S (@Allah_ki_bandii) March 12, 2020
Haha, it's a FACT!
Fellow Lahoris, please understand we're not traitors when we say this, because it's not an opinion https://t.co/g28xPkWmN4

— Mr Bojack Peanutbutterman🌲🌳🌴 (@ShaykhSaahb) March 11, 2020
Agreed:
Depends where are you eating and what https://t.co/7GO0TMWwth

— RoniboyHero (@Roniboyhero) March 11, 2020
It had many missing the platter:
Could do with some Karachi shawarma https://t.co/khNUpF46ri

— Manahil Ismail (@xqzmymonologue) March 12, 2020
Qasr un nakhel 😭💕 https://t.co/BCWoKH4TSQ

— ak (@Anoshae_) March 12, 2020
Some shared how it was more of quantity vs taste:
Lahore k khano ki log boht tareef krte hain lekin meri observation ye hai Lahori sirf quantity ko he count krte hain – oil zyada, meetha zyada etc. As far taste and presentation is concerned, Karachi is un-matachable

— Mustafa (@mustafagurgaze) March 11, 2020
Many agreed how Karachi has the best food!
No doubt… Khi ka food is best https://t.co/uwvyu77xpB

— Majid khan (@Itsyourkhan) March 11, 2020
Some were, rather, critical:
All I can see is a messy plate https://t.co/WsLPIkmYmj

— Mona khan (@MemoonaRasheed2) March 11, 2020
Some admitted how they'd move to Karachi just for the food:
No disagreements there. Would move to Karachi just for the food https://t.co/YsHdUMi6Bq

— Ismaeel (@ThatBoyGiggsy_) March 11, 2020
Not to brag, but, TRUE DAT!
Definitely! #Karachi has the best food in the country.

— Ambrin Hayat (@ambrin_hayat) March 11, 2020
Some thought there was a clear winner amongst the two:
Thank you brother for being honest. Unfortunately not many people admit this due to the hype of LAHORI FOOD. Although I love Lahori food myself but I would say that Karachi food has more flavour along with the taste whereas Lahori Food is more about spices and taste. https://t.co/RIue3zm7pl

— Aizaz Ahmed اعزازاحمداعؔزاز (@aizaz1411) March 11, 2020
I don't think anyone who's had it will put up a fight!
oh my god. My dad got me hooked to this platter. The best shawarma one can find…come fight me. https://t.co/MpBwbfNQYe

— jenna (@Jennation_) March 12, 2020
Karachi Kings won the match and wins everyday at food too 🤷‍♀️
Aap larai dalva lo mazeed. Wese bhi aj Match ha. 👀 https://t.co/OWIbIf8nQD

— Marie daar (@marie27daar) March 12, 2020
Some were calling it a ghalat fehmi:
Inko koi ghalat fehmi se hui hai. 😂 https://t.co/qXAxwLCHYC

— Tamour Abid Chaudhry (@Tamourch) March 12, 2020
Some threw major shade at the Lahoris:
Kuch lahori khi aker khi k khano ki buraya kertay bicharo k taste buds ko fungus Jo lagi hoi ha https://t.co/AuqyWXkjuL

— Alishba (@waveygrave) March 12, 2020
Talk about winning biryani, the actual biryani:
Is baat pe aap ko #Karachi ki biryani #karachiites ki taraf se

— Sana Afridi (@afridi792) March 11, 2020
He's got a point though:
This was not the picture to make your point with, though!

— ahmed (@aghaahmedullah) March 11, 2020
People were recommending more places to eat at when in Karachi:
Meh that Karachi arab food! Damascus is also good and has a great back story linked to al zuldiqar. Do have the melt in your mouth gola kababs at ghaffar at port grand

— Aiman Rizwan (@aimanrizwan) March 11, 2020
Karachi, Karachi hai yar!
Karachi is much more fantastic specifically in street foods. Lahore is good too. But Karachi is Karachi.

— AnasKhalid (@anaskhalidal) March 12, 2020
Lol, gustaakhi maaf!
U have just committed a sin in Lahoris' dictionary.

— Umair Mansha (@umair_mansha) March 12, 2020
For some the clear winner was still Lahore:
Karachi ka behtar hai.. Lahore ka behtareen hai

— Osama Arshad Khan 🇵🇰 (@oakdurrani) March 12, 2020
And some thought he had clearly lost it:
Are you out of mind

— RANA AFTAB 🇵🇰 (@JulyDecember7) March 12, 2020
And even after all that debate, people are still torn between the two cities. Why don't you guys settle the debate in the comments below?