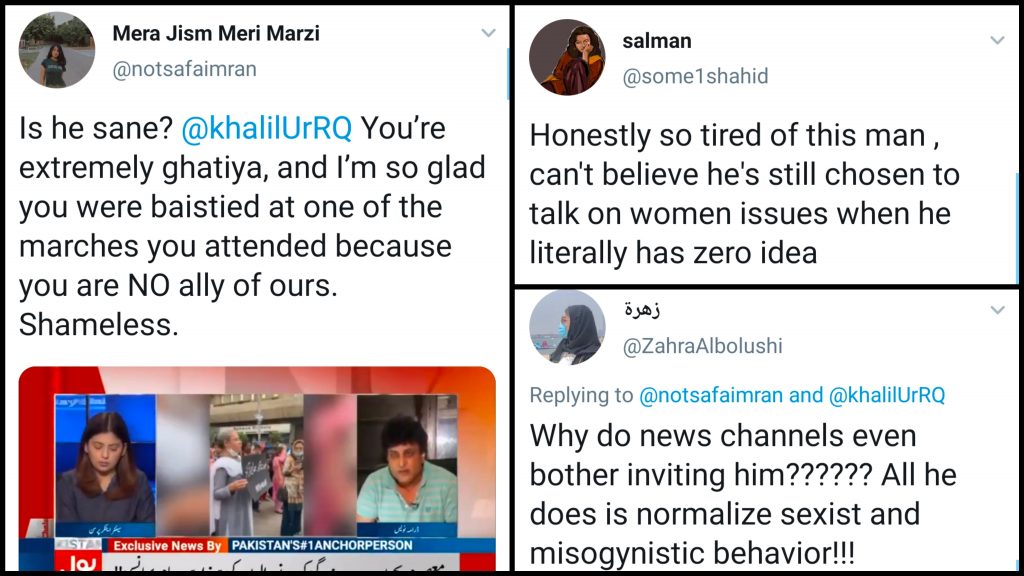 The King of misogyny has made his way back into the headlines with misogynistic comments on women who were out to protest against the Motorway incident.
Is he sane? @khalilUrRQ You're extremely ghatiya, and I'm so glad you were baistied at one of the marches you attended because you are NO ally of ours.
Shameless. pic.twitter.com/PwdruNkiQI

— Mera Jism Meri Marzi (@notsafaimran) September 16, 2020
His remarks have left the netizens fuming with anger and they've got all the answers he was looking for:
Mr. @KhalilUrRQ:

1. At the marches our fathers, brothers, husbands, male allies stand next to us. Proud.

2. Only your small & dirty mind (& low IQ) can come up with this meaning of azadi.

3. Yes, it is our constitutional right to demand azadi. #MeraJismMeriMarzi https://t.co/uFYZBarvjr

— Benazir Jatoi (@BenazirJatoi) September 16, 2020
Men too had answers for him:
I'm a brother of 3 amazing sisters, i went to the Aurat March with my sisters and I'm so proud of them that they weren't there for themselves but to represent those who couldn't make it to the March bc they've stupid dumb Men like KRQ in their homes. https://t.co/QXMYN78OZB

— Rumpoptarts (@theodahad_) September 16, 2020
People wanted to know why the only meaning of azaadi for him was sex and boyfriends:
Why is everything about sex for this vile man? Azaadi does not mean sex and boyfriends. Azaadi means the right NOT to be harassed or sexually assaulted. Azaadi means the right to be able to move freely. It also means the right to call your BS out you rape apologist @khalilUrRQ https://t.co/38o0rBeKGg

— Dr.Mahra Butt (@MahraButt) September 16, 2020
People were calling people like him the real enemy:
Who is sick ,depraved man .Men like him are the real enemies https://t.co/XTmBcv0HEP

— Maheen Khan (@Maheenkhanpk) September 16, 2020
You can always count on KRQ to turn anything into a sexual fantasy:
Women: stop raping and murdering us!

KRQ & his ilk: oh so you want to have sex in front of your father and brother!? https://t.co/XqUVLvkKjz

— Amar (@amarsitplease) September 16, 2020
People were questioning his credentials:
Why is this douchebag invited to speak on issues related to women rights? What credentials does he have to comment on the lives of women? https://t.co/cleUAGnKKO

— Ailia Zehra (@AiliaZehra) September 16, 2020
No space for him in any women's rights discourse. Those who work on women's rights are free to disagree with each other but people who have no credentials to comment on such sensitive issues have no place in this debate and their opinions don't matter to us. https://t.co/DQBZ7tRARg

— Nayab Gohar Jan (@NayabGJan) September 16, 2020
People were also questioning the channel and their ethics:
I question the lady for listening to this shit and agreeing with him.
I question the management of this show for inviting him.
I question the channel for giving him time https://t.co/9ts1rxh7TV

— Blundo ℹ (@BlunderWoman_) September 16, 2020
People were worried for his mental health:
Is this man mentally okay? Like genuinely? I hate him so much. Women ARE dying, getting RAPED, ABUSED, honor killings, dowry, domestic violence, wage gap, forced marriages, underage marriages, street harassment, and this man has the audacity to turn it into something sexual? https://t.co/MxAb5RklxQ

— Dee ⁷ (@deecriesalot) September 17, 2020
People were calling out the anchor too:
I expect nothing other than this half assed misogynistic wisdom from KRQ but why is the anchor lady just sitting and nodding along??? pic.twitter.com/t2LmGU75EE

— dk (@daanistan) September 16, 2020
Many shared how he is the least relevant man to the discussion:
if news channels wanted productive n thought provoking discussions about aurat march and feminism, khalil ur rehman would be the last person they'd invite, bec he is simply not relevant/an expert. their only priority is getting ratings and that's honestly just fucking disgusting https://t.co/paZuakqRiy

— mirza (@thatbluecynic) September 16, 2020
People were disgusted that he's still getting airtime:
What a vile disgusting creature this man is and still he getting airtime. Shame https://t.co/jCXiatLlCx

— A Good Soldier (@Intellegencia1) September 17, 2020
People were concerned:
Imagine a population with a dearth of critical reasoning in general, being fed upon problematic and disgusting sexist narratives by vile creatures like KRQ.Unfortunate to see businesses profiting off him with such "senior anchors" being either complicit or verily equally culpable https://t.co/QhWVfNLGgk

— Ammar (@ammar_016) September 16, 2020
Many were calling it a publicity stunt:
Theres no reason to give this much attention to a piece of turd. All a publicity stunt. Spewing hatred all over social media and live tv. The man's insane. https://t.co/DRzqKUuF8b

— habeeba. (@habeebaw7) September 17, 2020
People were questioning his idea of azaadi:
Women are out protesting against RAPE but chutiya @KrqOfficial thinks that IS azadi, fuck everyone of you who supports this person. You are the problem. https://t.co/HOQOpzfZe6

— mohom (@annoyyyinlady) September 16, 2020
People were ashamed of liking him before:
I am ashamed to admit that I loved his dramas and enjoyed them tremendously but after he ridiculed gang rape, harassed a woman on national TV, I vowed to myself that no more content viewing by this gandaa aadmi –

— Faiza Irfan (@FaizaIr87782923) September 16, 2020
People found the comments to be downright disgusting:
The guy doesn't even have an iota of shame. Even from his standards the comments he made about women with a girl on a TV channel are disgusting.

— Noor Palijo (@npalijo) September 16, 2020
What do you think about KRQ's take on women protesting? Let us know in the comments below!