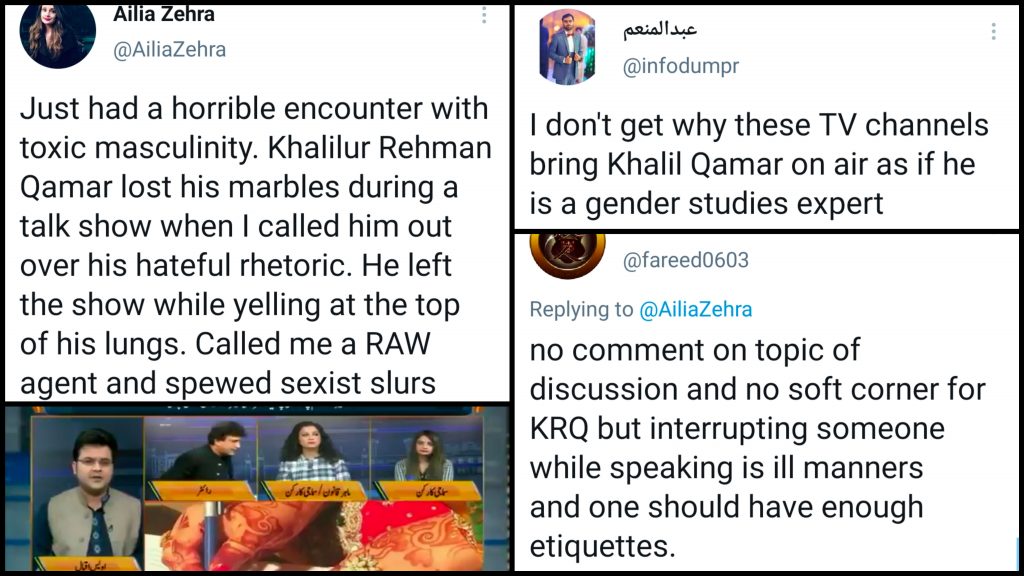 Appearing on a live show where a discussion on underage marriages was being held, Khalil ur Rehman Qamar who does not have the best reputation when it comes to being on live shows, was angered by opposing remarks and decided to walk out on the host and his co-panelists:
Just had a horrible encounter with toxic masculinity. Khalilur Rehman Qamar lost his marbles during a talk show when I called him out over his hateful rhetoric. He left the show while yelling at the top of his lungs. Called me a RAW agent and spewed sexist slurs pic.twitter.com/KPAKHqXv1k

— Ailia Zehra (@AiliaZehra) February 19, 2021
The incident was shared by the panellist herself and netizens are disappointed, but not surprised:
Shame on those who continue to invite him to shows and promote him. https://t.co/dddXXnINC8

— Kanwal Ahmed (@kanwalful) February 20, 2021
People had a lot to say:
A man who invokes the Holy Quran just to blackmail women is a terrible, terrible person. https://t.co/IaZV4r42ey

— Ammar Ali Jan (@ammaralijan) February 19, 2021
People had questions:
One of the basic teachings of Islam is respecting women; how conveniently do we forget these and only cherry pick those that suit us? https://t.co/zr7uXHjsj5

— Nehel Hafeez (@nehel_hafeez) February 20, 2021
People really wanted to know the reason why channels call him for his 2 cents:
Can't understand why tf tv shows call him to talk about women problems? Is he an Islamic scholar? Is he a women rights activist? Is he a human rights activist? No he is just a psychopath…stop promoting him for ratings https://t.co/HPO6rjexcA

— شمائل احمد ناصر 🇵🇰 (@shumailahmadn) February 21, 2021
People were blaming the channels that invite him:
Why was he even invited to this show? Television channels do it on purpose to be talk of the town and gain TRP. https://t.co/QupT7PALro

— Saadia Ahmed (@khwamkhwah) February 20, 2021
are we stuck in a time loop?? legit thought this was a clip from last year omg. iss kachray ko kyu utha ke le aate ho har dafa tv par??? https://t.co/lKokIp19Cs

— Faizan. (@thoraoffbeat) February 20, 2021
True:
And worse is that he will be invited again to give his 2 cents of 'wisdom'… https://t.co/5ISUzt6ZKi

— Asma Ali Zain (@asmaalizain) February 20, 2021
Agreed!
Kudos to you for standing your ground against such a toxic man.. These tv shows don't really want to discuss these topics. They just want to create drama and get trps. Otherwise they would actually call activists and not misogynistic script writers. https://t.co/qgZt0f3Mpb

— Lily's Mother (@NoushinZora) February 20, 2021
Some were glad to see him triggered:
I think its good to see him triggered by women and walk off on camera instead of not seeing do all this shit. Its good. Bring him on tv and see what these chay men believe

— جامی ازاد (@azadjami1) February 20, 2021
People were calling him a man-child:
He is a man child. I love how men say "women are so emotional" when they're the one's acting like this. Can't even handle another person's opinion let alone their interruption 😅
ladies and gentleman; the 'superior' gender in a nutshell

— Ezza (@EzzaSyed) February 20, 2021

Content creator Mooroo believes he's from some other time:
Wow this guy is really from another time. Lol. What surprises me is that he thinks he comes out on top with these antics of his.

— Mooroo (@Mooroo4) February 21, 2021
People were also lauding the journalist for keeping her cool:
Hahaha fragile ego – good on you for standing your ground, and he keeps exposing himself with his pettiness & inflated sense of self importance

— Usama Khilji (@UsamaKhilji) February 20, 2021
People were grossed out:
Gross 🤮 Gross 🤮 Gross 🤮

A discussion between two people entails listening to each other with compassion despite differences, & not seeing eye to eye on any matter.

If only KRQ can patiently listen to the interlocutors and be patient until his turn comes, but will he ever?

— Dr. Alia Amir (@aliawhs) February 20, 2021
People were really getting tired of his repetitive behaviour:
I am tired of khlilur Rehman misbehaving on the national tv show. He has no ethics and he an arrogant person. I don't know why he thinks that he is the authority!

— Khurram Mahmood (@Fmkhurram) February 19, 2021
Right!
Intolerance should not be displayed on television so blatantly.

— Fereeha@abbtak (@Fereeha) February 19, 2021
Jo baat hai:
People start shouting only after failing to convince opponent with logic.

— Mohammad Tayyeb Ch. (@pakmtc) February 20, 2021
Some believed he should have been given the chance to speak:
if he needs his time to speak please give him, his views make sense or not is another debate
freedom of speech apna apna. https://t.co/yTWPuj2PnM

— Hussain Ahmad Zia (@_I_Hussaini) February 21, 2021
Jb 2 barhe baat kr rhe hn tou beech me bolna zarori hai? https://t.co/A6UmHDj6g7

— i (@Teefa_Fifa) February 20, 2021
You should have shown some civility-When someone is talking you must not interfere-

— Sarwar Hashmi (@SarwarHashmi2) February 19, 2021
Question is.. Why didn't you just let him finish and THEN respond to him, especially if he's requesting everyone to just let him finish?

You'll keep having 'horrible encounters with toxic masculinity' all around the world if you go in looking for a fight. Patience is a virtue.

— Unsung Hero (@JNJSJHJ) February 20, 2021
Har jagha aurat card khailna zarori nahi hota
Apne onki baat ko beech mein se tooka

— Jiya ☕ (@_Jablotiousjiya) February 20, 2021
People were defending the misdemeanour in the name of agitation:
In KhR Qamar's two episodes, first with Marvi & now Ailia, I can't help ignore both women's continuous interruption during his turn, aimed at instigating him to take advantage of his short temper & play victim.
I watched him closely, he doesn't interfere but easily gets agitated.

— Amer Malik (@AmerMalik3) February 20, 2021
Some were a 100% on board with what the man said:
Interfering someone is talking is unethical and against of other person rights. Everyone has their own time so no other one should interfere him/ her in his time either it would on TV or offset. Mr Khalil is right

— Ihsan Khan (@IhsanSays) February 20, 2021
And while others were quick to give their opinions, some wanted to hold back to find out the other side of the story:
This is just one part/side of the picture.Can't comment unless I'm going to listen to the whole stuff.Please send the link. https://t.co/ruhlcg94bY

— Lawyer (@naseer_8910) February 21, 2021
What do you think about Khalil ur Rehman Qamar's reaction? Let us know in the comments below!