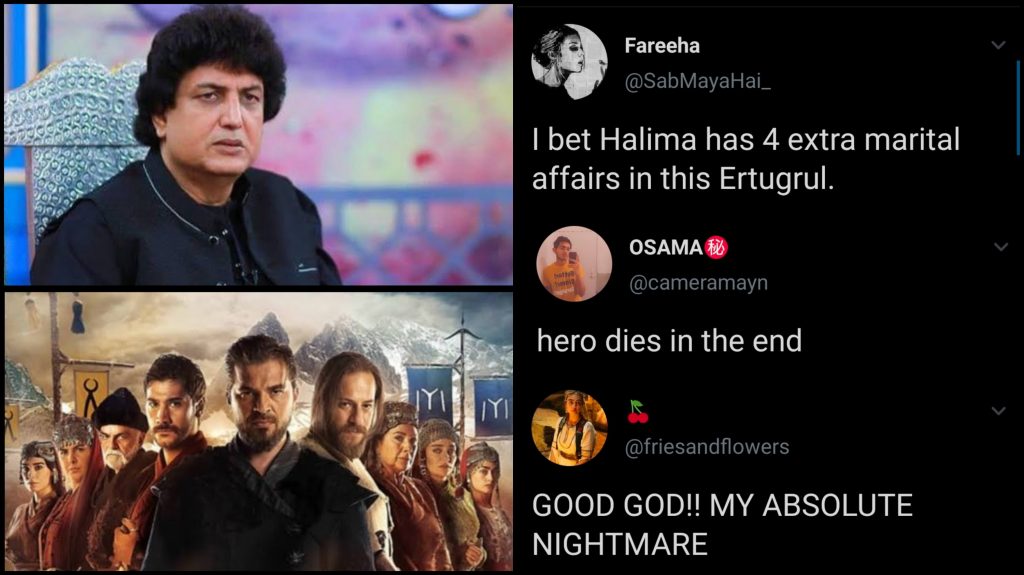 Keeping up with the Ertugrul fever, Khalil ur Rehman Qamar shared that he's working on something similar to the Turkish series Dirilis Ertugrul, he also revealed that he's shared the idea with Humayun Saeed and something might be up!
As the news began circulating on social media, people were shook and have a lot to say!
I bet Halima has 4 extra marital affairs in this Ertugrul. https://t.co/i7xS0S381O

— Fareeha (@SabMayaHai_) May 12, 2020
People were already sure of who'll be playing Ertugrul like hero:
humayun saeed is definitely playing the lead character i can already see it https://t.co/usJePqmiNR

— maaidah (@maaidahhh) May 12, 2020
Imagine Humayun Saeed playing role of Ertugrul https://t.co/uWVVHG9n4k

— UET's Einsteins (@uetseinsteins) May 12, 2020
Some gave out the spoiler alert already!
hero dies in the end https://t.co/RrqKGKNjz0

— OSAMA㊙️ (@cameramayn) May 12, 2020
Some were just not up for it!
God…. keep this Asshole away from Ertugrul, please. https://t.co/ds4F65gv9s

— LeezaKhan (@G4_gul) May 13, 2020
Well…
Toxicity has entered the chat lel https://t.co/CMdbiqtw0z

— BitchPaneer (@kuttiicheese) May 12, 2020
Some were nowhere near being amused!
What other shit can you pile on top of Covid_19?

This… https://t.co/Qg1NIFZBfY

— 𝕰𝖒𝖕𝖗𝖊𝖘𝖘 𝕬𝖚𝖗𝖔𝖗𝖆 𝕭𝖔𝖗𝖊𝖆𝖑𝖎𝖘 (@PropitiousOn3O) May 12, 2020
Short and simple:
No thanks https://t.co/mxEp7PNlJN

— saba khan (@sabikhaan) May 12, 2020
Some were sure that the series stands unmatched!
Not even a single production house in Pakistan has the capability to make a solid tv show based set in medieval period. Apple ka logo nahi dikha skte aur show bnaenge ye. https://t.co/HMvStEzd3D

— عبداللہ حصان (@abdullahassaann) May 12, 2020
We feel ya!
GOOD GOD!! MY ABSOLUTE NIGHTMARE https://t.co/TGuPrluVHD

— 🍒 (@friesandflowers) May 12, 2020
I guess we'll find out:
How is ma mans gonna write history? 😭 https://t.co/Psh6x7zbEP

— Rida (@Gurl_iam_) May 12, 2020
Plot twist!
Ertugrul halima ki bewafai se mar jaye ga https://t.co/MddWvrFQvx

— Wasiq (@evilmortee) May 13, 2020
Some were seeing major red flags!
Won't even have the production cost that these series need.. plus a misogynist to write a time period series? Red flags all around this. 🚩🚩🚩 https://t.co/4JRA5PTXPc

— Taha (@LeTahaa) May 12, 2020
Requests had already started pouring in:
I want to see bikes instead of horses in his series. Idc. https://t.co/LybmwQdwj3

— moonbee (@annoysaa) May 12, 2020
Haha!
Agat is mr humaiyon saeed or adnan Siddiqui huwe to kuch bhe kerle me nae dekhunga https://t.co/mmqngNlUDk

— Matāf khan (@maataafkhan) May 12, 2020
Some weren't ready!
Ya Allah reham ab hmein humayoun ko ek warrior k roop m dekhna paray ga 🤢🤢🤮 https://t.co/yhvlaB1yu4

— Sad Julie not a mad Julie (@faiqaww) May 12, 2020
Jee han!
Okay matlb ek or mohabbat krne wala marny wala hy https://t.co/UB71LguOLr

— Anonymous (@backbencher_023) May 12, 2020
Heh 😂
And then he'll say: it's based on my own life.

— مائرہ (@phuttakhao) May 13, 2020
What do you think about KRQ making something similar to Ertugrul? Will it work? Let us know in the comments below!