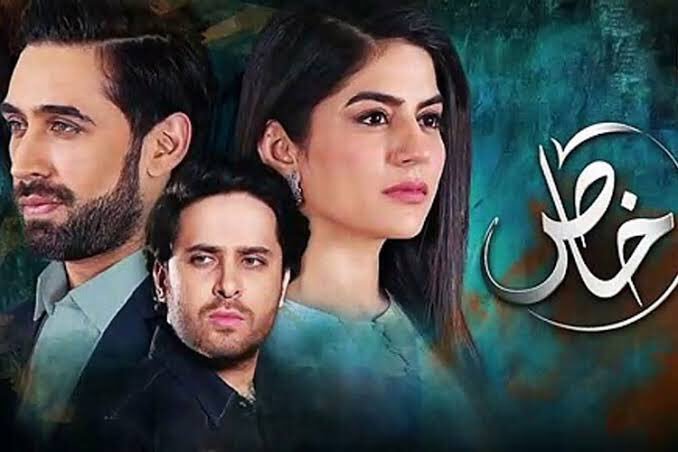 The drama serial Khaas finally bid farewell to us with a rather heart breaking ending. The drama that gathered popularity for standing out with it's different story line for putting forward the subtle form of abuse which many women face in our society.
But people were rather disappointed with Fakhir's death:
Nobody:

Literally nobody:

Pakistani directors:kill the supporting husband and then show the wife as bechari.#Khaas

— Javs. (@javeria_16) October 23, 2019
People were angry with the writers:
What a weak ending for #Khaas Obviously the writer ran out of ideas for a climax or Producers pressure Really ridiculous

— Sadaf Haider (@tomtomatoe) October 23, 2019
What a shit ending to #Khaas na sar na pair. What was the point of killing Faakhir? It serves no purpose at all. Fuck you @ writers

— 🇵🇰🇵🇰 (@FoodAndLFC) October 23, 2019
What a disappointing end to such an amazing drama. Drama shd have end with Saba and Fakhir leading a happy life and raising their son. Amaar's mother and phopho should have realized their mistakes. Amaar's confession of some form. Too rushed confusing end. Not impactful #Khaas

— Brown Girl ✨ (@the_desi_dream) October 23, 2019
No one:
Literally no one:
Not even a single soul:

Pakistani dramas: Let's kill all the supportive and loving husbands because why not? 😌#Khaas

— 🥭🙅‍♀️ (@AmnaKaSamnaa) October 23, 2019
Fans were suggesting alternate endings:
What if they had shown that saba and fakhir raised their son to be a gentleman, who despite having lots of money and good looks respects every woman and every being equally😭😭💘#Khaas

— stary (@stary_fir) October 23, 2019
Someone even shared how the fans were holding on to the hope it won't be Fakhir dying:
I am watching this drama Khaas last episode with my younger sister and the hero died in a car accident. Now in the next scene they are showing heroine standing in a graveyard and my sister is praying, "Allah karay Saba k baap mara ho Fakhir ni"
😂

— ربیعہ (@mainrabbiyahoon) October 23, 2019
Hearts were aching:
Bas, dil dukhaa diya #Khaas ne. I'm still not over it. @HaroonsMusic I won't forgive you for this! First a heartbroken Sameer in Do Bol and now Faakhir!! You better get a happy ending in your next show or we are going to have words. 😑😑

— SophiaQ (@SophiaAQ) October 24, 2019
No problem with a woman living alone or being happy without a man , but the idea that if a first marriage doesnt succeed everything is ruined & can never be fixed is a myth our dramas love . Had hoped for some joy , had hoped that a REAL man might be allowed on our screens #Khaas

— Sadaf Haider (@tomtomatoe) October 23, 2019
It reminded many of Shayan and Mannat from Cheekh:
Why good men in Pakistani dramas have to die in the end? First Shayaan and now Fakhir. #Khaas #Pakistanidramas

— KANOOZ.🌷 (@CheemaKanooz) October 23, 2019
Some argued how Fakhir shouldn't have been in the narrative in the first place:
#khaas Why end it in such a horrible way!? If Saba was to be shown strong, then Fakhir's character shouldn't have been a part of the narrative at all.

— aq (@afiaqazi) October 23, 2019
If they wanted to show that women don't need men to be happy and independent them they shouldn't have brought Faakhir in the scenario as a prince and a husband and then killing him off. #Khaas

— Hira👀🤦🏾‍♀️ (@dil_dil_U) October 23, 2019
Cc: writers
aaaand they did it. WTF!!! Can Pakistani drama writers, FOR ONCE, not screw things up and let the characters and THE VIEWERS be happy? #Khaas

— Sana Shaikh (@SannieBerry) October 23, 2019
Some were just not ready:
FAKHIR MERI JAAN WHEN YOU KNEW U'D DIE IN AN ACCIDENT WHY DID YOU EVEN TALK ON A CALL WHILE DRIVING#Khaas

— stary (@stary_fir) October 23, 2019
Good men are not myths!
1 thing that was shown accurately was that a person won't change no matter what but WHY kill Fakhir? Ammar faced enough rejections and life lessons needed to make him regret and wrap up the show. Why is a good man such a myth that he HAS to die instead of it being a norm? #Khaas

— 👽 (@ghairhaazir) October 24, 2019
To cheer fans up, Haroon Shahid had a message of his own for the audience:
Woh Jo Thaa Bohat Hee #Khaas And that's a wrap for Phakhir.
Support and love empowers regardless of whom it comes from. May everyone who is suffering from emotional abuse find their support system. THE END pic.twitter.com/gWE4UZszcm

— Haroon Shahid (@HaroonsMusic) October 23, 2019
* thinks of the last episode and cries *
Everyone watching #khaas right now : pic.twitter.com/CfVdKdXXKP

— Inaya (@iinayasaad) October 23, 2019
Some were left confused:
confused
Paki dramas teaching us if u're insaan ka bacha and tameez ka mard, then theres no way you'll survive in our society.
Also, a woman doesnt need anyone by her side and can always be independent (at the cost of some emotional/mental trauma)
What even? 🤨#khaas #cheekh

— Fez (@frieszay) October 23, 2019
Some were actually sad for investing their time in the drama:
Why did they have to fuck every good drama? What the hell was that ending #Khaas so damn disappointed. Serves me right for investing so much time and interest in a Pakistani drama.

— Bushra Joyo-Gandhi (@filmyjoyo) October 23, 2019
#khaas
So disappointed!!!! I invested so many hours and emotions in this drama but the last episode ruined everything. It's like the drama was literally rushed to end. They made their money so decided to end it. Hmmm sad!!!

— zahra zamir (@zahra_zamir) October 24, 2019
And while some were angry, others loved the ending:
A woman can be happy and independant even without a man to rely on. She can be KHAAS herself. – Loved the drama and a bit sad at the ending, but it's okay, cuz the lesson was everything.🥺🖤 @HaroonsMusic @SanamBalochz #Khaas

— Mahnoor. (@ItsMahiHere) October 23, 2019
The message was loud and clear:
#Khaas ended today and it was a very thought provoking drama. Being beautiful or not is not in our hands. Kudos to all involved for bringing such sensitive issue in notice because most of the people lack considering self respect of others as an issue itself.

— Aishaa (@Ayeshakalsoom23) October 23, 2019
People thought it was important for Fakhir to die:
Best ending, the writer did justice to the story that was built that a woman can be broken by awful men and then a good man can bring back her confidence and in the end she didn't need anyone else but belief in her own abilities. Loved the drama. Kudos to the writer #khaas

— ™️ (@dissocia_ting) October 24, 2019
Saba and Fakhir deserved to be happy at the end:
Even though the ending did guve out a splendid lesson that woman can be independent without having a male it still disappoints as Saba had faced misery and a loving husband would've been good than living alone. Not a good end😔 #Khaas

— Moeez (@moeezmufti) October 23, 2019
Despite the heartache, people were happy that Saba didn't return to Ammar:
Loved the ending of #Khaas
"Aik aurat ko mazboot hona chaiye,kisi mard ke sahare k beghair".

Also the message about how to raise boys🙌👌

— سعدیہ | sadia (@sadiasays_) October 24, 2019
I am glad that Saba didn't return to Ammar though because if she did that would've been worse. #Khaas

— 🇵🇰🇵🇰 (@FoodAndLFC) October 23, 2019
This is important!
No matter how handsome you are, you have 6-figure salery, luxurious life style and apparently great family. If you are a narcissistic man full of shit then you don't deserve a good woman not at least a good wife. Let your poor mother/sister, phuphi be your only saviour.#Khaas

— PhuphiQudoosNamhaiMera (@MeraPhuphi) October 23, 2019
Ammar had people entertained!
I HINESTLY SCREAMED IN DISBELIEF AND ALSO LAUGHED OUT LOUD WHEN AMMAR TOOK A SELFIE THINKING SABA WONT SAY NO TO HIM LMAAAO TF IS THIS GUYS EVEN#Khaas

— stary (@stary_fir) October 23, 2019
Men will always be men:
Whats with men… First they mess up in relationships and then they realize how wrong they were…. and then expect the woman to get over all that they did and come back to them….as if nothing happened #Khaas

— Umaima Ahmed (@UmaimaBlogger) October 23, 2019
People were living for the lesson:
Lesson they wanted to convey is: a bad man should never be even your last option instead prefer living without a toxic man. #Khaas https://t.co/x91JWKUfAt

— PhuphiQudoosNamhaiMera (@MeraPhuphi) October 23, 2019
The ending lines of the drama were loved by many:
Agar Beta hua to us ki Tarbiyat Mard soch kar mat karna aik insan samajh k karna ta k wo dusaron ko bhi insan samajh sakay.#khaas #HUMTV

— Anum Hamid 🇵🇰 (@anum_07) October 24, 2019
What do you think about the drama's ending? Let us know in the comments below!