Hamza Akram Qawwal and his brothers, Abdul Akram and Taimoor Akram, recently released a soothing Sufi track titled 'Kesa Ishq'. Shot in New York, featuring the three brothers in a contemporary outlook, along with the American model, Whitney Grandell, the track is a beautiful composition with a captivating chorus.
Beginning with one of the most famous lines by Jigar Muradabadi 'ye ishq nahin asan bas itna samajh liije, ik aag ka dariya hai aur doob ke jaana hai', the composition as well as lyrics of the track are by Tauqeer Bhinder. The song is an amazing addition to the Sufi songs collection and something that can be listened to, time and again. It talks about pure love and the power of 'ishq' that is beyond the differences that humans usually consider important, such as cast, creed, and culture.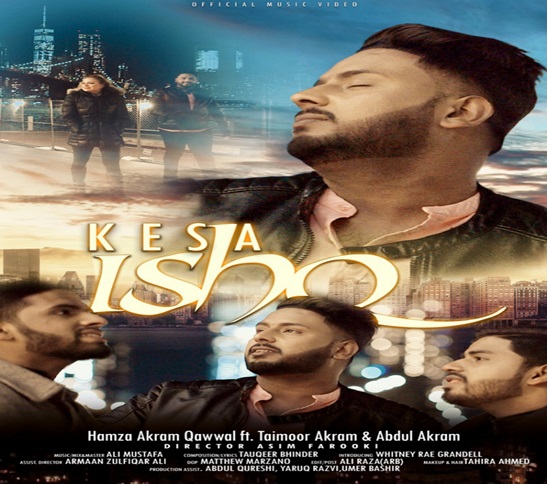 'Kesa Ishq' conveys the true feelings of a lover beautifully with the perfect blend of heart touching lyrics, soothing music and perfect vocals. The chorus particularly is really appealing and the captivating beat with romantic lyrics makes it an interesting arrangement and a treat to the ears.
Belonging to the Qawwal gharana, the brother trio has released a number of songs and has won people's hearts not just in Pakistan but also at the international level. Hamza Akram has also won the award for the Best Emerging Talent in the Lux Style Awards 2017. Hamza's songs have always been unique and with 'Kesa Ishq', Hamza has given us an enthralling experience to Sufi music.
Listen to the song here and let us know what you think about this inimitable composition.
By Mehwish A. Wahid