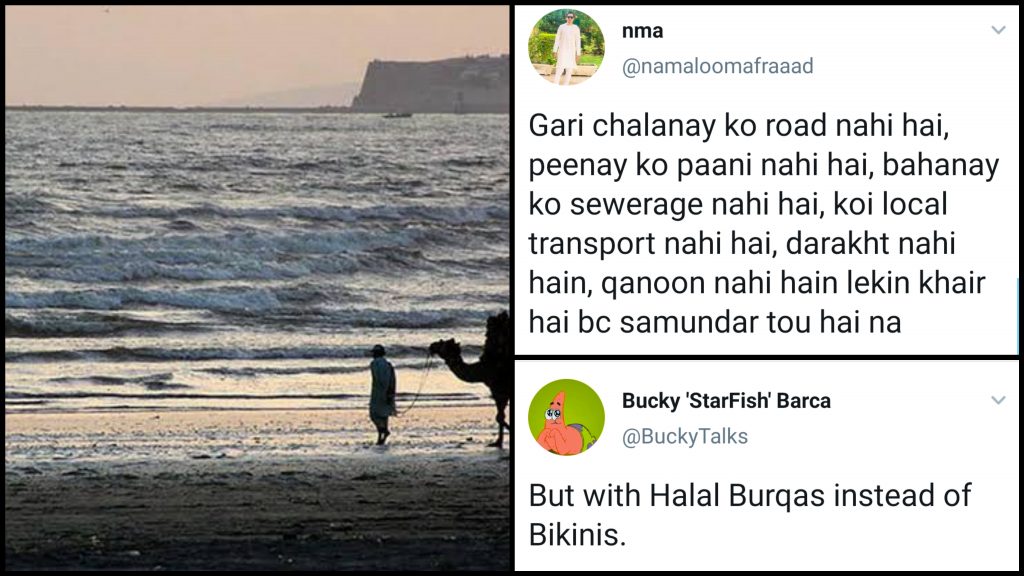 Authorities in Karachi have called for a remodelling of Sea View in line with the standards of foreign beaches, the remodelling plan calls for a jogging track for public in addition to 13 acres of grass to be planted to ensure there's greenery on the beach and work has already begun.
As the news reached the masses, it wasn't met with the enthusiasm expected and people have a lot to say!
Gari chalanay ko road nahi hai, peenay ko paani nahi hai, bahanay ko sewerage nahi hai, koi local transport nahi hai, darakht nahi hain, qanoon nahi hain lekin khair hai bc samundar tou hai na https://t.co/WadFWGakmb

— nma (@namaloomafraaad) July 23, 2020
People wanted to know who asked for it:
We don't have a public transport system. Or water. Or electricity. Or a functioning sewerage system. A garbage disposal system. A functioning local governance.

What I am trying to say is, who asked for this? https://t.co/9ZnPr8hdGl

— No (@Bluemagicboxes) July 23, 2020
Haha, apt!
But with Halal Burqas instead of Bikinis. https://t.co/vt74s27lJ0

— Bucky 'StarFish' Barca (@BuckyTalks) July 24, 2020
Watch these expectations die after a dress code is revealed for the beach:
https://t.co/xjjRhhPVlU pic.twitter.com/Lhn1JtydZu

— SolitaryAzlan (@Reb_ALI_ous) July 24, 2020
Same!
— ṕ̷̷̷̡̢̀͘̕̕͢ơ̸̷̷̧̡̧͘͘͜͞p̵̷̴̨̀̀͘͘͢͞͞ò̶̵̶̸̧̡͜͜͟͝ (@spopalzai) July 23, 2020
Some wanted to know what the remodelling means:
Just the sheer incompetency oozing out of this tweet.

How do we make beaches better?

Make them like "foreign beaches"

What the hell does that even mean? https://t.co/DvUTEtPw8O

— Pakistani Reacts (@PakistaniReacts) July 23, 2020
Many think that it's just going to be another empty promise:
Just another empty promise. https://t.co/YVAgGSgUkZ

— M. N. P. (@kafennarn) July 23, 2020
Hmm?
Maybe work on something that actually matters? https://t.co/rjrNka2Wzg

— Bruce Wayne (@Batman_af) July 23, 2020
PLEASE, PLEASEEEE!
Wo tou theek hai par pehle kachra tou saaf karwadain samandar se. https://t.co/eftc1oTr9H

— علی (@Bhuut_) July 23, 2020
He's got a point!
Sounds like a great initiative but how about DHA and CBC stop dumping raw sewage in the sea. That would have a far greater impact than these cosmetic changes in which I'm sure some commercial aspect is involved but not yet being revealed. These people will never learn!

— Hassan Arif (@HassanArif_1) July 23, 2020
Some weren't happy!
What this means is "awaam se yeh sasti tafree bhi cheen rahe hain taa kay DHA development kar sakay. Awaam can fuck off". https://t.co/IsuEQvHwcv

— shundoo mundoo zindabad (@TheOmarrization) July 23, 2020
Yar 💔
majaaal ho jo mujhe kisi baat per bhi yaqeeen ya umeeed ho ab awayae buss https://t.co/gLz7aLN7El

— naam mai kia rakha hai? (@uroojfsadiq) July 23, 2020
People were sharing the expected dates when the project will be completed:
In 2050 https://t.co/zVhSaw8H2o

— Ahsan (@Warqulsham) July 23, 2020
People were talking about the immediate problems that needed attention:
Um. Sewage line pehle kar wa dein theek please @CommissionerKhi. KWSB nahin baat sun ta. https://t.co/6qmlzfQtWT

— Alia Chughtai (@AliaChughtai) July 23, 2020
What do you think about this remodelling project? Should other problems be dealt with first? Let us know in the comments below!