It is in the nature of fashion to be avant-garde and unique, and thus, it is no surprise that couturiers have chosen to go towards the experimental route, time and again. However, in Pakistan, we see an even bigger mix of things. Not only do the designers focus on making something extraordinary but they also have the business of fashion in mind.
That's why, it's no surprise that ever since the concept of fashion weeks has grown into its own institution in the last two decades, Pakistani designers have upped the ante with their collections.
From playing with textures, materials and silhouettes to finding inspirations from society, Diva explores 20 collections that brought forward the best of fashion in the last two decades…
Rizwan Beyg – 'Carnivale De Couture' Showcase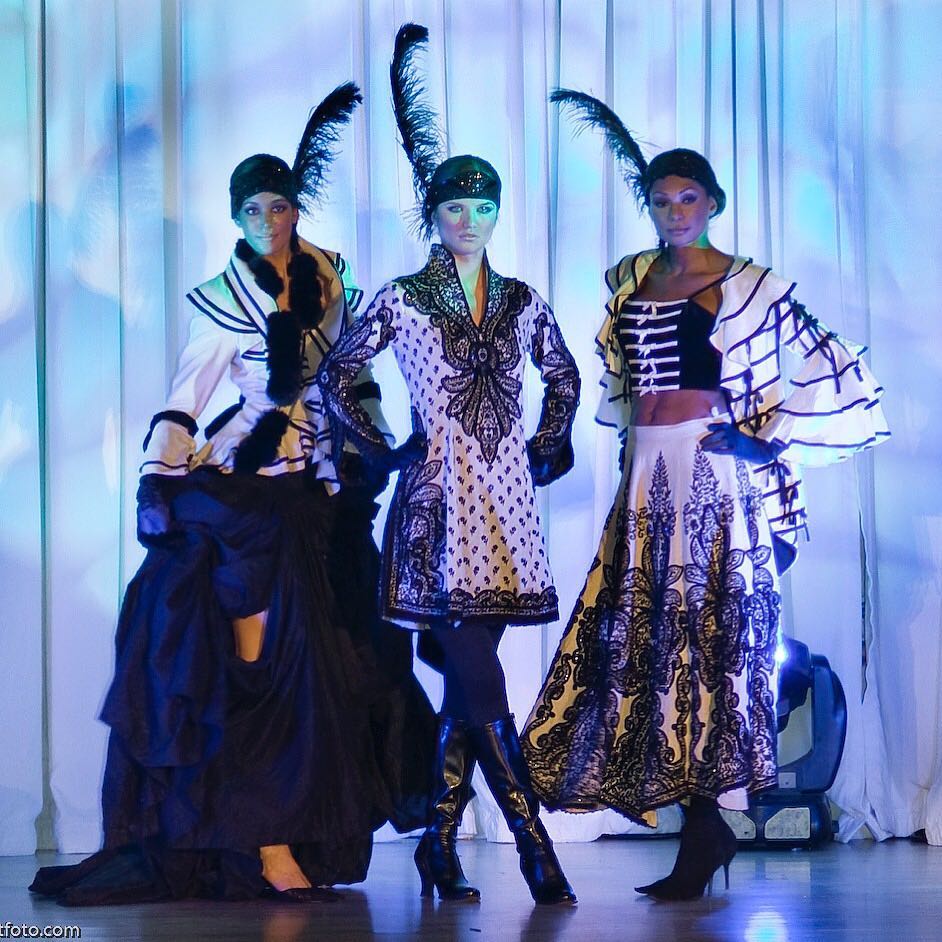 The predecessor to the fashion weeks seen in Pakistan today, Carnival De Couture was the iconic celebration of fashion like no other. Part of it annually was designer extraordinaire, Rizwan Beyg, who showcased his adoration for couture and classic silhouettes with his memorable collection.
Body Focus Museum – Sartorial Philology and The New Nomad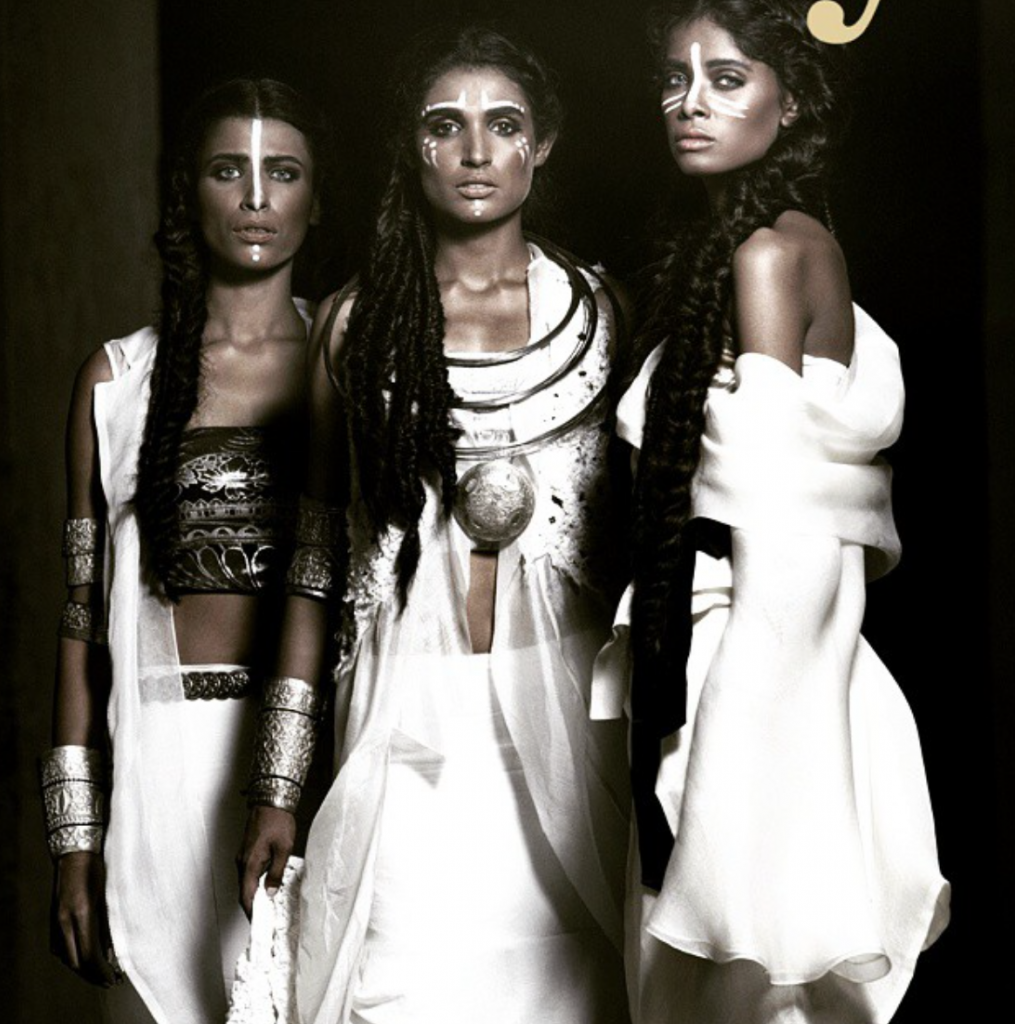 Iman Ahmad of Body Focus Museum is a name that almost every fashion enthusiast misses, and it truly is because of her brilliance in design and research. Her collection, Sartorial Philology and The New Nomad, was a proof of this as it brought forward a myriad of tribal inspirations that we still love and remember today.
Sana Safinaz – Roses and Rue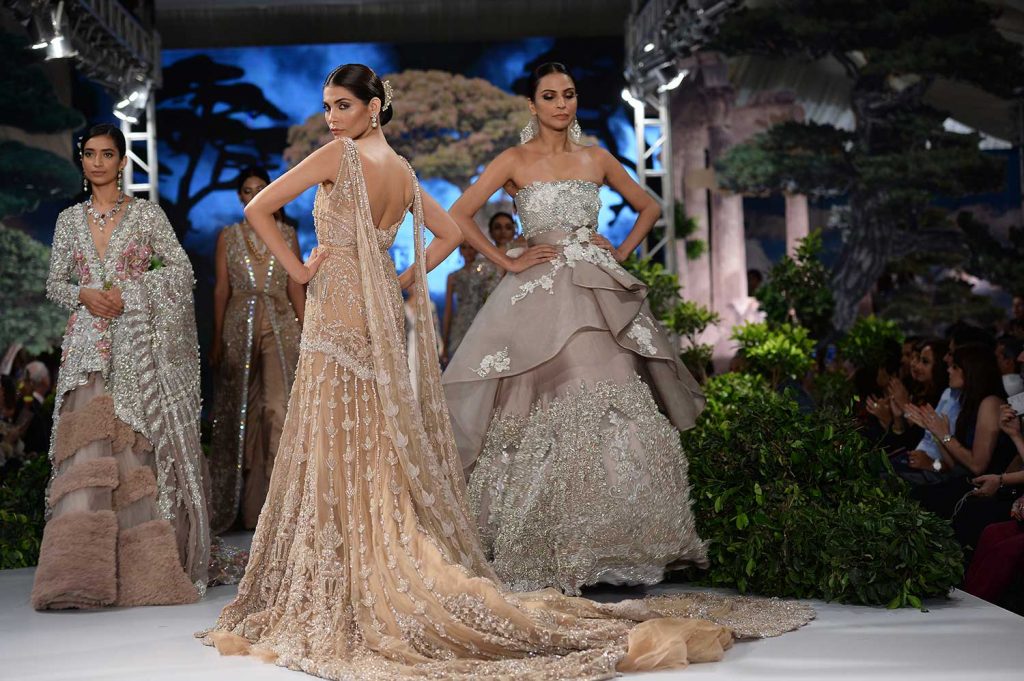 Coming into the market of solo shows, the dynamic duo of Sana Safinaz chose the FPW platform in 2017 to conduct their breathtakingly beautiful showcase of Roses and Rue. The collection was nothing short of a dreamlike manifestation of pastel colours and long draped silhouettes, and it was a pure treat for the eyes.
Umar Sayeed – Gardish-e-Rang-e-Chaman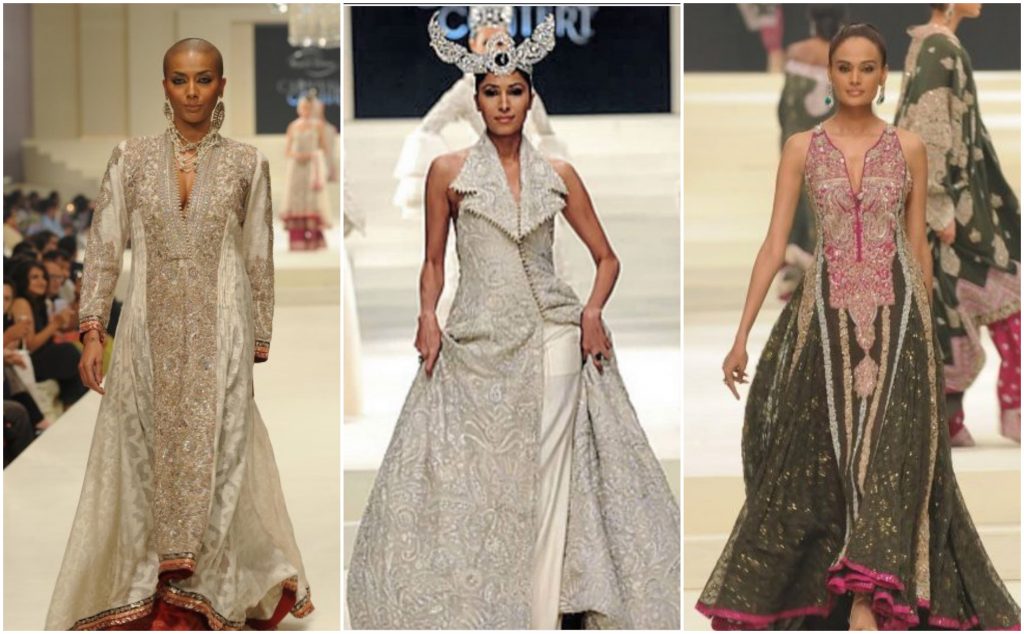 Part of the Carnival De Couture legacy, ace couturier Umar Sayeed's Gardish-e-Rang-e-Chaman stood out for its sheer beauty. Amalgamating his popular bridal touches with a palette of silvers and other metallics, the collection stood out for its excellence in every way possible!
Adnan Pardesy – Opine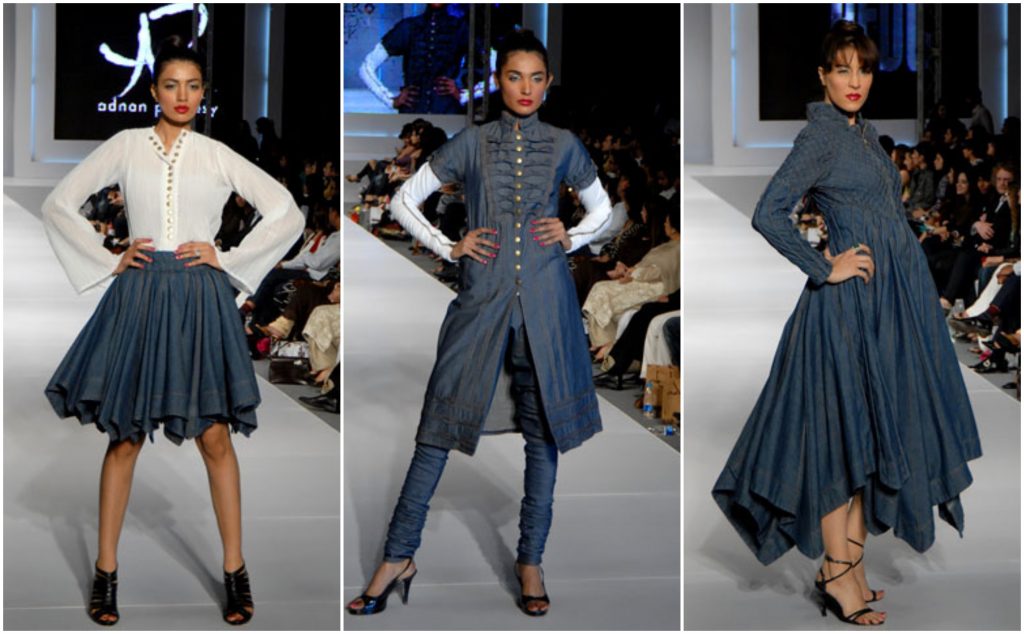 A collection that brought forward the idea of using material in a kaleidoscope of ways, Adnan Pardesy showed us his range in design excellence through Opine. The collection brought forward the many cuts and silhouettes over denim, and each ensemble shined bright!
Zaheer Abbas – Conceptuellè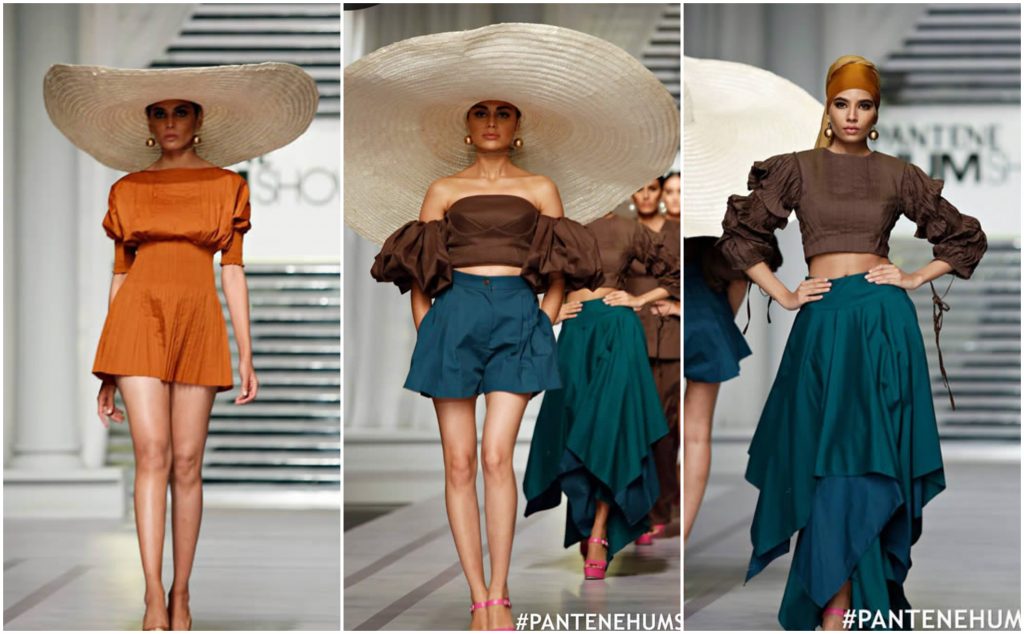 A contemporary collection that is etched in our hearts, Zaheer Abbas won the audience with his collection, Conceptuellè at HUM Showcase in 2019. The collection exhibited larger-than-life sun-hats which were perfectly juxtaposed with the myriad of cotton ensembles that just were the epitome of what understated chic meant!
Shehla Chatoor – Misaki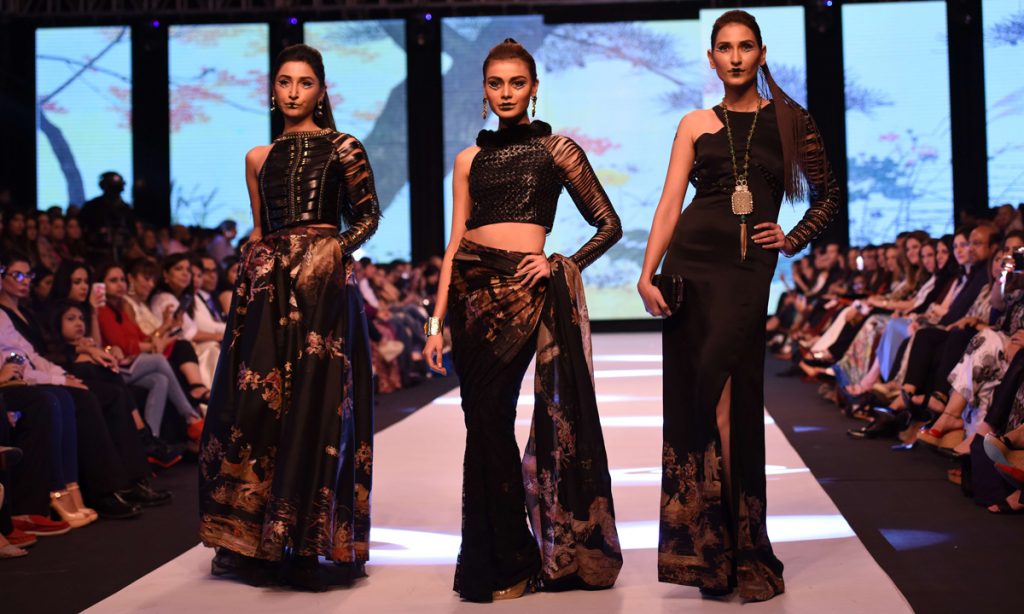 Marking two decades in the industry, Shehla Chatoor chose to celebrate her milestone with a collection titled Misaki. Beautifully constructed yet understated and utilitarian, the collection stood out for bringing the Shehla Chatoor philosophy to the world with full clarity in a brilliant palette of monochrome and gold.
Ather Hafeez –

 

Monk, Malang & Khusro Ke Rang
Ather Hafeez has been a name that has constantly popped up for being a master innovator, and it is no surprise that he's been the brains behind many successful brands in the country. However, the collection that we thought shined the brightest was his own exhibit a decade ago titled, Monk, Malang & Khusro Ke Rang, which truly was iconic for that time!
Sania Maskatiya – New York Fashion Week S/S 2019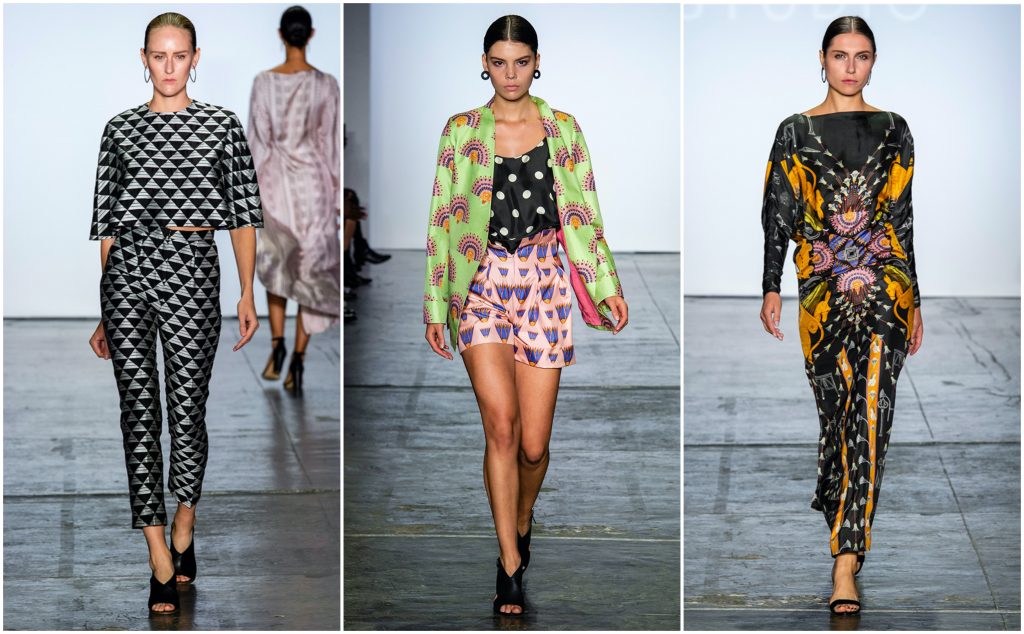 Sania Maskatiya continues to dazzle us with each collection she showcases, and it has determination that keeps making her better than before. This was also proven by her consecutive showings at the New York Fashion Week, and especially her Spring/Summer 2019 collection, where she brought the best of her design aesthetic and Pakistan's contemporary craft to the mainstream.
Faraz Manan – Al Hambra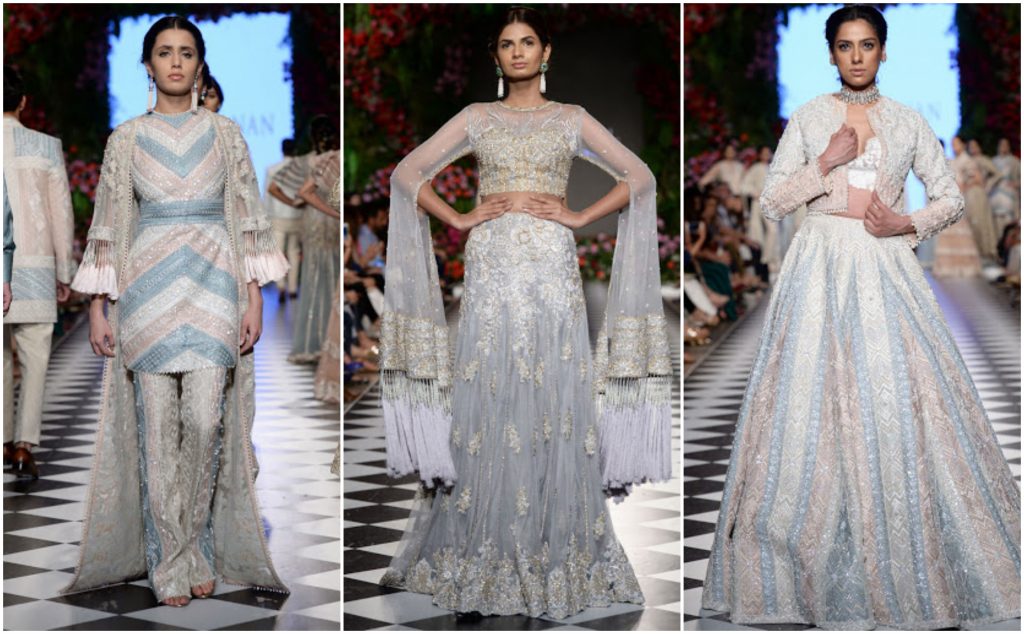 Faraz Manan may not be a permanent fixture at fashion weeks, but whenever he has showcased a collection, it has stood out for his signature aesthetic and designs. One such collection was his 2018 exhibit, Al Hambra. Bringing forward a mix of metallics, lilacs and lavenders in a variety of silhouettes, Faraz proved his bridal opulence once again.
Nomi Ansari – The Secret Spell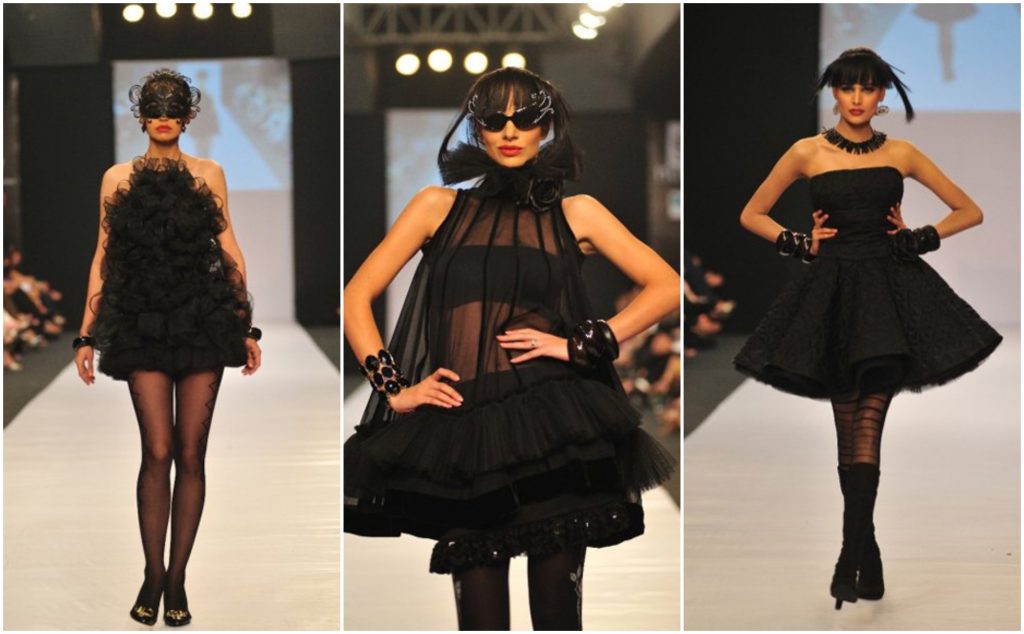 Known for being a master-player of colours, Nomi Ansari has become synonymous with vibrancy. However, almost a decade ago, he chose to experiment with that identity by doing the polar opposite. Showcasing The Secret Spell, Nomi explored an all-black collection that played with bling, volume, and contours, in a completely unique way!
Deepak Perwani – Dastarkhwan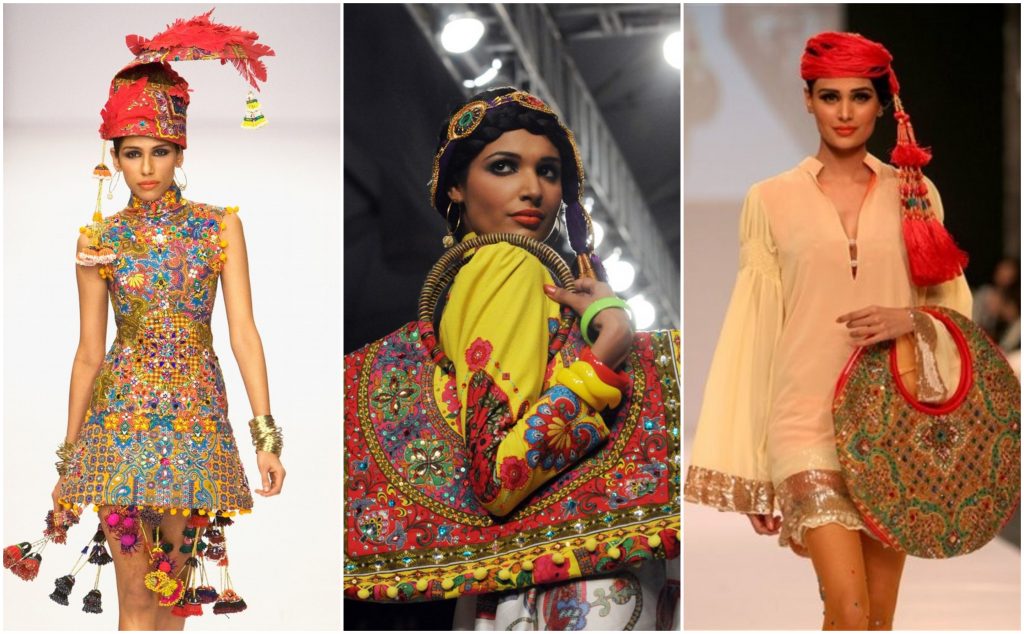 Deepak Perwani can have an experimental flair to him, and he has proven this a few times during his fashion week exhibits. His collection, Dastarkhwan is one such example, where he took inspiration from Pakistan's rich textile heritage and turned into modern pieces of art and fashion.
Khaadi Khaas – Gypsy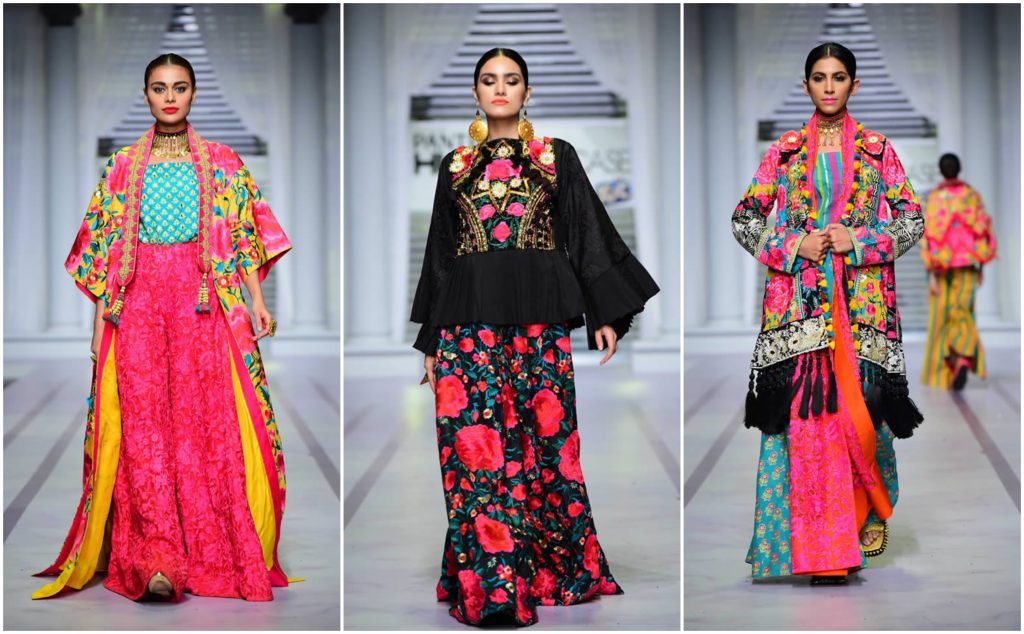 Khaadi has actively branched itself out into a myriad of different markets, and Khaadi Khaas is one such venture. Showcasing the best of formal wear by the brand, it chose to show Gypsy at HUM Showcase that just won our hearts. Playing with pops of colours and brilliant structures, the collection was a true delight.
Fahad Hussayn – Love Is Worth The Fall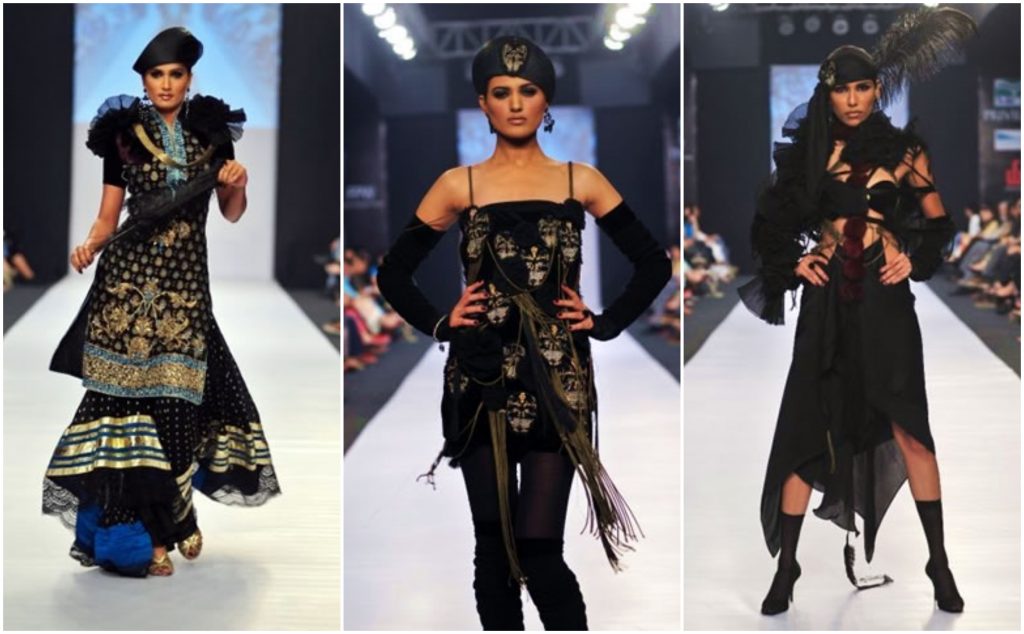 Fahad Hussayn has seen some mighty heights with his artistic vision, and his debut was one such example. Titled, Love Is Worth The Fall, Fahad chose to show a brilliant mix of western and eastern silhouettes that were complementing each other. The collection proved the boundaries the designer could push, and it truly made him an overnight success.
Zaha – Wild Things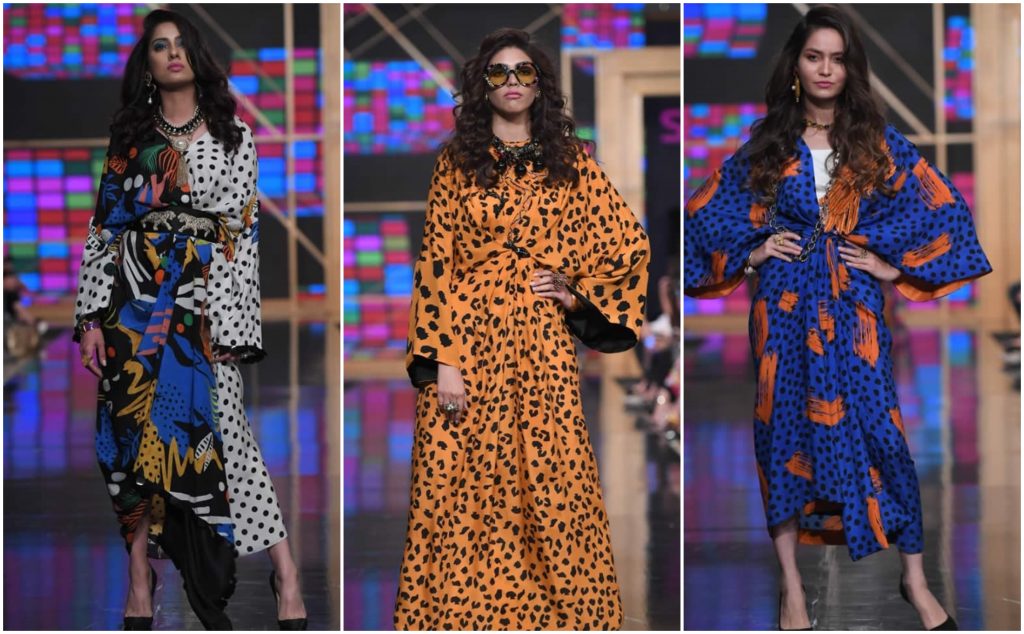 After making Élan into the massive powerhouse it has become, Khadijah Shah's next venture turned out to be the brilliantly-playful, Zaha. She introduced us to the brand with a myriad of colours, and it was at PFDC Sunsilk Fashion Week last year that she made us fall in love with it too with Wild Things. 
Kamiar Rokni – The Modernist
Kamiar Rokni has had quite a journey with fashion, and it was almost a decade that he chose to go all out with his experimental streak. Showcasing The Modernist, the designer explored the concept of colour-blocking that just bode well with the fashion critics for being fresh and popping!
Feeha Jamshed – Roxy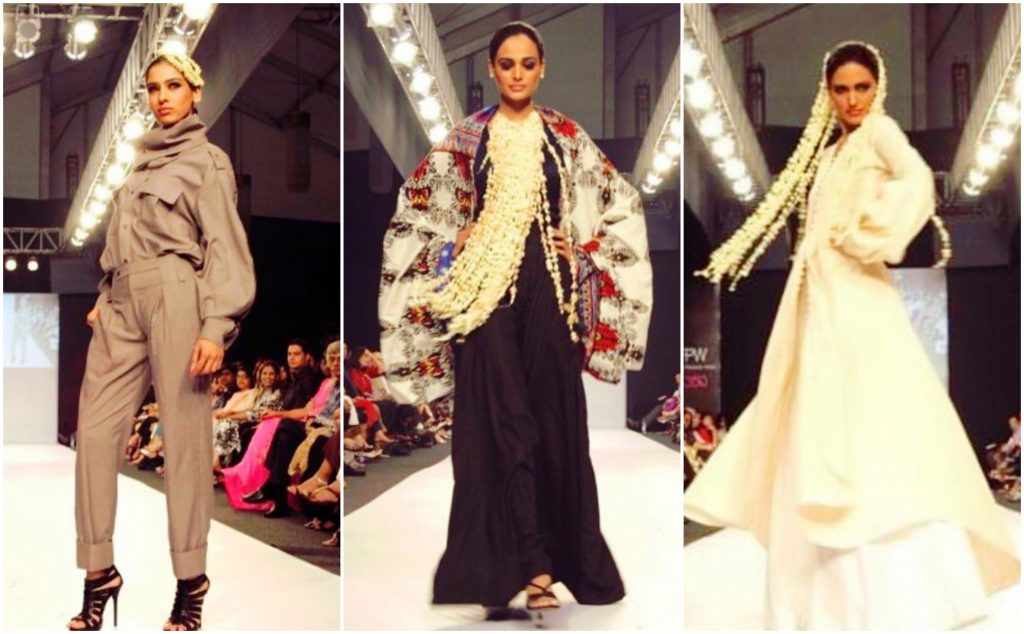 Feeha Jamshed is part of the brilliant Teejay's legacy, and she proved it through her collection Roxy, a decade ago. The range of experimental yet completely-wearable ensembles proved that she had the perfect mix of fashion and economics in mind, and it made us fans of her.
Rizwan Beyg – Salt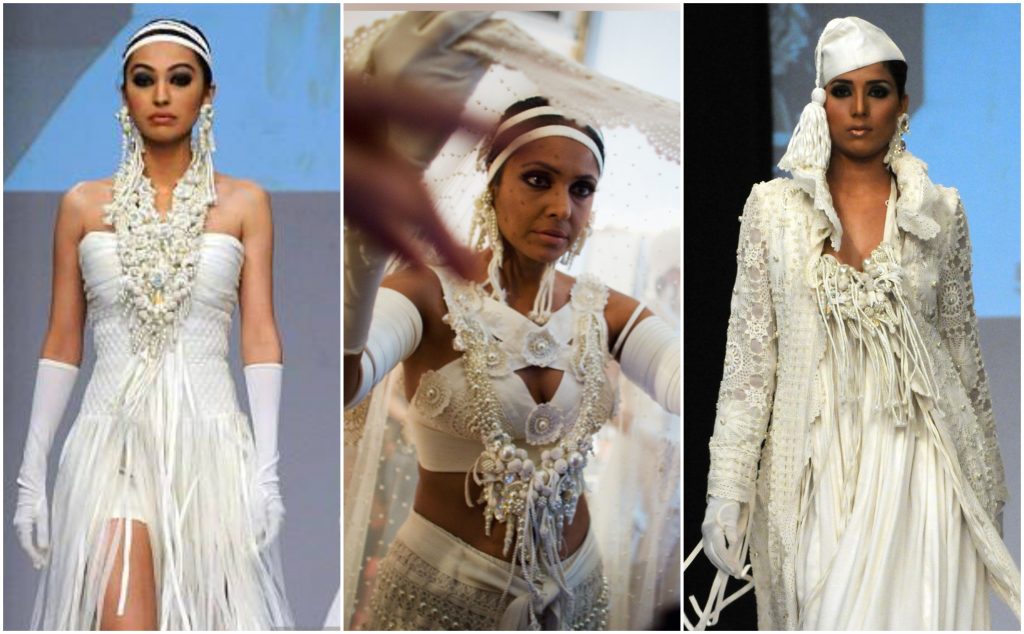 Rizwan Beyg has time and again proven that there is a plethora of knowledge behind each of his collections, and Salt was an example of it. Playing with complete grandeur and a myriad of cuts, the designer put forward a showcase that was not only soothing to the eyes but also created drama with its uniqueness.
Nilofer Shahid – Noor Jehan to Joséphine

Nilofer Shahid has been an icon of the fashion industry for her intricate research into the heritage of design, and there's no doubt that no one can do it better than her. This was also proven a decade ago with her collection Noor Jehan To Joséphine, where she chose to pay homage to the brilliance of heroic royal women through a range of regal ensembles.
Khaadi – Chapter 2 Launch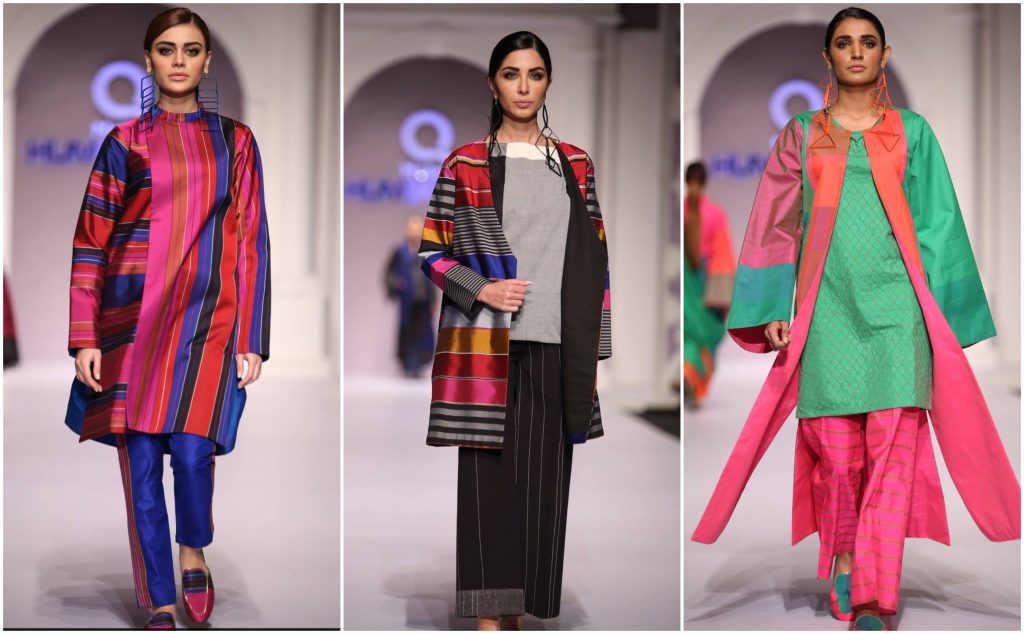 Proving its excellence has become second nature for Khaadi, and did so once again by launching Chapter 2 in 2017. Bringing forward a delightful array of vibrant colours and brilliantly-utilitarian silhouettes at HUM Showcase, the collection proved to be the starting point of the success Chapter 2 has seen amidst fashion critics and those who understand the joy of textile and craft.
Which collection is your favourite? Tell us in the comment section below.