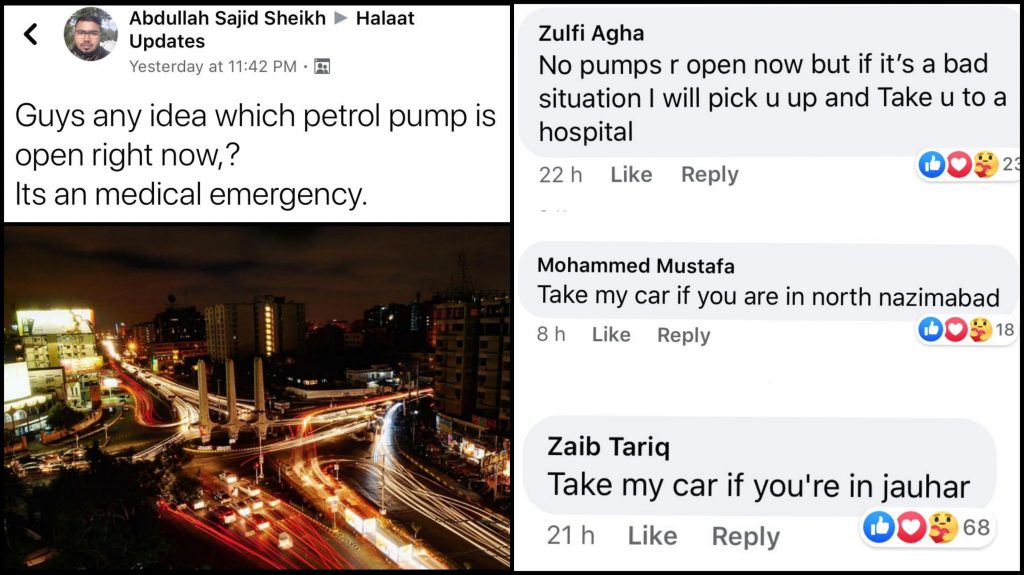 With the never ending city wars, twitter finally found a little something most of them can agree with, all thanks to the heart warming replies by Karachiites on a worried man's post!
Karachi Karachi hai ❤️❤️❤️ pic.twitter.com/NbXxg1tiBc

— anastipu (@teepusahab) June 5, 2020
Given the current situation, a man was urgently looking for fuel because he had to drive for a medical emergency, and Karachiites offered their own cars to help him. The gesture has moved us all and the netizens too are all praise for Karachiites!
I swear. Karachi's people>>>>>>>

You post abt blood or plasma donation, there will be 1000 comments in a minute 😭💜 https://t.co/DSArHQvmJg

— Kiran|BLM (@kirannraza) June 6, 2020
Absolutely!
You can never be stuck in karachi with no one to help you out, be it 3 in the morning. Someone would always show up to assist in every situation. Karachi would be unliveable if it was not for the amazing people of this city. https://t.co/4pmRc914Yp

— nma (@namaloomafraaad) June 6, 2020
It had many miss Karachi:
Love this ♥️ Makes me miss Karachi. (And there's never been a day I haven't missed the food!).

♥️ from Isloo https://t.co/uDIspRwHDU

— Let my building burn✊🏼 (@cereal_twit) June 6, 2020
People were even sharing the instances they'd never expect in the UK:
Reminds me of a time when our car broke down in Pakistan and some random people who were passing by stopped to help us, they arranged a mechanic and made sure the car was fixed before they left. Don't think that would ever happen in the UK https://t.co/6NiRZK6rnY

— Faiza (@faizaax_) June 5, 2020
The side we all take for granted at times:
The other Side of Karachi 🔥 https://t.co/fVIxOP0MgY

— Noor (@Noor_eman01) June 5, 2020
People were all praise for Karachi and its people in general:
Karachi has a way of making its place in your heart. Spent only one year of my life there and have been irrevocably in love with the city since 💙 https://t.co/P4g4qlweVB

— Syeda Masooma (@SRM_Sherazi) June 6, 2020
Haha, facts!
Karachi being the Queen that it is. In a certain other "big city" you wont even get proper directions let alone a car 😛 https://t.co/iWWT1WQ52f

— شهزاد (@MarhaYaar) June 5, 2020
Indeed:
wholesome https://t.co/5jdHJdjcT5

— Hamza Chaudhry (@ChHamzaTanveer) June 5, 2020
Same!
aisa hai mera shehar!

im so proud of this city and all the people who live here, they go out of their way everytime to help someone they don't even know. my city is the best.

karachi mera dil ♥️♥️♥️♥️♥️ https://t.co/VVM4uDaWhY

— noor (@noorsahiba_) June 6, 2020
Dil jeet lete hain!
Such karachi's gestures >>>> https://t.co/CqfVQsURd4

— areena qazi (@Not_Ur_Dove) June 6, 2020
Agreed!
Great. Humanity wins. https://t.co/U0pA3LWVyM

— Roomi (@rameezcfa) June 6, 2020
Even people from rival cities were moved!
I'm loving this tweet
PS im Lahori https://t.co/FYP96Rvs5p

— . (@wiTtY_s0uL) June 6, 2020
It sure does!
Humanity actually exists somewhere on us… 😊 https://t.co/oJ3EmwS8wk

— dramabean (@Sjcreations45) June 6, 2020
We swear!
This city has biggest heart. Wish it had hearty leadership too. https://t.co/Y1KrtmMPUQ

— A z a d = Me d i a (@AAZAAD_MEDIA) June 5, 2020
Love these guys!
This is so wholesome to read!

I hope whoever was facing the emergency is okay now.
Also, you guuuyssss! 🤍 https://t.co/5CDzZp0gWZ

— halp (@ZainabKDurrani) June 5, 2020
Faith restored for many:
Faith in humanity restored. ❤️❤️❤️ https://t.co/1NzkZOprpE

— Potter Headed Brunette (@smolestpanda) June 5, 2020
People were sending prayers to those who came forward to help:
Yah ha karachi k zinda dil or khuda taras log hats off to all people who offered this guy Allah apko ko khush rakhay . Lots of love and prayers for you all 👍 https://t.co/zjUuMVfH4g

— half_boiled (lucifer) (@half_boiled1) June 6, 2020
Yeh cheez!
the hospitility of the people in karachi is unmatched https://t.co/57Ogr7SZ9C

— aadarsh (@aadarshless) June 5, 2020
People were thanking them for offering help in desperate times:
Thank you good people of Pakistan.
Please help everyone considering them your fellow human beings.
No matter who they are.
👏 https://t.co/GkA5dTiKva

— farhan (@Prismane) June 5, 2020
Some, however, were not amused:
Can we stop romanticizing mismanagement for one second? People should be abusing the relevant authorities for this petrol shortage in 2020.ITS FUCKING 2020 PEOPLE ARE GOING IN SPACE AND WE HAVE PETROL SHORTAGE. https://t.co/GxlWbiMx6I

— Abdul (@ALAM_ABDULA) June 6, 2020
Isn't this the most wholesome thing you've come across today? Let us know in the comments below!