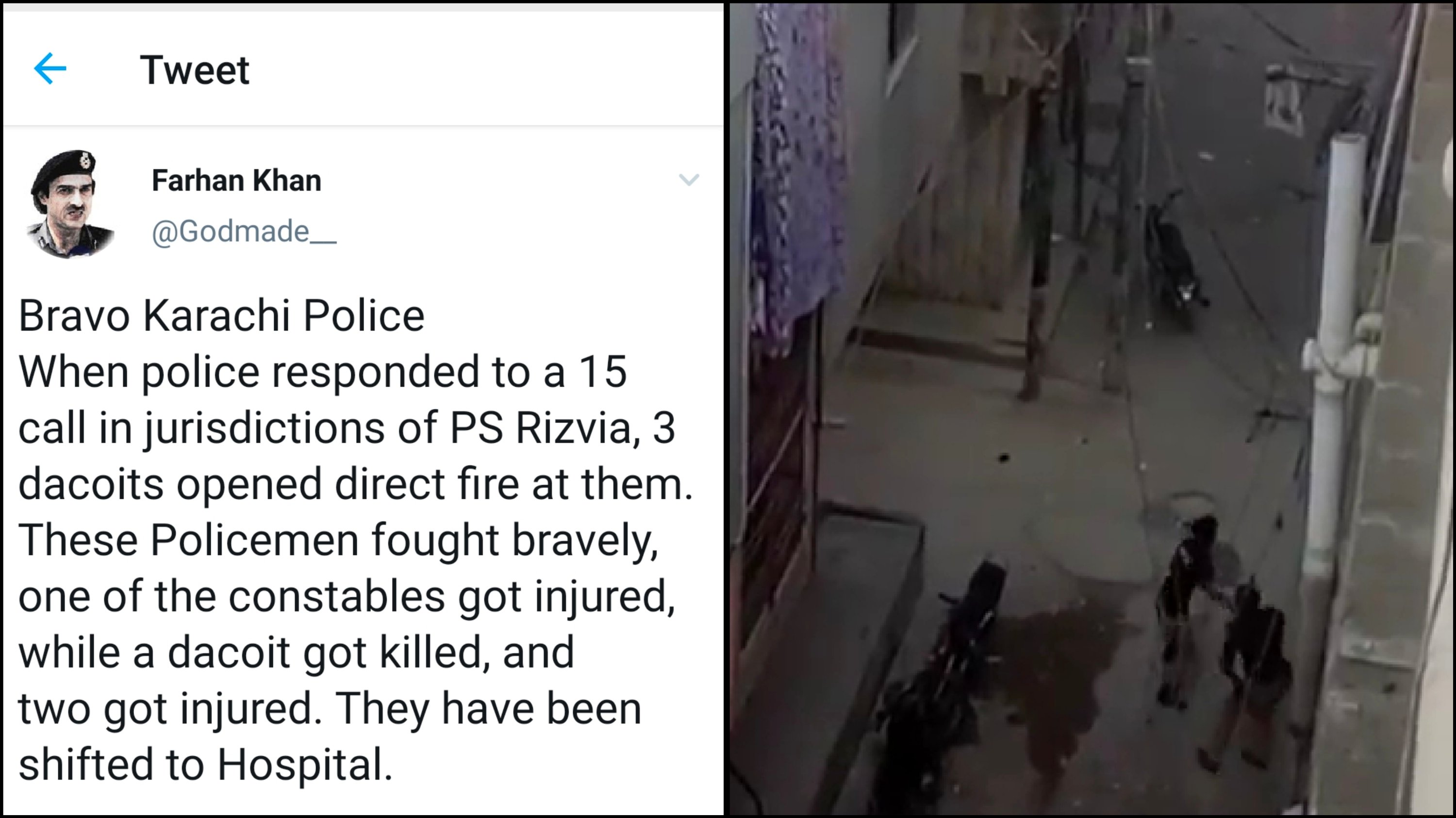 You often hear not-so-inoressive things about the performance of the local police, however, the tables have turned today after the police came to rescue people from dacoits and put up a great show of bravery!
Bravo Karachi Police
When police responded to a 15 call in jurisdictions of PS Rizvia, 3 dacoits opened direct fire at them. These Policemen fought bravely, one of the constables got injured, while a dacoit got killed, and two got injured. They have been shifted to Hospital. pic.twitter.com/xS0Xw4UzFw

— Farhan Khan (@Godmade__) October 22, 2019
The video shows the policemen put up a brave fight with the dacoits who also shot one of the constables in the leg:
We were just watching the video on news channels and discussed about the police official who was probably hit in his thigh. Great job and respect for the wounded hero! 👍

— Shah™ 🚩 (@WarWounded__) October 22, 2019
Aptly put:
Less on budget, high on morale. Salute to your wardi

— John Doe (@cliche_______) October 22, 2019
Many were killed moved how these brave men put their lives on line:
No first aid equipment, no knee protection, no body armour, yet these lions stood their ground risking their lives. Salute.

— 🄰🄷🅂🄰🄽 (@ab_bandit) October 22, 2019
The faith of many was restored:
This incident reflects high professional resolute. Again it is reiterated through this incident that police is our savior and due to wrong deeds of some, the entire department cannot be labeled dishonest, unprofessional and corrupt.

— Salman Ajaz (@iQanoonDan) October 22, 2019
They deserve the appreciation for sure:
Salute to brave police men should deserve appreciation from higher level authorities

— Dr Atif Aziz Rajput (@Atifazizrajput) October 22, 2019
These jwans deserve speciall appreciation. Kudos.

❤️🇵🇰💜🇵🇰♥️

— Anatole France (@OnceInWest) October 22, 2019
People were also sending prayers to the wounded officer:
ABSOLUTE RESPECT FEE ALL THESE MEN WHO STOOD TENACIOUSLY IN THE LINE OF FIRE N DID THEIR DUTY…..PURE RESPECTS. May Allah bless the wounded obe a speedy n completely recovery…. 👍👍👍👍👍👍

— Biya (@sgulher) October 22, 2019
Bravo…. Great job done… Injured cop get well soon.. 🤲🤲🤲… Salute to whole team…. 🇵🇰🇵🇰🇵🇰🇵🇰🇵🇰👍👍👍👍

— Adnan Ahmed (@ADNANAHMED1040) October 22, 2019
وطن کے ایسے جوانوں کو اللہ سلامت رکھے

— Samiullah kakar (@samiullahkhank1) October 22, 2019
Sons of the country gathered respects of many:
Bravo 👏 ❤️. Brave Son's of Soil.

— Ejaz-ul-Haq Sahi (@imejazulhaqsahi) October 22, 2019
Bravo !!!!!

— Aslaan (@Aslaan_Ahmed) October 22, 2019
Massive respect ….

— SadiaSattar (@RJSadiaSattar__) October 22, 2019
Pure respect

— Dr Humma Saeef (@HummaSaif) October 22, 2019
سلام سندھ پولیس،👏👏👏

— Jahangir Alam (@Jahangir4858720) October 22, 2019
Salute to their bravery

— Azlan Mahmood (@azlanmahmood1) October 22, 2019
Salute to Pak police 🇵🇰🇵🇰🇵🇰

— Showing Mirror (@mirror_showing) October 22, 2019
And while they were being lauded, others were worried about the lack of safety gear:
No bulley proof vests, no helmets, poor training. Cruel n unfair to put these constables in line of fire.

Shame on Sind Police leaders.

— Ullo (@KaaliKhansi) October 22, 2019
I appreciate their bravery & courage but they lack proper basic gear which was essential in execution such kind of exercise, particularly bulletproof jackets & helmets, it's life saving & fundamental y essential. High ups need to look at it.

— Umarjaved (@Umarjav01366741) October 22, 2019
What do you think about this brave act? Let us know in the comments below!