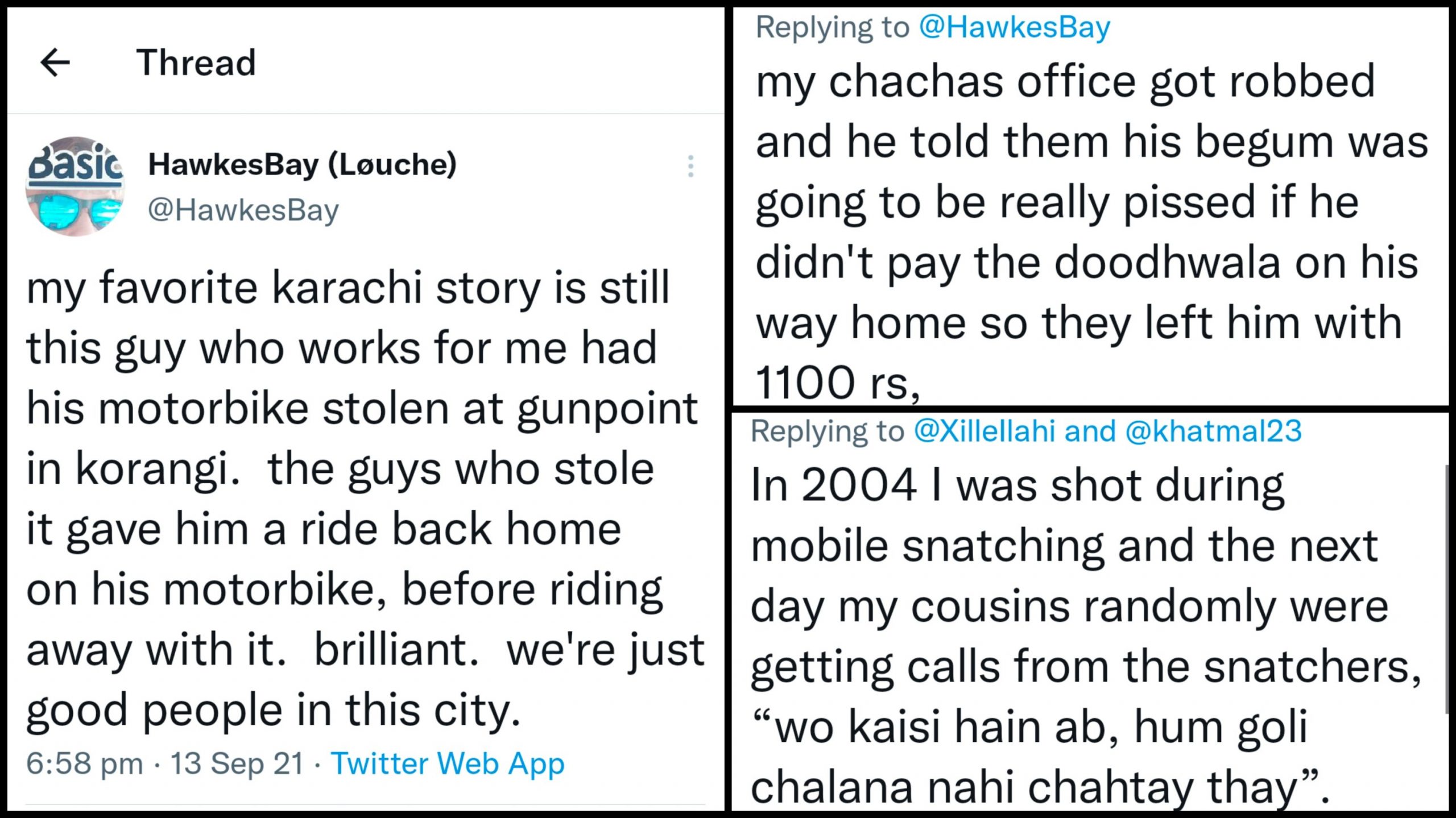 If you're a Karachiite, you know your heart skips a beat every time a motorcycle slows down near you, because SAME!
With street crimes being the most common problem faced by the citizens, netizens are sharing their wildest experiences they've witnessed with the daakus:
my favorite karachi story is still this guy who works for me had his motorbike stolen at gunpoint in korangi. the guys who stole it gave him a ride back home on his motorbike, before riding away with it. brilliant. we're just good people in this city.

— HawkesBay (Løuche) (@HawkesBay) September 13, 2021
Win-win situation?
Uncle went to a bakery to get a cake for his daughter's birthday. He entered while the store was being robbed. They took his wallet and everything. Then Uncle requested that he was here for a cake for his daughter. Dakoo bhai said jo lena hai utha lo. Uncle took 5 cakes home.

— Trent Crimm, The Independent🐾👻 (@Lanaschild_) September 13, 2021
Zubaan ke pakkay!
I got mugged outside ATM, they took cash and phone. I asked them to let me clear my phone, they said Jo karna hai jaldi karo. Then one of the Chor says, ATM say 5k aur dedo and phone rakhlo, I said "Allah ka wada karo", gave them 7k more and got phone back 😅

— Daniyal Kashif (@daniyal_94) September 13, 2021
🤣
my chachas office got robbed and he told them his begum was going to be really pissed if he didn't pay the doodhwala on his way home so they left him with 1100 rs,

— – (@maulana_banana) September 13, 2021
Yeh bhi theek hai:
I was once given 50 rupees rickshaw fare after being mugged and the driver was told not to charge extra

— ظلِ الہٰی (@XilleIlahi) September 13, 2021
Shukar karo teemardari ke liye ghar nai aye:
In 2004 I was shot during mobile snatching and the next day my cousins randomly were getting calls from the snatchers, "wo kaisi hain ab, hum goli chalana nahi chahtay thay".

— Farheen Rizvi (@FarriRizvi) September 13, 2021
Iconic!
Reminds me of this gem😍😭 pic.twitter.com/aT0ngdy8zO

— عمر کراچوی (@SyedUmarAli90) September 13, 2021
Hahaha 😂
When our house was getting robbed 2 years ago, they came in very normally like you would as a guest, they even said salam to nano and then told everyone to stay in one place and my nani being incredibly ballsy went "salan charha wa hai, uska choolha band karden ap"

— hibz don't lie (@Yetanothermind2) September 14, 2021
One of them actually went and turned off the choolha 😂 I will never forget. They only took gold stuff aur baqi sab chor gaye

— hibz don't lie (@Yetanothermind2) September 14, 2021
Ziada smart nai ban'na chahiye:
My cousins were getting mugged and one of them asked for his sim card and then memory card. Unexpectedly he got both things. The second cousin saw this and asked second Robber "Bhai mujhe bhi khuch de dein" but the second Robber was professional and he slapped him twice.

— Muhammad Zain (@zain175) September 13, 2021
Considerate!
Dakoos who came to my house were taking our phones away and I was in tears. My sis asked if I'm ok? I said, no they're taking my phone away atleast let me delete pictures and take out imp work data. They left my phone saying, nae aise rote hue nae dekh sakte hum. 🤡

— A. (@ninacaresforu) September 13, 2021
Priorities, bro!
One of my friends was travelling in Rickshaw and smoking weed. Robbers came and took Mobile from him. Once, they realised he was smoking weed, they asked him k Aur pari hui hai. They took weed and returned his mobile to him.

— Ahmed Ali Arbani (@awarapakistani1) September 14, 2021
Mazay!
2 yrs back some dakoos entered our house. As they were taking our stuff they also took my my brother's laptop. He told them it had all his life's work on it. They gave him back his laptop took the rest of the stuff. On their way out they ate the club sandwiches my mom had made.

— Random Stranger (@brain_dead94) September 13, 2021
Did you give them a 5 star rating?
I had my car stolen at gunpoint and they dropped me home… great banter on the way. Said it's nothing personal they were just making a getaway. Top guys both of em.

— Abnoxiuos (@Abnoxiuos) September 13, 2021
Nothing like Karachi:
I remember getting mugged and the muggers gave my BlackBerry back to me saying 'ye bekaar hai, aap ghari dey dein', so I gave them my swatch and one of them actually shook my hand and thanked me before giving me my wallet back after taking the money from it 🤷🏽‍♂️, Karachi is Karachi

— Faisal Rafi (@faisalrafi) September 14, 2021
Sahi hai!
Dakoos came to a grocery store near my house and asked for cash, luckily there was just 12000RS. On seeing that they got angry and left saying, "hum na nahi ly ky jany itny thoray paisy agli dafa sahi"

— Mariam Bari (@bari_mariam) September 15, 2021
Why is this so mean and so funny at the same time?
Lol my best friend was robbed. They wanted his mobile phone but he was trying to avoid the situation with innocent face. They literally slapped him and snatched the mobile. My friend asked if he could get the sim. They slapped him again and broke the sim infront of him lmfao

— Parizad (@Zaahirrrr) September 13, 2021
KFC ka mazaak nai yar:
Dost KFC se parcel le ke araha tha (their riders were busy). Wapsi mai daku ne wallet aur phone tou liya, saath mai KFC bhi le liya chamat mar ke. He returned empty handed.

— Taimur Mirza (@NotTaimurMirza) September 14, 2021
Lahoris are in a league of their own:
Someone in out family got robbed in Lahore, they came in the house took the stuff. Sar par haath bhi rakhwaya aur duayein bhi leen aur araam se chalay gaye

— saaim 🇵🇰 (@regulusblack179) September 15, 2021
🤡
My aunty was returning home from a wedding, got a flat tire. 2 guys on a bike stopped by, fixed a new one, then politely asked for her jewellery, mobile and purse. While leaving advised her to always check all 4 tires before leaving home cause halaat ya know.

— thori si wajeeha (@Wajihaxaidi) September 14, 2021
Wah yar!
Once I was in a market and talking to someone on phone. A mobile snatcher came to me and said, "phone konsa he?" I was like… "Mmmm 🤔🤔🤔 cheeennay wala nahi he".. he said, "cheeennay wala nahi he???".. me ne kaha "nahi".. wo "achcha theek he" bol k wapas chala gya. 😂😂

— Owais Waseem (@OwaisWaseem8) September 14, 2021
Do you have any wild experiences to share? Do so in the comments below!