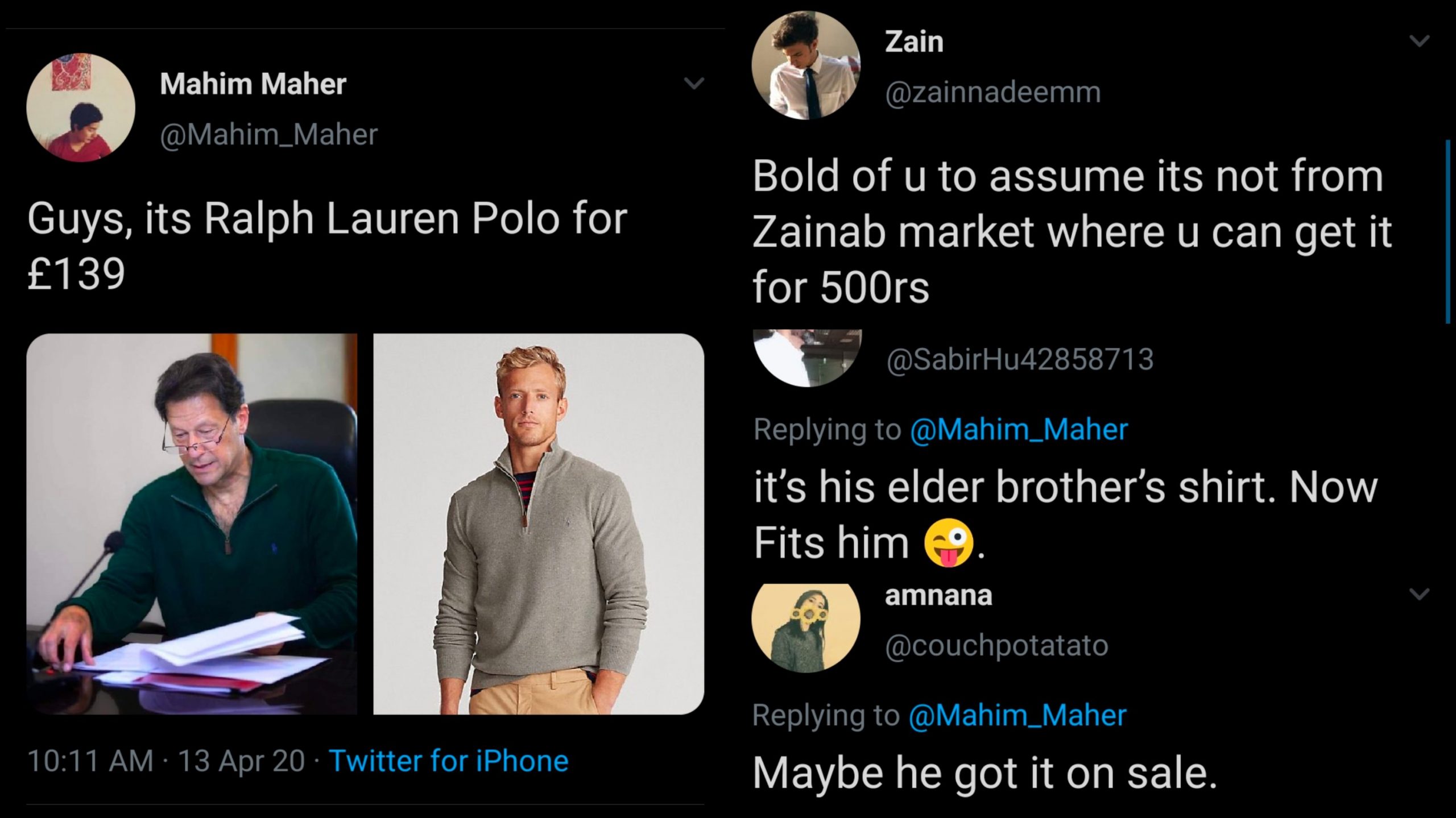 As COVID-19 cases keep on increasing in the country, the nation has been looking forward to the Prime Minister for help and he's been addressing the nation every now and then to share the action plan that the government has devised.
In a recent address regarding the outbreak, Imran Khan showed up in a rather casual attire and it has since then become the talk of twitter. One journalist actually went to the extent of digging up the pullover he was wearing:
Guys, its Ralph Lauren Polo for £139 pic.twitter.com/dXiDJ2X3J2

— Mahim Maher (@Mahim_Maher) April 13, 2020
And people had the funniest replies!
Jitna IK kanjos hai iss na zaror landay sa ya phr saddar sa 200 ka local copy mangwai hogi 🤣

— Ahsan (@daguywhocooks) April 13, 2020
Some thought he might have snagged it on a sale:
Maybe he got it on sale.

— amnana (@couchpotatato) April 13, 2020
Oooof, the shade!
what makes y'all think he cannot afford that? there is no big deal. He has worn such clothes even before he was the PM, and let me tell you people do keep things. Jaisay tumhaari Australia waali chaachi perfume layin thin aur 4 saal chalaya tha na? BILKUL WAISAY HI. https://t.co/PLNLh4TUk3

— Meemmm (@Mariumahmad_) April 13, 2020
Some thought it might have been passed on from his elder brother:
it's his elder brother's shirt. Now Fits him 😜.

— Sabir Hussain (@SabirHu42858713) April 13, 2020
Zainab Market zindabad!
Bold of u to assume its not from Zainab market where u can get it for 500rs https://t.co/PdhitQ5UAj

— Zain (@zainnadeemm) April 13, 2020
29,000 ki shirt? He could have easily gotten a replica from Zainab for 500!!

— 🅴.🅹 (@ejopinion) April 13, 2020
Yeah you can get this 'Ralph Lauren' for 400 in Zainab Market 😂

— Saazish (@YahooDi_saazish) April 13, 2020
Never under-estimate a girl and her researching skills:
Ahhhhhh that's some serious research skills. 👍

— BibliovertAfridi(Quarantine edition) (@LadyBibliovert) April 13, 2020
Kuch toh loug kaheinge:
Now people will say… why was he wearing a 139 £ polo 🙂

— • S I D R A • (@imran_sidra) April 13, 2020
One girl actually found the variant on sale!
Guys, if you're looking for the exact item, it's a PULLOVER, not a jumper (jumpers are more expensive). And it's currently on sale for $49.99 (originally $89.50). Just tryna help fellow shopaholics ✌🏽 https://t.co/k5g26q8vw3 pic.twitter.com/tcIDziETpD

— N (@ngranjha) April 13, 2020
Some still couldn't get over how great he looked in it:
IK in late sixties still looks more handsome than this young fella

— Gym-Bot (@FAhmaduk) April 13, 2020
Hmmm, could be?
He bought it from Raja Bazar

— Haji Professor Dr. ZAQ EX-PTI (@Dr_ZAQ) April 13, 2020
ELO not coming slow:
At elo, it is available in Rs 1200/-

— S M Zafer (@ZaferMinhaj) April 13, 2020
What else can you expect from them?
Now trolls will demand a money trail of how he got this upperwear lol.

— Maria Sartaj (@MariaSartaj) April 13, 2020
Things all desi moms would say:
Jitni tezi se yeh qoum logon ke kapron ke price tags dhoond leti hai kaash utni tezi parhayi likhayi aur research mein dikha de tou najanay kahan pohunch jaye. https://t.co/bz6wnJytDt

— shundoo mundoo zindabad (@TheOmarrization) April 13, 2020
Hmmm?
@UMAR_CH17 Check krein shyd 1992 me li ho.

— Usman Khalid (@Usmaanay) April 13, 2020
Exactly:
Kiyaa pata landay se pakri ho khan ne

— Malik Ali حیدر (@ChayePakora) April 13, 2020
maybe it's landai ka maal, khan sb believes in austerity after all

— hishamsajid (@HishamSajid) April 13, 2020
Some just didn't get the hype:
Its not even expensive . Etny k to larkiu k jory hn , y y'all creating a fuss .

— Bae (@SnowykhaliqSnow) April 13, 2020
Jemima ko toh chhordoh yar:
@Jemima_Khan I know who gave this to him as a gift 🙂

— Aamer Sarfraz (@AamerSarfraz) April 13, 2020
Haha, same!
Want my future guy to buy the same polo in the same forest green shade so I can make it my night shirt. That colour is gorgeous. https://t.co/fGihR2MadY

— Geeta Jones (@Geetadron) April 13, 2020
It's definitely getting to us:
If quarantines wela pan had a face https://t.co/AdO7hV6jLf

— Hamza Qureshi (@thehqnotes) April 13, 2020
Boys, Fayyaz garments chalo!
Abay Fayyaz garments se 500 ki milti hay same 😂😂 https://t.co/h1UdgJzUmT

— Salman. ⑃ (@SalmanNaseer) April 13, 2020
Humain bhi itna normal ban'na hai:
I mean people just need a reason to make fun of him. He's a cricketer and a well established man. When a normal person in country can afford two iPhones pro max at a same time, why can't he afford a brand? https://t.co/NBnnHOytmM

— ~S (@ssabasays) April 13, 2020
Some had it all figured out!
Hello Goiz Breaking News:

Cause of Pak's Economic Turmoil Has Been Identified! Imran Khan's Ralph Lauren Polo Is The Reason Behind Pak's Economic Turmoil And Fiscal Deficit! 👎 https://t.co/PE6aJXALvj

— 𝕄𝕠 (@Khandedstr) April 13, 2020
O-kayyyyyy!
Totally unacceptable. Should have addressed the nation shirtless like Tom Hank's son. https://t.co/uaPbDFQQqn

— Ibrahim (@IamIbrahimKhan) April 13, 2020
We've got them sorted!
Dealing with emergency crisis.

Our priorities : https://t.co/WM6bIAfz7q

— Shyna (@Shynaa_s) April 13, 2020
Hahaha, you never know!
Mark my words he wasn't wearing anything except for the shirt https://t.co/1pfLkXpZMy

— High (@talkingcurves) April 13, 2020
There are no 2 ways about it:
It's drip or drown at the PM office https://t.co/GSwXtygK45

— V2 (@sheedovic) April 13, 2020
Who doesn't love a good deal?
It might not be that expensive…may be Kaptaan does his shopping at those factory outlets in the US.

Who doesn't like a good deal….well may be Reham doesn't but the rest of us. https://t.co/jiA8CLV5VV

— BachayAshfaq (@ABChangazi) April 13, 2020
What do you think about the things people are saying? Let us know in the comments below!