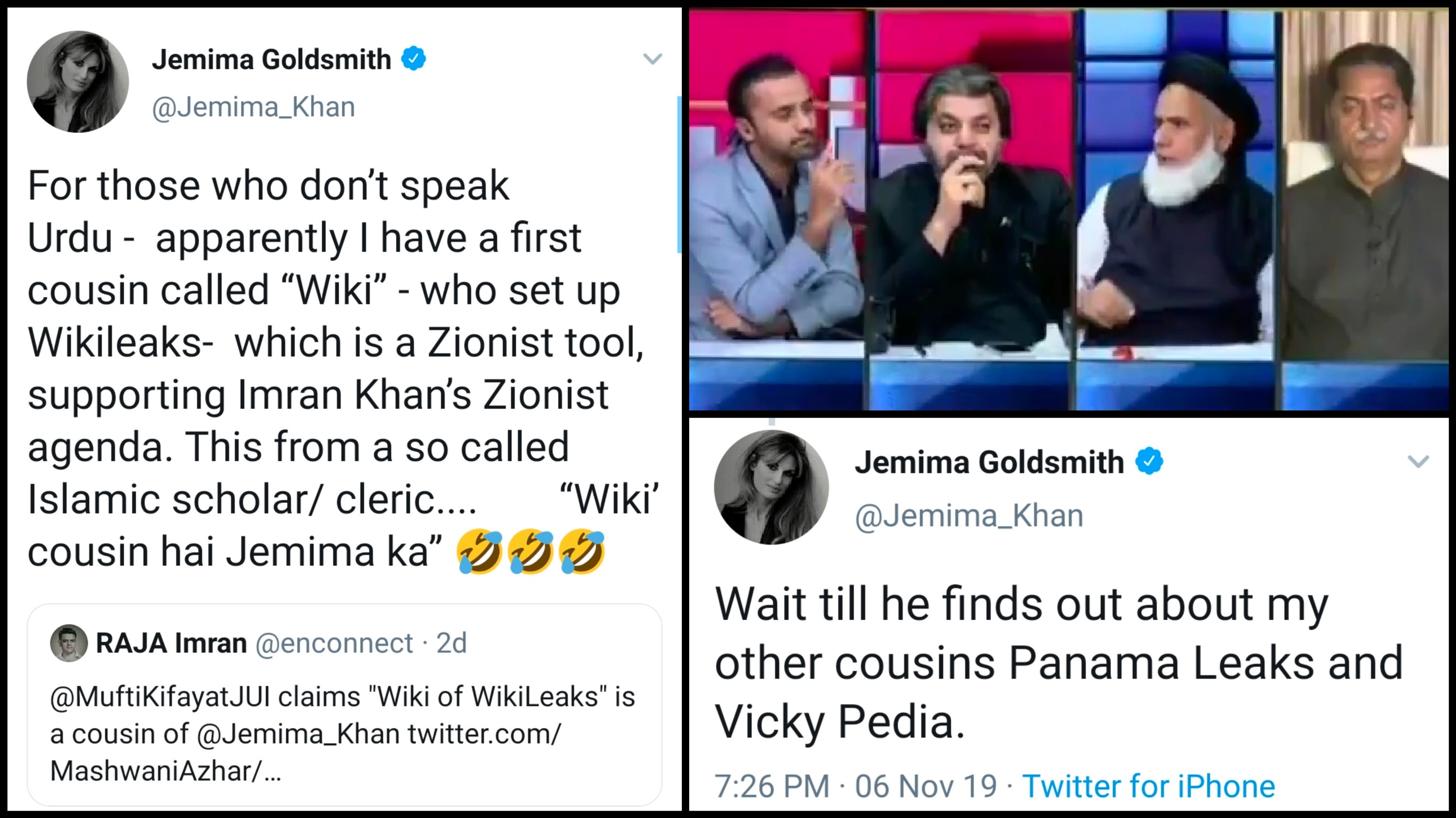 Jemima just found out about her cousin Wiki from Wikileaks, thanks to Mufti Kifayatullah!
During Waseem Badami's show 11th hour, Mufti Kifayatullah revealed how he's sure that Wiki, who he thinks is behind Wikileaks is Jemima Goldsmith's cousin and you need to see the video to believe us!
Mufti kifayatullah tells in detail about the "Vicky" of wikileaks who according to him is cousin of @Jemima_Khan @ImranKhanPTI pic.twitter.com/IjYtnTqHF5

— Waseem Badami (@WaseemBadami) November 6, 2019
In a tweet, Waseem Badami shared a 2 minute clip where him and Mufti Kifayatullah are arguing about an apparent Wiki from Wikileaks and despite Waseem Badami trying to to tell him that the person behind Wikileaks is Julian Assange, Mufti sahab was adamant that his nickname was Wiki. The tweet soon reached Jemima Goldsmith and she too was shocked to find out about her cousin 😂
For those who don't speak Urdu – apparently I have a first cousin called "Wiki" – who set up Wikileaks- which is a Zionist tool, supporting Imran Khan's Zionist agenda. This from a so called Islamic scholar/ cleric…. "Wiki' cousin hai Jemima ka" 🤣🤣🤣 https://t.co/BaWmWyPxFt

— Jemima Goldsmith (@Jemima_Khan) November 6, 2019
Jemima then tweeted how she can't wait for him to find out about her other "cousins:"
Wait till he finds out about my other cousins Panama Leaks and Vicky Pedia.

— Jemima Goldsmith (@Jemima_Khan) November 6, 2019
And the internet was having a great time:
Apprarently your cousin "#Vicky" is very famous in #Pakistan. Say our love to him. 😂

— ßushra Nasir Ahmed (@bushra_2010) November 6, 2019
Waiting for the next great exposé:
You just wait till he exposes your other causin, Panama.

— Asfandyar Bhittani (@BhittaniKhannnn) November 6, 2019
Pura khandaan expose hoga abhi:
And Panama Leaks is the mother of Wiki Leaks.

— سیاسی بےروزگار (@hinasafi) November 6, 2019
Some were living for the entertainment:
Please let us have some entertainment in Pakistan. We are an entertainment starved nations and these ignorant political Mullahs provide us enough circus acts to keep us laughing for weeks.

In the meanwhile, @Jemima_Khan, please give my regards to your cousin Wiki.

— Mir Mohammad Alikhan (@MirMAKOfficial) November 6, 2019
You learn something new everyday…
This was also a new information for Pakistanis 😂😂

— Sadia Shaukat (@SadiaShaukat10) November 6, 2019
Some were waiting for the family reunion:
Hope your family gets reunited soon 😂 https://t.co/N6QvDGImTO

— SadiaSattar (@RJSadiaSattar__) November 7, 2019
Waqayi:
'Jemima hum sharminda hain' 😂

— Natasha Kundi نتاشا کُندی (@NatashaKLondon) November 6, 2019
People were requesting Jemima to stop his cousins:
Please control your cousin Wiki, he always does propaganda against Nawaz Sharif, Zardari, Molana Diesel and leaders around the glob 😠

— Aftab Afridi (@AftabAfridiPTI) November 6, 2019
They do match waisay, Jemima and Panama, hmm:
Next leak….."Panama is sister of jamima😂😂"
As the name matches

— Muhammad Ahmed (@Ahmedrwp7) November 6, 2019
Some were tweeting Imran Khan's possible reaction to her tweet:
PM Imran Khan's expected reaction on your tweet ma'am. 😂 pic.twitter.com/Qy0OQQqHEe

— نجیب اللہ ساند 💪 🇵🇰 💪 PTI (@SaandNajeeb) November 6, 2019
A cousin she didn't know she had:
Congratulations Ma'am for the discovery of your new first cousin "Wicky". 🤣🤣

— 🇵🇰 ندیم زیدی 🇵🇰 (@_NadeemZaidi) November 6, 2019
Jo baat hai!
Hahahhahahah this woman is Savage.
Humary boy ki choice behtareen thy waisy. Ainwae nahi Khan sahab pighly thy. 😋 https://t.co/IzxYwgQ40F

— Zahra.K.Afridi (@Zahra21461848) November 6, 2019
People were living for Jemima's sarcasm:
Her sarcasm is lit AF https://t.co/oEs1chAKxA

— Hyder (@HyderHassan360) November 6, 2019
And even though it was hilarious, it made people realize things:
It's hilarious 😂 😂🤣
But…there is also a very serious aspect to this. God forbid if this political misadventures of MFR succeeded (as per his aspirations), this so-called Islamic cleric would hv been a senior member of his Cabinet. One should imagine him in that position.

— Lubna Raja (@LubnaOc) November 6, 2019
Jee!
Achaa,to ye sab "Vicky" Leak karta hai 🤔 https://t.co/MbFczRnnnB

— waqas khan (@wakaskhan) November 7, 2019
Well:
I dont know wether i should laugh or cry tears on the state of our so-called Ullamas & Muftis.#VickyLeaks https://t.co/dAJ4tmps8T

— Usman Iqbal (@USmanIQbal8) November 6, 2019
What do you think about Mufti Kifayatullah's theories? Let us know in the comments below!