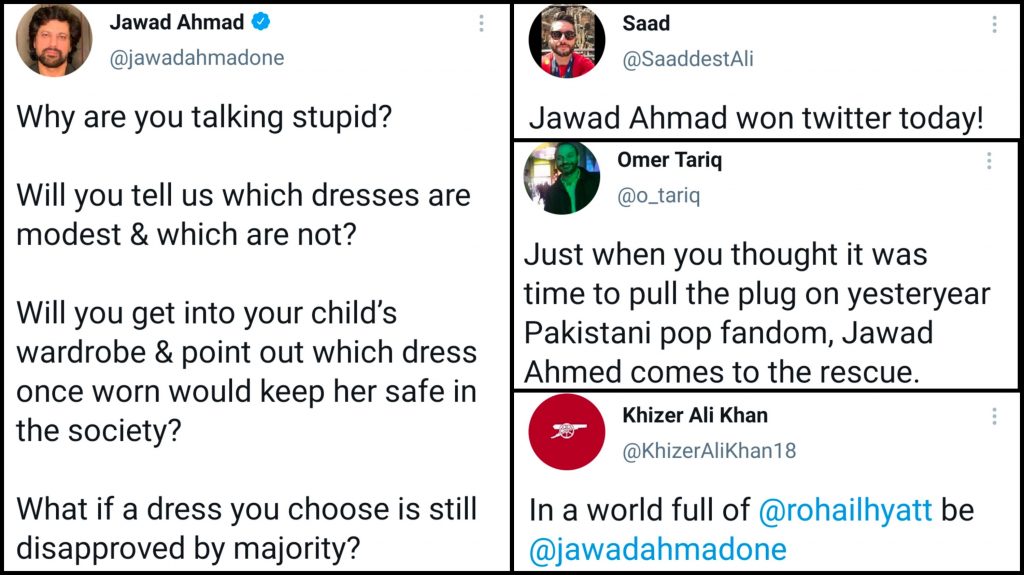 In a rather surprising turn of events Jawad Ahmed and Rohail Hayat have gotten into a Twitter tiff over PM Imran Khan's comment on modest dressing:
But that's not what was being addressed by him. As a father, I'd give the same advice to my child to be mindful of how you dress in our society. Not because I want to give into the sickness, but because I care for the person I'm giving the advice to.

— Rohail Hyatt (@rohailhyatt) April 8, 2021
In a thread that Rohail created to defend Imran Khan's comments,  Rohail claims that being a father he would give the same advice to his kids, but Jawad Ahmed came at him asking him to stop defending rape:
Why are you talking stupid?

Will you tell us which dresses are modest & which are not?

Will you get into your child's wardrobe & point out which dress once worn would keep her safe in the society?

What if a dress you choose is still disapproved by majority?#DontJustifyRape https://t.co/qELCAF4LdG

— Jawad Ahmad (@jawadahmadone) April 10, 2021
Replying to Jawad Ahmed, Rohail said that there needs to be a balance:
Because I am stupid. Since you're wise, you can say the wise things. See there's balance in the universe. Something to be appreciated perhaps?

— Rohail Hyatt (@rohailhyatt) April 11, 2021
To which Jawad Ahmed replied that everyone creates their own balance:
Everyone creates her/his own balance according to one's socio economic conditions, situations & placement in life.There is no one specific centre for any one. Leftists and rightists also believe themselves to be in the centre. This is mere jugglery of words. #DontJustifyRape https://t.co/UTo95WYSFW

— Jawad Ahmad (@jawadahmadone) April 11, 2021
Rohail then went on to ask if there's a way of knowing that we're balanced:
Exactly. So how do we know if we are really in balance or if it's just an imagined position? It's when judgements fade away and are replaced with reasoning. As long as you're harbouring any judgement, your balance is off no matter how comfortable you are about your position.

— Rohail Hyatt (@rohailhyatt) April 11, 2021
And Jawad Ahmed had yet another reply for him:
One can never be sure and its not even important. There is always going to be a position for everyone, imaginary or real. Like I said you are just wasting your time in fallacy of language and jugglery of words. I never judge anyone except the hypocrites. Those I just can't stand. https://t.co/2t9kAxSWCD

— Jawad Ahmad (@jawadahmadone) April 11, 2021
Rohail then went on to ask how he was wasting time indulging in the conversation:
How am I wasting my time if my tweets are not making sense to you? You are wasting your time reading them. Maybe you should spend time figuring out why you hate hypocrites. We usually hate in others what we have in ourselves.. People are mirrors to our souls. Good day!

— Rohail Hyatt (@rohailhyatt) April 11, 2021
Jawad then went on to tell him that he was a political person and wanted to change the country by giving them the clarity of thought:
I am only doing it because you are confusing people over a simple thought but serious matter. #DontJustifyRape I'm a political person. I want to change this country for the well being of 90% its poor people. Its very important to give them clarity of thought than confusing them. https://t.co/qJig0qgxCv

— Jawad Ahmad (@jawadahmadone) April 11, 2021
Jawad Ahmed also wanted PM Imran Khan to answer his question:
I repeatedly asked Rohail Hayat that

'Which dresses would he like women/girls of Pakistan to wear to look modest enough to minimise the chance of getting raped by men who can not control themselves'.

but he kept escaping it.

Now putting the same question to Imran Khan. https://t.co/AErUWTFXmH

— Jawad Ahmad (@jawadahmadone) April 11, 2021
And while Rohail claimed to answer his question:
Je bhai. Sorry I believe you think I haven't answered your question. I answered you but it's not the answer you want to hear. Who am I to tell women what to wear? It's whatever they are comfortable in. And I never said dresses are the cause of rape.

— Rohail Hyatt (@rohailhyatt) April 11, 2021
Jawad Ahmed found his answer to be lame and reminded him not to justify rape:
What a lame answer.Rohail Sb remember where this discussion started. https://t.co/uSUdwMMMiN No more discussion with you on this topic. Just do one thing for women of Pakistan,fighting for more space in the society.Recommend dresses for them too just as you choose for your child. https://t.co/4hCiBWlDGF

— Jawad Ahmad (@jawadahmadone) April 12, 2021
The exchange between the two has the netizens screaming as they're rooting for Jawad Ahmed:
Comrade Jawad taking Centrists to task… pic.twitter.com/A1TVKabH5f

— Maaz 🚩 (@MaazPervez) April 11, 2021
People were thanking him for using his platform to raise awareness:
Massive respect. I remember attending a small concert in Pano Aqil when I was a kid.

Makes your music weirdly more authentic, and beautiful to me. Thank you for using your platform for raising awareness.

— h. (@defnothaider) April 10, 2021
There were new fans that he'd gathered:
apke gaano ke fan tu hamesha se hain aj apke bhi fan hogaye < 3

— ђ (@sastifeminist) April 11, 2021
Jo baat hai!
Just when you thought it was time to pull the plug on yesteryear Pakistani pop fandom, Jawad Ahmed comes to the rescue. https://t.co/hoHIbOmM9C

— Omer Tariq (@o_tariq) April 11, 2021
His comeback inspired many!
Just came here to say that "why are you talking stupid" is going to be my comeback to absolutely everything in life https://t.co/gP0aQNEv8n

— Noor (@NoorHSumra) April 11, 2021
People were using his own lyrics to express their love for him:
Didn't know my mans Jawad would come through like this. I just wanna say oh meray yaar tu mera pyaar sadaa rahay tu salaamat https://t.co/ARHcHuboAo

— Mashal Rafiq (@mash_rafiq) April 11, 2021
Such an ucheyaan majaajan wali tweet man Ho ho ho HA! https://t.co/US7br57hEp

— Husn Hai Suhana (@Fatmounh) April 10, 2021
Here he is!
Mehendi ki yeh raat suntey huey kabhi nahin socha tha that Jawad Ahmad would emerge a progressive hero on twitter. https://t.co/4z4vbMaf6l

— Aimun (@bluemagicboxes) April 10, 2021
True:
Why Are You Talking Stupid? — needs to be on billboards all over the country. https://t.co/HWLyn9BnyK

— Zebunnisa Burki (@zburki) April 12, 2021
People were also sharing real-life experiences to support Jawad Ahmed and his stance:
My friend who does Sharai Burqa told me she was once masturbated at in public by a man on bike who followed her till her hostel.

Next she was poked continuously on back by a man on public transport until she got so mad that she hot up in anger and started punching him. https://t.co/bWUrbmr8ec

— Bakhtawar (@BJ_Socialist) April 11, 2021
My sister's friend was standing outside her department wearing uniform with quarter sleeves and a man touched her arm and after getting confronted he said "Why is she wearing such sleeves?"
A uniform which in my opinion is an appropriate dress in our society did this 🙂 https://t.co/T2A6IMpxL9

— ••Ayesha•• (@2310ayesha) April 11, 2021
And while the majority was celebrating the singer, others weren't exactly on the same page as him:
Actually all parents should be doing that with their minor aged kids and my mom can still veto my clothing choices at times.

Majority approval is not what @rohailhyatt talked but about making good sensible decisions by his kids and as a parent that's his right to instill.

— Mr. Awesome (@MrAwesomeSays) April 11, 2021
People were calling him names:
why not parents can't check the wardrobe. Once a Marasi remains Marasi

— Naviinkhaan (@naviinkhaan) April 10, 2021
What do you think about Jawad Ahmed's savage replies to Rohail Hayat? Let us know in the comments below!