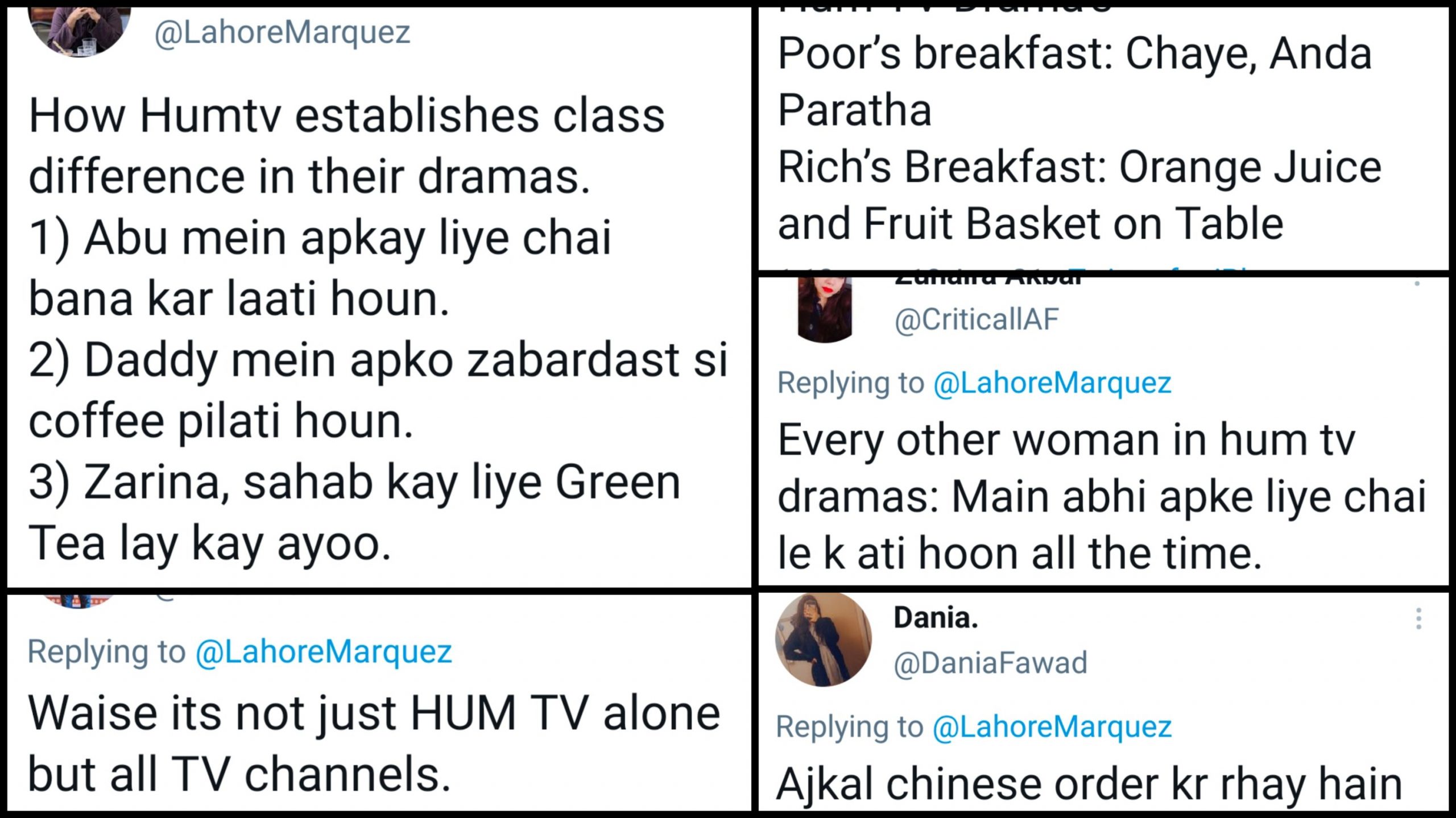 It goes without saying that our drama industry is at its very best, but that sure doesn't mean it's perfect. Noticing over and over again how class differences are established in dramas, a Twitter user shared his opinion:
How Humtv establishes class difference in their dramas.
1) Abu mein apkay liye chai bana kar laati houn.
2) Daddy mein apko zabardast si coffee pilati houn.
3) Zarina, sahab kay liye Green Tea lay kay ayoo.

— Jasir Shahbaz (@LahoreMarquez) August 9, 2021
And netizens have lots to add to the list:
Hum TV Drama's
Poor's breakfast: Chaye, Anda Paratha
Rich's Breakfast: Orange Juice and Fruit Basket on Table

— Nasir (@naxirmahmood) August 9, 2021
Achi* si chai:
Every other woman in hum tv dramas: Main abhi apke liye chai le k ati hoon all the time.

— Zunaira Akbar (@CriticallAF) August 9, 2021
😂
Ajkal chinese order kr rhay hain

— Dania. (@DaniaFawad) August 9, 2021
People were sharing how it's not only confined to one channel but every channel:
Waise its not just HUM TV alone but all TV channels.

— Omair Alavi (@omair78) August 10, 2021
Haha, awaaam is pretty observant:
Sharbat bhi banwa rahe hain abu.

— Umama Zaheer (@umamazaheer10) August 10, 2021
Some didn't find anything wrong with it:
that's how it is.. what's wrong in it?

— Emmad Toor (@eTOOR) August 10, 2021
Like what ??? Is this issue of today to fret over ??? Such sentences don't establish any wrong. Grow up. https://t.co/d6UrzalFb2

— Juggy (@TheJuggy007) August 10, 2021
We know right?
Abbu wali is dressed in plain kamiz shalwar, daddy wali in western attire, sahab wali with a 'modern' attire & smug look

— Zay (@itsnotokhere) August 9, 2021
People were also sharing how other channels were no better:
ARY is 10 times worse. I don't think thst Hum TV is any better, but ARY really hammers this concept down https://t.co/CxjlCf9NnN

— Injie Anis (@InjieAnis) August 10, 2021
People were fully on-board:
Lmaooo i remember watching Daam (great drama imo), where class difference was established by food so often. They were always having sandwiches and "manchurian" at the rich ppl house. The show also had excellent sets when it came to showing class differences imo https://t.co/zu8QVtPKUz

— kulfi (@MeethiChhurri) August 9, 2021
Nahi:
Koi cola nahin peeta kya? https://t.co/MEbwIL9KZ4

— Faiza Khan (@faizakkhan) August 9, 2021
Hahaha, crore se neechay toh baat hi nai hoti:
No such problems with Hindi TV, where everyone is just rich, Hindu, upper caste and wake up with strong eyeliner game! https://t.co/8EUWzyzvnE

— Radhika Venkatarayan (@radh1kav) August 9, 2021
People found his analysis to be spot on!
Bro this is so accurate 😂😂

— jAn (@Archer000000) August 9, 2021
I SWEAR!!!

— what iff? (@DopaminDeprived) August 9, 2021
What do you think about it? Let us know in the comments below!