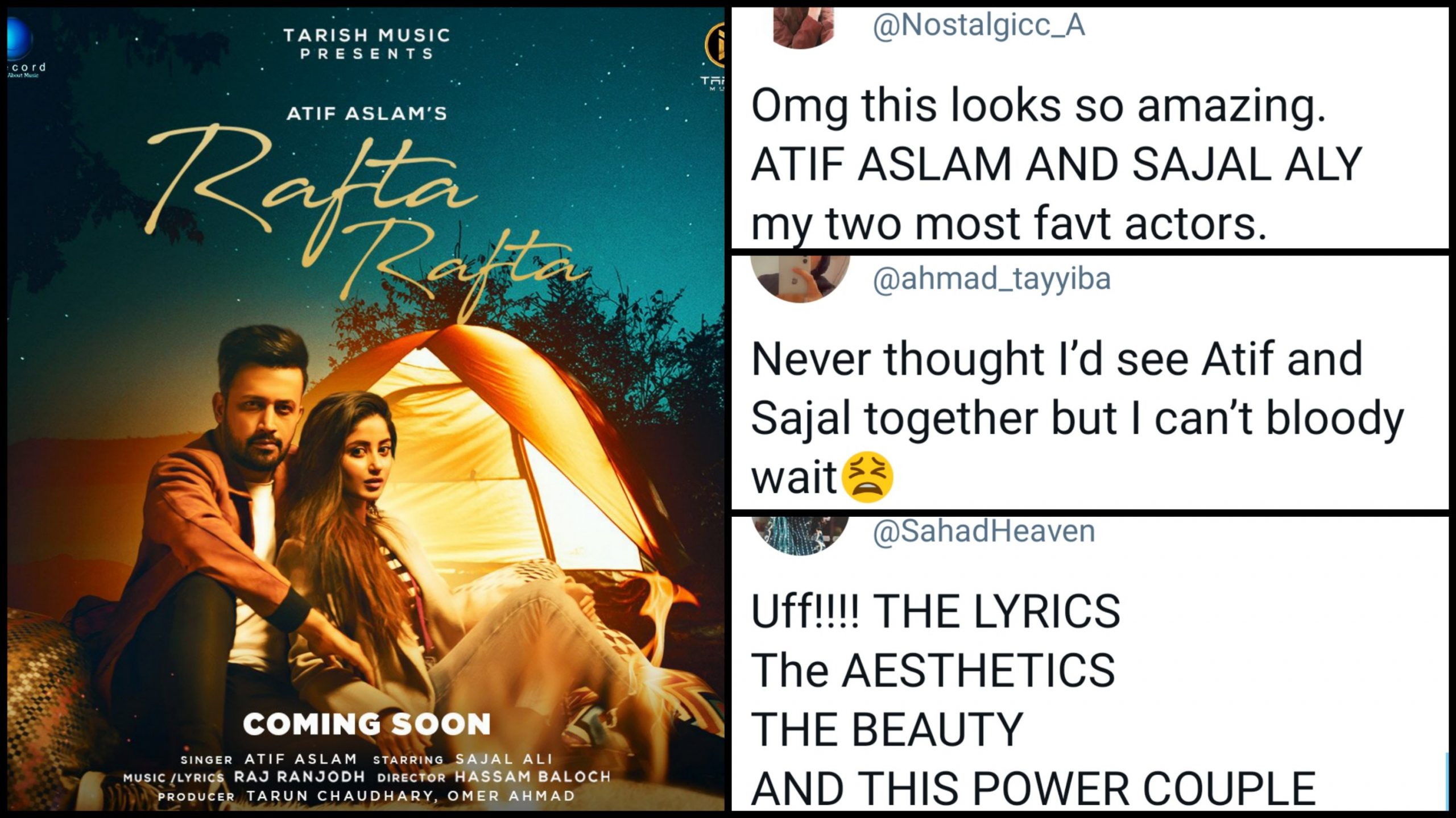 Atif Aslam just dropped a teaser of Rafta Rafta today featuring Sajal Aly in the music video:
Presenting – the teaser of Rafta Rafta.

YouTube Link: https://t.co/TbyBatx5cD@Iamsajalali @MusicTarish #RaftaRafta #AtifAslam #SajalAly #RajRanjodh #TarishMusic #ICRecord #Aadeez #AtifAslamNewSong #OmerAhmed #hassambaloch pic.twitter.com/iOQA72bk4N

— Atif Aslam (@itsaadee) July 16, 2021
Ever since the teaser dropped, fans have been trending the two on twitter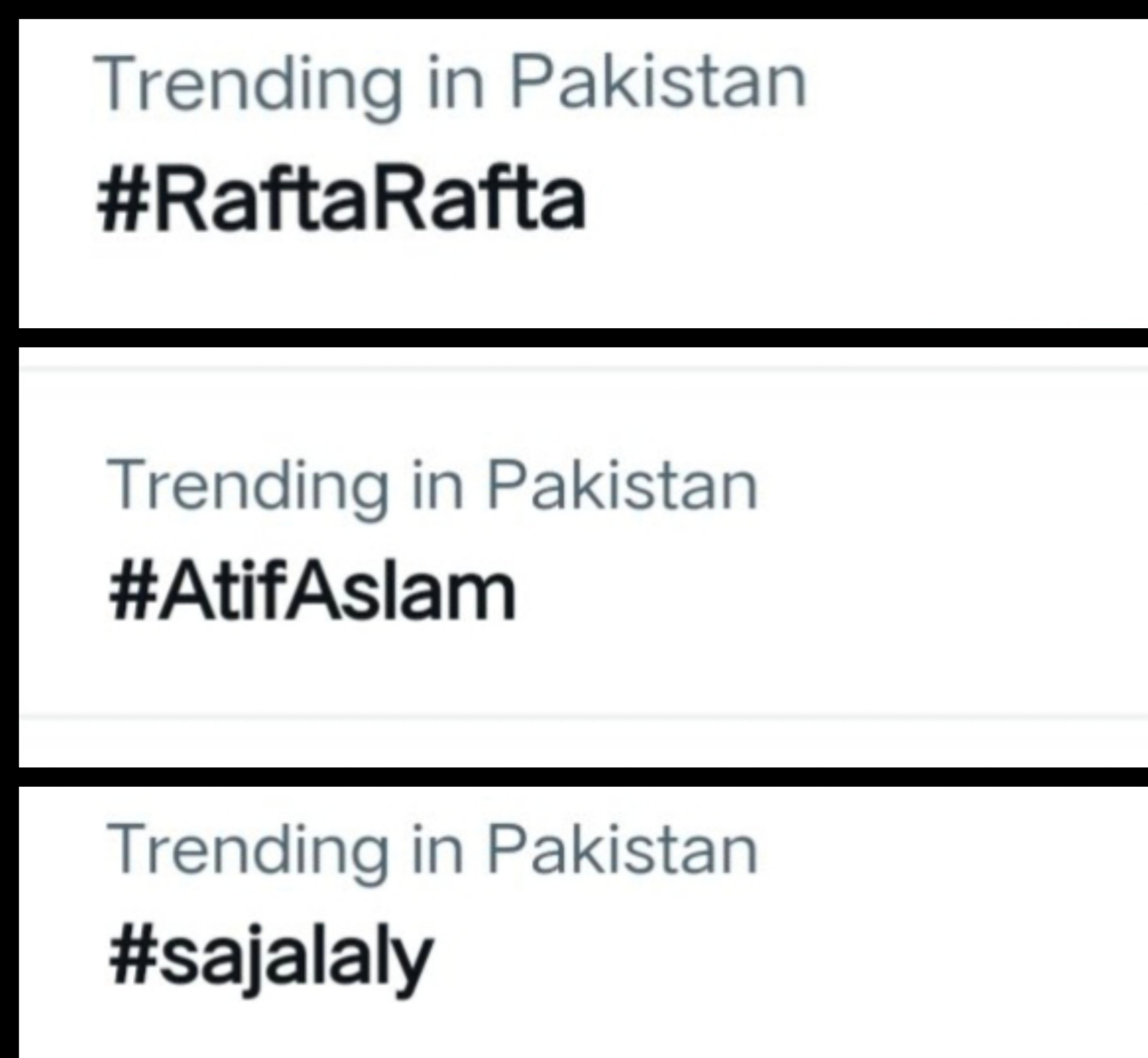 And fans just can't keep calm!
Uff!!!! THE LYRICS
The AESTHETICS
THE BEAUTY
AND THIS POWER COUPLE ATIF&SAJAL 🔥🔥🔥#raftarafta #sajalaly #atifaslam pic.twitter.com/y58FIDfKTr

— 𝓽𝓮𝓮♡︎ (@SahadHeaven) July 16, 2021
Same!
just a glimpse of her but she looks so pretty I CAN'T WAIT 😭😭#SajalAly #RaftaRafta pic.twitter.com/3CJPlPTNDF

— momina (@liesarebuIIet) July 16, 2021
Yes please!
Sajal looks so pretty and Atif's voice is as usual beautiful! I wanna see more of this. Gimme the whole song plssss #raftarafta #AtifAslam #SajalAly pic.twitter.com/wAz6oCrLuK

— Hayat 👑 (@pakistanikiz) July 16, 2021
People couldn't help but share his magical the teaser looks:
THIS LOOKS MAGICAL AF CANT WAIT ANYMORE . 💥💥#SajalAly | #AtifAslam | #RaftaRafta

— ✤ T (@notyourrtea) July 16, 2021
He sure is back with a bang!
RAFTA RAFTA TEASER OUT #AtifAslam King is is back#SajalAly

— taechu⁷∞ (@kfcisjaan) July 16, 2021
Quite possible!
Song of the year hoga ye😍🔥🔥 https://t.co/ELOfbBNYf3

— Shaan Khan (@shaan_atifaslam) July 16, 2021
Hahaha!
it aint the mehdi hasan Rafta Rafta cover but still can you please inject it right in my veins? https://t.co/GzeN7JwdL6

— ghamgeen Hassan (@hassrazz) July 16, 2021
Anything's possible!
Never thought I'd see Atif and Sajal together but I can't bloody wait😫 https://t.co/silnQTCf0U

— Tayy🥀 (@ahmad_tayyiba) July 16, 2021
It was like a dream coming true for fans:
missed him sm and this being with sajla is 😭😭❤️ https://t.co/2PGRDNtC6a

— 𝒶 (@aaditeaa) July 16, 2021
People were in love!
Omg this looks so amazing. ATIF ASLAM AND SAJAL ALY my two most favt actors.

Can't wait for this 🥺🥺🥺 https://t.co/hL632iBQYJ

— Ambreeeen.. (@Nostalgicc_A) July 16, 2021
👏
Aap phir aaye phir se bahar aayi😭😂😂#RaftaRafta
Love you Aadee ❤️ https://t.co/2SHhAtYkLR

— IQRAツ||AMIR__says Stan|| (@chaiaddict08) July 16, 2021
Fact!
Legend of Pakistan 🇵🇰

— Musawer Mukhtiar (@musawermukhtiar) July 16, 2021
Agreed!
This song will be on YouTube trending no 1 Soon..

— Omar Rai (@OmarRai2) July 16, 2021
The song is slated to release on 21st July. Are you excited for Rafta Rafta? Let us know in the comments below!