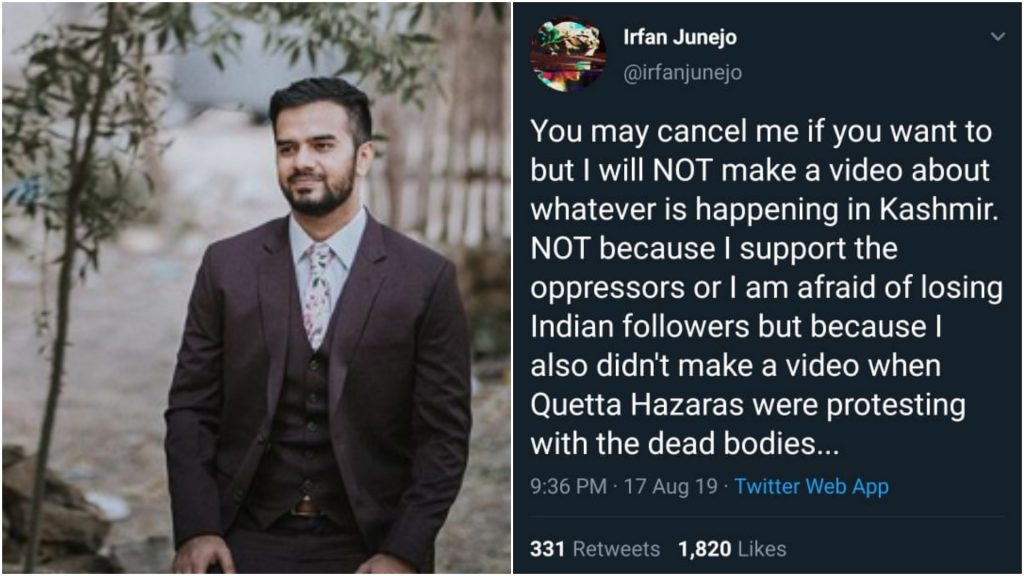 Irfan Junejo is one of the more mature and sensible of the YouTubers lot, however, his silence on Kashmir issue had majority of his fans disappointed. And when they asked him about the silence, this is the logic that he gave:
You may cancel me if you want to but I will NOT make a video about whatever is happening in Kashmir. NOT because I support the oppressors or I am afraid of losing Indian followers but because I also didn't make a video when Quetta Hazaras were protesting with the dead bodies…

— Irfan Junejo (@irfanjunejo) August 17, 2019
of their family members. I didn't make a video when families of shia missing persons were protesting. If I don't make a video about something, it doesn't mean I support it. I didn't make a video for Sudan as well. Oh and btw Wasim Akram didn't talk about it,

— Irfan Junejo (@irfanjunejo) August 17, 2019
neither did Shoaib Akhtar. Sabko cancel kardo. Akele apne selective outrage main zinda raho aur dusron ko judge karte raho.

BTW, I fully support what @hasanminhaj said on the topic. Ap dekh lein ja ke what he said. WHICH IS WHY I shared it on my insta story and retweeted it.

— Irfan Junejo (@irfanjunejo) August 17, 2019
MKBHD never made a video about Trump policies, UK YouTubers didn't make videos on Brexit. If somebody is talking about this, good for them.

Ajeeb apne andar sab activist banay hue hain!

— Irfan Junejo (@irfanjunejo) August 17, 2019
His 4 tweets long thread on Twitter gathered tons of criticism by his fans and within minutes, he was trending on twitter: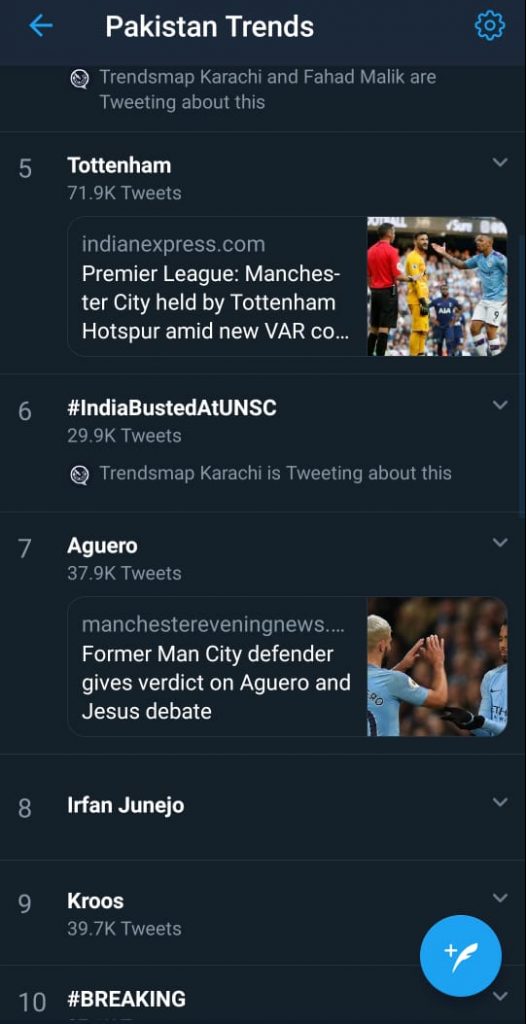 His stance did not sit well with the audience and for them he was cancelled:
Toh scenes kuch aesay hein keh Irfan Junejo can make a video on the protests happened after the release of Asia Bibi (tbh I loved that video) but he won't make a video on the Genocide happening in Kashmir just because YouTube will delete his channel.
Wot iz? https://t.co/Jl2HtFBQhb

— hassan (@hi__hassan) August 17, 2019
Even Waqar Zaka made a video about his tweets:
People were disappointed in him:
I seriously expected better from Irfan Junejo. U dont want to a make a video? Dont. But stop comparing 72 to years of brutal occupation in kashmir with other issues you sick head. @irfanjunejo and yes, you are surely CANCELLED now.

— Ayesha. (@Aysh_01) August 17, 2019
My respect for Irfan Junejo has left the chat https://t.co/gFalydvtzC

— Zahra (@slothfulbeing) August 17, 2019
It's not about the issue it is just Irfan junejo's personality. 😭😂
He's an ego-istic guy who just wanna do things on his own terms.
Which i don't know is good or bad.

But when its an issue like Kashmir this is not what is expected from you and you have to put your ego behind

— Umar Hayat (@UmarHayaKr) August 17, 2019
Many called him out on his silence:
Irfan junejo, the one who stays neutral in the situation of oppression, he actually stands with oppressor

— Shujaat Ali 🇵🇰 (@Shujaatsays) August 17, 2019
People were unfollowing him:
Pakistanis should unfollow Irfan Junejo on every platform so he can rest in peace with his Indian followers. The fear of losing followers by talking on Kashmir issue must be handed over to him by losing a considerable number of Pakistani followers in one day.

— Biya Ali Zaib. (@BiyaAli9) August 17, 2019
People thought of him as a hypocrite:
Irfan Junejo , hypocrisy will never make you acceptable to everyone .
So instead be straight forward and say it loud that you don't wanna lose your indian subscriber's and that's why raising voice for Kashmiri's isn't important for you .

— Zain Shamim Jalali (@ZainJalali) August 17, 2019
Irfan Junejo is next level hypocrite. Justifying his hypocrisy with lame logic.

— Waqas Ali Khan (@WAKhan_) August 17, 2019
Irfan junejo is a different kind of hypocrite 😬😬😬

— PTI Family (@PTIforlife) August 17, 2019
Some thought it was all about the numbers game:
i have to say, if you have a voice, better raise it. mehwish hayat did it, hasan minhaj did it, i think irfan junejo could've done it as well. if it's all because of the number's game, he'll lose the game. even if he'd lose his account, he'd get double the support for a new one.

— o$ama. (@skixxles) August 17, 2019
People were having him cancelled:
IRFAN JUNEJO IS CANCELED FOR LIFE.

— Dija (@thejaarants) August 17, 2019
Many called him a darpok:
banda darpok ho, Irfan Junejo na ho.

— ¿ (@aguywithflaws) August 17, 2019
Sham Idrees made it to the memes:
Irfan Junejo:"mh tab bhi nhi bola mh aab bhi nhi bolon ga"

*"beta aab tu jaab Karachi ki streets pae phiray ga na toh loog tjy jutay aur danday marain ge" pic.twitter.com/sMCEXMfsZ3

— Hydrr Aly (@alyhyderr) August 17, 2019
People had questions:
Bhai isay kis ne mana kiya tha hazara pe video banane se? Ajeeb yaha ek se barh ke ek fraud hain. https://t.co/38LholRwf4

— Abdullah (@abdullahmajeed_) August 17, 2019
Some were actually mad at him amalgamating two entirely opposite issues to justify his silence:
Never thought Irfan Junejo to talk about Kashmir until he himself tweeted about it. I can understand it's a personal choice to take up the voices but when he did, he shouldn't have to be this stupid to amalgamate two entirely different issues. People won't be able to forget this!

— Sameena E. (@SameenaERana) August 17, 2019
His logic gave cancer to many:
— Kashuf. (@drop0ut__) August 17, 2019
Many thought he'd be regretting his tweets:
Irfan Junejo after tweeting that bullshit: pic.twitter.com/11xvhSw0lA

— S. (@ItsSikandar) August 17, 2019
Shit piece 😂
Yaar ye tu irfan junejo bhi shit piece nikla😒

— 🌻 (@okaybruh_) August 17, 2019
And while many disagreed with him, there were a few who agreed with him:
I don't care what anyone else says, it makes sense what irfan junejo said

— Fatima (@chai_dedo) August 17, 2019
Some thought he didn't owe anyone an explanation:
-U don't owe anyone an explanation,
-I tweeted about the issue RTed Hasan & still received the same old BS "dartay ho tum India se",
-No matter what you talk about, there will always be ppl who say "what about that", whataboutery will never end,
-No solution to selective outrage

— Rehan Ulhaq (@Rehan_ulhaq) August 17, 2019
And only today, Irfan Junejo tweeted how, despite being cancelled, he's gained a ton of followers:
Cancellation se pehle – 47.4K followers.
After cancellation – 47.9K followers.

Wah!

— Irfan Junejo (@irfanjunejo) August 18, 2019
What do you think about Irfan Junejo's rant? Let us know in the comments below!