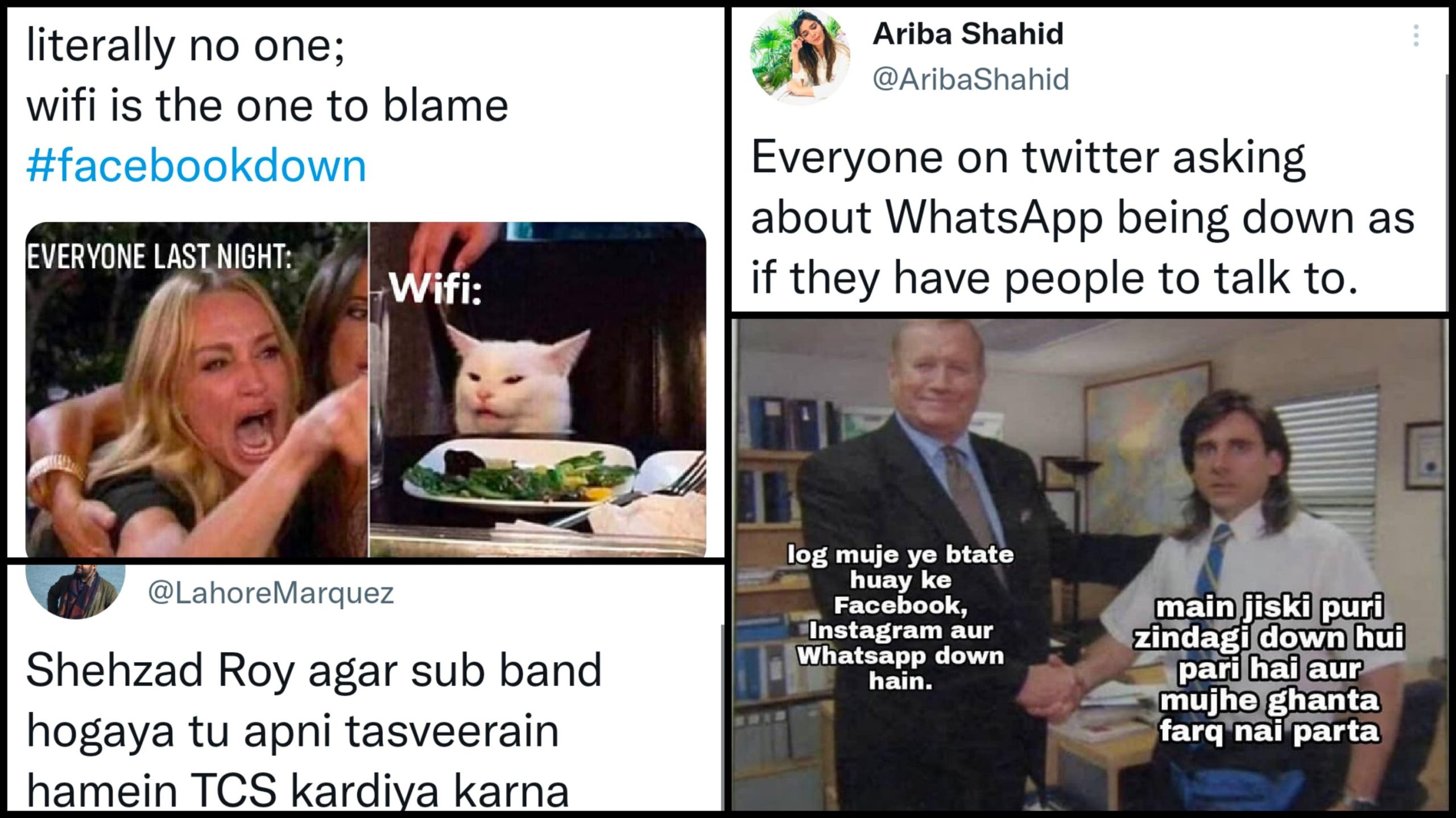 While Facebook, Whatsapp and Instagram were down, we had Twitter, the real OG! As major social media apps were down, Twitter saw about 59.6M users active at the same time and needless to say, there were a ton of memes and we've gathered for you the best ones!
Pls, no personal attacks:
— Comrade (@Comrade_SSR) October 5, 2021
Kismat kharab!
Me after switching between my wifi and data only to realize that instagram and facebook are down.#serverdown#WhatsApp #instagramdown #facebookdown#socialmediadown pic.twitter.com/e9BdxZb8nx

— Arif R J (@arif_jatoi) October 4, 2021
If you know, you know!
Whoever made this, it is so witty! 😂 #InternetShutDown #facebookdown pic.twitter.com/kKbWjWjLEg

— Zikri Ibrahim (@ZikriIbrahim7) October 5, 2021
Help!
When facebook is down…#facebookdown pic.twitter.com/4G5LMuKrro

— Senju Kawaragi (@dailysenjuu) October 5, 2021
Wifi ko bhi toh samjho!
literally no one;
wifi is the one to blame#facebookdown pic.twitter.com/fOVxzU592O

— zoey pr'tty (@mas_paba) October 5, 2021
It was ludo star for most of them:
anyone else wondering how are our parents doing without WhatsApp and Facebook ?

— Manal (@meemelif) October 4, 2021
Jazz had a solution though:
3 letters: S M S

— Jazz (@jazzpk) October 4, 2021
Girl, we…
whatsapp crashed that's why he hasnt messaged me since last week

— Sabah Malik (@sabahbanomalik) October 4, 2021
Hahaha, the first issues between PTCL and Pakistanis:
PTCL really went "bhai is baar meri bilqul mistake nahi hai, mujhay galiyan mat dena" 🤣🤣 pic.twitter.com/LTvqsypK4K

— Osama. (@ashaqeens) October 4, 2021
People were throwing shade at influencers:
Influencers tomorrow morning pic.twitter.com/1L3n2cIjM4

— . (@416_sch) October 4, 2021
It's, not…
Wait, WhatsApp is down. How is the government functioning???????

— Ariba Shahid (@AribaShahid) October 4, 2021
Oops!
Social media managers right now:

Let's tweet a funny meme on the outage but all brainstorming groups are on WhatsApp 😭

— Careem Pakistan (@CareemPAK) October 4, 2021
Lesson learnt!
At least now we know why it sucks when one company owns everything.

— Sahil Shah 🇮🇳 (@SahilBulla) October 4, 2021
Yep!
ppl coming to Twitter from whatsapp instagram and facebook to check if everyone is facing the same issue pic.twitter.com/oIanBwKl3E

— ۪ yen (@j4yotwo) October 4, 2021
Yar 😂
my 10 minutes rant on my confusing love life is stuck in the void GET IT TOGETHER WHATSAPP I'M TRYING TO CRY HERE pic.twitter.com/RdqXBZdIFu

— Faizan. (@thoraoffbeat) October 4, 2021
LOL!
Social media is down, someone check on PTI, does the party still exist

— the user previously known as ghaura (@ghauraghaura) October 4, 2021
Waisay bhi 79% Pakistanis haven't watched a single Bollywood movie in the past year:
Next year, Akshayy Kumar or John Abraham will make a movie on how an 'Indian IT specialist' went to the Facebook Office, restored all the services and killed the team of Pakistani and Chinese and hackers.

— Sameer Siddiqui (@SenatorSameer) October 4, 2021
Haha:
Doing actual policing now that SM is down.

— Amna Baig (@amnaappi) October 4, 2021
Yes please!
Shehzad Roy agar sub band hogaya tu apni tasveerain hamein TCS kardiya karna

— Jasir Shahbaz (@LahoreMarquez) October 4, 2021
🤦‍♀️
My wife's friend is on the verge of tears because it's her birthday party today and nobody can post on insta LMFAOOOOOOOOOOOOOOO

— 56 (@chief_afc) October 4, 2021
STOP!
imagine if excel went down

— excelhumor.xlsx (@ExcelHumor) October 4, 2021
First-time Twitter users:
Instagram and Facebook users checking out Twitter while they're down pic.twitter.com/MGZoRYmRXl

— James Felton (@JimMFelton) October 4, 2021
In Twitter we trust!
Facebook WhatsApp & Instagram down all over the world 🌎#serverdown#WhatsApp pic.twitter.com/zdMQfGEGoA

— Aleeeyyy. (@iam_aleeraza) October 4, 2021
🙈
Everyone on twitter asking about WhatsApp being down as if they have people to talk to.

— Ariba Shahid (@AribaShahid) October 4, 2021
True!
twitter se wou feels aa rhi jab bachpan mei raat ko light jati thee aur sab gaali mei nikal ke khailtay thay

— zay (@hystwhoreical) October 4, 2021
Sis, why are you attacking us 😭
Why are pakistanis worried about Facebook, Instagram and WhatsApp not working? Itne saalon se mulk bhi tou nahi chal raha lekin guzara tou kar rahe hain

— g (@unghinatspam) October 4, 2021
How did you spend time when social media was down? Let us know in the comments below!