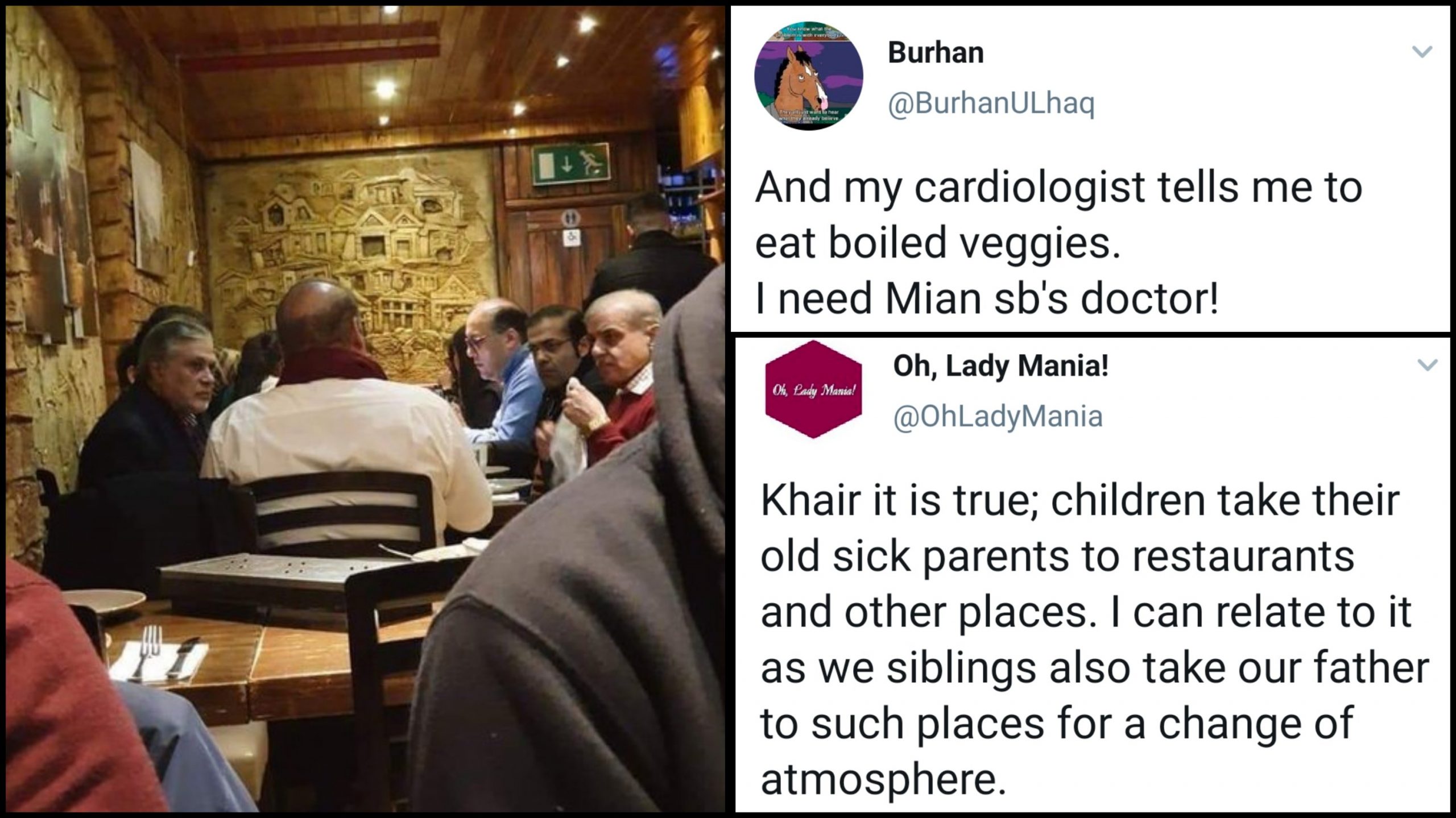 Nawaz Sharif has been on bail in London for a while now getting his treatment done. A picture of Nawaz Sharif went viral on social media after he was seen at a restaurant and people have questions!
Father was taken to a restaurant on Doctors order: Hussain Nawaz Sharif#ARYNewshttps://t.co/5OYqiPMLGV

— ARY News (@ARYNEWSOFFICIAL) January 13, 2020
When inquired about why Nawaz Sharif was out and about, his son Hussain Nawaz said that he was taken to the restaurant on his doctor's recommendation to take him on short walks, and the internet is having a field day!
One order of platelets fried in duck fat please https://t.co/iWdNdrQXvl

— Nadia (@nadiajqureshi) January 14, 2020
Some were low-key envious of Nawaz's cardiologist:
I seriously need to change my cardiologist!!! https://t.co/e9NTN9T6rc

— Azam Jamil (@AzamJamil53) January 14, 2020
And my cardiologist tells me to eat boiled veggies.
I need Mian sb's doctor! https://t.co/1Ug04Ua2Hj

— Burhan (@BurhanULhaq) January 14, 2020
We need more doctors like you!
Nawaz Sharif is obviously my patient 🤣 https://t.co/EYKET2JJ3Z

— Jibby (@JibbyD) January 14, 2020
Some wanted the authorities to take action:
From Haram khori to Hawa khori

Hope the concerned authorities are informed about this terrific improvement, Its time for him to get back and serve his purpose in jail. https://t.co/Qa0DJdpZia

— Ayesha Khan (@AyeshaK87602375) January 14, 2020
Some were mad at the lies being built up:
Imagine manufacturing lies such as calibri letter, Qatari letter, Judge Arshad Malik scandal, and getting away with decades of looting and plundering. They know they can lie with impunity all they want and the Pakistani awaam will take it at face value. https://t.co/d4EO1SnWHd

— Haleema Khan (@haleemak_) January 13, 2020
Some were predicting next steps in the treatment:
Next on the list of Bollywood inspired medical treatments: a visit to a hill station. https://t.co/6YdUtRM0Sk

— – (@HaseenaAtomBum) January 14, 2020
Many young doctors learned a thing or two:
This is groundbreaking.
Next time a pt comes in w a low platelet count, Ima tell him/ her to go to the Olive Garden. https://t.co/cQSH33YjrU

— ChaiCoffsKey (@ZTan14377) January 13, 2020
Some had questions:
Just like the doctor asked him to have pizza before his bypass surgery? https://t.co/53NrazY45y

— ST (@shobz) January 13, 2020
for food therapy? 😬 https://t.co/0alxl9sQOM

— ; (@ItsSumiyya) January 13, 2020
Hey, retail therapy is a real thing okay!
The idiocy and shamelessness of this family is unbeatable. What's next ? Mian Saanp taking therapy shopping trips in Selfridges and Harrods bcz they increase platelets as the likes of Nasim Zehra etc spread panic about his health. https://t.co/fKAMnWbsDG

— Blue on Blue (@razzblues) January 13, 2020
Well…
Next will be doctor mandated orders for shopping at Harrods. https://t.co/JnuG5sJPKk

— A* (@laltaintabahde) January 13, 2020
Biryani over everything:
Platelets got nothing on a plate of gourmet biryani https://t.co/VFfv04Le6D

— Daanika Kamal (@daanistan) January 13, 2020
Many were referring to the cricket meme:
Yeah, he said, "Ehnoon peezzay khuawo, ehnoon burger khuawo…" https://t.co/Y7ZGVLcxpL

— Bae Faiz (@antifatwa) January 13, 2020
Some were concerned about the credentials of the doctor:
Must have been a PhD doctor… https://t.co/2cvuNCi4LV

— Paul (@mrithejester) January 14, 2020
There was a ton of trolling:
Cardiologist ordered to take Nawaz Sharif to a strip club as $trippers are good for platelets count: Hussain Nawaz Sharif https://t.co/FoJlOyfltO

— Ali Baloch (@maXes_MB) January 13, 2020
Some were amused:
Tell me this satire. https://t.co/0vxNRRzmYx

— Imy (@PakCricket_) January 13, 2020
Some suggested a walk in the park would have been more fitting:
A nice walk in the park or around the block would be more appropriate. Anyway, none of this matters when all else is fake. PMLN workers are taken for a fool. Rest of us see this NawazSharif madness clearly. Can someone tell me why Shahbaz Sharif is still out of country? #PMLN https://t.co/Yf7e886Lix

— Saqib Hussain (@pakatheart) January 13, 2020
Hawa khoori ke liye banda park wagira jaye yeh restaurant mein konsi hawa khoori hoti hai? https://t.co/jnoK2UezIN

— Rorschach. (@FeralScream) January 13, 2020
Some thought the doctor deserved an award:
This doctor deserves the best doctor award for sending this patient to the restaurant who has 2 open heart surgeries, 8 stents and a mysterious illness with low platelet counts. https://t.co/Zrhiyz9mWs

— Wajiha (@wajiha_salman) January 13, 2020
Let us know when you find one:
Can I find a doctor who'll advise some retail therapy for me and then also an insurance company who'll pay for it? Please. 😬 https://t.co/omUjQS0WMC

— Kashmala Khan (@kashmalakhan90) January 13, 2020
Some even shared the menu:
On doctor's recommendation

Starter: Tossed Green platelets with bread

Entree: a sautéed chicken breast on a bed of boiled platelets and fresh red rosette

Dessert: platelets mousse with whipped cream https://t.co/FanYsMfFxx

— Omar A (@Nostalgic_Grip) January 14, 2020
And while many were trolling him, there were a few who could relate to it:
Khair it is true; children take their old sick parents to restaurants and other places. I can relate to it as we siblings also take our father to such places for a change of atmosphere. https://t.co/DL5gzdWcEs

— Oh, Lady Mania! (@OhLadyMania) January 14, 2020
Some found the gesture sweet:
Awww so sweet!! https://t.co/9oU1euBOoC

— عنبر رضا, PhD. (@ZaidiFactorist) January 14, 2020
What do you think about this matter? Let us know in the comments below!