Pakistani-Canadian author and journalist Tarek Fatah often comes under fire as far as Pakistani Twitter is concerned due to his hot takes. Now, I'm not sure how much research goes into each tweet, but a recent blunder by the journalist regarding a scene from 'Load Wedding' is equal parts embarrassing and hilarious.
Earlier today, he tweeted out the following video, claiming that a Pakistani mother was rude to polio workers.
Pakistani mother slams the door shut in the face of Polio workers. Screams at the two female volunteers:

"I will never ever allow my children to take these drops. Never never will my kids drink these drops. Never." pic.twitter.com/y9z7lIbRnr

— Tarek Fatah (@TarekFatah) January 14, 2020
Now, at a first glance, it may seem like the woman's yelling at the workers, but there's something noticeably odd about the video – it seems rather exaggerated, almost like it's out of a movie…because it is.
The clip is actually from the 2018 Fahad Mustafa and Mehwish Hayat starrer, 'Load Wedding.' 
Load Wedding (2018) Pakistani movie 😄 https://t.co/EFzmmNCIuu pic.twitter.com/TEjekH7i67

— Muhfat™ (@kjshikhar) January 15, 2020
Awwwkward.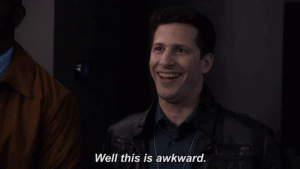 Mehwish Hayat responded, calling him out for his lack of research.
Thank u for giving ur 2 cents on this but pls first verify the source b4 posting next time. It's a scene frm my movie"loadwedding",the polio worker is me & that woman an actress.Through the film we were raising awareness of the issue.Glad 2 see our performances were so convincing https://t.co/ididoJJcxL

— Mehwish Hayat TI (@MehwishHayat) January 15, 2020
She thanked Tarek for giving his two cents on the matter, but asked him to verify his sources before tweeting stuff out mindlessly. Moreover, she added that she was glad the actors' performances were convincing enough to fool him.
A lot of people flocked in to support her and drag him.
Hahaha tarek fatah has gone nuts.. he is actually posting the scene of a Pakistani movie.. I have watched that movie and it was the first Pakistani movie I watched like after ages .. u and fahad were brilliant and that guy who played aamir liaquat hussain was just outstanding 👏

— Sim… (@Silent_deserts) January 15, 2020
@MehwishHayat it seems Tarek Fatah is running out of bullets. He has always been a liar, but now getting more and more desperate..sign of last convulsions.

— roxana (@roxmiaen) January 15, 2020
Now, people on Twitter don't forgive such follies. And that's exactly what happened with Tarek Fatah. Everyone's pointing out his mistake, to the point where 'Load Wedding' soon became a top trend.
Some people went as far as to call him a 'propagandist.'
Propagandist @TarekFatah this clip is from a movie 'Load Wedding'. https://t.co/aDO8ziM23k

— Official Elia (@Parlo_Tweets) January 15, 2020
Others told him to take off his 'glasses of hate' to see that this was from a movie.
Mr @TarekFatah if you took off your glasses of hate you'd know that this is a scene from Load Wedding.. a Pakistani movie that released last year. Thanks for promoting Pakistani movies though.. I know that was your real purpose behind sharing this 🇵🇰 https://t.co/G4kBkEH7qa

— Syed Zain Raza (@MrSyedZainRaza) January 15, 2020
Some people straight up told him to change his glasses. 
Change your glasses and look at the Cameras, it is a scene of the movie "Load wedding" 🇵🇰.@MehwishHayat pic.twitter.com/VuWHhl5PlR

— Manzoor Nawaz (@Mnavax) January 15, 2020
Basically, EVERYONE called him out for this mistake.
Dude, this is a movie scene from 'Load Wedding'. You are doing what you do best – embarrassing yourself.

Here is the response from the female lead of the movie:https://t.co/XQhYELGmdE

— Nazir Hussain (@nazir309) January 15, 2020
Tarek sahab..!
How can be someone so stupid, that he uploads a clip from the movie, "Load Wedding" in order to make his lords happy. https://t.co/OTiamsibwx

— Owais Khan (@iiOwais08) January 15, 2020
A round of applause for @MehwishHayat on putting up such a convincing performance in her movie, Load Wedding, that these propaganda experts are even failing to distinguish between movie scenes and actual footages. What a scumbag! https://t.co/nT4cXjmRy1

— Wajahat Kazmi (@KazmiWajahat) January 15, 2020
Yikes. Also, the tweet's still up and it's been seven hours. Perhaps he'll wake up to this storm that began brewing due to his tweet and realize his mistake? We can only hope.
What do you think about this hilarious blunder? Let us know in the comments.