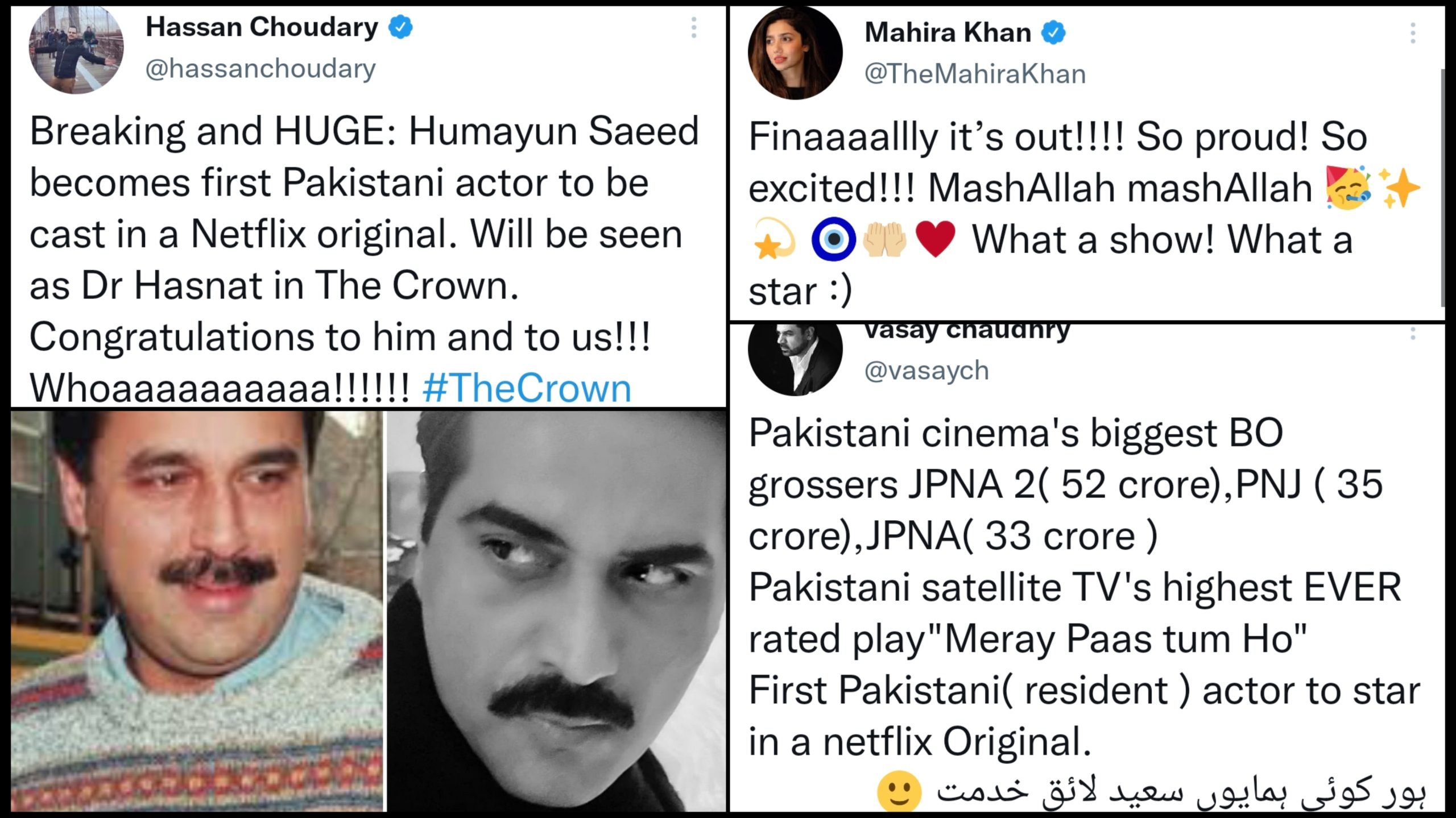 After much speculation, it's been confirmed that Humayun Saeed will be playing the role of Princess Diana's companion Dr. Hasnat Khan in one of the most coveted series on Netflix, the Crown.
People were speculating that the role would be given to Fawad Khan, but as various sources have now confirmed, it is Humayun Saeed who has become the first Pakistani actor to feature in a Netflix Original series:
Breaking and HUGE: Humayun Saeed becomes first Pakistani actor to be cast in a Netflix original. Will be seen as Dr Hasnat in The Crown. Congratulations to him and to us!!! Whoaaaaaaaaaa!!!!!! #TheCrown @TheCrownNetflix @iamhumayunsaeed @netflix pic.twitter.com/lUZZvDsyjC

— Hassan Choudary (@hassanchoudary) January 9, 2022
And as the news made it to the public, they've got lots to say!
I'm incredibly happy that they used a Pakistani actor to portray a Pakistani character, rather than lazily choosing Indians all the time. https://t.co/bzgppWOq8G

— Priti Fatale (@Syngrafeas__) January 9, 2022
Mahira Khan too was excited and proud at the feat:
Finaaaallly it's out!!!! So proud! So excited!!! MashAllah mashAllah 🥳✨💫 🧿🤲🏼♥️ What a show! What a star 🙂 @iamhumayunsaeed @TheCrownNetflix

— Mahira Khan (@TheMahiraKhan) January 9, 2022
Vasay Chaudhry hyped his friend up like no other:
Pakistani cinema's biggest BO grossers JPNA 2( 52 crore),PNJ ( 35 crore),JPNA( 33 crore )
Pakistani satellite TV's highest EVER rated play"Meray Paas tum Ho"
First Pakistani( resident ) actor to star in a netflix Original.
ہور کوئی ہمایوں سعید لائق خدمت 🙂#HumayunSaeedTheCrown pic.twitter.com/zdkE3kiwb1

— vasay chaudhry (@vasaych) January 9, 2022
People were ecstatic!
Another fantastic news. With Netflix original the crown, Humayun Saeed makes his Netflix debut. Humayun Saeed is making Pakistan proud worldwide. MashaAllah 🥰 #HumayunSaeedTheCrown https://t.co/Y8HGlJWg1a

— نیہا ملک ککےزئی🐼❤ (@inehamalyck_) January 9, 2022
People found the feat to be heartwarming:
Heartwarming, PAKISTANI Actors taking the world by storm!!!!! @iamhumayunsaeed INCREDIBLE! https://t.co/RXKeGOAQRa

— Iqra Chaudhry (@IqraChaudhry__) January 9, 2022
Yaaaas!
HUMAYUNNNN ALL THE WAY ! 🥳👌🏽 https://t.co/M5ly8CUTty

— 🇵🇰 (@Anumzahidx) January 9, 2022
People were feeling proud:
I just can't wait to see @iamhumayunsaeed as Dr. Hasnat in The Crown!! This is surely a proud moment for us. #HumayunSaeedTheCrownhttps://t.co/h1urDXBhf2

— Aiman Khan (@Aimilicious_) January 9, 2022
Jo baat hai:
Oh My God; is it really true?
Well, it is a wonderful piece of information for all of us😍
With The Crown, Humayun Saeed makes his Netflix debut. @iamhumayunsaeed you are unquestionably a source of pride for Pakistan 😍
#HumayunSaeedTheCrown https://t.co/XoMJrkdkc4 pic.twitter.com/0KUjVatk0Q

— Oh, Lady Mania! (@OhLadyMania) January 9, 2022
Absolutely!
Tbh humayun saeed deserves this. He has done so much work for Pakistan media industry. It's time to shine on netflix!#HumayunSaeedTheCrown https://t.co/03R41VOAdw

— k. (@syedaakanwal_) January 9, 2022
Hahaha!
"Help me, Diana"

— Umar Farooq Khawaja (@UmarFKhawaja) January 9, 2022
Can't guarantee that!
Diana better not fall in love https://t.co/RKKk0bJWVb

— b (@KhaNuBya) January 9, 2022
People were excited for the new season:
#TheCrown is undoubtedly one of the best productions of Netflix. This is a great decision by them. Can't wait for the 5th season. 👏🏼 https://t.co/MuwxRK4EEP

— Radiant🌸🌸🌸 (@RadiantSez) January 9, 2022
👏👏👏
AMAZING!! So proud of Humayun and Fawad! Thrown out from the neighbouring country but flying internationally now. https://t.co/XVmZBrdQDQ

— Manischa (@maanischaa) January 9, 2022
You'll love it!
Yay 👏. Humayun Saeed is the best choice for this among all other Pakistani actors. Now I have to watch #TheCrown just for Humayun Saeed. 🤍 https://t.co/Gj4YLmpHex

— Aşkım ❄️ (@SajidaBalouch) January 9, 2022
For sure!
This is massive news. Congratulations to @iamhumayunsaeed for this big achievement of playing the role of Dr Hasnat in the Netflix original The Crown. Very happy for him and this will bring more opportunities for Pakistani actors. https://t.co/eZya87U91F

— Muhammad Umair Arshad (@umair553) January 9, 2022
🤣
"London nahi jaounga" https://t.co/gnsab71OhW

— Mirza Izaan 🇵🇰 (@mirza_izaan) January 9, 2022
And while others were celebrating, some had their reservations:
why not fawad khan or osman khalid butt 😭 https://t.co/SIDrHT8raQ

— leave me alone (@gashticult) January 9, 2022
We wanted Fawad Khan but okay https://t.co/X0fqOwAPtc

— Tooba/Babar Azam Stan Acc (@toobamujeeb_) January 10, 2022
Sakina Samo felt the role would have suited Fawad Khan better: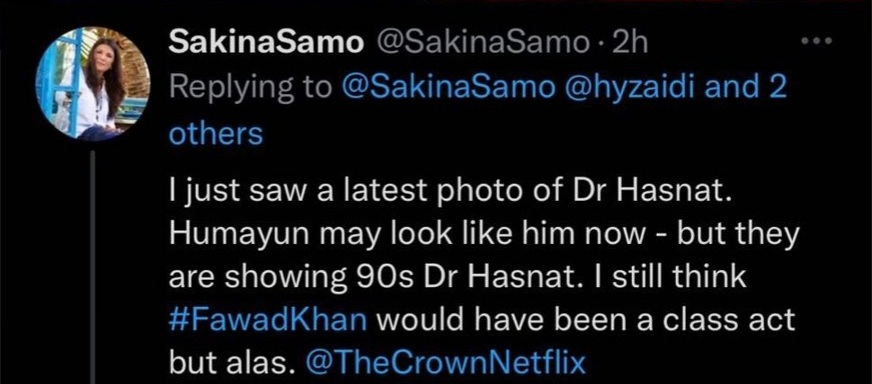 What do you think about the casting? Let us know in the comments below!