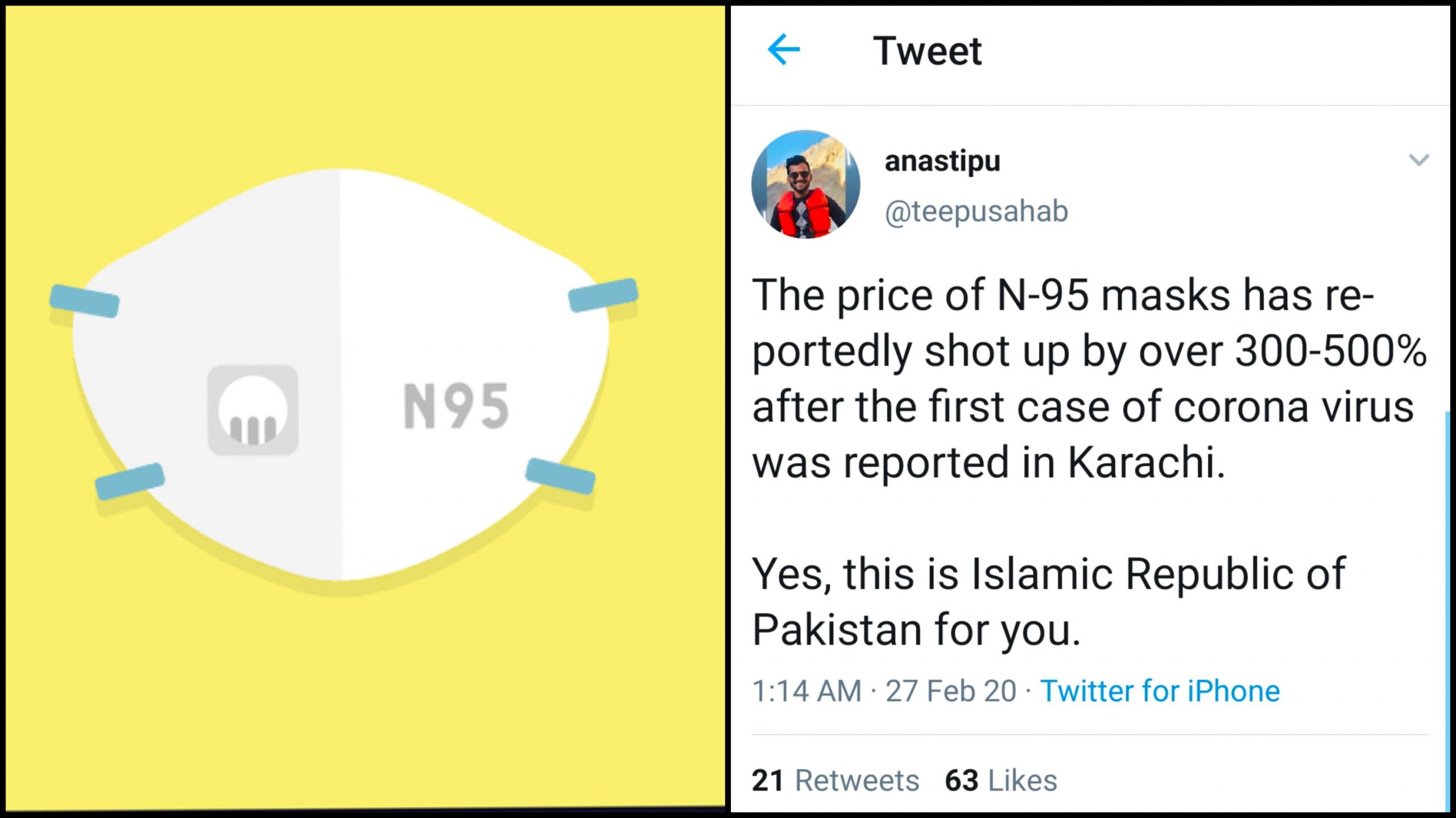 With the sudden panic created by the first 2 cases of Coronavirus in Pakistan, people are rushing to their nearest medical stores in search of the specialised N95 masks, sanitizers and basic disinfecting essentials. But the prices had everyone appalled as they were being sold on ten times their original price!
Furious at the hike in the prices, people took to Twitter to share their thoughts:
The way prices of hand sanitizers and Masks have increased after the break out of corona shows how morally and ethically corrupt we all are.

— Umer 🇵🇰 (@GoStudyUmer) February 27, 2020
What a shame!
We may face a disaster from #CoronavirusOutbreak in 🇵🇰 and instead of helping each other businessmen community has stored all the stock in godowns or selling at the price of RS 1300-2000 while actual price of this box is RS 120-150. What a shameful moment!#coronaviruspakistan pic.twitter.com/2xGv8zGBXe

— Muhammad Zeeshan (@ZeeshanChPak) February 26, 2020
The price hike is insane!
3M's N-95 rated masks I bought boxes of during smog season for all employees have been jacked up from Rs.50 ea. mask to Rs. 500 each mask. And I suspect they'll double in price before the weekend if any can be found.
"Law abiding" and "patriotic" traders out to make a killing

— RAK (@RazaAliKhan_) February 26, 2020
Some were calling it majboori pe karoobar:
A box of 180 masks is now being sold for 1900, that's 100 percent increase in price overnight!! Majboori ka karobaar hum karte hain or sara ilzaam hukmarano par.@ImranKhanPTI please regulate these prices or make masks available at utility stores.#CoronavirusOutbreak

— Victim of Accountancy (@accountantnxD) February 27, 2020
People were disappointed:
The price of N-95 masks has reportedly shot up by over 300-500% after the first case of corona virus was reported in Karachi.

Yes, this is Islamic Republic of Pakistan for you.

— anastipu (@teepusahab) February 26, 2020
People were sharing how the supply had been halted to increase the demand:
Masks unavailable at medical stores in Karachi, apparently pehlay say hi peechay say supply roki hoye hai. Even in this someone is going to make a killing, whoever they are i hope they get infected first.

— Osama. (@ashaqeens) February 26, 2020
Some were actually disgusted:
People already storing hundreds of face masks to sell them on higher price later. People of this country never seize to disgust me.

— Haroon (@ThisHaroon) February 26, 2020
Some had suggestions as to what should be done:
Govt should buy all the masks from the merchants at their original price and place them in hospitals and emergency rooms where people can get them for free or atleast at their original price https://t.co/FJZBIf24ev

— Esha.🌹 (@theshabbasi) February 27, 2020
People were very angry!
They are selling 60ml hand sanitizer bottle for 200 rupees each.

BC…. Waise ye 100 ka milta hai. Itni koi gandu qaum haina ye.. theek azaab atay hain!

— HK. (@HammaadKhaann) February 26, 2020
Many shared how it's not always the government'a fault:
And then we blame our politicians.. we are all equally responsible for whatever is happening rn in this country..we're all corrupt !!! https://t.co/3kH1kCKjWX

— Maha 🇵🇰 ❤ (@MahaRasheed96) February 27, 2020
Someone from the biosafety saw industry shared what the reason for the hike in prices:
I work in a bio safety level 3 and i want you to know that there is shortage of masks because we are importing masks from america instead of china which costs 700 per pack(used to be 140 per pack) nothing to do w blockage of supply stop praying for people getting infection. https://t.co/blnu8ZGl8I

— Shorish (@dilnapk) February 27, 2020
Shareef woh hai jisko mouqa nai mila:
corrupt sirf woh nahe hai idhar jisko mouqa na mila hou bas do numberi tou khoon main hai https://t.co/05X0Q6DQgH

— Ali (@AleyFarooq_) February 27, 2020
People were expecting a hike in the prices of kafan next:
Abhi to kafan b mhngy hongy .. 🙂 https://t.co/4aBC3r24VJ

— Rafia Noor (@Bunnyyy145) February 27, 2020
People were sharing the reasons for shortage:
Reportedly surgical masks were exported to China in huge quantity. Even during gas leak situation last week in Karachi there was a shortage of mask.

Rs.80 pack is selling at Rs. 480.

400% profit aur phir hum baat kartay hain insaniyat ki. 🤷‍♂️#coronaviruspakistan https://t.co/2rj3ah3ui4

— Malik. (@NavazMalik) February 27, 2020
Prices for even the surgical masks went up:
Surgical masks are not efficient enough to stop CoVID-19 yet they are selling for a crazy price tag. Here's the info you need to know while getting a mask. #Coronaviruspakistan pic.twitter.com/BP87W9JvOY

— Baehooda (@SaysSulehri) February 27, 2020
Some suggested that the hoarders be punished:
This time hang all those hoarding it …. https://t.co/SLmuk0itwk

— ᴛᴀʙʙʏ ʜᴜꜱʏᴀɴ (@alkeimist) February 27, 2020
People were scared of what's to come:
#Coronaviruspakistan
This is going to happen all around the country soon because this is what happened in EVERY COUNTRY as soon as cases were diagnosed. Hoarding will be done.
Mass price increases will happen. People will panic-buy everything possible.
We all need to prepare. https://t.co/ywLGkAGe8z

— ت_ (@tamatarpaste) February 26, 2020
Shots were fired!
Aur zalzalay aurton k Jeans pehennay say atay hain.. https://t.co/zvkiDv6DWt

— Arsalan Masood Khan (@amkaakash) February 27, 2020
No bro, selling masks at higher price doesn't make you an eNtReprEnuer.

— … (@WajahatSays) February 27, 2020
Some shared how this was now a global panic!
It's now a global panic. Tried to order a few via amazon and many brands are unavailable while others are super-expensive! https://t.co/MwCjlL6NSR

— Raza Ahmad Rumi (@Razarumi) February 27, 2020
Baat toh sach hai:
باقی دنیا ویکسینیشن بنانے میں مصروف اور ہم پیسے بنائیں گے اور پھر سب کچھ یہودیوں پہ ڈال کے سو جائیں گے۔ https://t.co/xQSXb16Zuu

— CHEEMA (@Cheemarb_36) February 27, 2020
People were praying for hidayat:
Price of masks has been increased to 10x of original price in Pakistan, Allah hamay hidayat dy!🙏😥#coronavirus pic.twitter.com/Kae5D1Vxjz

— ʌʀqʌɱ cʜ👑 (@ch_arqamm) February 27, 2020
Okay, we wouldn't recommend that:
Guys, if the pharmacist in your area decides to be a sleazeball and increases the price of face masks, just cough or sneeze on his face, say sorry and that it was a mistake and get out of the store without buying anything.
Lets make 27th Feb #CoughOnYourPharmacistDay #coronavirus

— Mohsin M. Khan (@iammohsinmkhan) February 27, 2020
What do you think about the sudden hike? Let us know in the comments below!