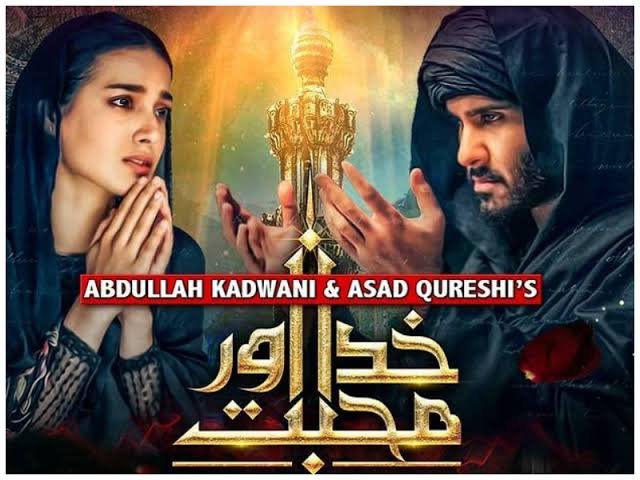 Ever since the release of it's first teaser on 1st January 2021 and just 3 episodes in, Khuda Aur Mohabbat 3 has been the talk of the town breaking one record after another by setting a new benchmark every Friday!
The first episode has gathered a total of 21M views as of today and the second episode has a total of 15M views that are still counting.
The teaser itself crossed over a million views in just 17 hours of its release and the OST is currently at 19M views! The first episode gathered over 10M views in the first 3 days of it's release and the second episode bagged the same 10M views in just 2 days, in short, Khuda Aur Mohabbat 3 is unstoppable and here's why we think 2021 will be ruled by Khuda Aur Mohabbat 3!
ITS GOT FANS ALL OVER THE WORLD!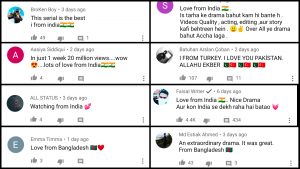 Not only is the drama loved by Pakistanis, but it also has regular fans from India, Bangladesh and even Turkey, now that's definitely a big feat!
THE ICONIC DIALOGUES
سوچتے سوداگرہیں اور دوستی میں سوداگری نہیں ہوتی۔۔☑️♥️💯#KhudaAurMohabbat3

— Zarish Malik (@ZarishMalik_10) February 26, 2021
I connected to this conversation between Farhad & Nisar in episode 2 of #KhudaAurMohabbat3. Sometimes we are just made for different paths & find ourselves failing, trying to meet expectations. Trying to enjoy this ride before it takes off on its intense path. #PakistaniDramas pic.twitter.com/chWwPT1wqK

— SophiaQ (@SophiaAQ) February 19, 2021
So deep! I repeat -so deep✨
This dialogue ….is a answer of so many questions!#KhudaAurMohabbat3 pic.twitter.com/Oq2spiZveG

— Arooj Khan (@deepdewdoll83) February 20, 2021
ہر خواہش خراج مانگتی ہے اپنی اپنی خواہشوں کا خراج دینا پڑتا ہے ہم انسانوں کو، اس دنیا میں اپنی اپنی چاہت کا سود بھرنے آتے ہیں ہم لوگ!!#khudaAurMuhabbat3

— Katherine👰❤️ (@SaniaBaig30) February 23, 2021
Believe it or not but every episode the drama airs leaves people with a dialogue they remember and love!
IT TRENDS ALL WEEK!
.@ferozekhaan give some space to content creators on trending page 😂💞#KhudaAurMohabbat3

— ✨ (@_scnz) February 25, 2021
Yep, the drama is so immensely popular that the episode airs on Friday and trends the whole week until it's next episode airs and not just on Youtube, but all social media platforms!
PEOPLE ARE IN AWE OF THE CAST!
he was so proud to see her embarrassed lmao i love this dork

| #KhudaAurMohabbat3 pic.twitter.com/gvK6mGXGjl

— . (@cayoglushoe) February 19, 2021
#KhudaAurMohabbat3 the way he look hayeeee😍 pic.twitter.com/FwEXgP8ZyZ

— mahi khan (@mahikha41168036) February 19, 2021
With a cast so stellar and chemistry between Iqra and Feroze so sizzling, it's impossible not to fall in love with the drama!
THE CINEMATOGRAPHY STANDS UNMATCHED!
Another tweet just for the cinematography!!! 🔥🔥🔥🔥
They have nailed it once again with this episode and it's become mandatory for me to tweet about it!!! 🙌🙌🙌🙌#KhudaAurMohabbat3 #KAM3 pic.twitter.com/QBrMmJSppt

— 𝕚𝕟𝕒.𝕞𝕚𝕟𝕒.𝕕𝕚𝕜𝕒 🌸 (@that_south_girl) February 19, 2021
Damn it! Multan! Sareiki! Shah Rukn e Aalam! 😭😭😭 a wave of nostalgia! Like I can't deal for the first time Multan has come in a drama like thiss! ❤️#KhudaAurMohabbat3

— Jiya🦋 (@_Jaweria_) February 25, 2021
These shots of #KhudaAurMohabbat3 are simply amazing 😍🔥 pic.twitter.com/44mTQlApCa

— Syeda Trimzi (@TrimiziiiSyeda) February 24, 2021
The cinematography, the shots, the beautiful cities, it's a dream to watch!
THE OST IS IN A LEAGUE OF ITS OWN!
I'm in love with this Ost😍 #KhudaAurMohabbat3 ..This song is complete feeling of incomplete love😩💔

— Anees Ahmad (@AneesAh27650885) February 25, 2021
Apart from the intense plot that's unfolding, the OST is a clear winner!
ITS A GAME CHANGER!
Episode 1 of #KhudaAurMohabbat3 8 Hours = 2.2 Million Views.

Episode 2 of #KhudaAurMohabbat3 8 Hours = 3.1 Million Views.

Absolutely Beautiful.#KhudaAurMohabbat3 has officially BROKEN RECORDS OF ANY PAKISTANI DRAMA.

GAMECHANGER INDEED @ferozekhaan pic.twitter.com/UGHZJuSm2d

— Hamzah Bhuta (@Hamzah_Bhuta) February 20, 2021
WTF 20 MILLION VIEWS ON 52 MINUTES LONG EPISODE
This is insane !! Feroze wasn't lying when he said its a game changer 😳🥺#KhudaAurMohabbat3

— Jiya 🎶 loves kunware SidNaaz (@Ohudeadppl) February 24, 2021
Making records and breaking them itself only Khuda aur Mohabbat 3 can do it!
Are you watching Khuda Aur Mohabbat 3? Let us know in the comments below!