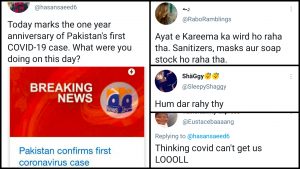 It's been a year to when the first official case of the novel coronavirus was diagnosed in Pakistan and to be very honest, life hasn't been the same for anyone since then.
The pandemic hit us all in different ways, some lost their jobs, some lost their loved ones and some were barely surviving. A Twitter user shared the date when the first case was confirmed and asked people what they were doing last year on this day:
Today marks the one year anniversary of Pakistan's first COVID-19 case. What were you doing on this day? pic.twitter.com/B9vHOM6336

— Hasan Saeed (@hasansaeed6) February 26, 2021
And people have shared it all!
Panicking yaar, kaisa sawaal hai yeh

— S. (@someaningless) February 26, 2021
The joke's on us:
Thinking covid can't get us LOOOLL

— vulnerability express (@Eustacebaaaang) February 26, 2021
Our people, I swear!
Realizing shit was about to hit the fan, starting to wear a mask in public, and getting ridiculed for it

— Awais Irfan (@SiawA) February 26, 2021
💔
Freaking out that my grad school scholarship will now be a waste.
Turned out to be true. 🙃🙃🙃

— law student again (@kyahuaagar) February 26, 2021
Same!
Crying .

— انفال جمیل (@Unfalii) February 26, 2021
Jo baat hai:
Hum dar rahy thy https://t.co/PPBvFdzMoU

— ShäGgy😴😴 (@SleepyShaggy) February 27, 2021
😂
Thinking I dodged a bullet because the case was in Karachi and I'd flown back from there the day before. Lol @ me https://t.co/1Tf99dTbLx

— Rohail (@theroygayle) February 27, 2021
We all thought the same!
shopping in the mall. thought that it's just one case it'll be over https://t.co/B6vAWD32UL

— a. (@anxnoshia) February 26, 2021
Little did we know!
chilling at Lahore museum thinking life is goodd https://t.co/WKtvaGTA0s

— m (@emo_ontheinside) February 26, 2021
Omg!
not to act like a main character but pretty sure i was the first corona patient in pakistan.. LITERALLY had ALL THE SYMPTOMS and then some.. https://t.co/QmLnoVrSZc pic.twitter.com/QiXAKWHlzU

— hoziers hoe🌈 (@la9at) February 26, 2021
Qabooliyat ki ghhari?
I was completing my lab manual praying they close uni for like an year and it happened https://t.co/UhemDilcea

— haikyu (@xasthma) February 26, 2021
*sigh*
Was in the newsroom. We had a discussion on how they have taken their time to announce it and the infections would already have started. https://t.co/j4TgkbDWje

— Hurmat Majid (@MajidHurmatKhi) February 26, 2021
Hoping it was worth it!
There was a rumour of ONE case in ku so me, @munizaZ19 and @ZahraAzharJaved 'risked' our lives to go to the ku book fair https://t.co/6VroQkReTr

— Menahil Bokhari (@menahil05) February 26, 2021
King behaviour!
https://t.co/KxloGHvGkL pic.twitter.com/Wo049eFv4o

— Influencer of the year 2021 🇵🇰 (@NotDigink) February 26, 2021
We all were:
I was minding my OWN BUSINESS @corona u asshole https://t.co/dTVIYRPSST

— rehmkarlay (@RRqueen_) February 26, 2021
We remember it all!
Watching people blame the poor Shia kid for bringing it from Iran https://t.co/mAuvPoibmE

— 👀 (@Iam_confusion_) February 26, 2021
The panic was real!
Ayat e Kareema ka wird ho raha tha. Sanitizers, masks aur soap stock ho raha tha. https://t.co/sXQEs9bxqq

— رے (@RaboRamblings) February 26, 2021
So many plans were cancelled:
Rushing to the tailor and dry cleaner to get my dress ready in time for university farewell on 29th. It never happened. https://t.co/PeFvgmGSa5

— Afifah (@afifahtweets) February 26, 2021
Do you remember what you were doing on this day last year? Let us know in the comments below!