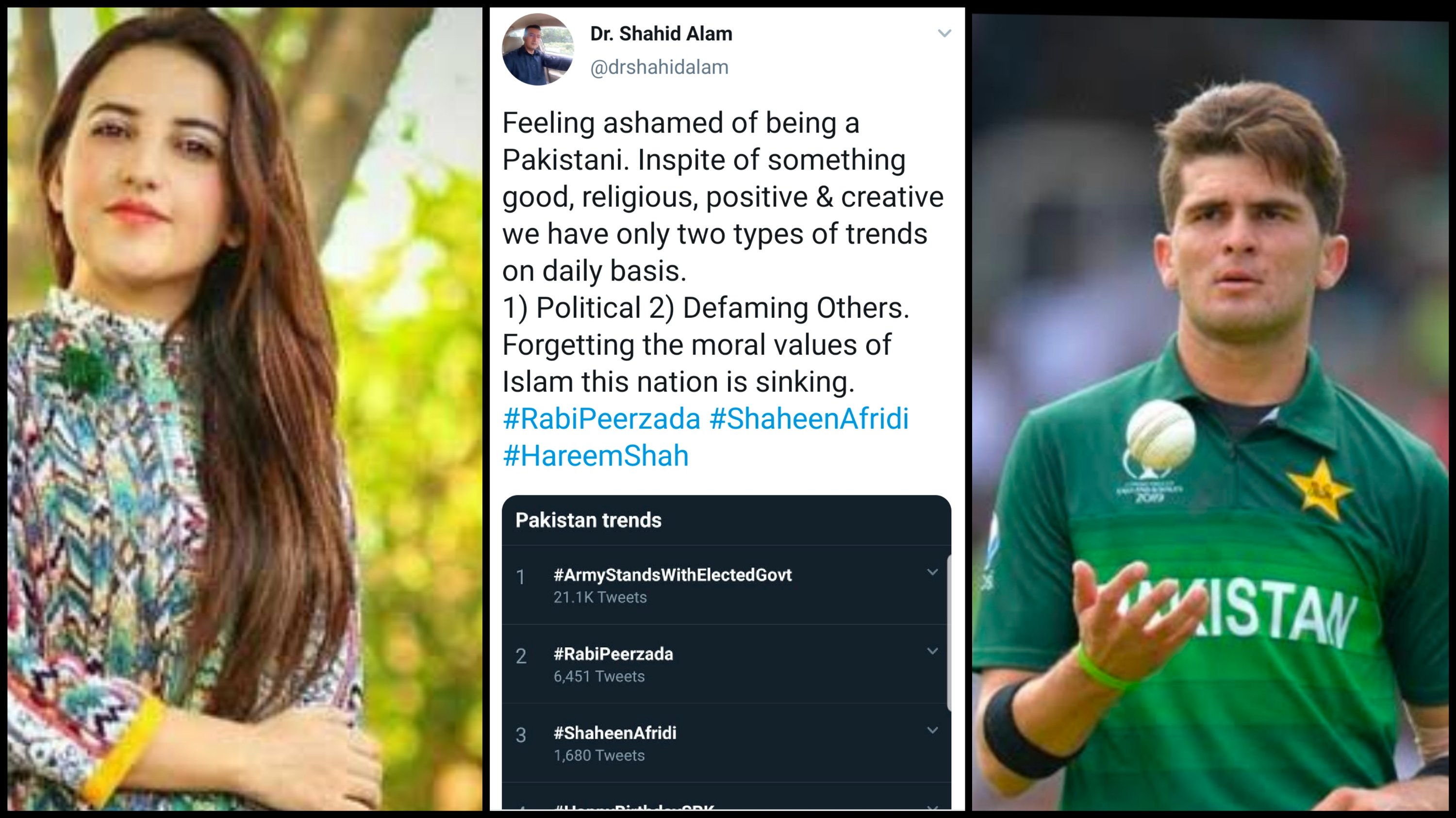 We've had a rough week on Twitter lately, from the Fortuner on Islamabad Highway to Rabi Pirzada and now Shaheen Afridi and Hareem Shah.
Someone on Twitter claiming to be Hareem Shah, a popular tik tok star, tweeted out that they were going to expose a cricketer for inappropriate behaviour on video call, and while the tweet did get a lot of attention people just didn't think that the account would actually post the video. The account which has now been suspended, posted a video of the cricketer Shaheen Afridi flashing his privates: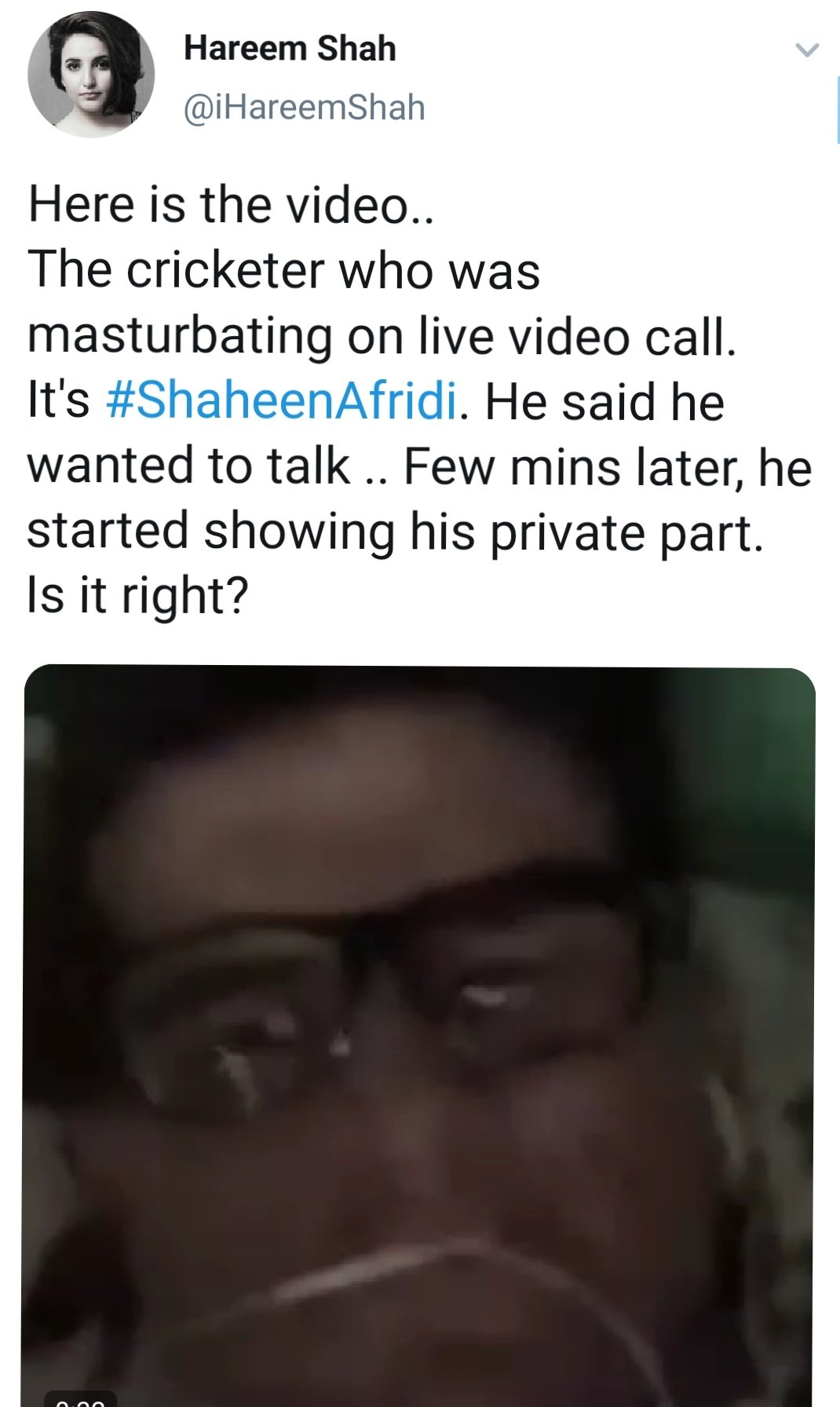 The account also tweeted that politicians were next on their list:

And within no time, the hashtags #ShaheenAfridi and #HareemShah were trending on Twitter: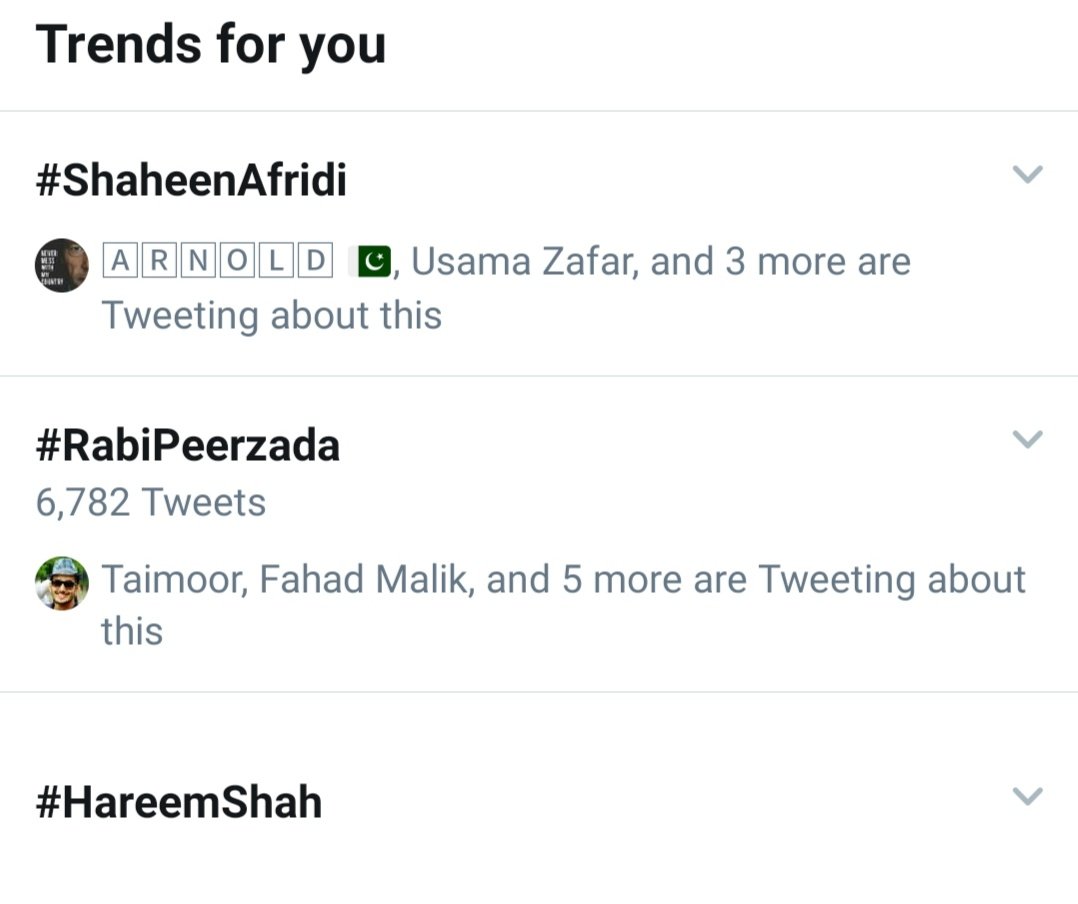 But here's where it gets interesting, in a video Hareem Shah and her fellow tiktok star Sandal Khattak confirmed that they do not use Twitter or Facebook and that the accounts on both the platforms are fake!
Even the account of #HareemShah is also fake, she had confirmed that she's only on @tiktok_us & @instagram all other accounts are fake..
It's fake video @iHareemShah don't have any account in @Twitter .#shaheenafridi stay Strong ! pic.twitter.com/Tb6DxyBu0U

— Rehman Mohmand (@Rehman0o) November 1, 2019
Which left the internet confused and in despair!
What the hell is wrong with this nation?

I'm extremely disgusted after knowing about both these scandals. Where are we going?#ShaheenAfridi#RabiPeerzada

— نایاب (@NayyabMushtaq_) November 1, 2019
People were curious why the audio was muted:
Audio is muted lol, just another revenge porn https://t.co/mDaIImJzSd

— abtaha (@3for2i) November 1, 2019
It was time to leave the planet for many:
Today After Watching..!!#RabiPeerzada

And#ShaheenAfridi pic.twitter.com/Bnzjke27Ad

— Shahab Khan Jadoon (@Shahab_Khan302) November 1, 2019
Some did a little digging on their own:
Warning,,,
The account which resently posted #shaheenafridi 's leaked video, isn't running by #HareemShah and any other girl, it's run by some one else named Qari Sana-ullah, who has 3-4 accounts on Twitter.#RabiPeerzada pic.twitter.com/VAllL0E6bl

— ❤️ SyeD ❤️ (@TweetsMySelf_) November 1, 2019
Many gave advice on how men and women should trust no one:
Today is a day of learning for all.

1) Girls should never share anything indecent with boys. Never trust anyone. Today, it's #RabiPirzada,tomorrow it can be you.

2) Boys should never show their private parts on video. Today, it's #ShaheenAfridi, tomorrow it can be you.Shame👎 pic.twitter.com/aBUxpkuvIr

— Muhammad Shaheer (@Muhamadshahee1) November 1, 2019
Some came forward to remind people how posting inappropriate content online is a crime:
For those ppl who are sharing this kind of videos on social media. Exposing someone online is also a crime under the act of FBI cybercrime for more details visit their site. #ShaheenAfridi #RabiPirzada pic.twitter.com/I36OE2xZ14

— saifqureshi (@saifqure1) November 1, 2019
Sounds apt at the amount of people being exposed:
After Watching #shaheenafridi Video pic.twitter.com/ADhAijIfiZ

— Sarfraz Haider (@Sarfuuuu__) November 1, 2019
Many wanted the people exposing others to be held accountable:
Leaked video scandals..!!
Episode 2 that tik tok girl hareem Shah leaked cricketer #ShaheenAfridi video..
This breach of privacy should be banned..Those violating should strictly be dealt..
Ajeeb tamasha hai..!!

— SangeenKhanYousafzai (@sangeenihsan) November 1, 2019
Those girls or boys should be arrested who leak video in the name of harassment/So called harassment.
We all know what recently happened to #RabiPeerzada, #ShaheenAfridi and #ImamUlHaq.

— Mussa Rafi (@rafi_mussa) November 1, 2019
Everyone's just as confused!
Naya Pakistan.
In 1 week.
..Video scandal of 3 Cars on motorway.
.. Rabi Pirzada.
.. Now shaheen afridi video..
WtF is going on.#RabiPeerzada #shaheenafridi
By @iHareemShah

— Horseman❄ (@Ihthram) November 1, 2019
People were bashing Shaheen Afridi:
Well done shaheen
Student of imam ul haq in this topic#shaheenafridi#HareemShah pic.twitter.com/hwLzF4PY6z

— IzAz Ali (@I_Am_IzazAli) November 1, 2019
Some were convinced that both Hareem and Shaheen were equally responsible:
If the video of #ShaheenAfridi ain't fake then #HareemShah is equally involved. No one can start such things without any approval/signal. She must have given him green signal. Her character is open now & everyone can tell from where she earns that much money.

— Dr Sohail Khan (@DrSohaiil) November 1, 2019
Some thought this was a defamation campaign against Shaheen Afridi:
I think someone is defaming @iShaheenAfridi someone want to end his careers but he is baby a boy a immature boy may be he learned from his senior in future for the betterment of his life and his own career already now he started his cricket career #ShaheenAfridi

— Muhammad Saleem Khan Mengal (@MuhammadSalim90) November 1, 2019
Some thought the guy wasn't Shaheen Afridi at all:
The guy in the video doesn't look like #shaheenafridi looks like a doppelganger.

— Affan (@affanfilms) November 1, 2019
Lougon ko apni fikar ho gayi:
Me Tamaam Apps se Camera ki Permission Wapas Laira Hu
Galti Se Bhi Kuch Leak Na Ho Jaye 😂#RabiPirzada #ShaheenAfridi

— Haseeb Ahmad 🇵🇰 (@HaseebAhmadKT) November 1, 2019
People were actually scared:
Uff ye kia horaha hai Pakistan mai 😭😭 be scared be very scared😱 everyone #RabiPeerzada #ShaheenAfridi #HareemShah

— Khaani ❁ (@syco07) November 1, 2019
And while many were having a kick out of other people's miseries, there were a few who were ashamed:
Feeling ashamed of being a Pakistani. Inspite of something good, religious, positive & creative we have only two types of trends on daily basis.
1) Political 2) Defaming Others.
Forgetting the moral values of Islam this nation is sinking.#RabiPeerzada #ShaheenAfridi #HareemShah pic.twitter.com/huBVZKbLls

— Dr. Shahid Alam (@drshahidalam) November 1, 2019
Everyone needs to act responsibly:
I'm literally ashamed of ppl asking & sharing video links of #RabiPeerzada & #shaheenafridi fgs where are we headed zero morals & ethics. Our words can literally kill ppl around us, a little sensitivity won't cost anything. Please act responsibly. 🙏

— unemployeduser (@soul_stroller) November 1, 2019
And to add to the drama, came Waqar Zaka, who also claims to have a video of a cricketer being inappropriate on video:
You think #ShaheenAfridi leaked video is a big news ? Think again & it's not @ImamUlHaq12 , a contestant showed a player who is over Shareef in ur eyes but on webcam hmmmm, video will be at https://t.co/FgFaZAVf7D on Monday -7PM pic.twitter.com/4JeBTp4zVc

— Waqar Zaka (@ZakaWaqar) November 1, 2019
What do you think about this confusing situation? Let us know in the comments below!