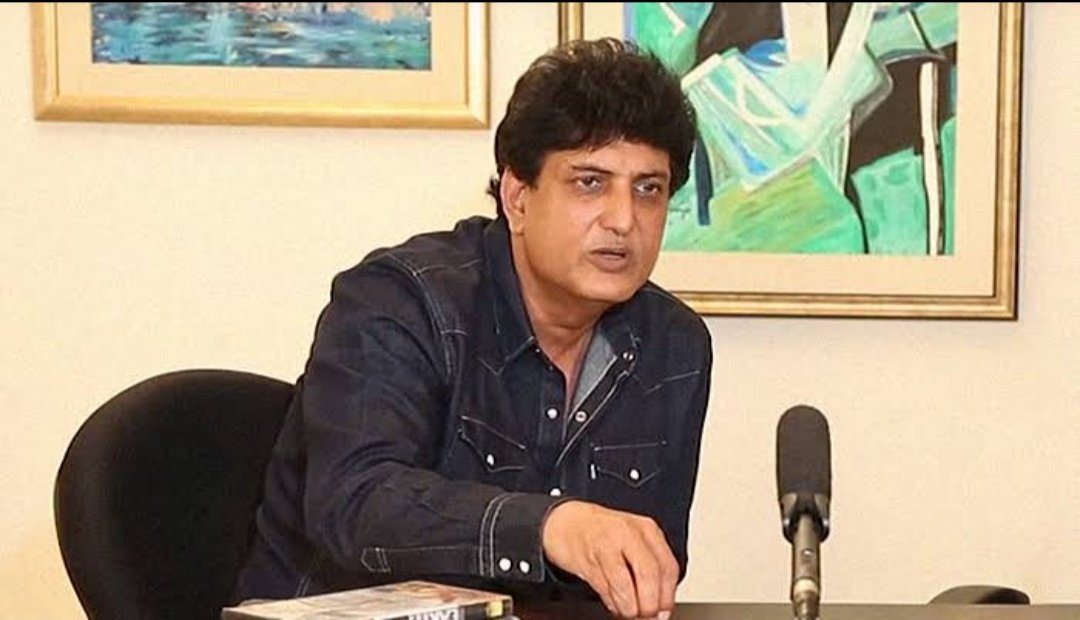 Khalil ur Rehman Qamar is a name that needs no introduction, almost everyone knows him, thanks to his dramas. However, a recent interview has gotten him quite the attention, and sadly, it's not the attention one would want
https://www.instagram.com/p/B4SiAcAFtUG/?igshid=1de2nxmho81pu
In the interview Khalil ur Rehman Qamar has a very misogynistic approach to all the questions he's been asked. And his choice of words? Poor! As the interview went viral, the internet has been nothing furious:
'Meray liyay aurat kay pass ek he khoobsurati hai aur wo uski haya hai, jin kay pass nahi hai unhain non-women kehta houn'

1. How eloquently put
2. THE FUCKING ENTITLEMENT ON YOU, my good God.
3. Fuck right off, why don't you.

Extremely unfortunate he's given avenues to masses https://t.co/hR2vHA2JFF

— stressed depressed lemon zest (@ZainabKDurrani) October 31, 2019
Many were furious at how everything was a joke for men:
no wonder our drama industry and the whole society trivializes women's pain, makes fun of sexual harassment, considers domestic abuse as an internal matter that should be resolved in private when bastards like him are writing the content and feeding it to millions https://t.co/uIm3p841RE

— virgin corporate hoe🌈 (@Zee_e_) October 31, 2019
Meesha Shafi was so done:
Ummmm and how many actors, actresses, pro/dir and channels will put their foot down in response to these views and send a message of resistence here? https://t.co/Dg7s0V3DNe

— MEESHA SHAFI (@itsmeeshashafi) October 31, 2019
Ali Gul Pir was concerned:
And this guy is the most sought-after writer in our TV industry. If he is the one writing the dramas then you can expect the kind of shit you see on TV https://t.co/R5txWrNK3Y

— Ali Gul Pir (@Aligulpir) October 31, 2019
It was too vague to be understood by anyone:
I could not even read the entire interview, I lost all my brain cells midway. This man is sick, I am so glad I have not watched or read a single story he has written!! https://t.co/10txWmkWx3

— Iz➰ (@its_me_izma) October 31, 2019
Many were concerned about the standard of content being aired:
If this guy writes Pakistani dramas then you could just imagine the garbage you're seeing. https://t.co/7ux3t8DMQy

— Abdullah (@abula_r) October 31, 2019
I think I just threw up a little bit? What a disgustingly sick-minded asshole. And masses are watching the disgusting trash he's producing rn. Shame on them all. https://t.co/i11WfJiAGN

— ⎊ Sia ⍟ (@Sias_Creations) October 31, 2019
Some thought he had reached a new low:
Wow.
Some men really have no limit of achieving new lows. https://t.co/0SwWoWZ9qg

— breen (@breenrana) October 31, 2019
We asked for equal rights to live, not equal rights to violate others:
women don't need to… because this filthy act is also done by men. men rape women, men rape men. we women aren't here to do the shameless acts of men for equality, when we say 'equality' that means 'equal rights', period.
such a cheap mindset! https://t.co/exEFgl1kTL

— ♍ (@omnivertistic) October 31, 2019
Shots were fired:
and then what else would you expect from the writer of "kaaf kangna" https://t.co/o7LTfS42bv

— و (@_mysteryoflove_) October 31, 2019
Shano must be so happy not ending up with this misogynist and empty headed man. https://t.co/DttwiOzgWX

— paran mar. (@xyzmariaa) October 31, 2019
It's so easy to just google the definition of feminism rather than embarrassing yourself in public:
It's always men who claim to be feminists that turn out to not know what equality or women's issues are. 🤦‍♀️ BiGgEsT fEmiNiST https://t.co/bKT9ZCOhSi

— Nadia (@nadiajqureshi) October 31, 2019
Some were hopeful for the future:
i want a day when our media and entertainment industries are overrun by women at the helm and no man dare utter a word of such filth. https://t.co/2eXwXUEJXJ

— zainab🌙 (@zainabmsheikh) October 31, 2019
i'm so looking forward to a new wave of writers, intellectuals, and creatives taking hold of the scene in pakistan. can't wait until this sort are extinct. wishful thinking, i know. but artists usually rise to the occasion. https://t.co/zpdLCGQVmD

— shy fawkes ♡ (@aloovibes) October 31, 2019
A chunk of his problematic supporters are a problem too:
Never used to like his dramas and now I know I was right. Sadly, there is still a segment of "good women" in our society who think his scripts are right. #KhalilurRehmanQamar https://t.co/NzCy8jOVBa

— Qurat ul Ain Ismail (@QueenQuratulAin) October 31, 2019
Some got personal:
No wonder Shano's mother hated you. https://t.co/3FPwz7WUWG

— Abdullah (@abdullahmajeed_) October 31, 2019
Some of his fans actually realised their fault:
His face makes me cringe. We really hyped his writing without realising how toxic and misogynistic his mind is. Arrogant and proud for nothing useful he has ever done in his life. Useless insaan. https://t.co/E0sdFTV4Gn

— 🥀 (@ithesheeshkebab) October 31, 2019
This interview made me so uncomfortable watching it. Such a shitty man. Feel sorry that I used to admire him as a writer. He clearly never deserved Shano! https://t.co/KikKcXagPe

— Durray. (@shafaq_durray) October 31, 2019
I can't believe this. He was my favorite writer, I wanna puke on his face now. https://t.co/YkMATuC9e5

— Cambridge Bayg-ground (@AtumBumm) October 31, 2019
Some lost hope in Pakistani men:
Rape apologist alert. "A man cannot say no but a woman can." Mujhe Pakistani zeher lagne lagay hain. Ghaleez log. https://t.co/aeZHKXQcQD

— Eat the rich (@kiamusibathai) October 31, 2019
Fragile ego:
no one:

literally no one:

men with toxic masculinity: https://t.co/PIP3xQDkU7

— Snober Abbasi (@snobers) October 31, 2019
Yes please!
How about nobody rapes anybody… https://t.co/cOUduD6P1s

— A* (@laltaintabahde) October 31, 2019
Some thought he was a twisted man:
I guess the only time a rape joke is acceptable is when it ends with the sodomizing of the rapist with his own penis … may be not even then … And you Sir are way beyond something called twisted / psychotic … https://t.co/zwL1r5nKHk

— ChaiNotCoffee (@ChaiNotCoffee) October 31, 2019
Well…
KhalilurRehmanQamar's outfit is incomplete. He forgot to wear this while making this statement https://t.co/EkhMY3tY7Y pic.twitter.com/fAS5qLUcWs

— the misandrist next door (@amnaaww) October 31, 2019
Shameful indeed:
Behind every rape joke, is a sinister and callous monster gloating over the misery of the victims. Shame. https://t.co/SWOORSJ3Uv

— Saad (@beingmsaad) October 31, 2019
Yeh cheez!
#KhalilurRehmanQamar: mard ko aurat par tarjih hai
Also him: men cannot say no. They simply cannot.
If your gender is so fucking weak it can't even say a simple no than stop running around shouting mard ko aurat per tarjih di gayi hai!!! https://t.co/sOqELfR4K2

— Bismah Shahzad (@bismah_shahzad) October 31, 2019
Let that sink in:
Men's power is so deeply rooted in violence that we literally can't conceive women's empowerment without the fear of violence upon ourselves at their hands. We cannot even imagine equality, much less advocate for it. Chahay phir aap bIgGeST fEmINiSt hi kyun na houn. Disgusting. https://t.co/AIaXCcUNpL

— na-umeed (@rozenameh) October 31, 2019
Trivializing rape and harassment is never okay:
was hoping this was just a clickbait headline but the actual interview is so much worse. this is how misogynists trivialise rape culture that preys on women & men. what a disgusting human being https://t.co/xYe5hLdr2L

— Mehar Khursheed (@curlistani) October 31, 2019
Women are the future!
#KhalilurRehmanQamar is just one of many high profile older media men feeling threatened by the hundreds of young, urban, progressive women with internet access who are now calling out their sexist writing and refusing to watch their crappy 'projects.'

This interview is proof. https://t.co/aHwOORZ610

— Hamna Zubair (@hamnazubair) October 31, 2019
And while many called him out on his vile comments, there was an unfortunate chunk of people supporting him:
I'm satisfied with #KhalilurRehmanQamar's statement.
✌ https://t.co/1zpP9nghBe

— ماسٹر صاحب 🇵🇰 (@SahbMaster) November 1, 2019
Umm?
Every single word is true. #KhalilurRehmanQamar is a legend, and knows our society to its core. https://t.co/A86TXzeOjv

— حلال ہینڈل(ڈاکٹر عثمان) (@Halaal_Handle) October 31, 2019
Aurat hi aurat ki subse bari dushman hai:
i am a Woman & yeah TBH mostly women ruin men's lives i am gree with #KhalilurRehmanQamar why to lie " https://t.co/SRzUOWuo1D

— Mariam Jamali 🇵🇰 (@Mariam_Jamali) October 31, 2019
Not coming slow with misogyny:
OMG Khalil Rehman is not coming slow
really he is a best writer of all time 😂 https://t.co/5YFviNujuK

— Muhammad Shoaib (@ShoaibBinAdam) October 31, 2019
Some thought of it as propaganda against him:
Just forget the whole interview this part will make headlines so use it against him, this is the kind of attitude I hate. But keep blabbering cos he doesn't give a shit about it (he made it pretty clear). https://t.co/OY1fDgdfL1

— سید طاہر علی نقوی (@TahirAlee58) October 31, 2019
What do you think about the interview? Let us know in the comments below!